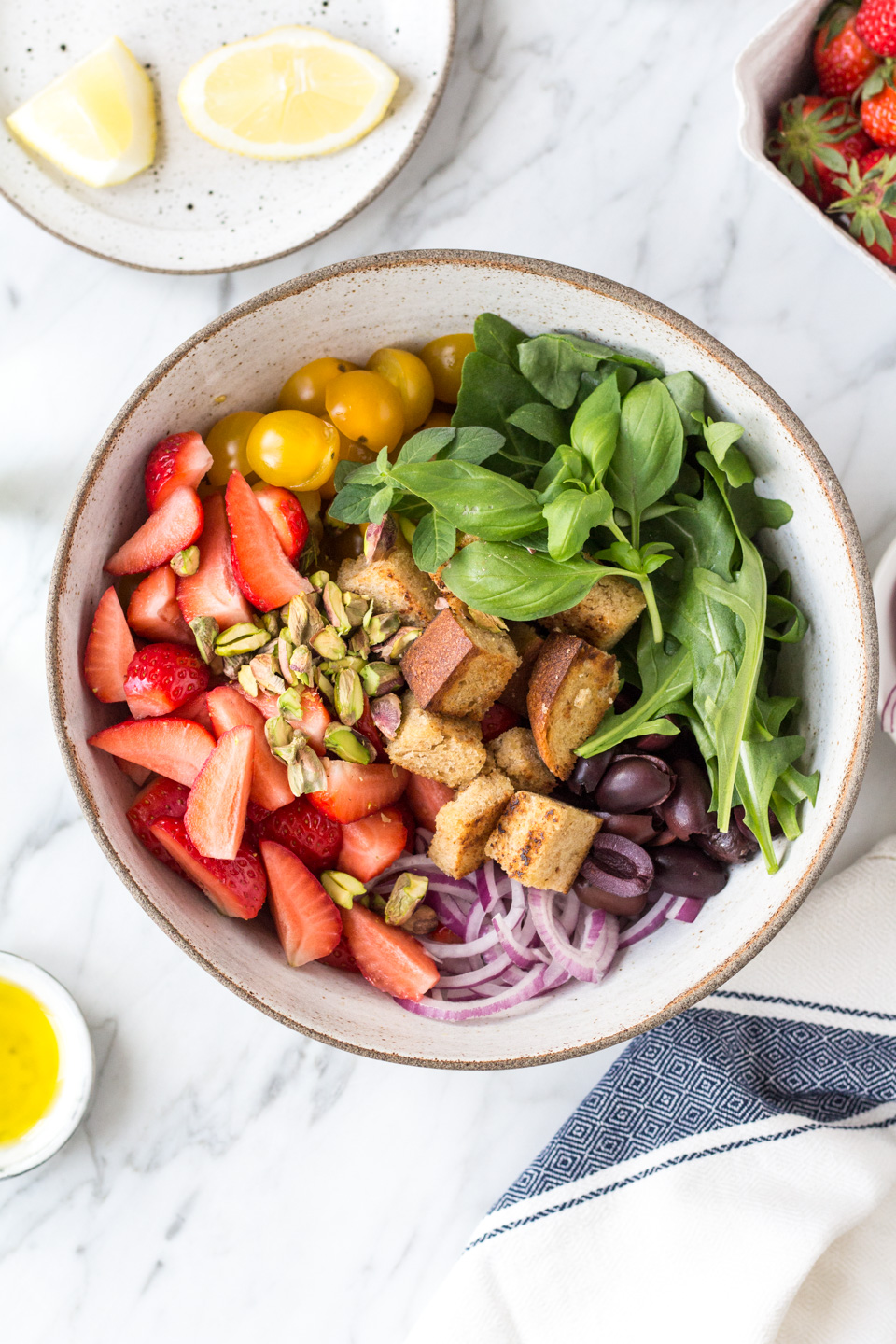 During the summer months, I'm craving more and more Mediterranean dishes. We also eat olives almost daily, dip some delicious sourdough bread in high-quality olive oil, enjoy crispy salads, and the occasional non-alcoholic beer. These things remind us of former vacations, and they instantly put us in a good mood.
Did she really just say bread, oil, and beer?
Often, people can't imagine that these things have a place in a balanced diet. Healthy eating is often only associated with abstinence and dieting, but the exact opposite is the case. With my recipes, I don't want to take anything away from anyone, but rather encourage people to eat more. To integrate more vegetables, try out more unfamiliar things, and to eat more things that are good for the body.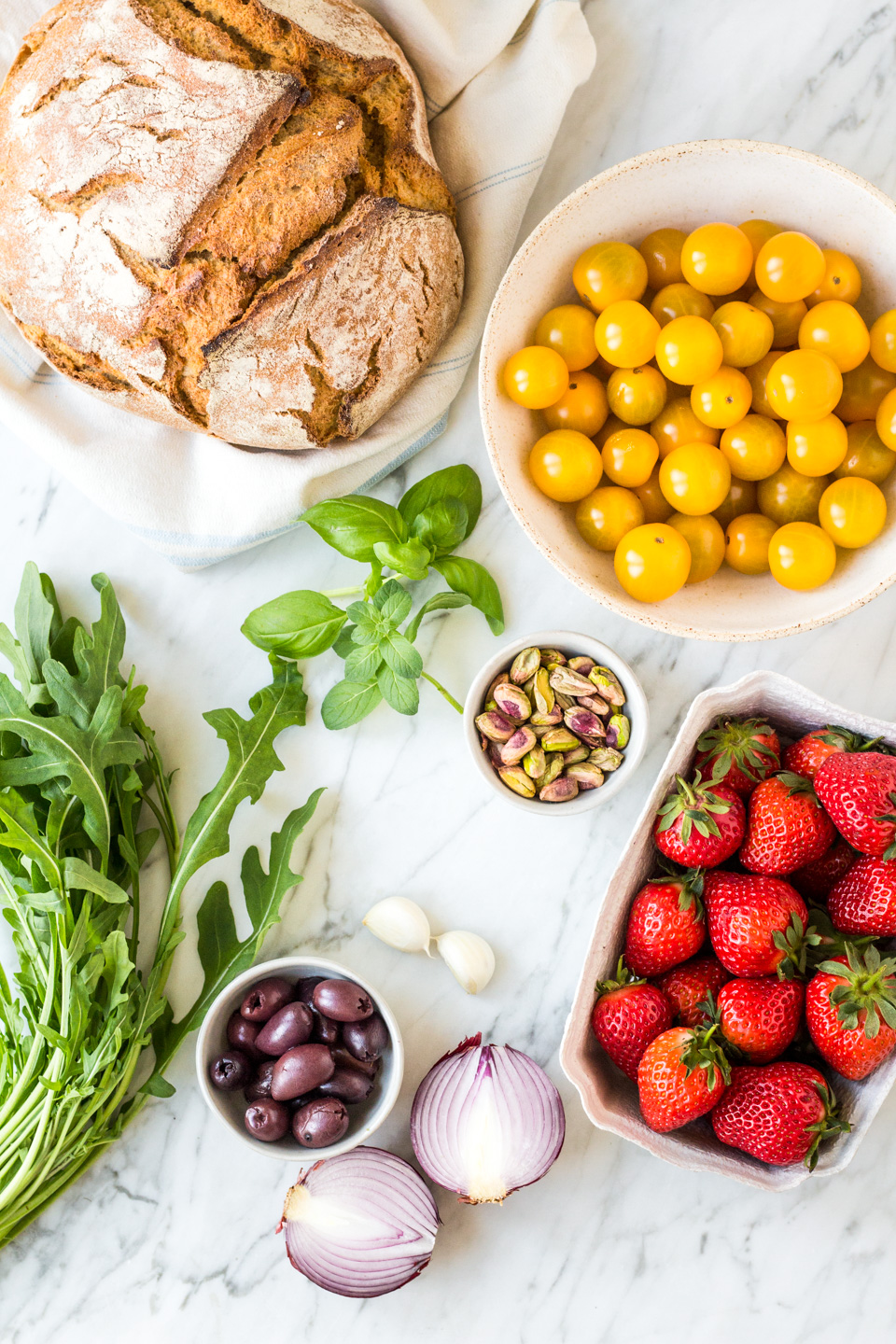 It all comes down to a healthy balance. As long as we regularly supply our body with nutritious food, for example with vegetables, fruit, nuts, and oilseeds or pulses, we can consume all of the less-nutritious foods without hesitation. Now, that doesn't mean that bread isn't good for you. A high-quality organic loaf of sourdough bread with a high proportion of whole grains contains an enormous amount of fiber. These complex carbohydrates are good for the intestinal flora because they nourish our good intestinal bacteria. Therefore, I have no interest in the demonization of carbohydrates. For me, life is too short for low carb.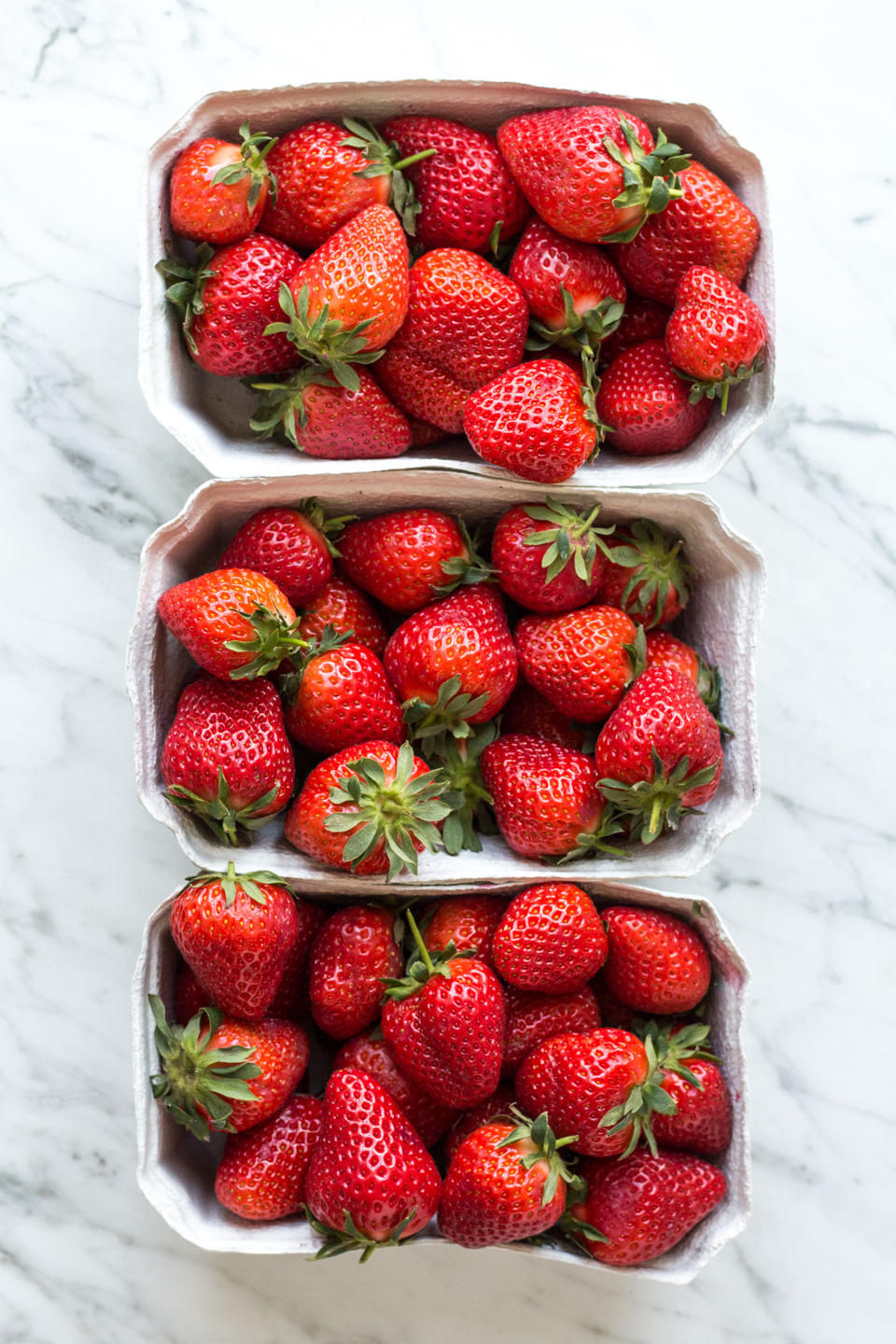 That is why today's recipe celebrates old bread. Panzanella is in fact a Tuscan bread salad that is basically a leftover food. If we have some bread leftover, I like to fry it in a pan to make croutons. It is a small but significant contribution to prevent food waste. But Panzanella is more than just recycling leftovers. The bread salad shows how seemingly simple ingredients can create an incredible taste experience together. Of course, Panzanella is a traditional Tuscan dish, and I am in no way trying to take credit for it. All credit goes to the beautiful area of Tuscany and its friendly people.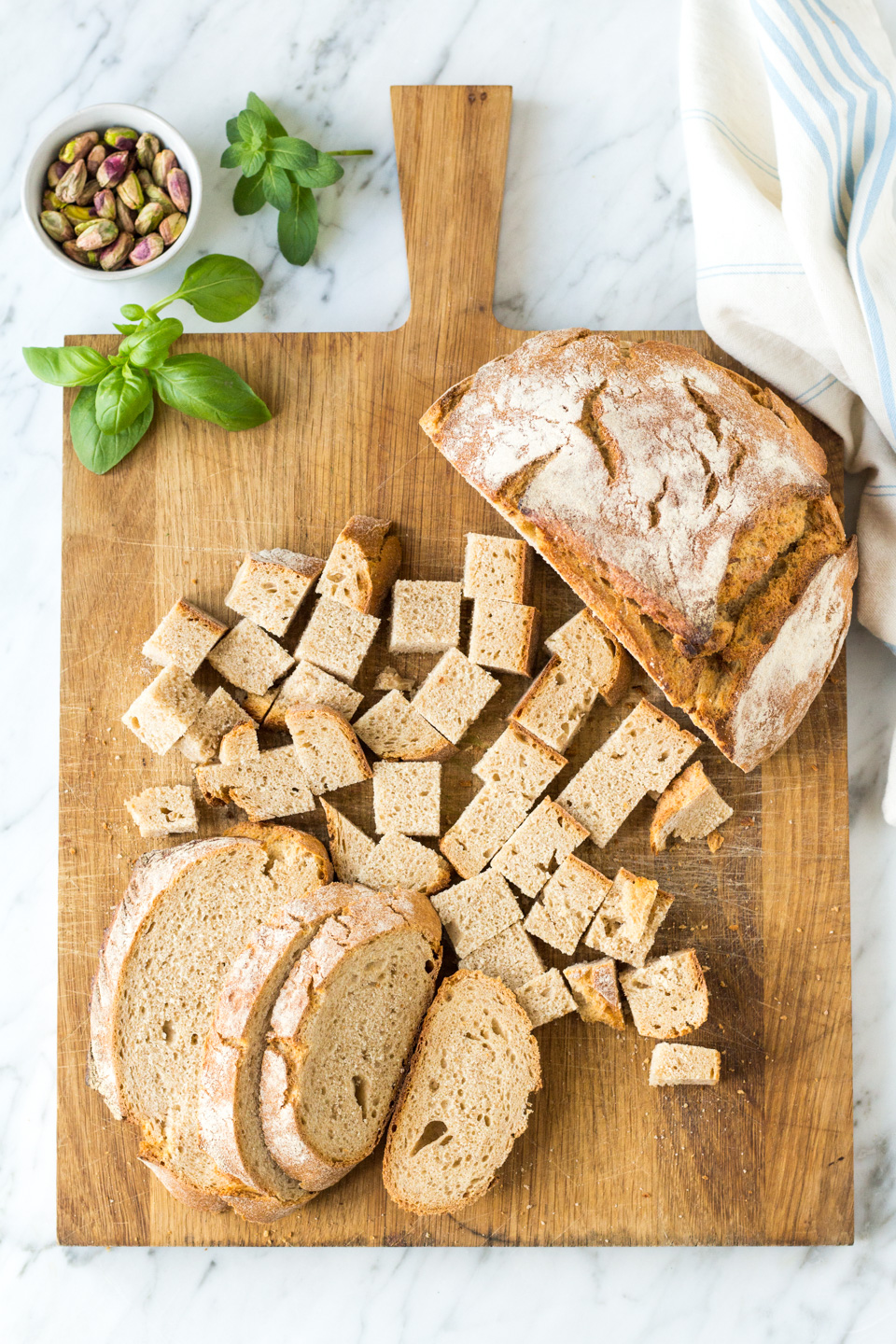 Of course, there are no strawberries in the traditional Panzanella recipe, so it's more accurate to call this salad a bread salad with strawberries. The reason why I added strawberries is my love for seasons and for these incredible local berries. I often put them in green salads, so adding them to my bread salad was a given for me. If you want the real Tuscan-experience, book a trip to Tuscany (difficult at the moment) or omit the strawberries in this recipe.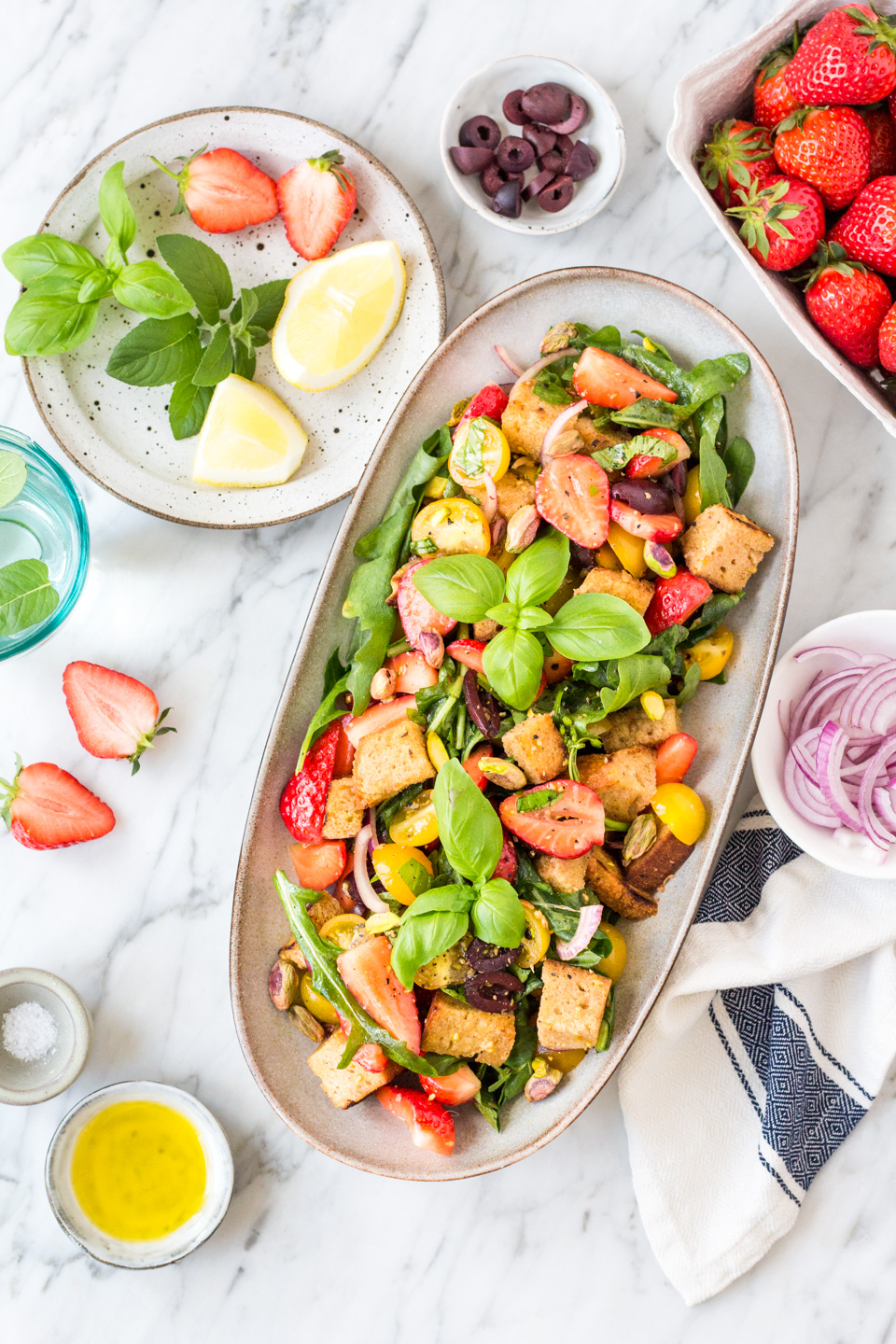 No matter how or where you enjoy this bread salad, I hope you can enjoy it with someone you love.
Take care,
xx
Lynn
[tasty-recipe id="8118″]