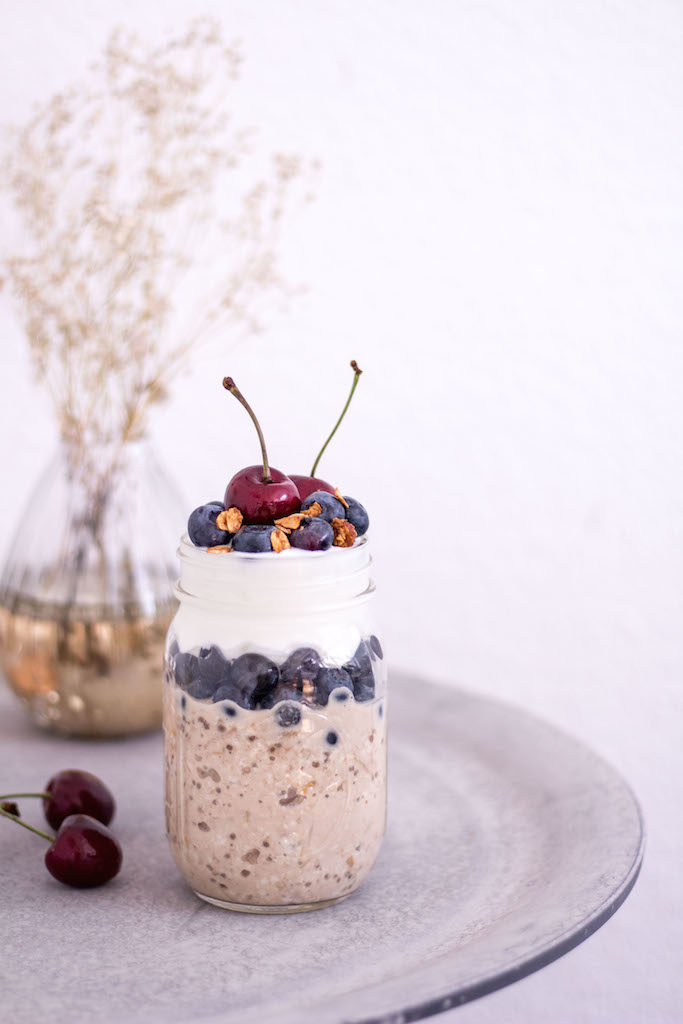 I'm strolling though London with my sisters today, but I nevertheless prepared this blueberry bircher muesli parfait with coconut yoghurt so you can add another recipe to your To-Do list or save the bazillions-th recipe to Pinterest. I realized, that there's actually not that many breakfast recipes on the blog yet, so I'll try to come up with more creative ways to start the day in the near future. 
So I have developed a slight obsession for breakfast in a jar last week. I don't know why it has never occurred to me before, but if I eat my breakfast out of a jar, and layer it in a pretty way, I feel like having breakfast in a nice healthy hipster café. Which is exactly what we are doing here in London right at this moment (at least I hope so, we've got SO many healthy eating places on our list, my sisters are probably already annoyed by my healthy eating obsession). I'll be sure to make a healthy eating in London guide, when I'm back home.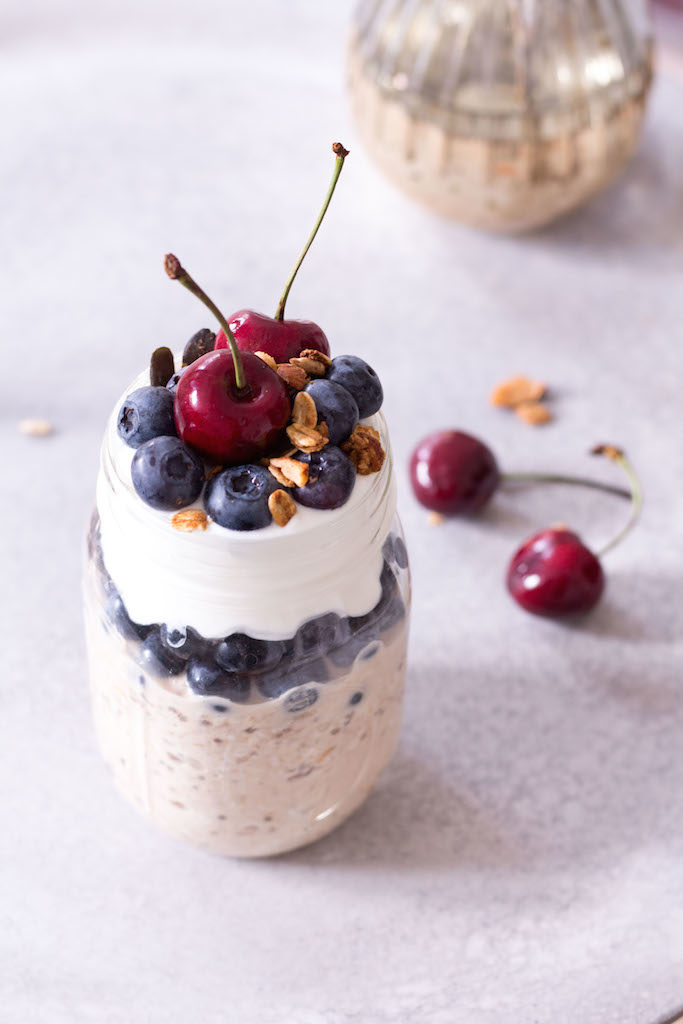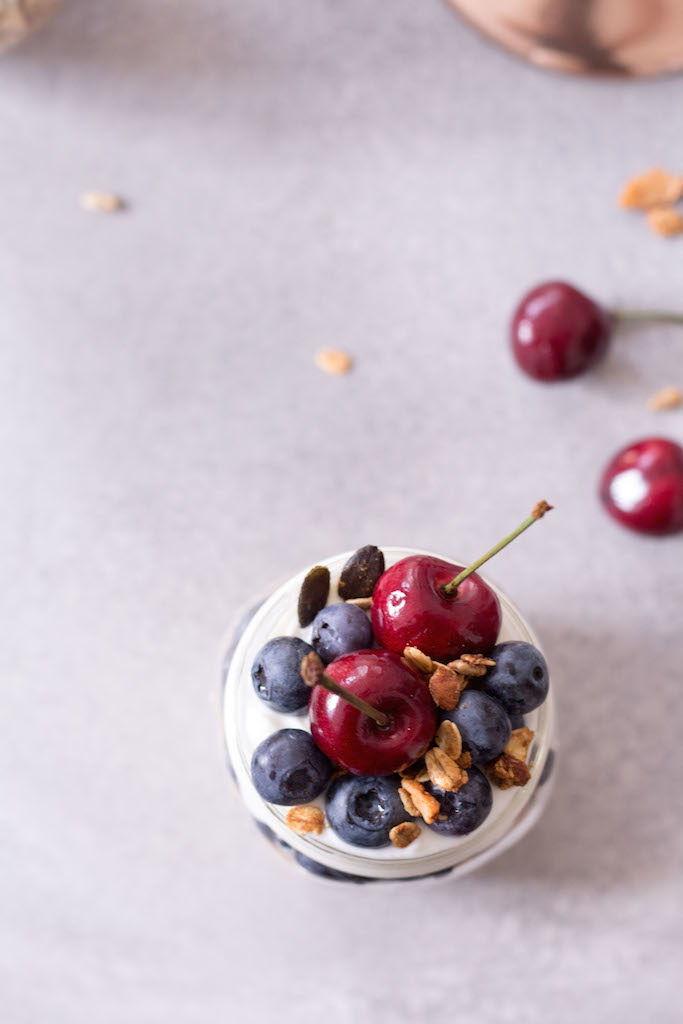 Anyways, now to this blueberry bircher muesli parfait with coconut yoghurt. What good does it do to your body? First of all, it'll keep you satisfied in the morning as it's full of fiber from the oats and nuts. The later also provide healthy protein and mono-unsaturated fats, which keep your heart healthy. Blueberries are basically antioxidiant goddesses (I'm just assuming here that they are ladies), because they get the glow on your skin and help fight free radicals that can cause oxidative stress in our body. Coconut yoghurt is amazing for your gut as it contains probiotics, which aid digestion. Be careful when you buy your coconut yoghurt though, you want it to be free of nasty preservatives and added sugars.
If you can't find coconut yoghurt, then any other plant based yoghurt works just fine. I am just not a big fan of soy yoghurt, as it is often full of nasty ingredients. In the USA I would probably opt for almond or hemp yogurt. Or, if you're not completely plant based like me, you could also go for greek yoghurt instead. No matter what yoghurt you pick, it's gonna taste great.
If you want to know how to make the healthy bircher muesli for the base, just check out my YouTube video and subscribe to my YouTube channel if you like it.

Blueberry Bircher Muesli Parfait with Coconut Yoghurt
Ingredients
For the healthy bircher muesli:
1 cup of oats (80g)
1½ cups (360ml) of almond milk (or any other plant based milk)
1 grated apple
1 tsp honey or rice syrup
1 tbsp of chia seeds
2 tbsp ground nuts (hazelnuts or almonds)
1 tsp sunflower seeds
1 tsp pumpkin seeds
For the parfait:
½ cup of coconut yoghurt
two handful of blueberries, plus more to top
homemade granola to top
a few cherries to top
Instructions
For the healthy bircher muesli:
Grate the apple and add it to a bowl together with all the other ingredients. Let it soak over night if you wish, or for at least 30 minutes.
For the parfait:
Divide the bircher muesli equally between two jars for the first layer. Add a handful of blueberries and top with the coconut yoghurt and a sprinkle of granola. If you serve it immediately, you can decorate it with more blueberries and/or cherries. Otherwise just put the lit on and take it to work or uni with you.
Enjoy!
---
DID YOU MAKE THIS RECIPE OR HAVE ANY SUGGESTIONS, QUESTIONS OR COMMENTS?
Feel free to leave a comment below, and don't forget to tag your creations on social media using #heavenlynnhealthy.
I'd love for this blog to be a dialogue.
---