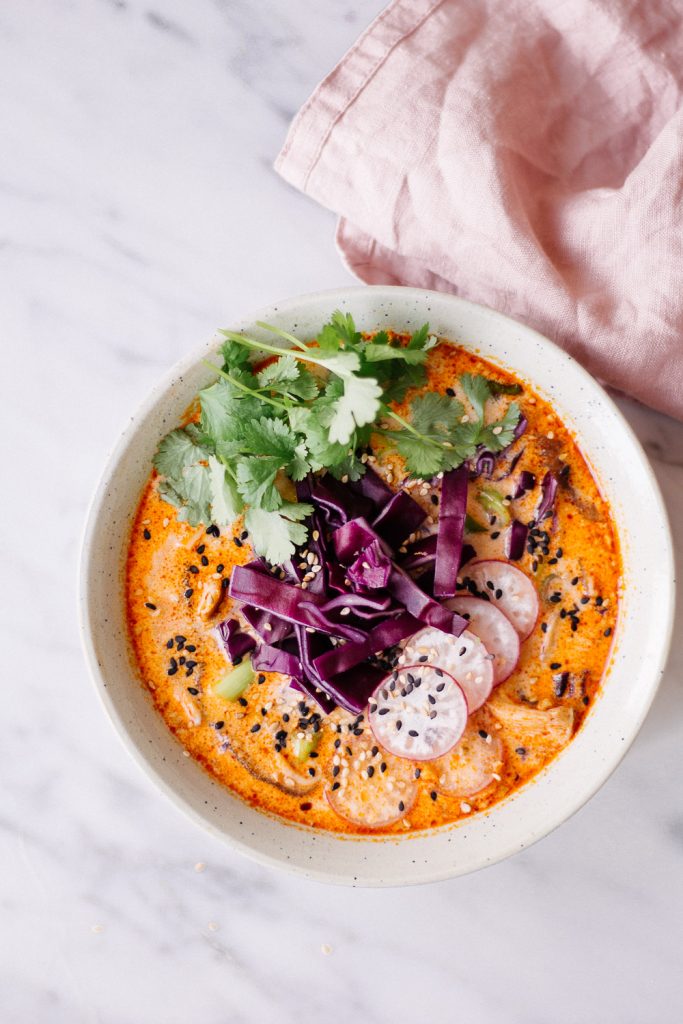 Have you ever tried inviting friends over for brunch or dinner in January? I can tell you from experience: don't. Just don't. January is the month where it is the least fun to have friends over family over to enjoy a meal together. Why? Because everyone is doing a challenge – that's why!
30 days without sugar. 30 days vegan. 30 days of veggies….you name it. I secretly call it "Challenuary". Your best friend is suddenly vegan, the other friend gluten-free and the third decided to give up glucose and fructose for good. It's nearly impossible to make a meal that fits everyone's Challenuary goals.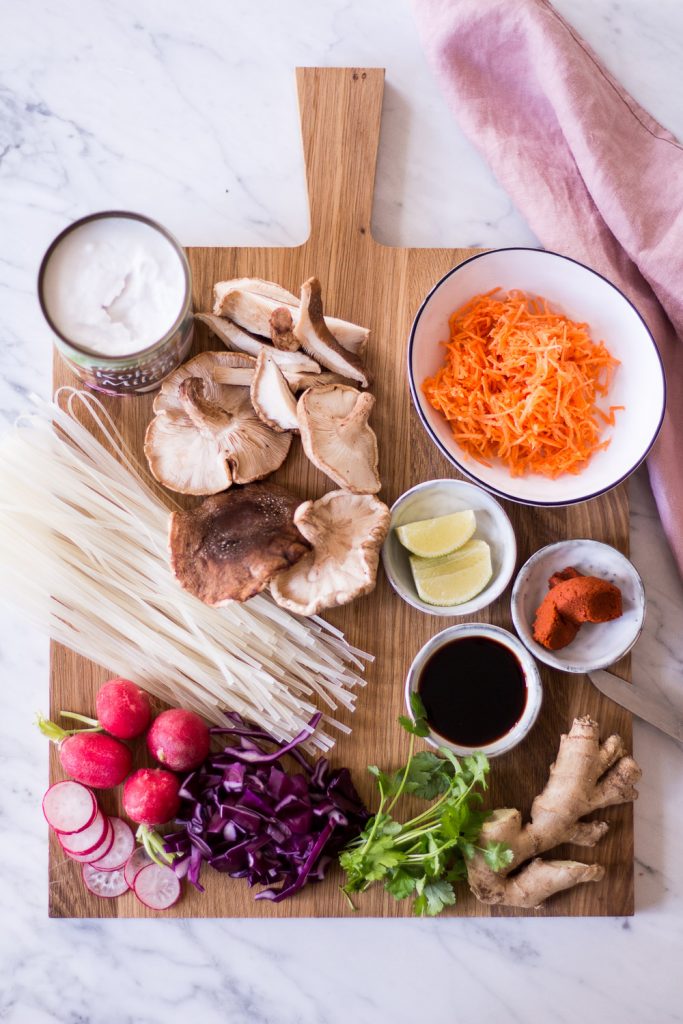 But worry not! I've got the answer: it's this magical Thai-style coconut soup! This soup is magical in so many ways. First of all, its base is vegan, gluten-free, refined sugar-free and completely healthy. So most people will like it and will be able to eat it in January. Second, you can adapt the soup according to your specific preferences. You can play around with the veggies, add your choice of protein and get crazy creative! This magic Thai-style coconut soup is anti-discriminative and is your best friend for having friends over in Challenuary. I don't think we need to discuss that it's also incredibly delicious. That's a given.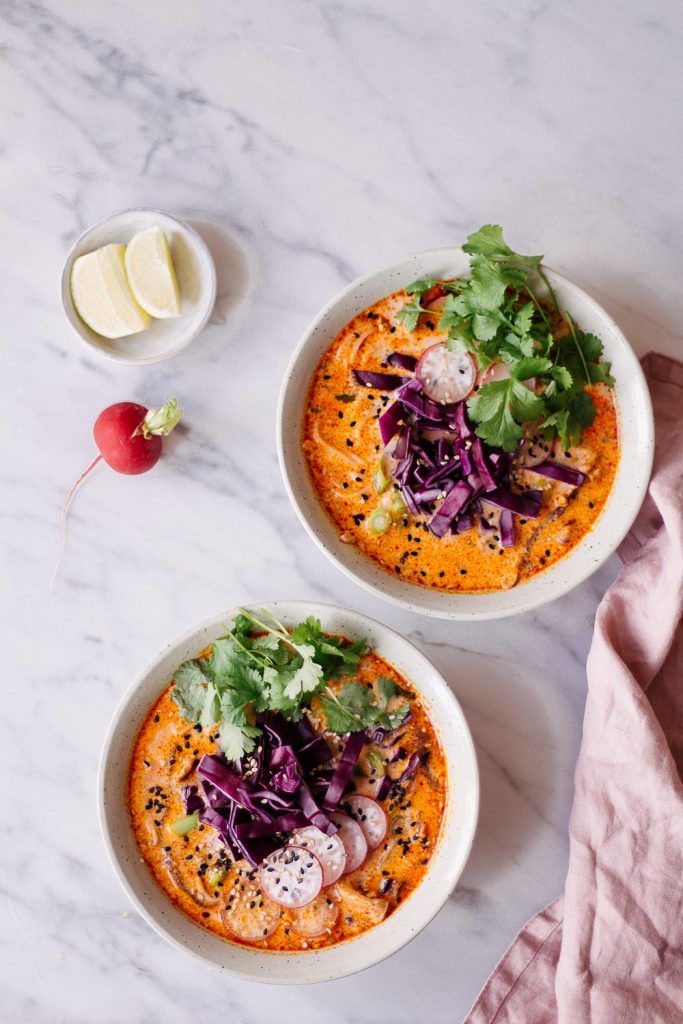 Now, what do you need to make this soup? Nothing much. Just some homemade or store-bought red Thai curry paste, coconut milk, ginger, tamari and vegetable stock paste. The rest is totally up to you. If you're not living completely vegan then you might even add salmon, shrimps or whatever else you love to the soup. I prefer shiitake mushrooms as my protein-source, because they just add a lovely texture to this comforting dish.
So if you're crazy enough to invite friends or family over in the next few weeks, I urge you to give this soup a try. You can also use it as a clean-the-fridge-soup by using up all the leftover veggies on your counter. And you will make your own life and the life of your guests so much happier! Trust me.
Don't get me wrong. I think that changing your diet is amazing. But I also think that it's better to focus on long time goals than going healthy for 30 days and then back to old habits because the diet phase is over. What's your take on challenges?

Magical Thai-Style Curry Coconut Soup
Ingredients
For the red curry paste:
4 cloves of garlic
2 shallots
4 cm of fresh ginger
7 small thai chilis (use 5 for a milder paste, up to 10 for spiciness)
1 tablespoon of coriander seeds
2 teaspoons of cumin seeds
½ bunch of cilantro
1 lime, the zest
1 tablespoon of sea salt
For the soup base:
1 - 2 teaspoons of homemade red Thai curry paste (see below)
1 tablespoon of extra-virgin coconut oil
2 tablespoons of homemade vegetable stock paste
5 cups (1250ml) of water
1 can (400ml) of coconut milk
2 tablespoons of tamari
2 tablespoons of honey or coconut sugar
1 lime
For the veggnie soup filling (pick and choose):
8 shiitake-mushrooms
5 radishes
1 cup (60g) of red cabbage
1 lime
fresh cilantro, thai basil, basil
1 package of rice noodles (200g)
1 carrot
1 small zucchini
if you are not vegan or vegetarian, you can add 10 fresh shrimps or 2 salmon filets. I think it tastes just fine with veggies
Instructions
For the curry paste:
Peel the garlic, shalltos and ginger. Place it on a baking sheet and roast for about 25 minutes at 180°C fan. Use gloves to remove the seeds from the chili.
In a nonsticky pan, roast the spices without oil until their flavor starts to develop. Place all ingredients in a food processor and blend until a smooth paste forms. Store it in an air-tight container for up to two weeks in the fridge.
For the soup:
Start by grating the ginger or chopping it into small pieces. Chop the veggies of your choice. I prefer spiralizing them.
Heat the coconut oil in a large pot over medium heat. Add the grated ginger and red curry paste and Now add the water, vegetable stock paste and coconut milk and bring to a boil over medium to high heat. Reduce the heat to medium low and add the tamari, the juice of the lime, honey or coconut sugar, and vegetables of your choice. Let it simmer for about 10 minutes. If you're using other non-plant protein choices, then add them now.
Boil the rice noodles in a pot of hot water for about 5 minutes, depending on the size of your rice noodles. Drain the water and set aside.
Once the vegetables are tender, but not moushy, remove the soup from the heat. Add the rice noodles and garnish your soup with fresh cilantro, red cabbage or radishes and add some more tamari or lime juice if you prefer.
Enjoy!