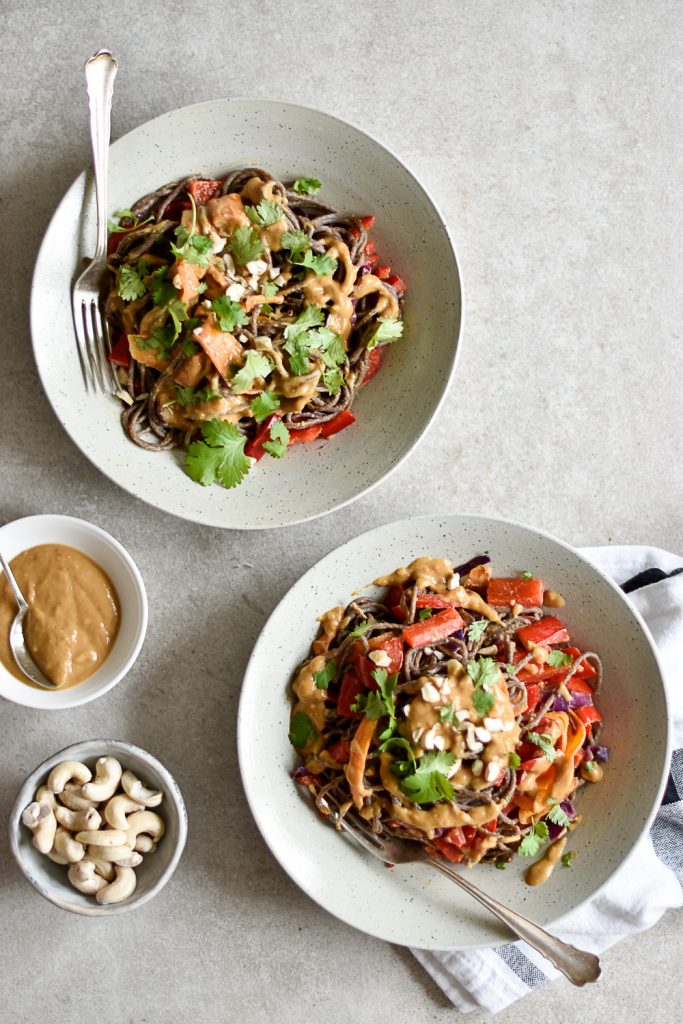 * This recipe is sponsored by Alnavit.
Have you ever tried finding 100% buckwheat noodles in a regular supermarket or asian store? I've tried and failed misreably. All "buckwheat"-noodles that I found had a 20% buchwheat and 80% wheat label. To say that I was frustrated is probably and understatement. Sometimes labels are just so misleading. That's exactly why I try to make most of my dishes with 100% natural ingredients. Making pasta, however, is simply too time-consuming, so I have to rely on high-quality brands that use the least amount of ingredients with the highest amount of flavor and nutrients.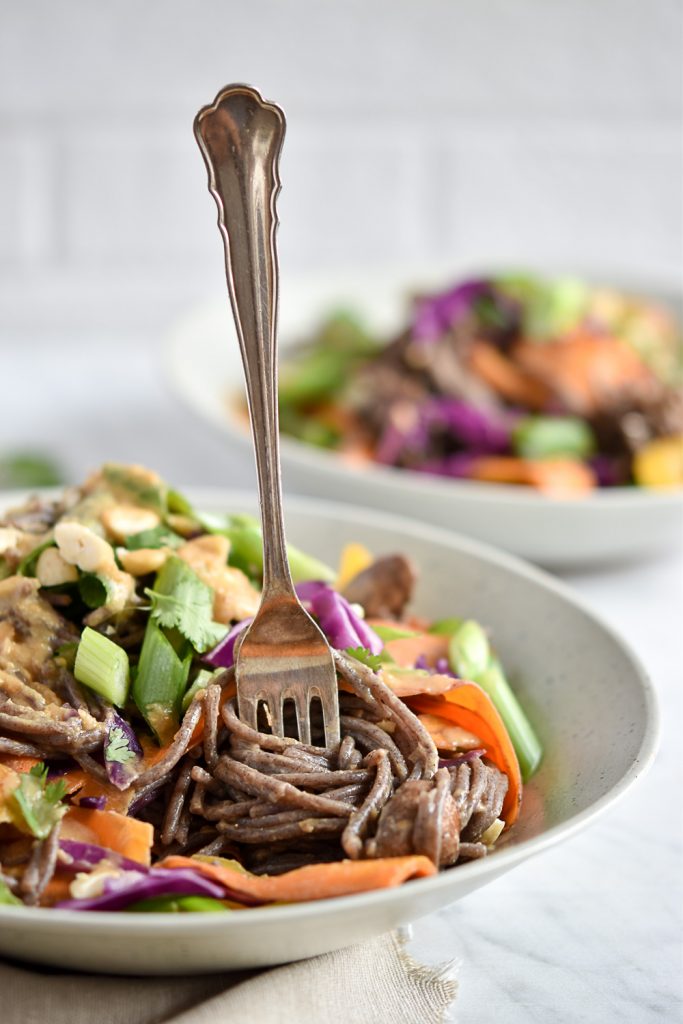 But like I said, those brands can be so hard to find. One brand that I found and trust is Alnavit*. It's a small almost family-sized business near Darmstadt, specialized in allergy-friendly and wholesome foods such as pasta, flour, bread mixes and gluten-free (and healthy!) snacks. I found Alnavit a few months ago, and I have been a big fan of their pasta products ever since.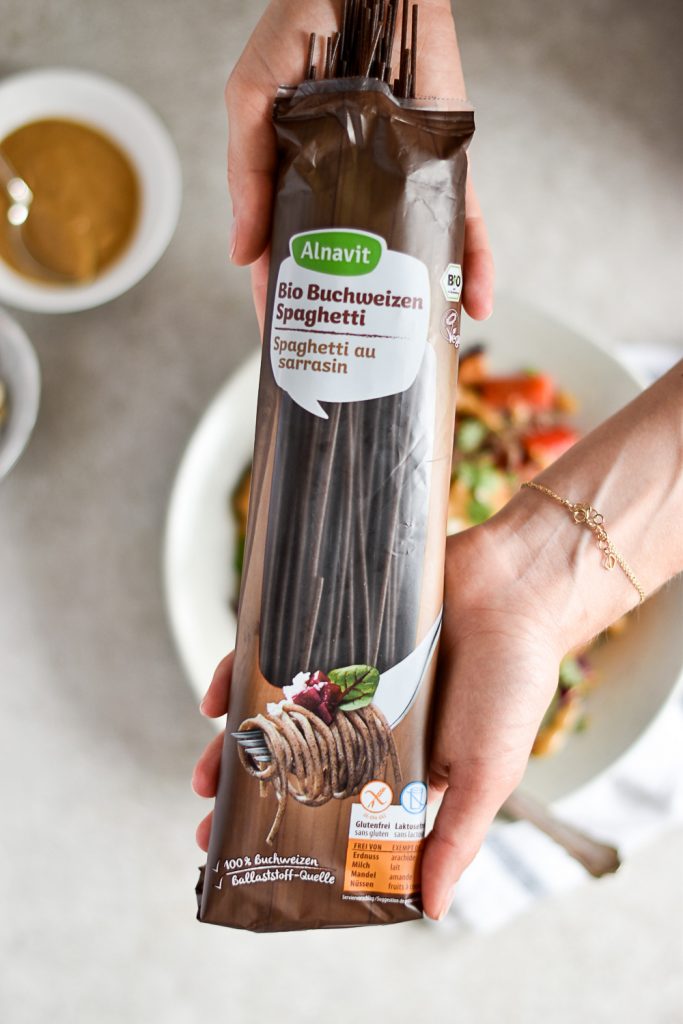 If you've been following me for a while now, you know that I do not make recommendations light-hearted. If I recommend something – be it a company, a recipe, a blogger or a kitchen gadget – then I truly and with all of my heart support that brand and their mission. Alnavit is one of those companies, and I am 100% confident that you will feel the same way about their products as I do. The product that introduced me to Alnavit was their 100% buchwheat spaghetti, and I am so happy to have created a recipe featuring their signature pasta.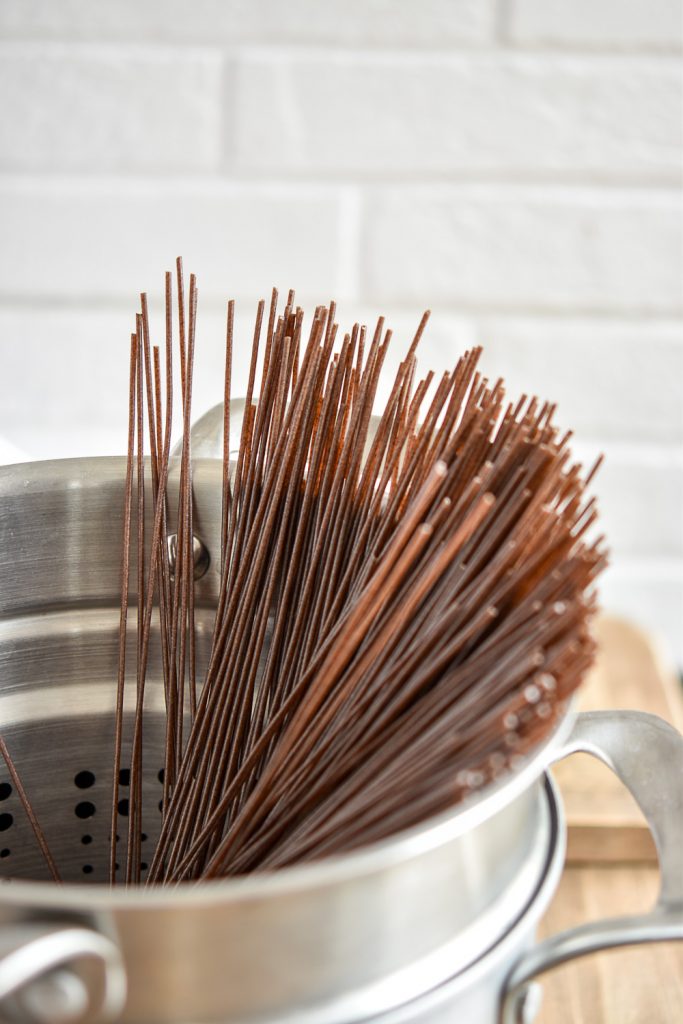 What makes this pasta recipe truly special is the combination of buckwheat and miso – a combination that is very common in Japan. Studies show that some of the oldest and healthiest people on this earth live in Japan, and most of them even follow a holistic natural wholesome diet. Now, I don't know if buckwheat noodles and miso will let you live longer, but I do know that the taste will bring you joy. At least, it did for me!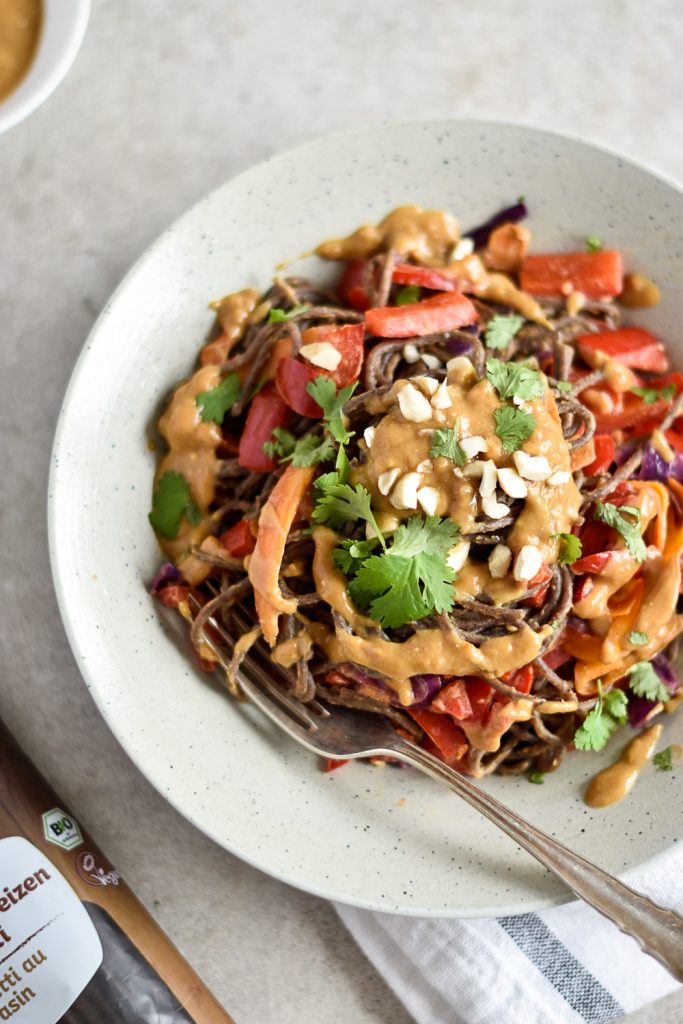 The miso-cashew-sauce really has the potential to kick my peanut-lime sauce of its throne – that's how good it is. Miso is a fermented paste traditionally made of soy beans, but you can also make miso with rice, lupins or peas. Miso is very rich in nutrients and it contains all essential amino acids – making it a complete plant-based protein. It's become one of my stable foods and I could not recommend it more.
As I am writing this, I am already craving these buckwheat spaghetti with miso-cashew-sauce again, but before I will share the recipe, I have a very exciting giveaway for all German, Austrian and Suisse readers:
Alnavit Pasta Party Giveaway!
Together with Alnavit, I am giving away three pasta party packages including the following products:
Pasta
Pasta-Sauces
The pasty party package has a total value of 18 Euros.
---
To enter, here's what you have to do:
Leave me a comment underneath this post with a valid email-adress (so I can contact you).
Tell me if you knew Alnavit before, and if you did, what you value about the brand (or if you're excited to try them :)).
That's it. You're in.
Unfortunately, the giveaway is only open for German, Austrian and Suisse readers (sorry!). The giveaway ends on July 10th, 11:59 pm. I will contact the three winners via email.
---
Print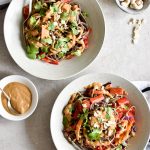 Easy buckwheat miso spaghetti
---
Author:

Total Time:

35 minutes
For the miso-cashew-sauce:
4 tablespoons

of cashew butter or

50g

of cashews

2 tablespoons

of water

4 tablespoons

of tamari

2 tablespoons

of white or yellow miso paste
the juice of 1 lime

2 tablespoons

of coconut blossom sugar

1

clove or garlic

2

cm of fresh ginger

½

to

1

teaspoons of chili-flakes (depending how hot you like it)
For the buckwheat-spaghetti:
250g

of buckwheat spaghetti, I love Alnavit

1

red bell pepper

200g

of red cabbage

200g

of spinach

250g

of mushrooms

2 teaspoons

of extra-virgin coconut oil
fresh basil or cilantro

2

of spring onions

50g

of cashews for topping
---
Instructions
For the miso-sauce:
If you use cashews, you need to soak them for at least 4 hours. If you do not have enough time, you can boil them for 10 minutes as well. Soaked or boilt, drain them before you use them for the sauce. Simply blend all ingredients for the sauce (cashew butter or cashews) until a smooth sauce forms. Set aside.
For the buckwheat-spaghetti:
Bring about 1.5 liters of water to a boil. Add the buckwheat spaghetti and cook for about 8 – 9 minutes until they are al dente.
Wash and cut the vegetables in small sized pieces. Wash and dry the spinach. Cut the spring onions in rings and rouhgly chop the cashews.
Heat the coconut oil in a pan on high heat. Quickly sauté the vegetables and spinach until the spinach is wilted. Reduce the heat and add the drained buckwheat spaghetti and the miso-cashew-sauce. Mix until all of the spaghetti are covered with the miso-sauce.
Serve with the spring onions, fresh basil or cilantro and chopped cashews.
Prep Time:

20

Cook Time:

15
Enjoy!
*This post is sponsored by Alnavit. All opinions are my own, always. Thank you for supporting the brands that make hour-long recipe testings in my kitchen possible.
Merken
Merken
Merken
Merken
Merken