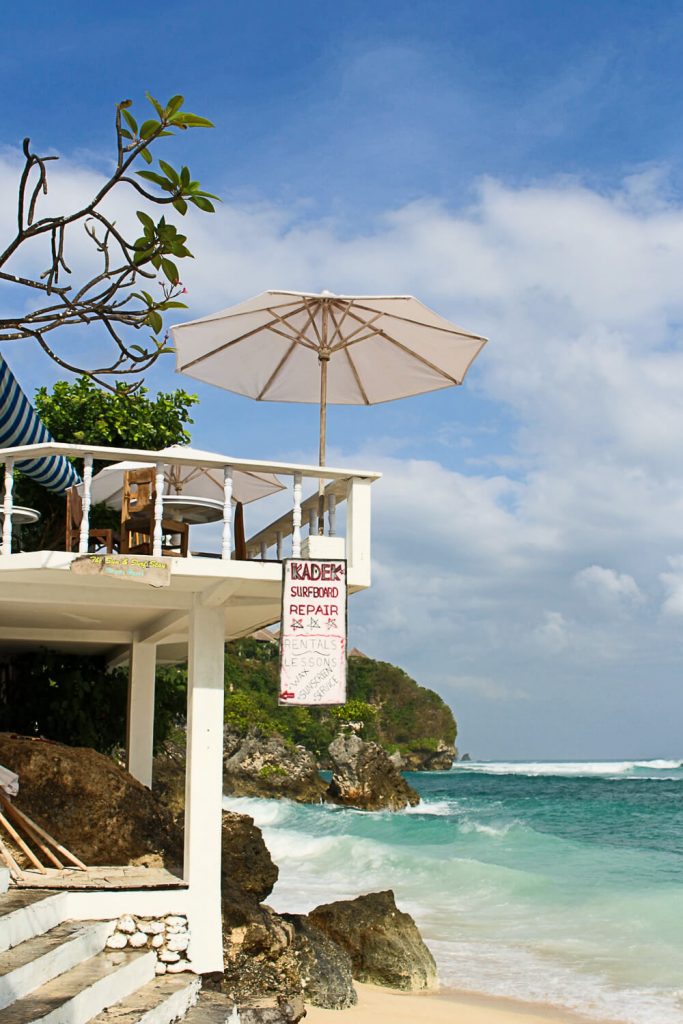 If you follow me on Instagram (or read my blog thoroughly), then you've probably noticed that I have been travelling around Bali tthese past two weeks. It was an incredible experience, my first time really travelling in an Asian country, and it could not have been more perfect. This trip had been on my bucket list for years, and I do not even remember why I put it off for so long. Bali is the place to be if you love healthy food, being active, nature and meeting new friendly people (both Indonesian and Internationals). I fell deeply in love with the friendliness of the Balinese people, and have come to admire their take on life. In Bali, no one rushes, it seems like everyone is mindful of the present, not worrying about the future or the past. Mindfulness is one big word that is realyl being practiced in Bali.
Since I've gotten so many request both during and after my trip, I decided to split my Bali experiences into three guides: Uluwatu & South Bali, Canguu and Ubud. This might seem quite a lot given that this is a food blog and not a travel blog, but Bali is THE island when it comes to healthy living, so everyone with a healthy mindset should read this and travel to Bali once in their lifetime.
Our travel route
The question that we got most often (and that we asked ourselves plenty of times before we booked anything) was where we stayed and where we did not go. After reading lots of blogs and travel guides, we decided to start our Bali trip in Uluwatu, more accurately in Bingin Beach, then head into the busier and trendier Canggu and then spend the final four days in Bali's cultural centre Ubud. This route turned out to be the perfect mix for us, and I would definitely take this route again. The South of Bali is perfect for first-time visitors as it's quieter, not crowded at all and also a great place to start riding on a scooter. If you're looking more for nightlife and shops, then Seminyak or even Kuta would be your best option (not for me though), and if you're into scuba diving or snorkeling you might want to take a look at North and East Bali. It all depends on your wishes and needs.
How to get around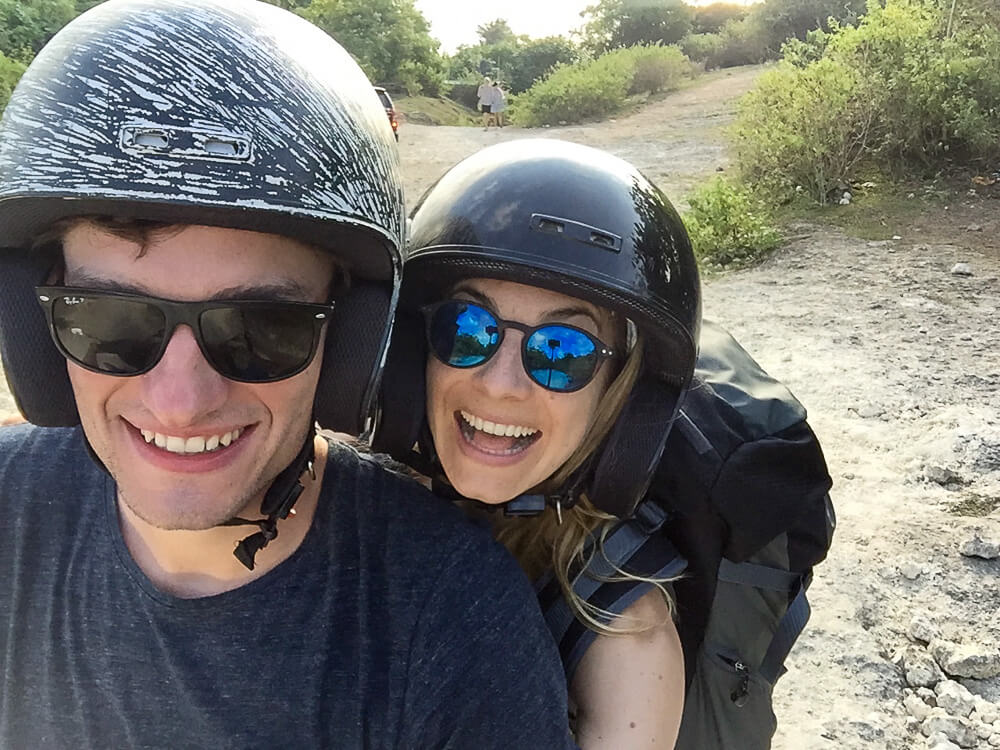 Exploring Bali without a scooter is pretty much pointless. You will be missing out on a major part of the Bali culture – everyone drives a scooter! Neither Jannis nor me had ever ridden a scooter before, and we managed to get a hang of it within half a day. Starting your Bali trip in Uluwatu is perfect for first-time scooter-drivers, because the roads are almost empty and life is generoulsy more relaxed down there. However, if you're leaving Uluwatu and you're headed into Kuta or Seminyak, things can get pretty crazy on the streets. Switching to a cap when in the bigger cities is as advisable. Wearing a helmet should also be a no-brainer. Getting gas is also experience itself because it is sold on the street in empty vodka bottles, which cost about 80 Cents a liter.
The best sunset in South-Bali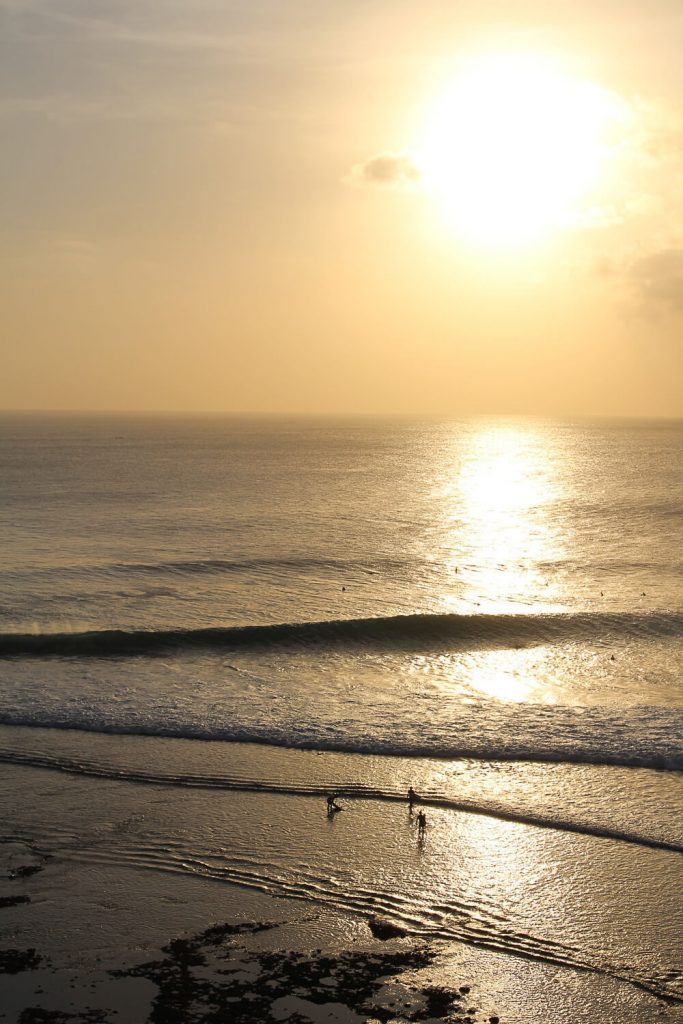 The best sunset in Bali can be found in Uluwatu. Most people tingle to the Single Fin, the roof bar at Uluwatu Beach. However, I recommend going one flight of stairs down to the bar right underneath Single Fin, as it's way less crowded and more down to earth than Single Fin. If you like party, load music and expensive drinks, then Single Fin is your place. We preferred the more laid-back atmosphere at the lower warung, where the real surfers end their days with a delicious Bintang.
Working out in Bali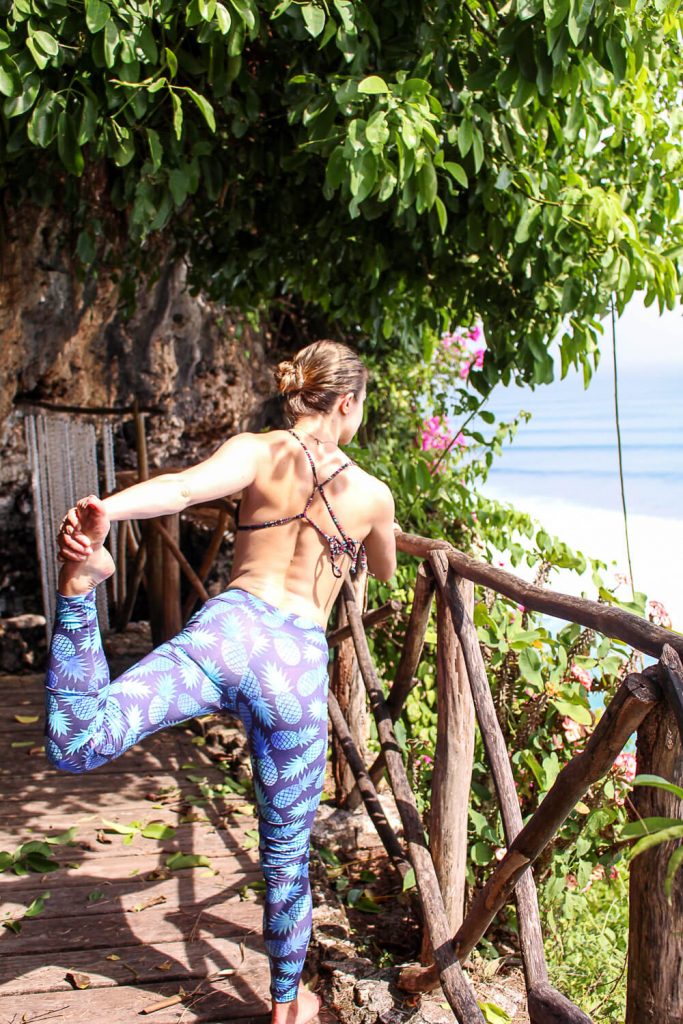 The biggest sport in Bali is Yoga. There is a yoga studio on each corner, most accomodations have their own scheduled yoga classes and some even have yoga mats waiting for you in your room so you can do your own vinyasas. Since I need some sort of sweat-wrechning activity at least 3 to four times a week, I felt restless in the beginning. We tried going for a run once, but humidity and moscitoes had us turning around after about 15 minutes. Running on the beach was not an option either. So we did a mix between morning yoga workouts and afternoon YouTube HIIT videos, which was totally enough for the time in Bali. There are also many gyms in Bali, if you're into weights or cross fit, so working out in Bali is not difficult.
Where to stay at Bingin Beach
Mu Bali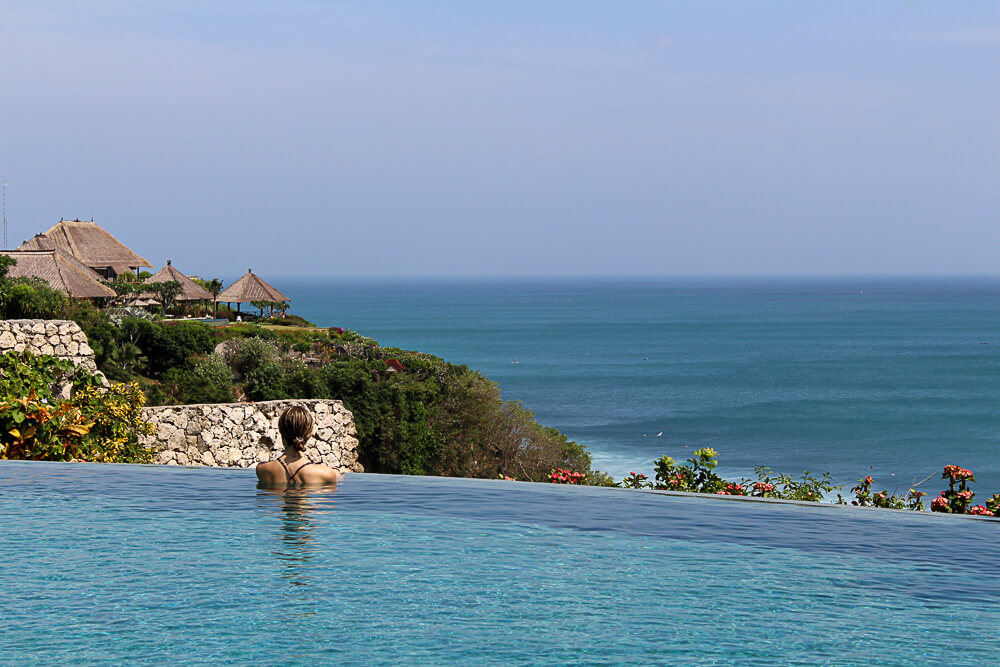 Mu Bali was our very first accomodation in Bali and it was definitely a lovely way to begin our special trip. We treated ourselves to the one and only cliff bungalow for two nights. It's way over our student-budget, but I had always wanted to sleep in a cliff, so we decided to go all in and pay for the 170 Euros/night. The view from our bed was definitely priceless, but so was being woken up by monkeys stealing our toiletries. To my defense (and the monkey's) we did arrive very late at night, and nobody had told us about the monkeys, and I totally forgot about them after traveling for more than 24 hours. So of course we left our toiletries in the open bathroom.
Because A) how amazing is an open bathroom and B) how amazing is an open bathroom – oh and C) monkeys???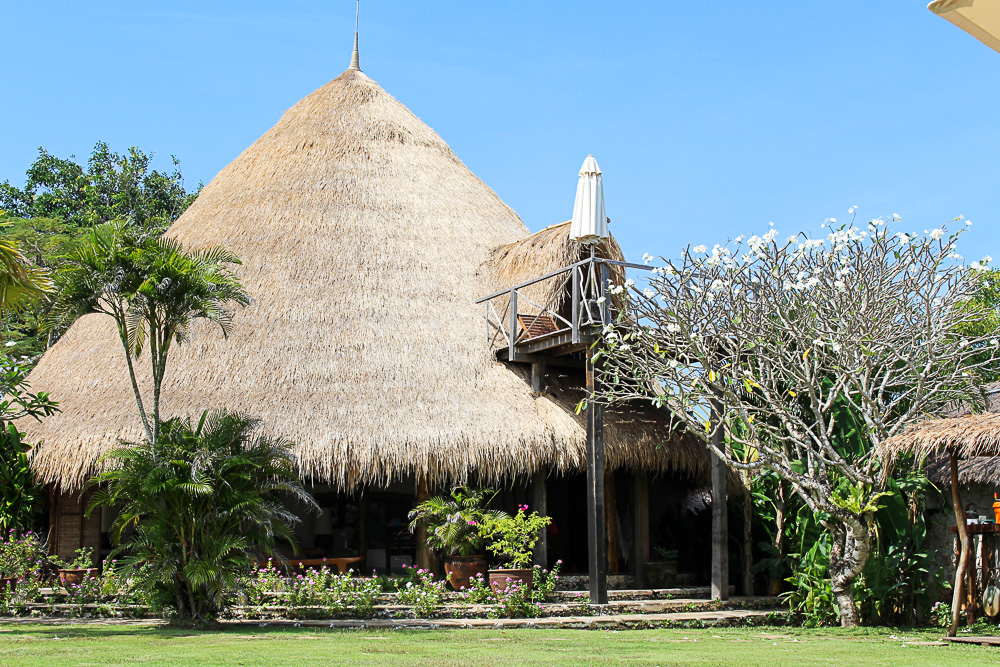 So of course the monkeys stole our toothbrushes and Jannis' lotion, but who can blame them. After all, it was us that invated their territory. The super friendly staff gave us slingshots to make noise (NOT to throw stones at them!), because otherwise you were never alone when you went to the bathroom.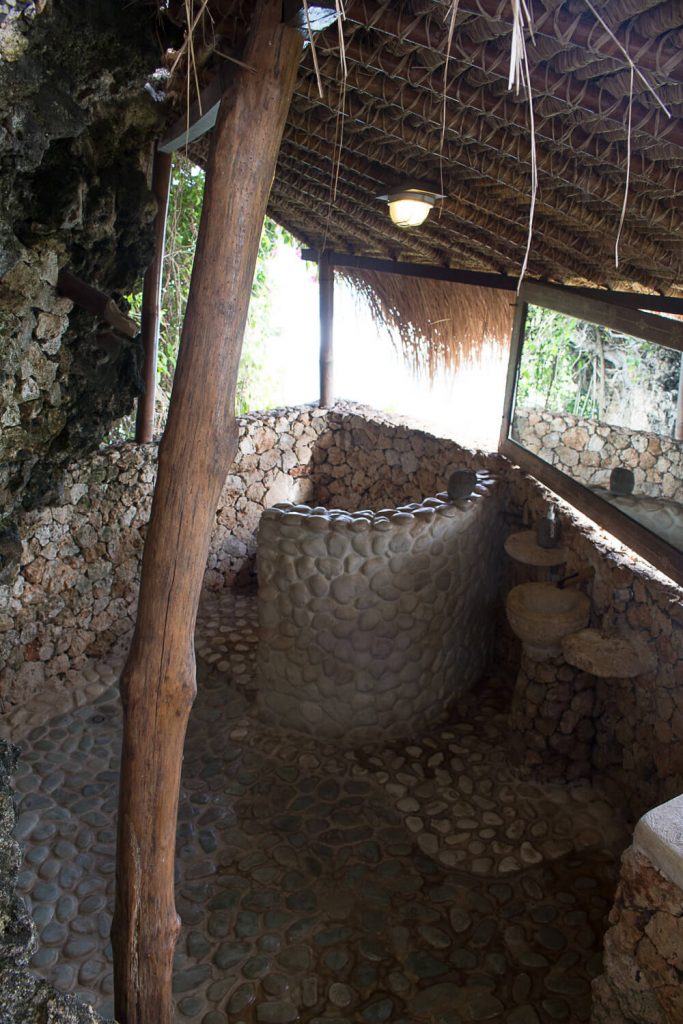 I do not know if I would recommend staying at the Cliff Bungalow if you are scared of monkeys or insects, because unfortunately we did have ants in our bed the first night. The second night was fine, as we paid much more attention to the mosquito net. The view from the room was of course incredible, but I think I would stay in one of the other bungalows next time, which seemed more tranquil and monkey-free.
However, the breakfast was amazing, so was the staff and the infinity pool speaks for itself. Mu is definitely a beautiful place to stay, especially with kids, so I would recommend staying there (just not in the cliff).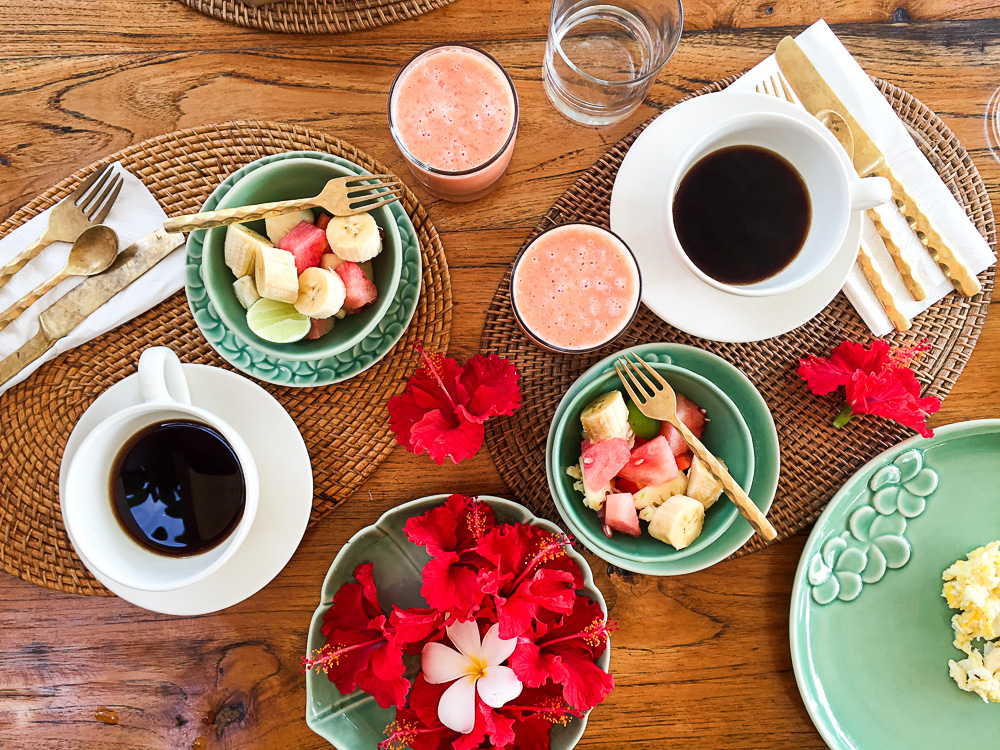 The Temple Lodge
After two amazing nights at the cliff bungalow, we took our bags and headed to the Temple Lodge, the direct neighbor of My Bali.
I was especially looking forward to our time there, because I had been emailing with Ame, the manager, before and I had heard so many good things about the Lodge. And it was everything I had dreamed of. The Temple Lodge has its very own rustic charme, and the interior of all of the rooms is simply breathtaking. There is so much love to detail at this place, the staff is beyond friendly and the food was definitely the best we had in Bingin. Every morning you can chose from a selection of dishes, including (listen!!) pitaya oats, coconut oats, banana coconut pancakes or organic egg variations. They also serve the best lunch bowls, such as the quinoa bowl, whose goal it is, to cover all of your daily vitamin, mineral and trace elements needs. I couldn't believe it. And you can choose one of their AMAZING juices to start your day right. The juice menu is anything but boring and includes delicious things like turmeric tonic, wheatgrass juice and many more.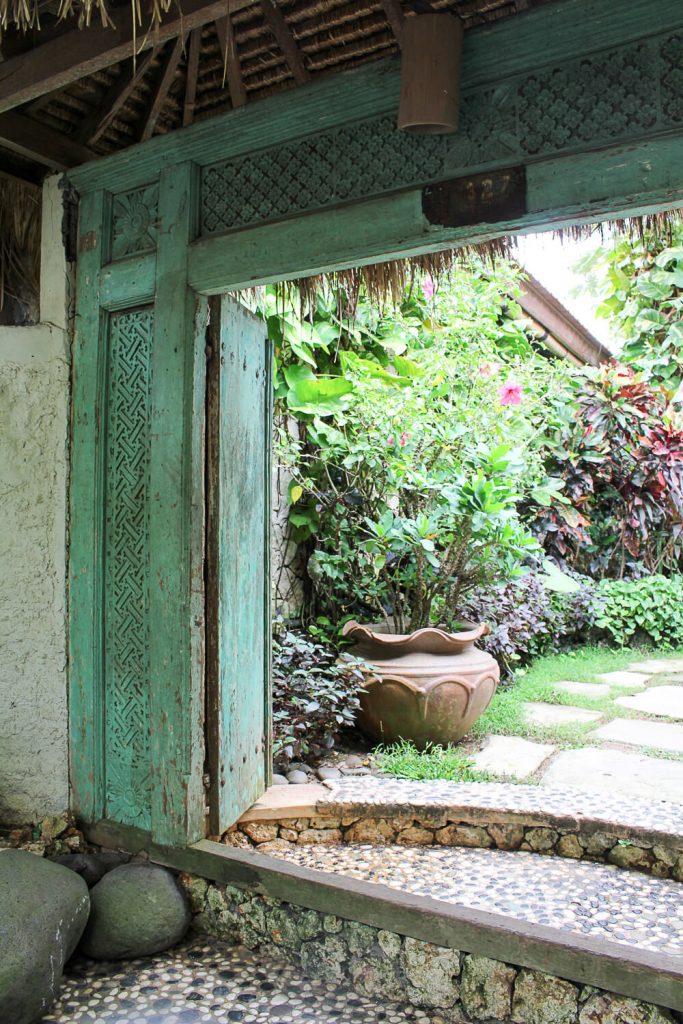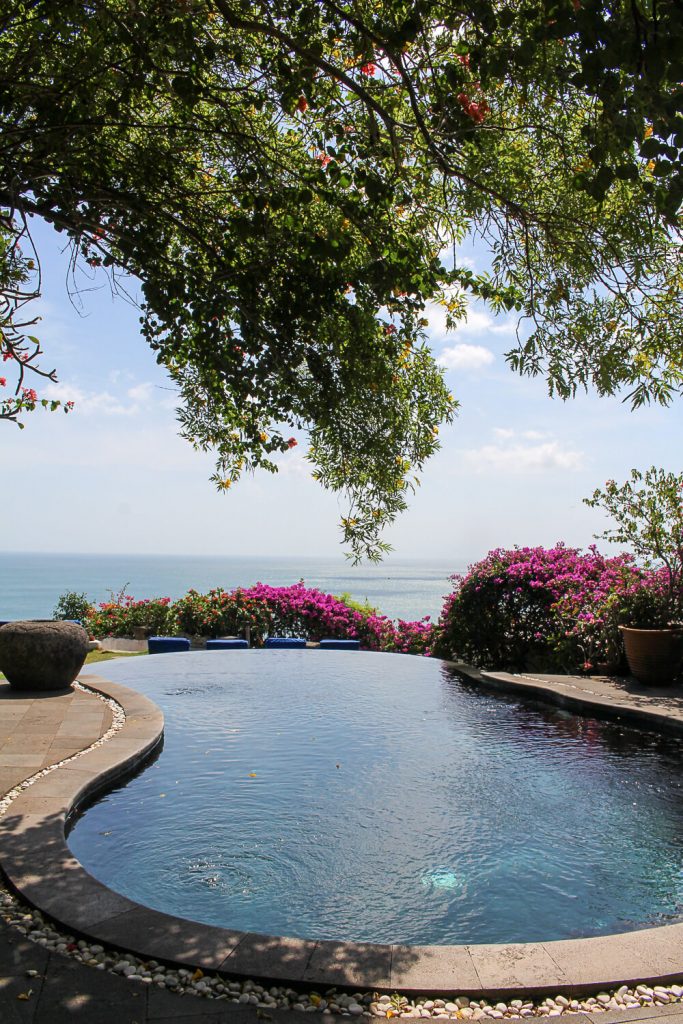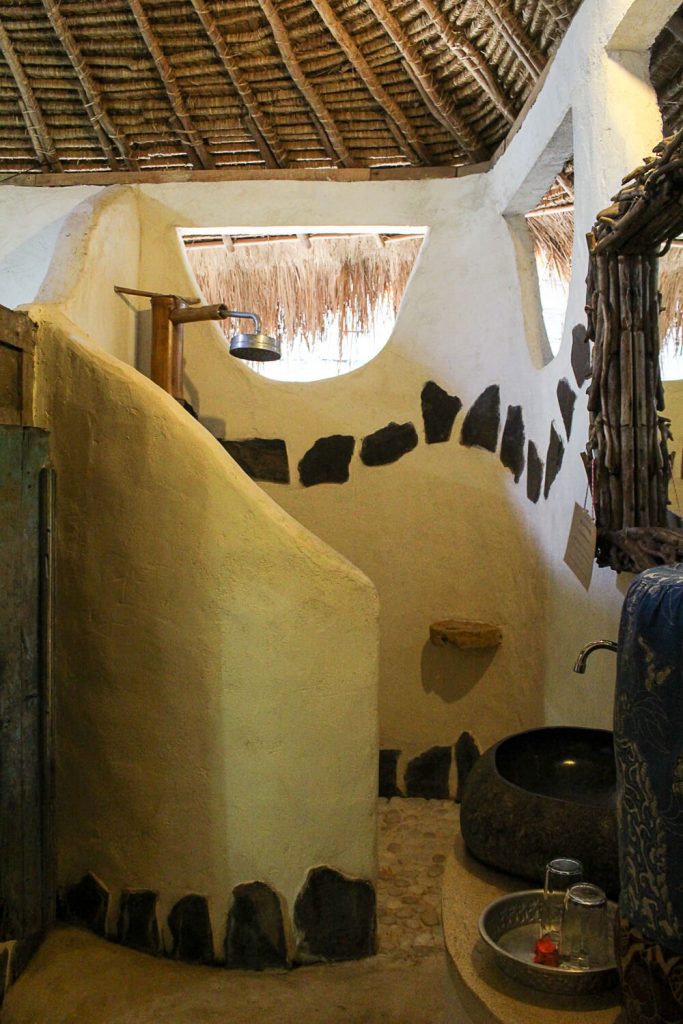 The Temple Lodge is great for (almost) every budget. We picked the smallest and most affordable Papaya Suite, which was 90$/night including breakfast in the high season and 70$ in the low season. Honestly, the interior design, the tranquility and beauty of this place is priceless, and I wish we would have stayed longer.
We really fell in love with the Temple Lodge, lovely the piecefulness and the easy-going feeling of this place. Ame and his staff was always there whenever we needed something (which was not often, since everything was perfect). Unfortunately we never made it to dinner at the Temple Lodge because we were out and about, but the people we met could not stress enough how amazing it supposedly was. One couple even said that it was the best food in Uluwatu.
The Temple Lodge also includes a well-visited Yoga studio, with daily classes, for about 8 Euros per class, which are not covered with the room charge. I definitely recommend taking a yoga class with the male teacher (though I forgot his name) as his class was both challenging and relaxing. If you don't want to participate in the class, you can of course take your yoga mat and do some vinyasas on your own. However, yoga at the Temple Lodge is not to be missed if you want to have the full Bingin experience.
Healthy eating in Uluwatu and Bingin Beach
Café Bukit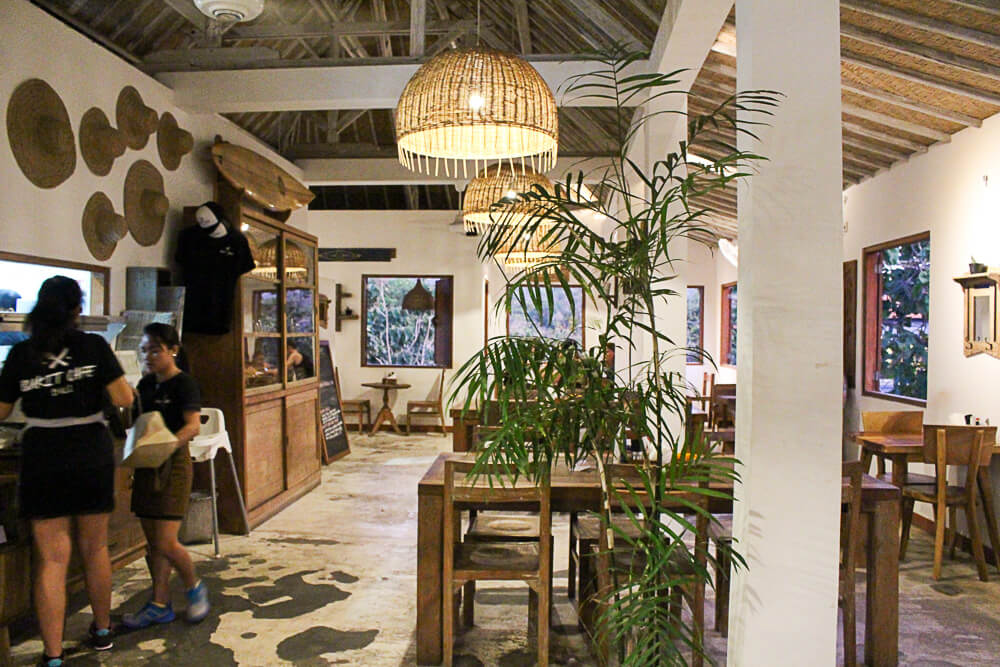 There are many Aussie-inspired restaurants in Bali, one of my favorite being Café Bukit. The Australian Bohemian cafe and restaurant has an extremely beautiful interior design and its perfect for when you're feeling like something other than Asian food after a couple of days of Nasi Goreng. My boyfriend had a burger and I tried the delicious vegan pie, and we were not disappointed. Bukit also has a large list of delicious juices and raw vegan and gluten-free desserts.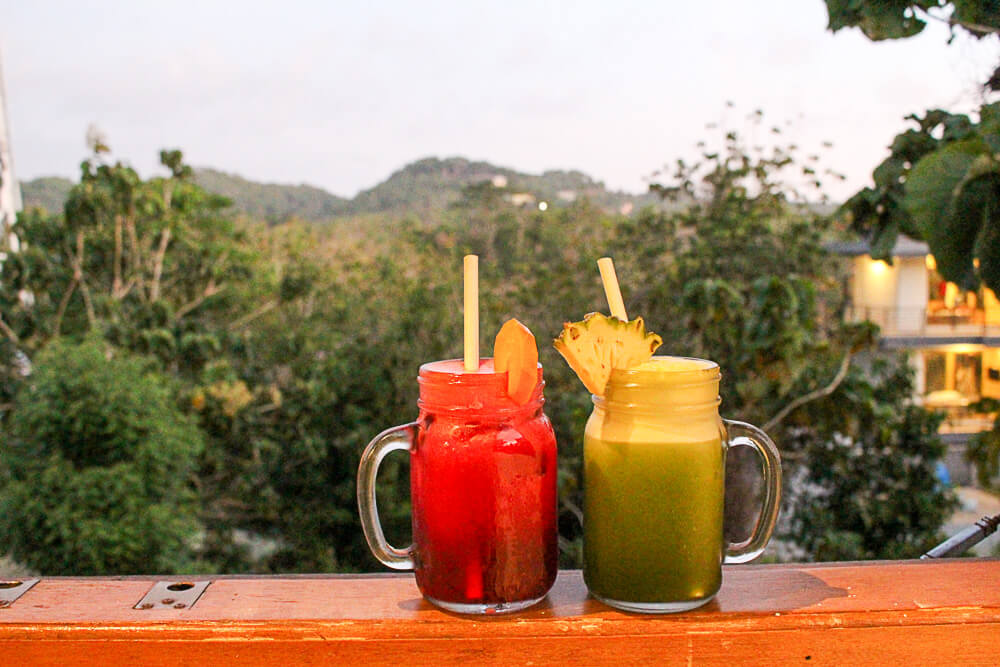 The Cashew Tree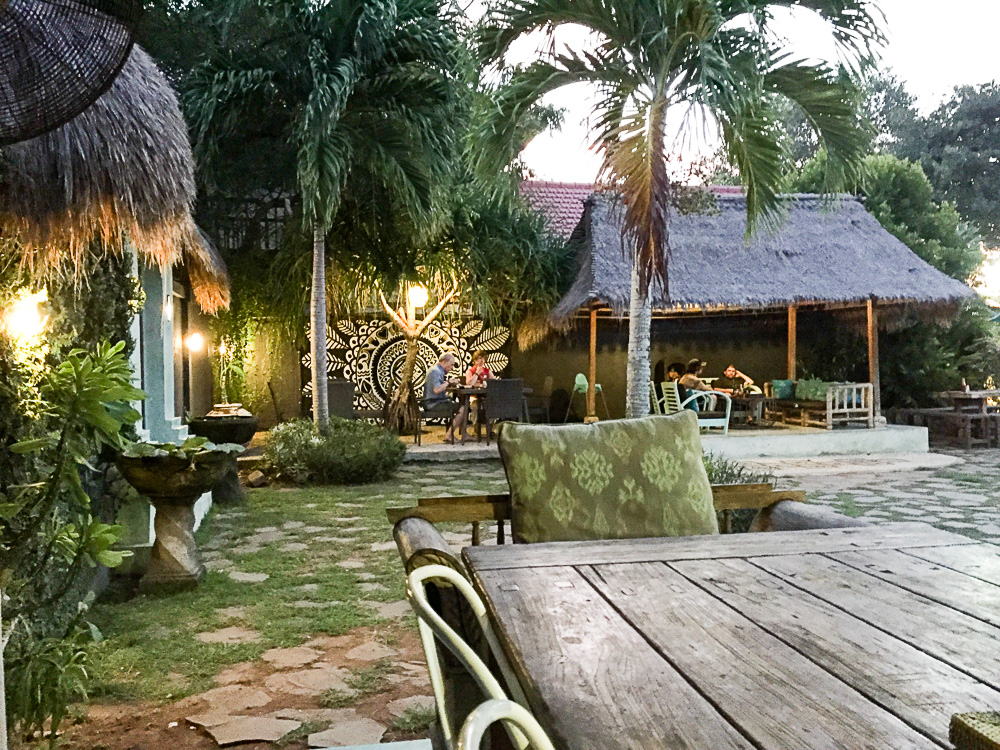 The Cashew Tree was our very first dinner experience in Bali. The place was rather busy and visited by both locals and older and younger tourists. It's a close 5-minute walk from the Temple Lodge and Mu, and it serves delicious bowls, salads, as well as healthy Indonesian food. We tried the Soul Bowl and the grated beetroot salad, as well as the tempeh spring rolls. Everything was extremely delicious! They also have lots of raw desserts such as energy balls or healthy coconut or chocolate cake.
Muz Kitchen
If you're going to Uluwatu temple or Uluwatu beach, then you will ultimately pass
Muz Kitchen
. If you do, stop immediately! This was one of our favorite restaurants near Uluwatu. It's exactly what people mean when they tell you that there is a healthy restaurant behind every corner in Bali. My boyfriend was never so satsified after a meal, because Muz managed to make him full until he could no longer take a bite of anything (that rarely happens.). I can defintely recomend the Muz Nasi Goreng and the super delicious curry, which comes with so many goodies. The portions are very generous, the prices are definitely ok, many items are vegan, gluten-free and refined sugar free. What's also noteworthy is the little hotel and holistic Spa attached to Muz Kitchen. It looked heavenly as was so quiet and tranquil.
Kelly's Warung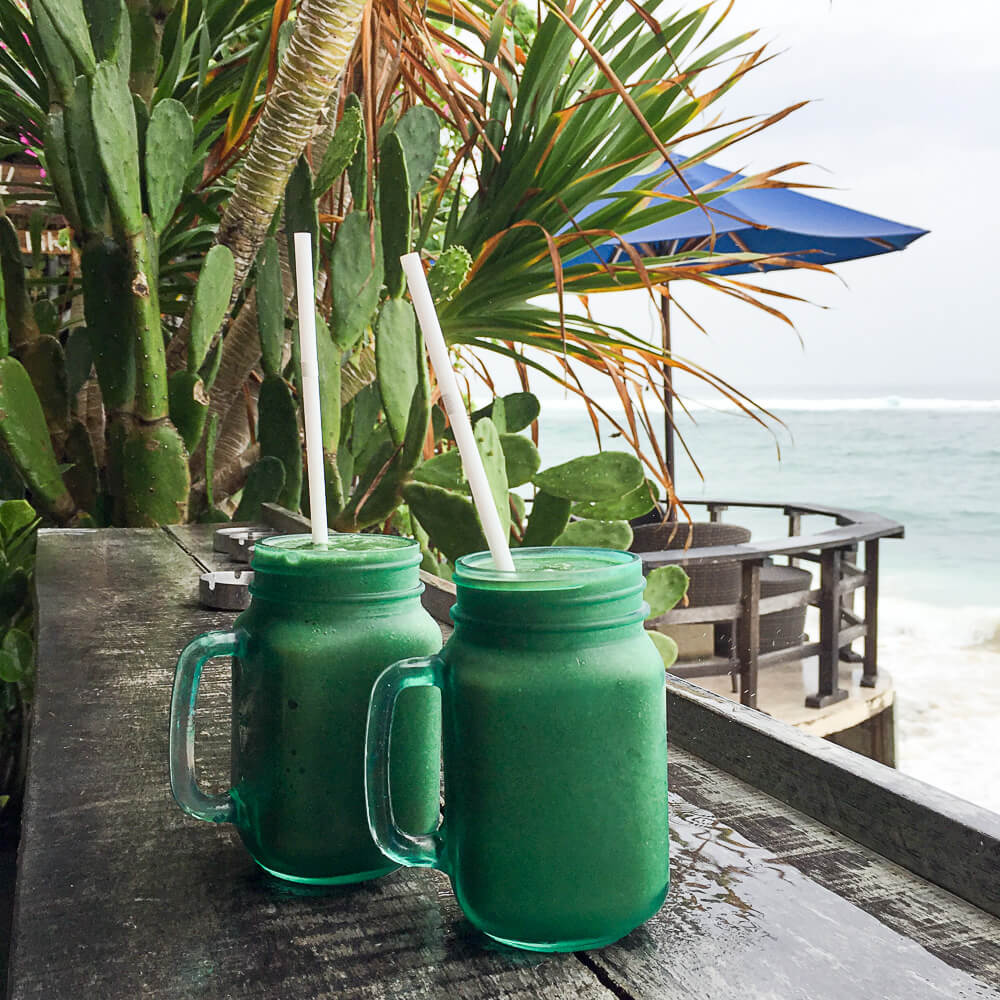 We spent our very last hours at Bingin at
Kelly's Warung
drinking spirulina smoothies and watching the surfer's conquer the waves of the stormy day. It is probably the most expensive Warung on Bingin Beach, but it definitely sells the best smoothies and pitaya bowls.
Warung Bingin Ombak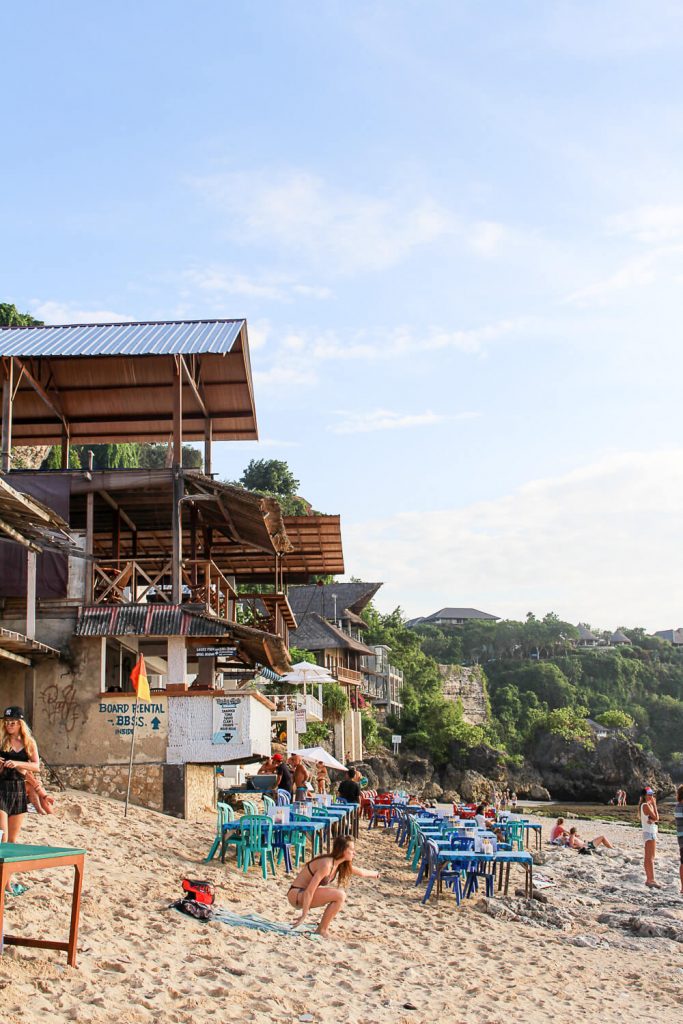 Warung Bingin Ombak
is one of the affordable warungs at Bingin Beach, and definitely my recommendation for a delicious lunch or easy-going dinner. When we had dinner here, I totally fell in love with Bingin and its easy-going vibes. If you vacation in Spain, then you dress up all fancy for dinner, and if you vacation at Bingin, you simply dine in your beach clothes and eat barefoot or with sand on your feet. I had a delicious Mie Goreng at Warung Bingin Ombak, and Jannis ate a (not so healthy) burger.
Beaches in South-Bali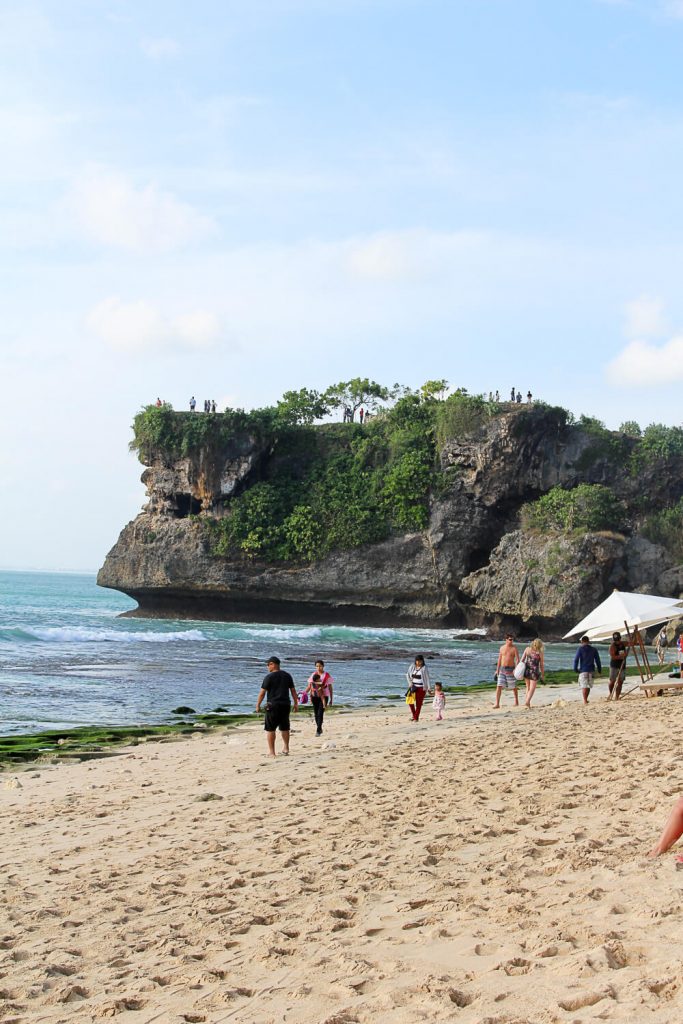 Bali beaches are not what you see on Instagram. I knew this before I booked the flight, so I was not disappointed at all. Quite the opposite actually – I really liked the beaches in Bali. They have their own flair, their own life and the view from beaches such as Bingin or Uluwatu is simply beautiful. Since it was my first time in Asia, I was blown away by the high cliffs that souround some of the beaches. We never really spent an entire day at the beach, because either the weather turned or we wanted to explore the island (which was mostly the case).
Bingin Beach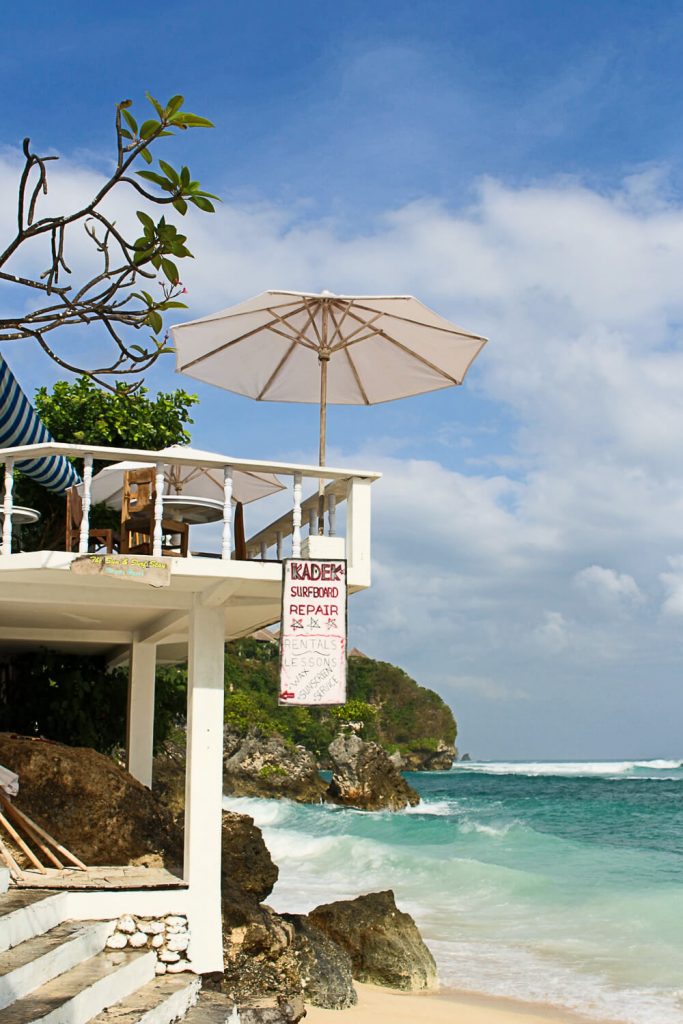 Bingin Beach was by far my favorite beach in Bali. Not because of its white coral sand, but because of its vibe. To get to the beach, you must first climb down over 100 steps, which clearly scares of many tourists. It makes Bingin nicely empty and secluded, and you can simply enjoy watching the surfers in the waves or the dogs in the sand. At night, you could almost say that there is some sort of "beachy nightlife", because most Warungs put tables and chairs into the sand and offer freshly caught fish. We shared a 10 Euro whole tuna, which was beyond delicious. You can watch the fishermen catch the fish in the knee-deep water, their light eyes on, which makes the whole ocean glow in the dark. Even if you do not eat fish, you can still enjoy a Nasi or Mie Goreng or even a tempeh burger while listening to subtle music.
Balangan Beach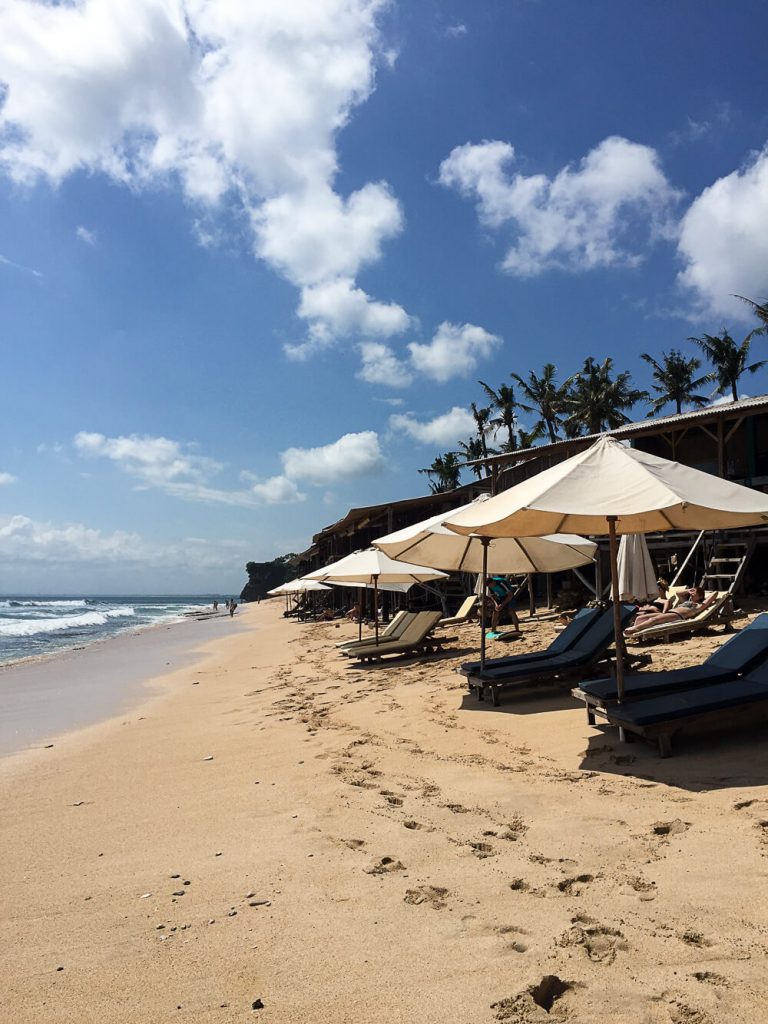 Balangan is more of a beach like you would expect. The sand is clear, the water is blue, you can rent sunbeds and there are several Warungs that offer local foods. This is where I had my very first young coconut (during my Bali trip) and one of the best Nasi Gorengs with brown rice, too.
Uluwatu Beach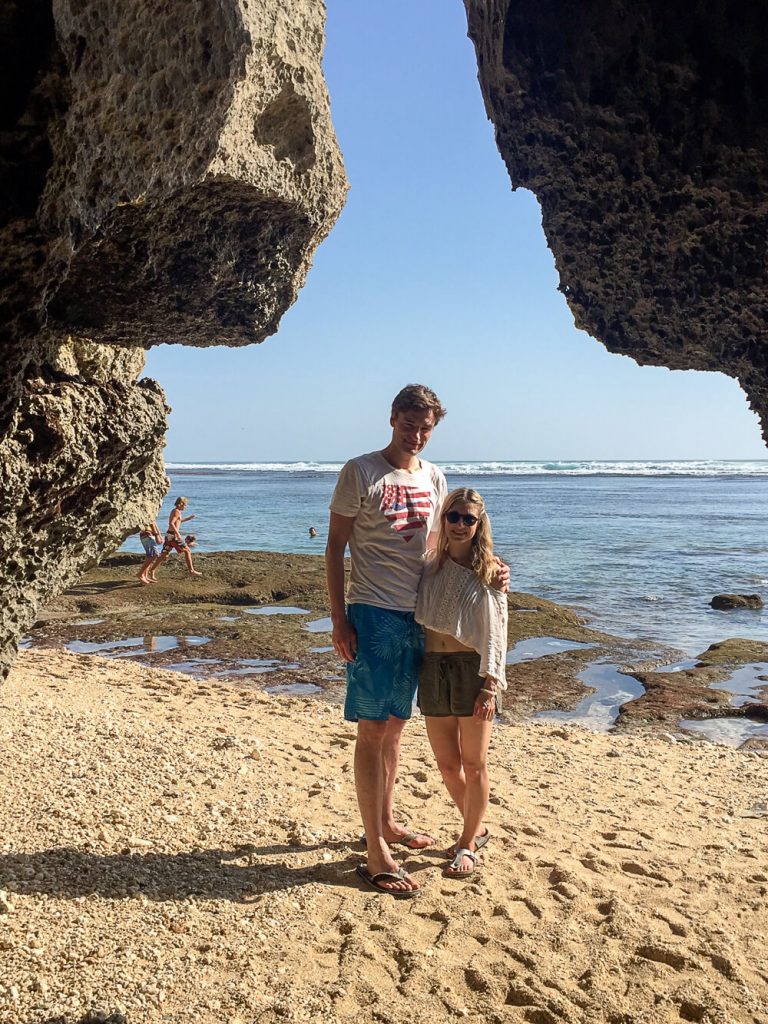 Uluwatu is not really a beach to spend a day at. It's definitely THE surfer-hotspot in Bali, but a) it's quite touristy and b) the waves are the most challenging in Bali. What's fun about this beach is that the fun actually takes place in the cliff above, where many shops and restaurants are located.
Padang-Padang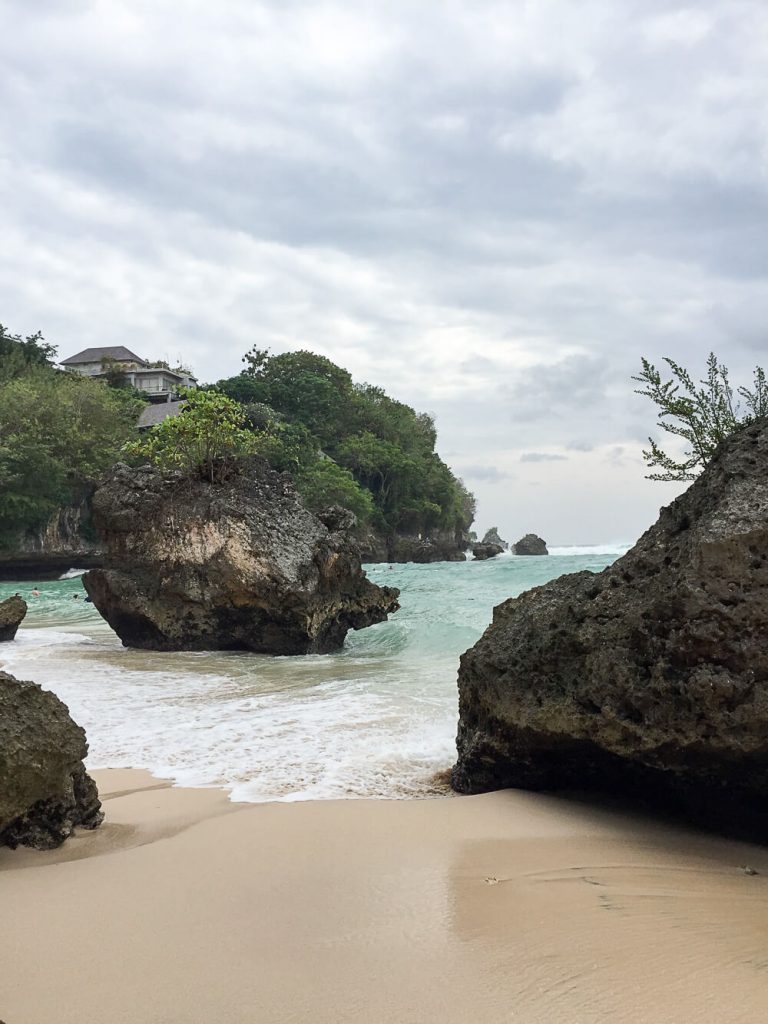 This beach became popular through "Eat. Pray. Love", and is one of the major tourist attractions in Uluwatu. In my opinion, you can definitely skip this beach, because it is always crowded, but too small for the crowds. Yes, the water is beautiful and there are less waves than on other beaches, but you will never find piece and quiet here. I do not think it's worth the hike.
Sites: Uluwatu Temple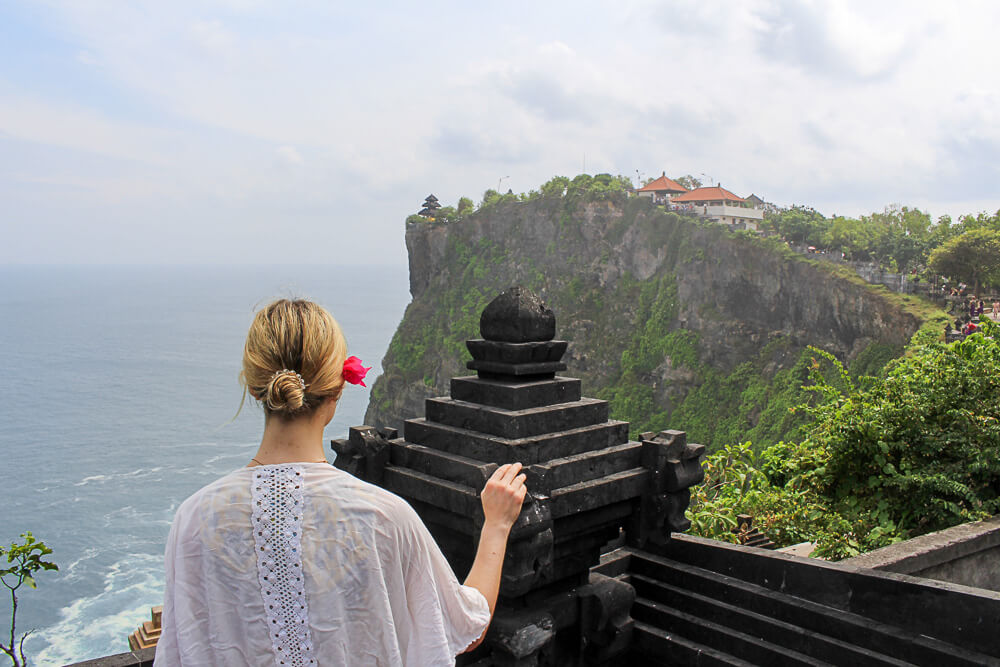 I have to admit that I am not good and visiting sites. I'm more of the "experience a culture through talking to the locals" kind of person. If you want to know all about Bali's sites, a Bali travel guide will definitely be of much more use than this healthy Bali guide. The real attraction at Uluwatu Temple are the tourists, who simply disregard the safety measurements that are written literally every 5 metres once you enter the Temple area: put away your hats, sunglasses, iPhones, cameras and selfie-sticks. The reason: in Uluwatu and other parts of Bali, the "monkey mafia" has taken over some sites. The monkey mafia steals the valuables mentioned above in the hope for an exchange into eatables.
Excuse me, but how clever are those monkeys?
So I spent most of my time at Uluwatu temple watching the monkeys steal the tourists sunglasses, and then stealing their iPhones when they tried to take a picture of the monkey with their pair of sunglasses… nough said I guess.
Finally, some general tips and recommendations:
If you're sugar-free like me, be sure to ask for "no sugar added" in restaurants. The Balinese like it sweet!
The money can be quite confusing, so double check before you pay cash – a 10,000 and a 100,000 bill can easily be confused.
Don't plan too much – the best days were always the ones that we did not plan through.
Learn a little bit of Bahasa or Indonesian. A simple "Terikma Kasihh" or "Suksama" (Bahasa) will be returned with the biggest smile.
Do not only eat in expensive Aussie-run health spots. There are amazing Warungs run by locals who also have pitaya bowls and superfood smoothies.
Enjoy the Bali-life! It's the best!
My first Healthy Bali Guide has come to an end. I hope that you will find some of the information helpful, and I would love to know if you have other recommendations for Uluwatu and South Bali. There will also be a guide part 2 and 3 (Canggu and Uluwatu) in the next couple of weeks.
Have you used this guide or do you have anything to add? I would love to hear about it in the comments below!
Merken
Merken