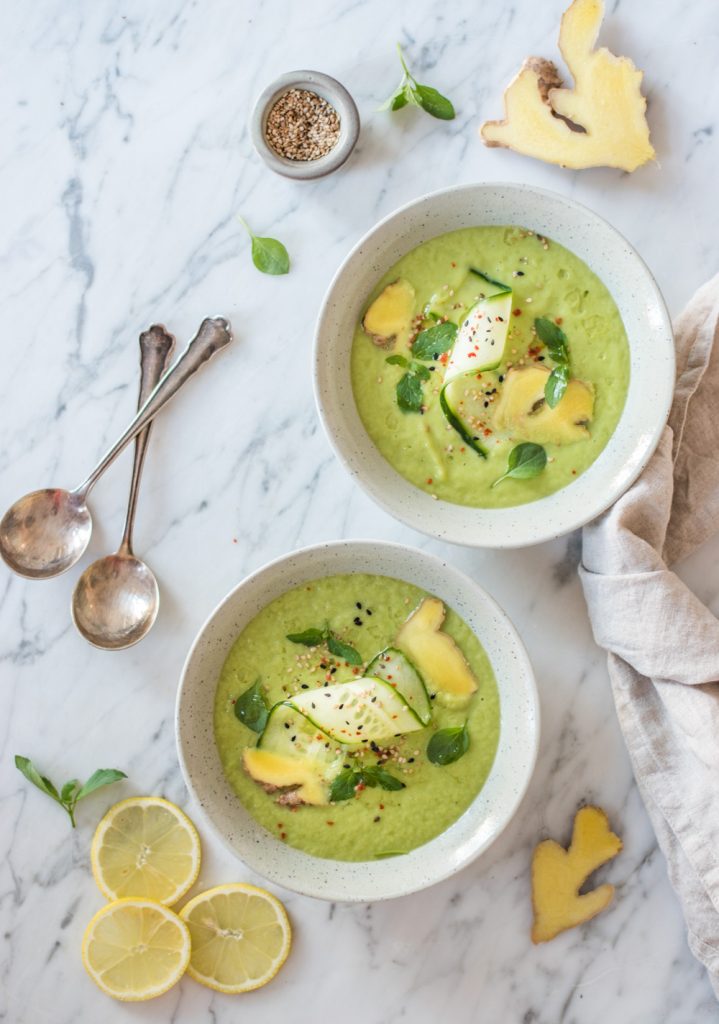 *Werbung / Advertisement. This post is sponsored by Weleda.
Today is all about creativity. After I finished my first cookbook a few months ago, I fell into a creativity low. Since I was never a creative mind as a child, I had the worst of my grades in art and crafts back in school, I did not really know how to beat this creativity low. So after sending the final edits to my editor, I felt empty and exhausted.
But after taking a creative break (I pre-planned a few blogposts these past weeks), and after a small vacation, I felt the energy and the creativity coming back to me. I started redecorating my home office, cleaned out cupboards and planned a bedroom update. It's incredible what a few weeks off can do to your mind.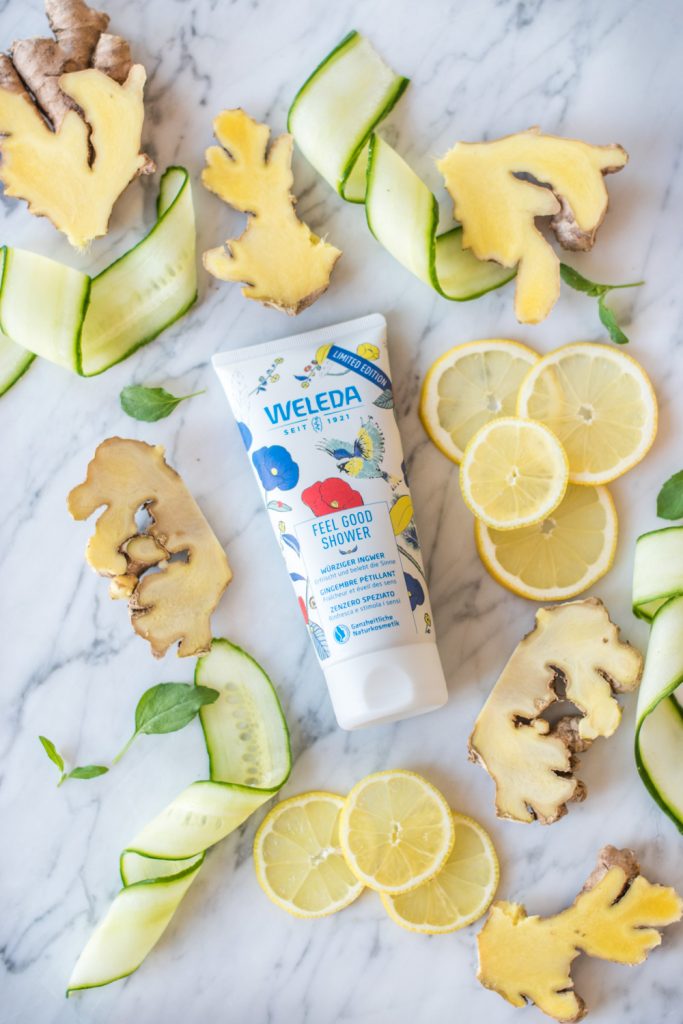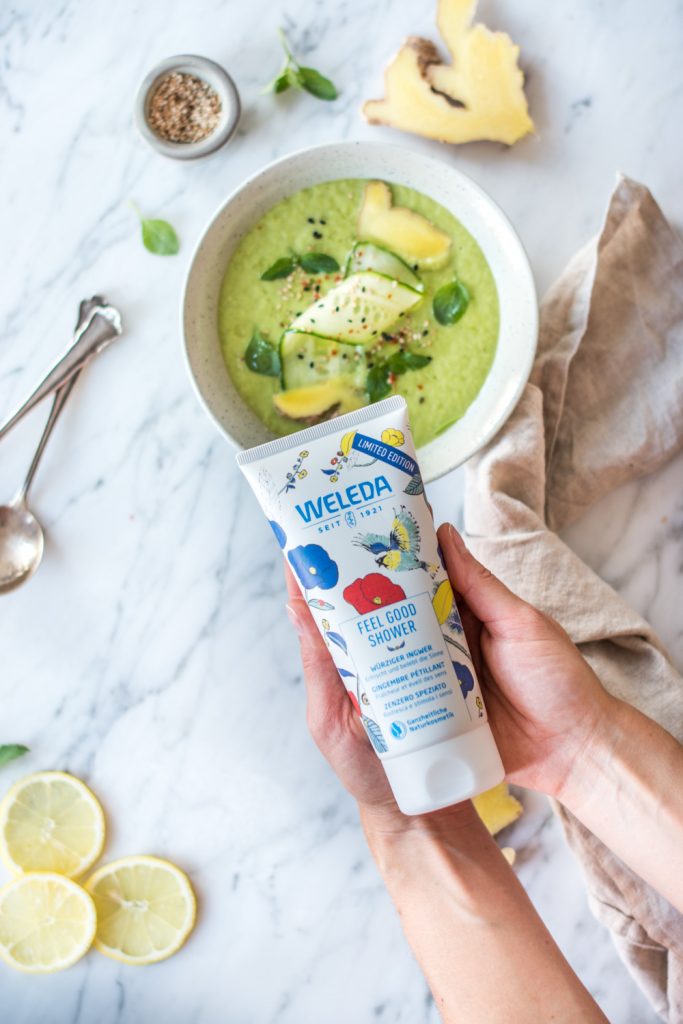 So when I received the new Weleda "Feel Good Shower" as a PR-Sample, my mind came up with so many new creative ideas. Creating a recipe based on natural cosmetics was something I always wanted to do, because I love the idea that you can eat your skincare. Obviously, you cannot eat the Feel Good Shower, but at least it inspired this recipe. Ginger, sesame oil and lemon – all of these ingredients shaped this cold gazpacho. However, I used lemon instead of citronella (lemon grass), because I preferred the freshness of the lemons in this dish.
Creating this recipe was a blast, which boosted my creativity. It was so much fun combining the ingredients of the shower. Since it brings refreshment, relaxation and nourishment onto the body, I wanted to bring these things into the body. Due to the high temperatures at the moment, the recipe today had to be fresh and light. Let's examine the two main ingredients in depth:
Ginger:
Ginger is rich in nutrients such as potassium, calcium and magnesium, folic acid and vitamin C.
Ginger soothes arthrosis-symptoms.
It is supposed to stabilize and decrease blood sugar levels.
Ginger reduces pain such as menstrual pain, it helps with nausea and soothes the stomach and intestine.
Sesame:
Sesame is one oft he best beauty foods.
It strengthens beautiful hair and skin.
Sesame is a complete protein, meaning it contains all essential amino acids.
The amino acids methionine, cysteine and tarine, which aid the production of collagen, which is one of the most important proteins for beautiful skin, hair and nails.
Sesame oil has always been used as massage oil in the Ayurveda treatments. It is very well absorbed by the skin, aids skin regeneration and is said to have sun-protecting properties.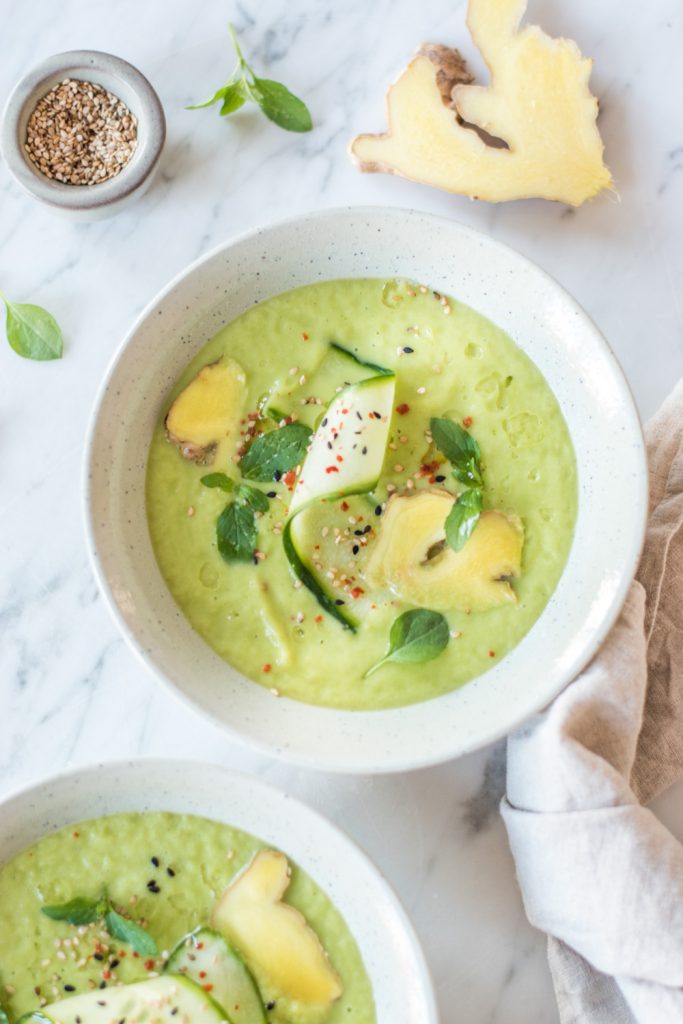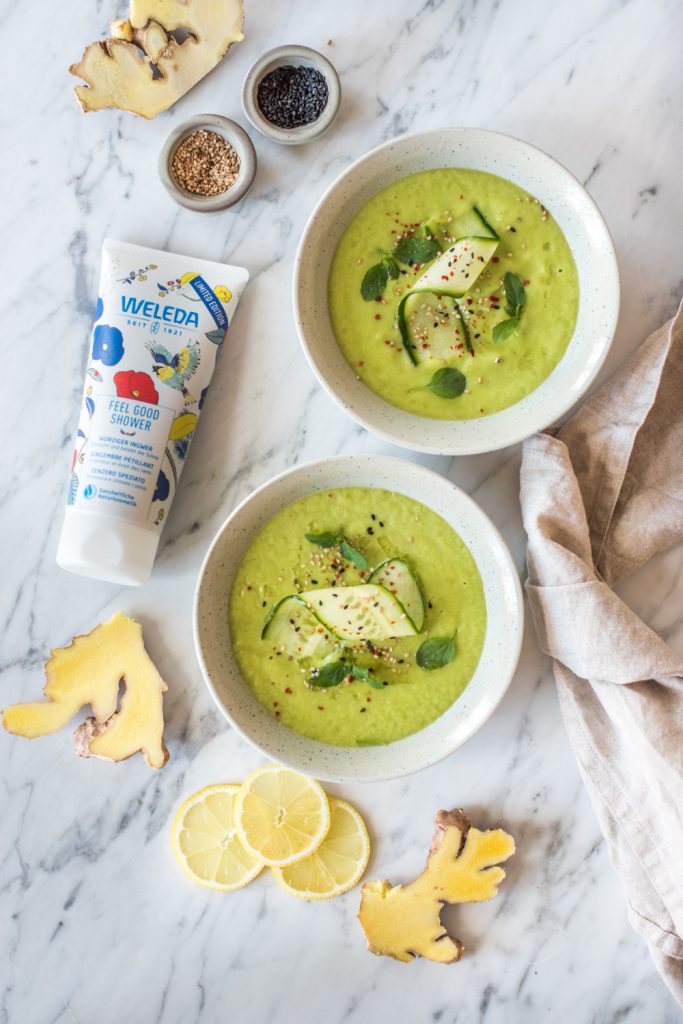 Since you know that I only cooperate with companies that I trust, that share my values, that I use myself, I am super excited to have teamed up with the traditional German company. The Feel Good Shower is a special edition, because it has a completely new design than what we usually see on Weleda products. I love the summer-design by French illustration artist Marion Bonnet. According to the artist, she was inspired by a walk through her childhood when she drew the design. Since I was never able to draw even a decent elephant, I am always in awe of artists such as Marion Bonnet. The shower leaves your skin smelling fresh like ginger, it is vegan and Natrue-certified. It really brings you the summer feeling into the shower!
By the way, if you live in Germany, then hop over to the German version of this article, where I am having a giveaway for the Feel Good Shower and a Lanius x Weleda 100% organic cotton foulard scarf.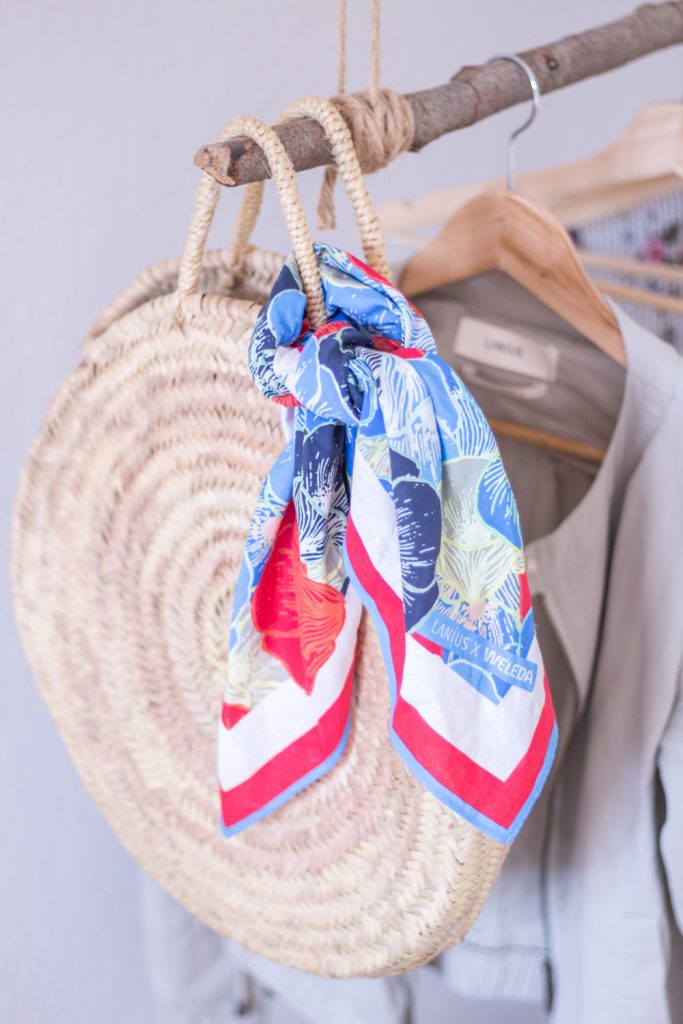 For everyone else, I present to you, this summer's refreshing avocado-ginger-soup.

Refreshing Avocado-Ginger Soup
Ingredients
For the soup:
1 clove of garlic
5 g of fresh ginger
5 mint leaves, I used lemon mint that I found at my organic supermarket
400 g of cucumber
300 g of peach
1 avocado
100 ml of cashew or almond milk
the juice of ½ lemon
1 tablespoon of sesame oil
1 teaspoon of sea salt
lots of freshly ground black pepper
140 g of ice cubes
To garnish:
sesame oil
black and white sesame seeds
Instructions
Pre-heat the oven to the hightest temperature possible. Place the garlic with the peel into the oven, and bake for about 10 minutes. You can omit this step, but I feel like it gives the soup a much less aggressive garlicky taste. Let it cool down, then remove the peel from the garlic.
Cut the avocado in half, remove the stone and scoop out the flesh. Peel the peach and remove the stone, so you're left with the flesh only.
Place all ingredients except for the ice cubes into a blender and blend until you have a fine texture. Add the ice cubes and blend once again until smooth.
Transfer into bowls and garnish with a few drops of sesame oil, sesame seeds and some mint leaves.
Enjoy!
*This post is sponsored by Weleda. All opinions are my own, always. Please support the brands that keep me dancing through my kitchen all day long to create new recipes for this blog.