August is the season of tomatoes, hence, I made this super quick and easy summer bruschetta the other day. There is something about August, don't you agree? The air is still warm, but you can sense the change that is about to happen when you go into nature. Every morning, when I run in the forest, I notice how the environment around me changes. It's little things such as the leaves glowing in the morning sun, the first acorns on the ground and lots of squirrels running around to start to collect them. Yes, summer's coming to an end, yet it isn't quite ready to say good-bye yet.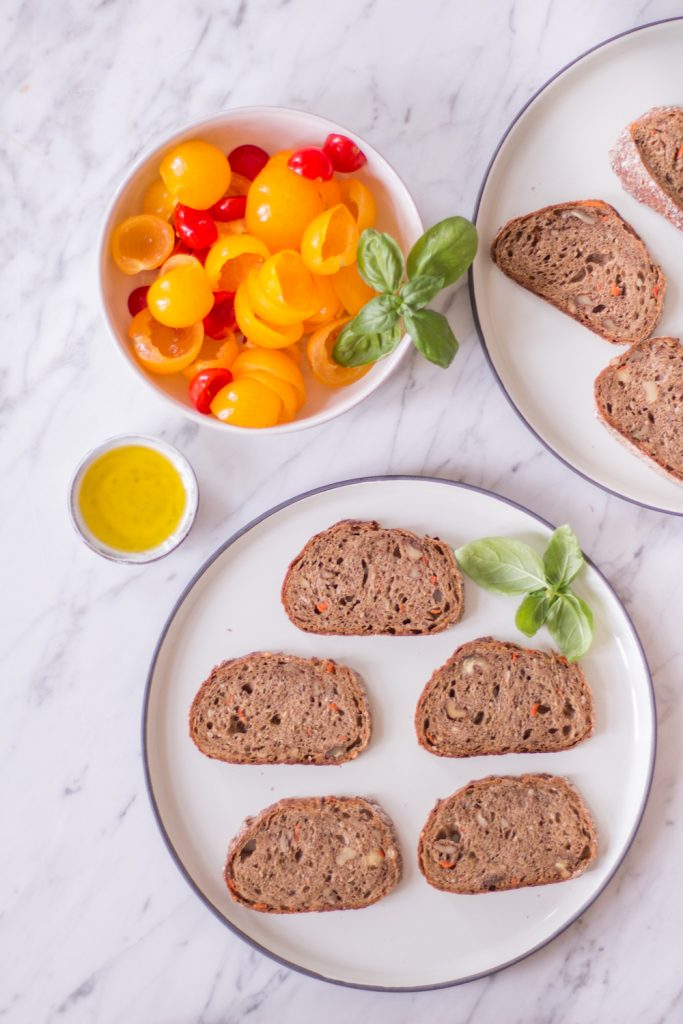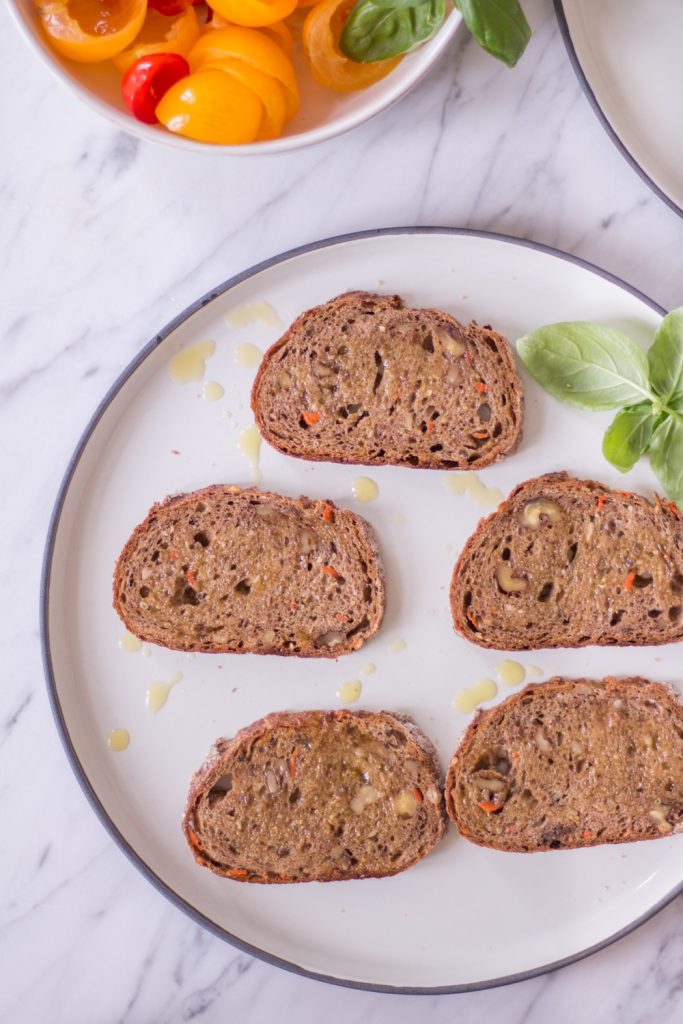 I used to not like tomatoes, to be honest. It wasn't until a few years ago that I tried my first cherry tomato and really TASTED it. The sweetness. The juicyness. It was something that I will never forget. Having not liked tomatoes my whole life, starting to actually eat them and embrace them was like the start of a new life. Ok, that may be a bit dramatic, but boy, have I missed out all these years!
There seems to be quite a controversy around tomatoes with regards to nutrition, but most of the nutritionists that I talk to agree: tomatoes are a wonderful source of antioxidants. The most prominent being the carotenoid called lycopene. It is supposed to protect our cells from cancer, lower blood pressure, increase blood circulation and reduce the bad cholesterol. Overall, lycopene is supposed to have the ability to reduce our risk of developing cardiovascular diseases.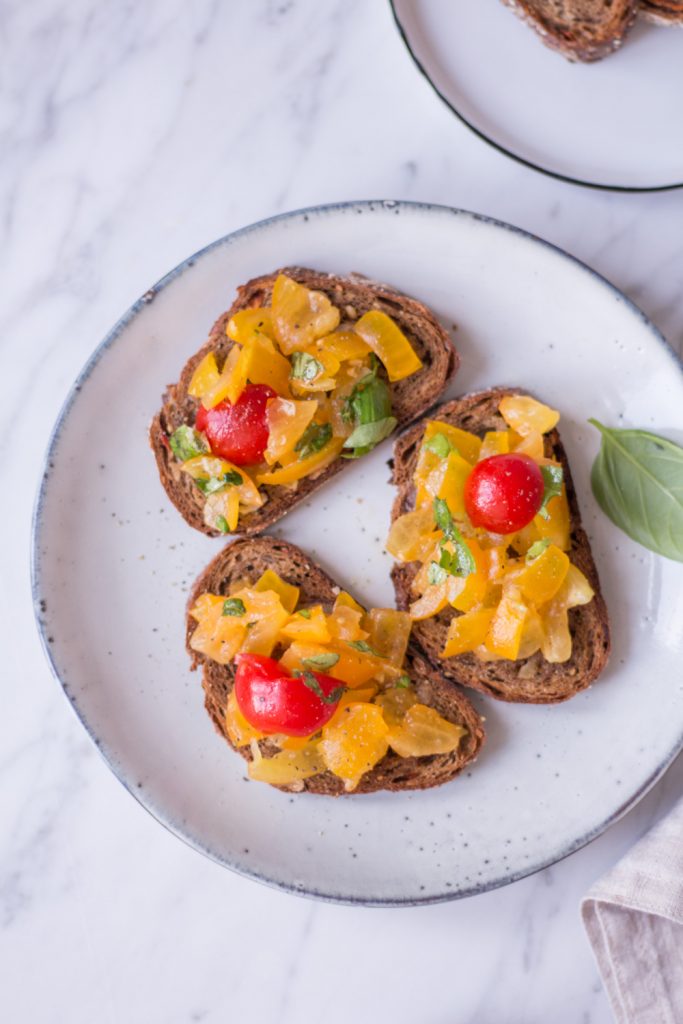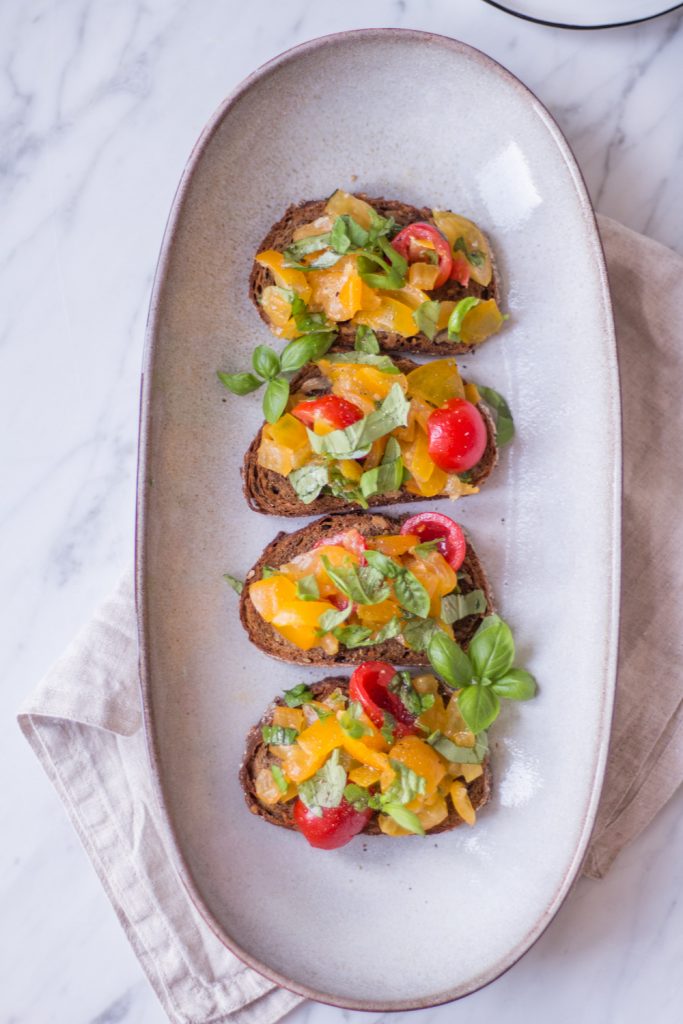 Besides tomatoes, the secret ingredient to a good bruschetta is extra-virgin olive oil. I just recently listened to a podcast where the guest (I forgot his name) pointed out that the only reason bread even exists, is to eat it with olive oil. I loved this, and I totally agree. Olive oil is one of the best healthy fats out there which protects us from heart disease and also increases the absorption of the fat-soluable vitamins and carotenoids in this dish.
But the nutrition side is only one reason why this summer bruschetta needs to make it to your dinner table tonight. The other reason is that it really tastes incredible all the while being super quick and easy to make.
Enjoy!
xx Lynn
Quick and easy summer bruschetta
Author:
Prep time:
Cook time:
Total time:
Ingredients
500 g of cherry tomatoes
1 clove of garlic
6 – 8 slices of whole-grain rye bread or gluten-free bread
1 tablespoon of extra-virgin olive oil, more for the bread
1 tablespoon of white balsamic vinegar (apple cider vinegar or white whine would work too)
sea salt and pepper
Instructions
Cut the tomatoes in half and remove the seeds with a small spoon. Roughly cube the tomato flesh. Mix the tomatoes with the olive oil, vinegar, chopped basil, sea salt and pepper.
Pre-heat the oven to 180 °C. Drizzle a bit of olive oil on each slice of bread and roast the bread for 7 minutes. Place the clove of garlic next to the bread to roast it. Flip the slices and roast for another four to five minutes. The exact time will vary depending on the thickness of your bread slices.
Finely chop the roasted garlic and add it to the tomato mix.
Scoop about a tablespoon of the tomato mix on each bread slice and sprinkle with additional basil.
Enjoy!