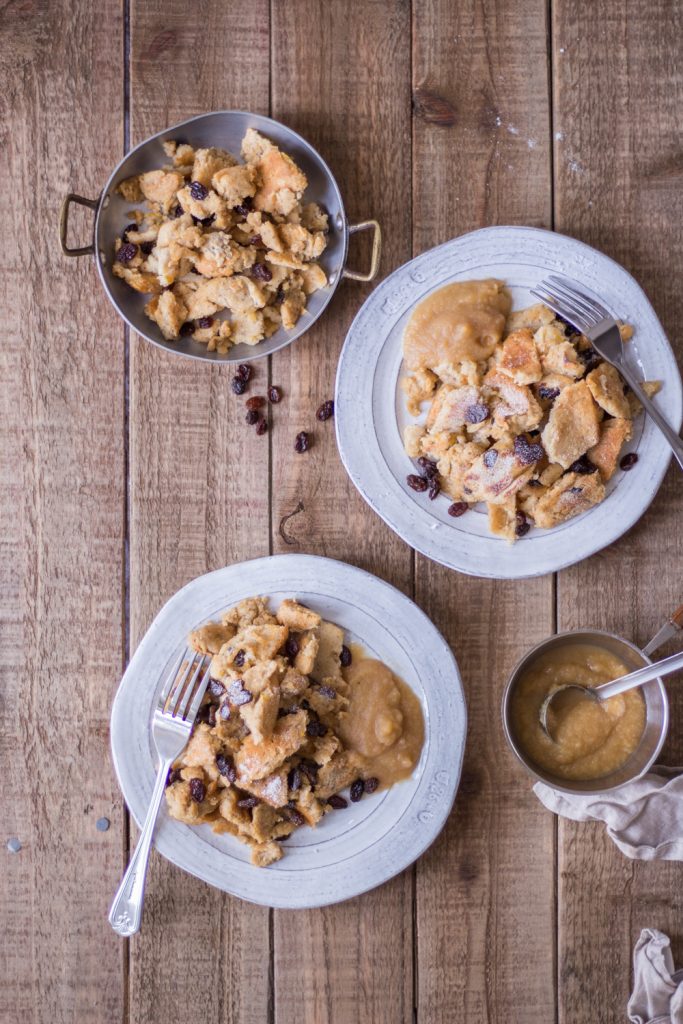 *Werbung/Ad. This post is sponsored by California Raisins.
Summer holidays are over, and if you're like many other Germans, then you've also vacationed in Austria this summer. Since my parents have a home in the south of Austria, I like to think of this beautiful place as my second home. This year I didn't have time to go, which definitely made me sad at one point.
I got a ton of photos from my family in Austria this year, and one thing was for sure: they did not eat too few Kaiserschmarrns. Kaiserschmarrn is an Austrian traditional dish. Basically, it's a large pancake torn into little chunks of pancake. It comes with lots of raisins and a side of apple sauce or stewed plums. And it's absolute heaven!
When we went to a wedding in Austria two years ago, the kitchen crew surprised my sister with gluten-free Kaiserschmarrn. Given that words such as plant-based, vegan, gluten-free or sugar-free are not normally used to describe the Austrian or the German cuisine per se, you should have seen my sister's eyes, when they brought out the gluten-free Kaiserschmarrn for her. In that moment, I made a mental note to add a plant-based, gluten-free and naturally sweetened Kaiserschmarrn to my blog repertoire. I never did. Until now.
For this recipe, I could not have found a better partner than California raisins*. However, I have to start with a confession. The thing is that I rarely ordered Kaiserschmarrn back in the days unless it came WITHOUT raisins.
Because I absolutely disliked raisins.
Long story short, here is my raisin love story: I hated raisins when I was a child and always picked it out of my muesli, then as a student, I fell in love with chocolate covered raisins, I started "not minding" raisins after that, but I fell in love with their taste about two years ago. See, the trouble with raisins is that there are huge differences in their quality and in the way they taste and smell. Once I started eating healthier, I looked for dried fruit without sulfur. Often times, dried fruit such as raisons are dried with sulfur to make them prettier and to avoid them from becoming brown. Usually this is only done with apricots or dates, but raisins are also often dried with sulfur. While sulfur may not harmful to our health, it can cause allergic reactions in some people. Since I believe in eating 100% natural, I am not too keen on eating sulfur-rich dried fruit.
The reasons why you should eat raisins more often, are not only rooted in their taste, but also their health benefits. First of all, raisins contain a great amount of dietary fiber, which aids digestion, regulates our blood sugar levels and keeps us full longer. But raisins also contain lots of minerals and trace minerals such as iron, potassium, calcium, magnesium and vitamins such as vitamin B1. This special vitamin is very important for healthy nerves. Now you know, why raisins are always found in the so-calles "student snacks". I don't know if that's a thing anywhere else in the world, but in my home, "student snacks" often contain nuts and raisins, the perfect brain food combination.
So why should you look for California raisins for the perfect raisins? I have been testing them for quite some time now, and let me tell you: A) have I never made such juicy energy balls with raisins before and B) they taste nothing like the wrinkled and way too dry and sugar-covered raisins that I have grown up with. California raisins are grown in beautiful San Joaquin Valley where they are sun-dried without any additives. The special ingredient – the sun – is he reason why they are so juicy, but not too sweet, and taste like caramel. In Germany, you can find California Raisins in SunMaid raisins and Kluth & Seeberger.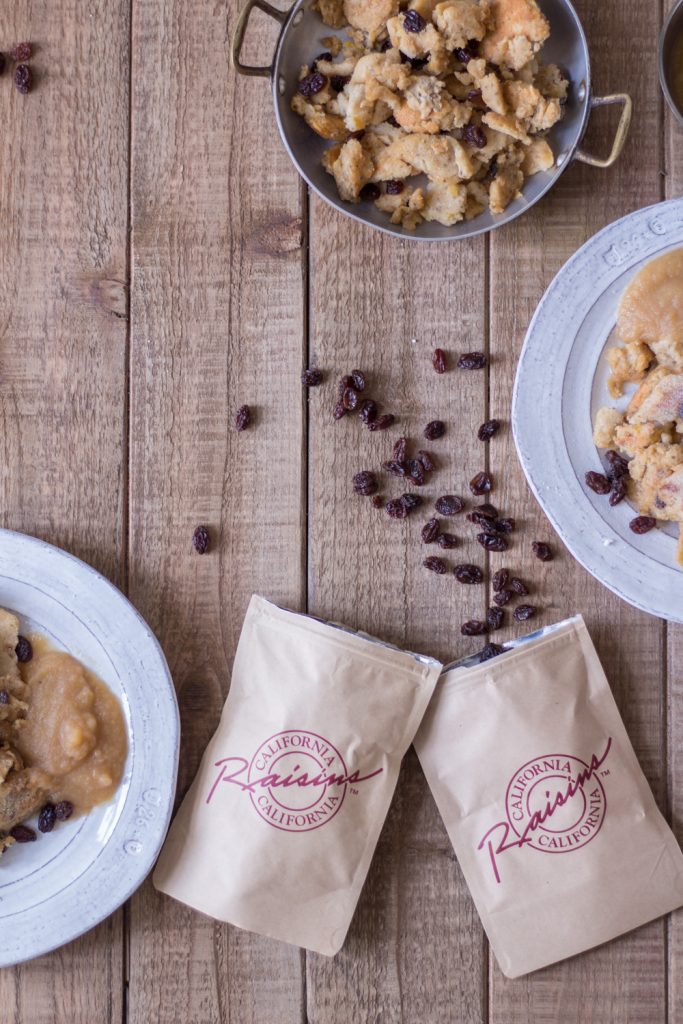 Now I no longer want to keep this delicious recipe from you. Here come the healthier Austrian pancake bites aka Kaiserschmarrn.

Healthier Kaiserschmarrn (big Austrian pancake bites)
Ingredients
For the gluten-free flour mix:
90g of brown rice flour
50g of millet flour
10 g of arrow root powder or organic corn starch
1 teaspoon of psyllium husks
For the Kaiserschmarrn:
1 tablespoon of chia seeds + 3 tablespoons of water
150 g of gluten-free flour mix (or spelt flour type 605)
1 teaspoon of aluminum-free baking powder
1 pinch of cinnamon
1 pinch of vanilla powder
1 pinch of sea salt
150 ml (gluten-free) oat milk
2 tablespoons of maple syrup
1 tablespoon of melted coconut oil, more for frying
1 organic lemon, 1 tablespoon of the juice and the zest
50 ml of sparkling water
3 tablespoons of raisins, I like California raisins
optional:
apple sauce, unsweetened
powdered erythritol for decorative purposes
Instructions
Mix the chia seeds and water in a small bowl and set aside to thicken for about 10 minutes. Stir occasionally.
Combine the flour mix, baking powder, cinnamon, vanilla and salt in a large bowl and whisk with a whisk to reduce any lumps.
Now gradually add oat milk, maple syrup, melted coconut oil and lemon juice and zest and the chia egg and mix well. Finally, add the sparkling water and quickly but thoroughly whisk it into the batter. Let it sit for 5 – 10 minutes.
Heat about a tablespoon of coconut oil in a big pan. Add the batter, spread it with a spoon and reduce the heat to medium. Sprinkle the raisins on top and let the pancake bake on one side until it forms bubbles on the surface.
Flip the pancake and don't mind if it breaks, you'll want that! Bake the pancake from the other side for about another two minutes, then break the pancake in bites. Add another tablespoon of maple syrup to the pan to caramelize the pancake bites. Bake them for another minute or so until golden brown and baked through.
Sprinkle the Kaiserschmarrn with powdered erythritol and serve with apple sauce and more raisins.
Notes
For a non-gluten-free version, simply swap the gluten-free flour mix with 50% whole-grain spelt flour and 50% normal spelt flour.
Enjoy!
*Werbung/Ad. This post is sponsored by California Raisins. All opinions are my own. Thank you for supporting the sponsors who enable me to dance in my kitchen all day long (and come up with delicious and healthy recipes in the process).