Healthy vanilla crescent cookies for your Christmas bakery.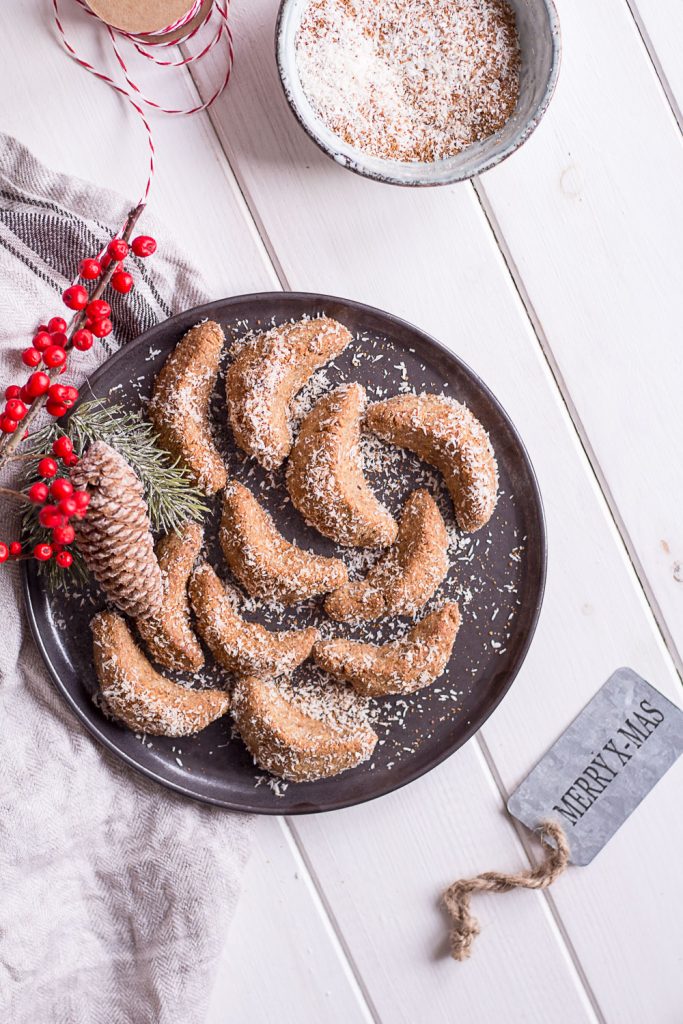 Baking cookies for Christmas is a huge German Christmas tradition. We have a special name for it: Weihnachtsbäckerei (Christmas bakery, and there's even a famous children's song with the same name, that every German kid and grown-up knows by heart. Everyone has his or her own favorite kind of Christmass cookies, mine is gingerbread and these delicious Vanilla Crescent Cookies. In fact, every region in Germany has its own favorite kind of Christmas cookies and many of them are even named after the city that they were invented in. Vanilla Crescent Cookies are commonly eaten across the entire country and there are not many people that do not like them. At least I haven't met anyone.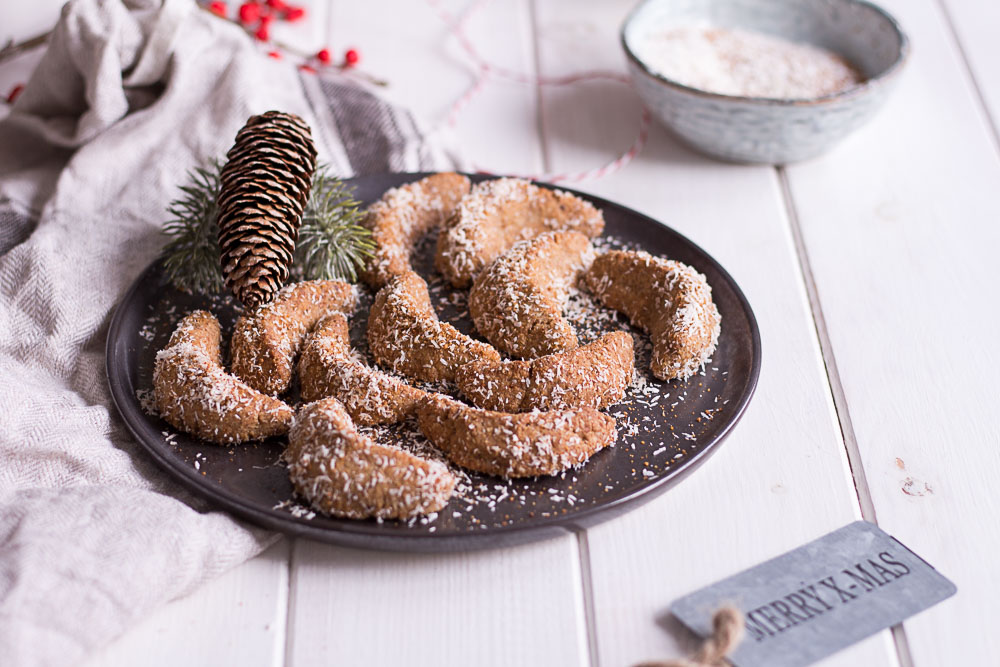 Vanilla Crescent Cookies get their name from their half moon shape, but their exact historical background is highly debated. Rumor has it, vanilla crescent cookies were invented by Austrian bakers many hundred years ago. Nowadays, vanilla crecent cookies are known all over Europe, and people of all age love them. The dough is a very fine mixture of delicate ground almonds, buckwheat and oat flour as well as coconut sugar and the paste of a real vanilla pod. Trust me, the cookies won't taste as good with dried vanilla powder. There's something magical about real vanilla pods (beans) and their taste is so heavenly and delicate, that you won't even believe how good these taste. Of course the cookies will taste vanilla-like, but only a real vanilla pod (bean) will give them the unique and amazing taste.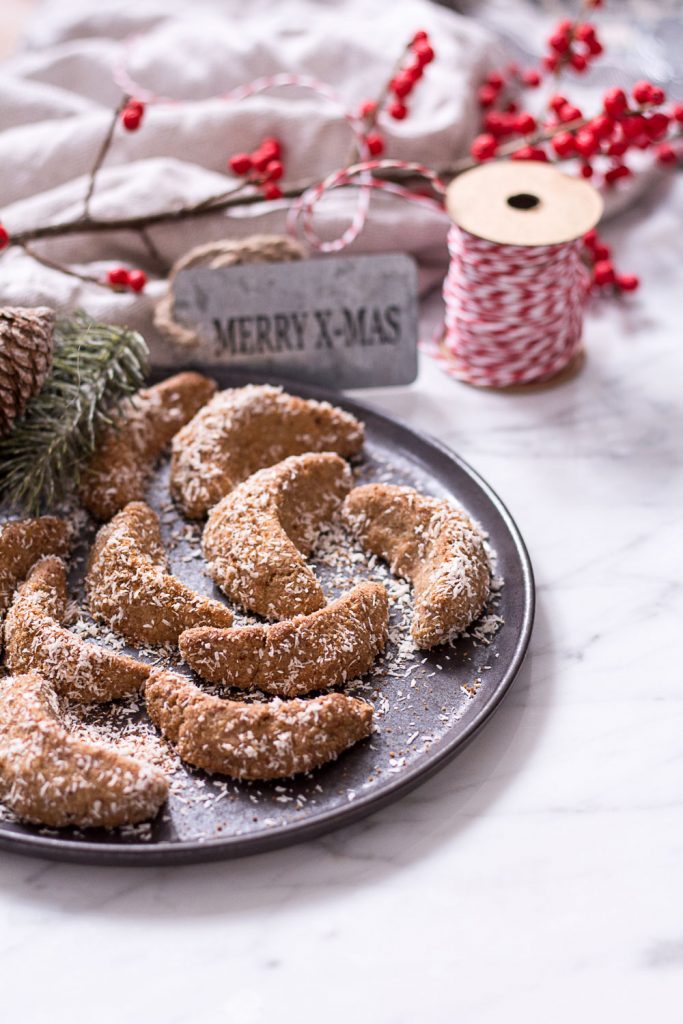 I made these delicious vanilla crescent cookies with my best friend two weeks ago when I visited her in Nuremberg. We had the best girls weekend, and we absolutely loved baking these. Vanilla is such a Christmassy flavor, which is why we struggled not to eat them all at once. If you didn't have time for Christmas baking yet, then you really need to make these cookies this weekend.
This will be the last "new" recipe of my Heavenly Healthy Christmas series. I'll be sharing a Christmas dinner idea next Wednesday, with all of my favorite recipes on the blog that are perfect for the upcoming Holidays.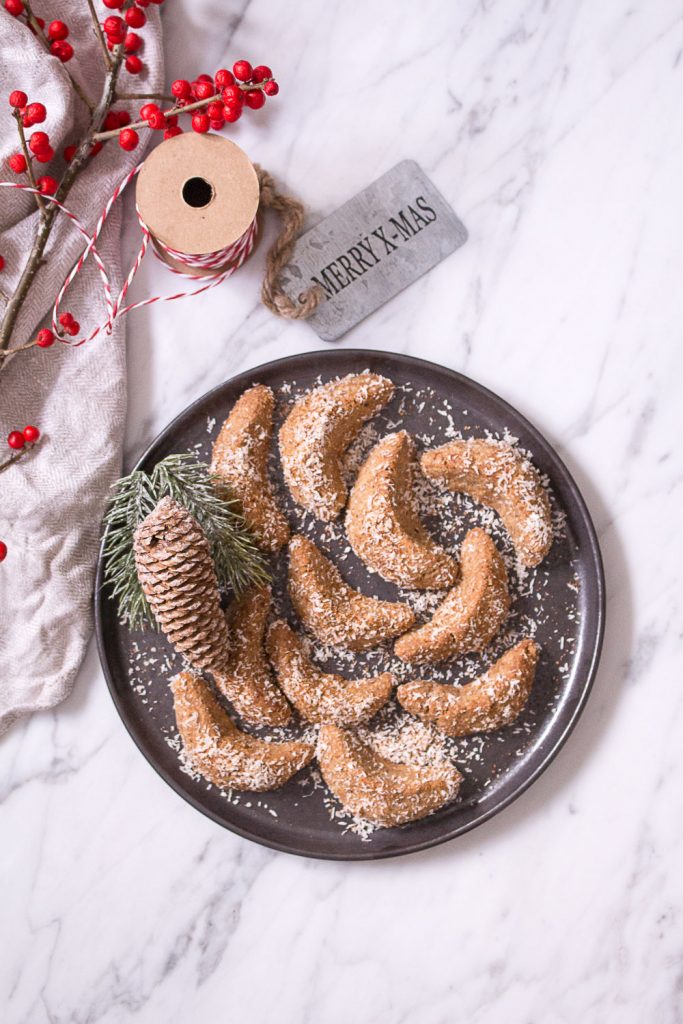 I am sorry, but as I made these cookies in my best friend's kitchen, so I don't have the measurements in American cups. You will need a scale to make these.
Makes about 30 healthy vanilla crescent cookies

Healthy Vanilla Crescent Cookies
Ingredients
50g of buckwheat flour
50g of oats
50g of almonds
1 tablespoon of maple syrup
70g of of coconut oil
1 tablespoon (15g) of almond butter
1 teaspoon of chia seeds
3 teaspoons of water
30g of coconut sugar
1 vanilla pod
a pinch of salt
For the coconut "snow":
4 tablespoons of shredded coconut
1 tablespoon of coconut sugar
½ teaspoon of ground vanilla
Instructions
To make the chia egg: Place the chia seeds into a small bowl and add the water. Let the mixture thicken in the fridge for about 10 minutes.
Place the almonds into a food processor and process to a fine flour. Be careful not to blend it too long as it might turn into almond butter. Set the almond flour aside and process the oats into a flour as well. Set aside.
Mix the coconut oil, almonds butter, coconut sugar and maple syrup in your food processor for a couple of seconds. You can also use a conventional hand mixer to do this. Using a sharp knife, split the vanilla pod lengthwise into two halves. Scrape the pod halves with the dull side of the knife to extract the precious vanilla seeds.
Add the vanilla seeds, chia-egg, ground almonds and oats, buckwheat flour and salt to the coconut mixture and mix everything well using your food processor or hand mixer. Roll the batter into two logs (about 20 cm (8 inches) long) and cover them with plastic wrap. Chill for at least one hour.
Pre-heat the oven to 180°C (350°F) and line two baking sheets with baking paper.
To prepare the coconut "snow": Place the ingredients into a small bowl and mix well with a spoon.
Cut the logs into 30 pieces and roll each piece into a crescent shape using your hands. Put the vanilla crescents on the lined baking sheets, about 2 cm (1 inch) apart. Bake until the cookies are browned, but not dark, about 14 minutes. Cool on the baking sheets for a few minutes. Place the cookies, while still warm, into the coconut "snow" and cover completely. Be careful as they are very fragile. Transfer the crescents to a rack to cool completely.
Stored in an air-tight container, the cookies last for about 2 weeks.
Notes
Notes:
- If you don't have a food processor, you can use almond meal instead of whole almonds.
- Use 200g of buckwheat flour, if you don't have a food processor or strong blender to blend the oats into a flour.
- Make your own almond butter. It's a lot cheaper than store-bought.
- If you don't have almond butter, use a total of 90g of coconut oil in the recipe.
- If you don't have chia seeds, use ground flaxseeds in the same ratio. In this case, 1 teaspoon of flaxseeds.
Healthy Vanilla Crescent Cookies Video:
Enjoy and Happy Holidays!
---
DID YOU MAKE THIS RECIPE OR HAVE ANY SUGGESTIONS, QUESTIONS OR COMMENTS?
Feel free to leave a comment below, and don't forget to tag your creations on social media using #heavenlynnhealthy.
I'd love for this blog to be a dialogue.
---