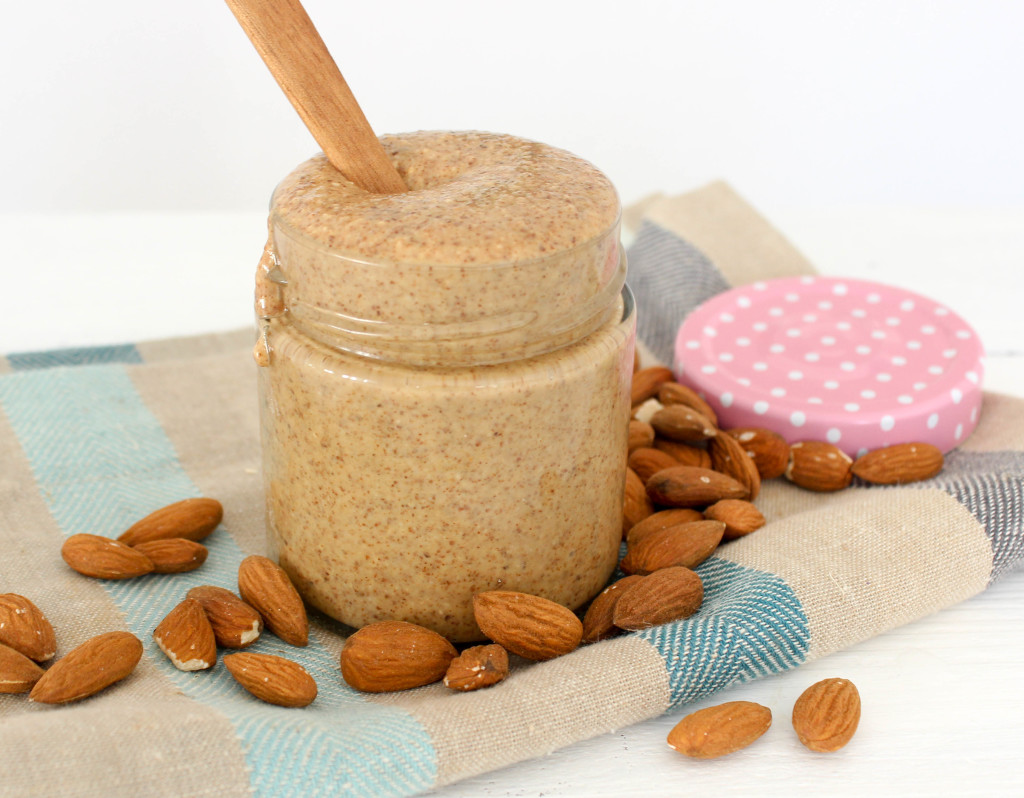 Let me introduce you to my newest addiction: almond butter. Ever since I made our first batch, I have been constantly buying almonds to keep up with our high demand for this delicious nut butter. Since I am technically American at heart, I am of course a big fan of peanut butter, but ever since I tried almond butter I don't think I will ever go back. Almond butter is the perfect addition to any meal. I eat it for breakfast, lunch and dinner sometimes. It's also a great healthy snack if you combine it with sliced apples or pears. I love it with my morning bowl of oatmeal, in breakfast smoothies, on toast topped with banana slices or homemade jam. It's also a great substitution for cream in sauces or soups. You can see, I am pretty obsessed with it.

Making almond butter only requires one ingredient so you couldn't even call it cooking really. Unfortunately you will need a high quality and powerful food processor to get the perfect texture. I am really sorry, but I have tried it with my 20 Euro blender – without success. It doesn't need to be a very expensive machine, but it needs to have power to break down the almonds completely.
Since almond butter consists of only one ingredient, it is a very clean food, and totally healthy as well. Nut butter in general is a great way to add some healthy protein and unsaturated fats to your diet. The healthy fatty acids protect our heart and lower the risk of heart disease and type 2 diabetes. Almonds are also an amazing super- and beauty food because of it's high vitamin E content. Vitamin E is especially important for healthy nails, hair and glowing skin.
Health benefits:
– copper (important for strong tissue, maintaining blood volume, and producing energy in your cells)
– mono-unsaturated fats (decreases risks for breast cancer, important for heart health)
– biotin (important for blood sugar balance and skin health; building healthy fats for soft skin)
– manganese (for nerve health)
– protein (important for a healthy metabolism, immune systems, production of enzymes)
– vitamin E (antioxidant against free radicals, prevents skin aging)
The best almond butter
Author:
Heavenlynn Healthy
Ingredients
2 cups (about 350g) almonds
a pinch of salt
½ tsp cinnamon (optional)
Instructions
Start by roasting the almonds. Pre-heat the oven to 180°C and pour the almonds onto a baking tray. Roast them for about 8 - 10 minutes until you can small their nutty flavor. Take the tray out of the oven and let the almonds cool entirely. This is very important otherwise the recipe may not work.
Once the almonds have cooled down completely, place them into your food processor together with the salt and cinnamon (optional) and blend on high for about 5 minutes. Scrape down the side of your food processor if necessary and blend for another 5 minutes. Do take little 30 seconds breaks in between to ensure your food processor doesn't shut down due to heat. After 10 minutes of blending, the almond butter should already have a nice creamy texture. If it doesn't then you need to blend it for another 5 minutes or so until you reach the desired creamy texture.
Stored in an air-tight glas container and in the fridge it should last 2 - 3 week.
Enjoy!