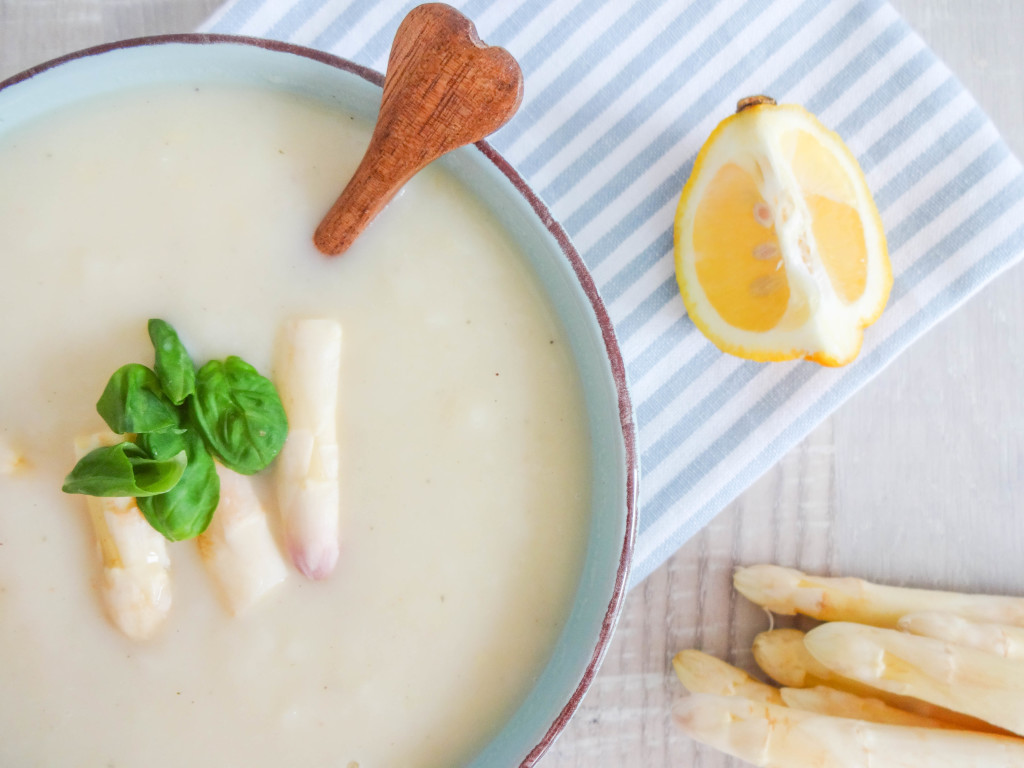 I know I've been posting quite a lot of asparagus recipes lately, but it just so happens that it's all I eat these days. I'm still totally crazy about it and I want to eat as much asparagus as I possibly can before the season is over. Actually it's my goal is to eat it as often as I can so I will eventually have had enough off it, and won't be sad to wait until next year to have it again. We'll see how that goes.
This heavenly creamy asparagus soup is just the perfect dish for one of those cold spring nights when you just feel like summer is never going to show up any time soon. The ingredients in this soup just work so well together and they really bring out the best of each other's flavors. I didn't expect asparagus and coconut to make such an incredible food duo, but the two ingredients are just perfect for each other. Trust me, you are going to love this soup. If white asparagus is not available in your country, I'm sure you can replace it with green asparagus as well. I just haven't tried it yet, so I can't guarantee that it'll work. If anyone tries making the soup with green asparagus, I would love to hear about it in the comments below.
Health Benefits in this creamy asparagus soup:
– iron (important for healthy red blood cells that transport oxygen through your body)
– lycopene (antioxidant that helps fight various diseases)
– manganese (for nerve health)
– protein (important for a healthy metabolism, immune systems, production of enzymes)
– vitamin C (good for your immune system, tissue health)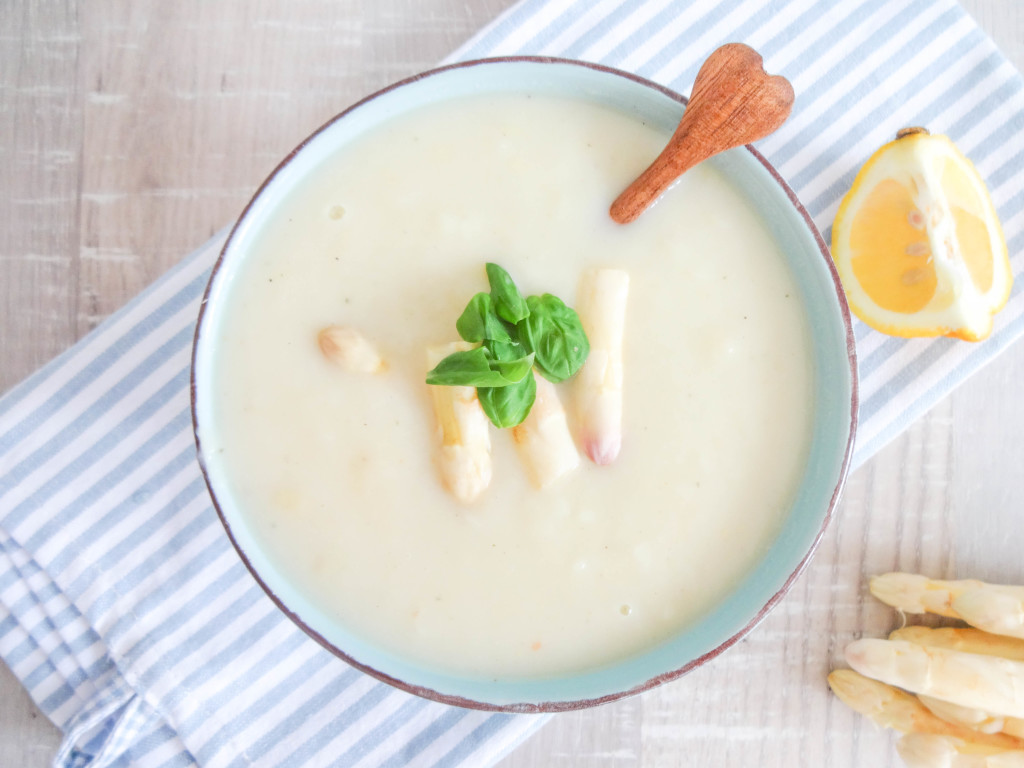 Ingredients:
Serves 4:
– 1 kg white asparagus
– 4 cups (1 liter) water
– 2 potatoes (200-250g)
– 5 tsp coconut milk
– 3 tsp coconut oil
– 3 tsp buckwheat or spelt flour
– 1/2 tsp nutmeg
– 1 tsp salt
– 1 tbsp fresh lemon juice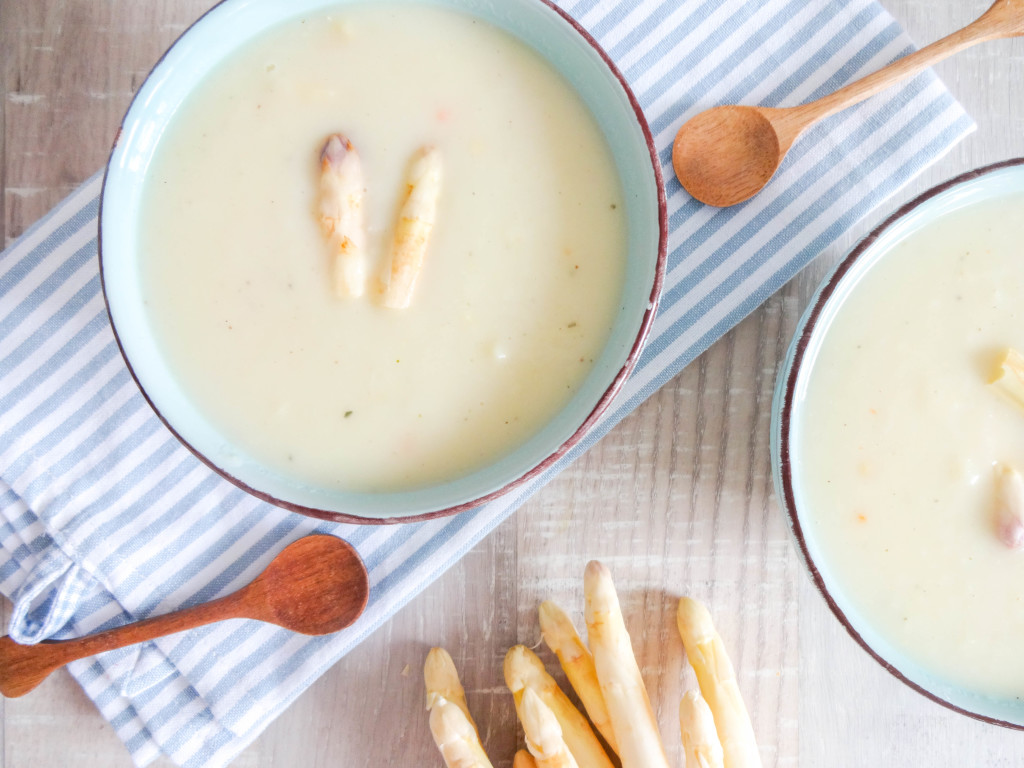 Peel the asparagus and cut off about 1 cm (1/2 inch) of the ends. In a large pot, heat up enough water to cover the asparagus entirely. Add a pinch of salt and agave, and cook the asparagus for about 15-20 minutes.
In the mean time wash and peel the potatoes, then place them in a pot. Add enough cold water to cover the the potatoes entirely. Bring to a boil, and add 1/2 to 1 teaspoon salt to the water. Reduce heat to medium medium or low. Cover the pot with a lid and cook the potatoes for about 15-20 minutes.
Once the asparagus and the potatoes are done, drain them, and set them both aside. Separate the heads of the asparagus from the rest of the stems.
In a large pot, melt the coconut oil. Add the flour and stir well with a whisk until a thick paste forms. Gradually add the water while continuing to stir. Now add the potatoes and asparagus. Transfer the soup into your blender and blend until it has a smooth, creamy texture.
Pour the soup back into the pot and bring it to a quick boil on high heat. Lower the heat to low, and add the remaining ingredients coconut milk, nutmeg, lemon juice and salt. Finally add the asparagus heads to the soup. You may want to add more coconut milk, nutmeg, salt or lemon juice depending on your taste.
Serve with bread.
Enjoy!