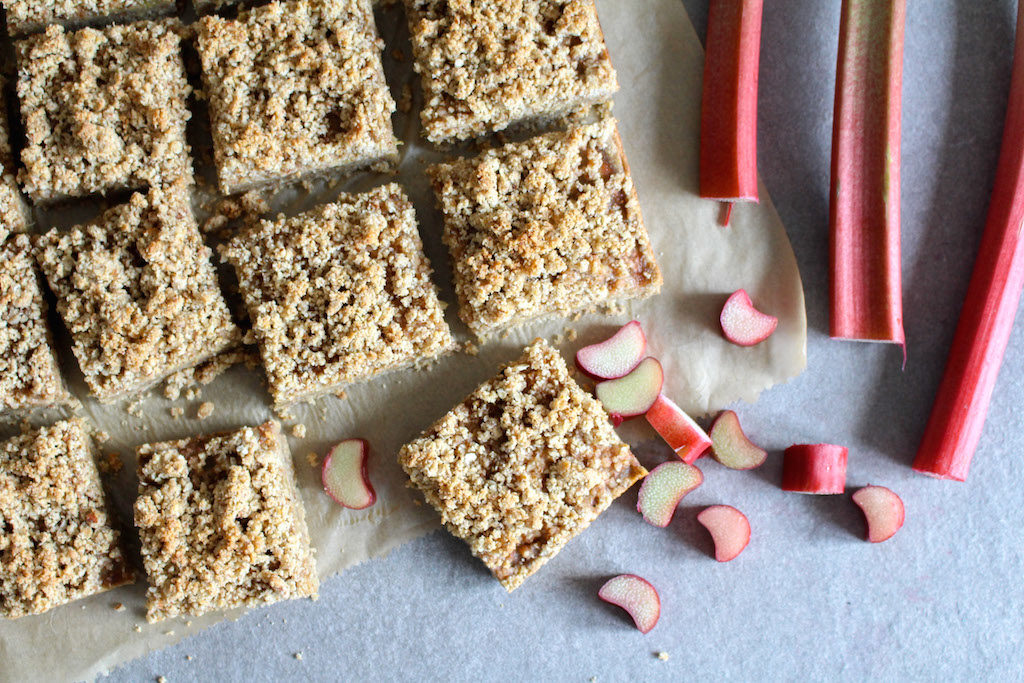 I'm proud to introduce these rhubarb oat bars with streusel crumb topping as my first dish washer supported recipe ever! We finally got a dish washer last week, and I could not be happier about it. Can you believe that every recipe testing session for the blog has been followed by an extreme dish washing job by either me or Jannis? Even though we did have fun at those dish washing sessions, I highly appreciate the amount of time I now save by simply stuffing everything into our new kitchen gadget. Is there a dish washer appreciation day yet? Because I really think there should be.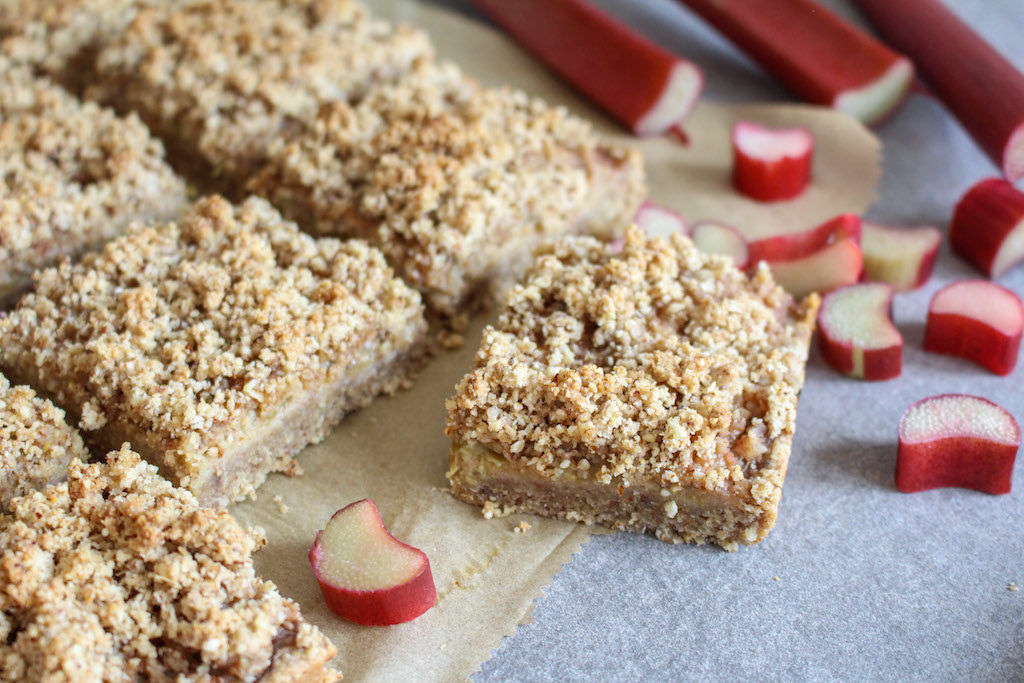 Now on to this delicious treat. I've already shared an oat bar recipe a few months ago, and now that rhubarb is in season, I knew I needed to try it with rhubarb instead of raspberries. The result was pure heaven, and Jannis almost ate the entire thing by himself. There are only natural ingredients in these oat bars, so feel free to enjoy some guilt-free treats next time you have a family event or your girlfriends over for girls' night.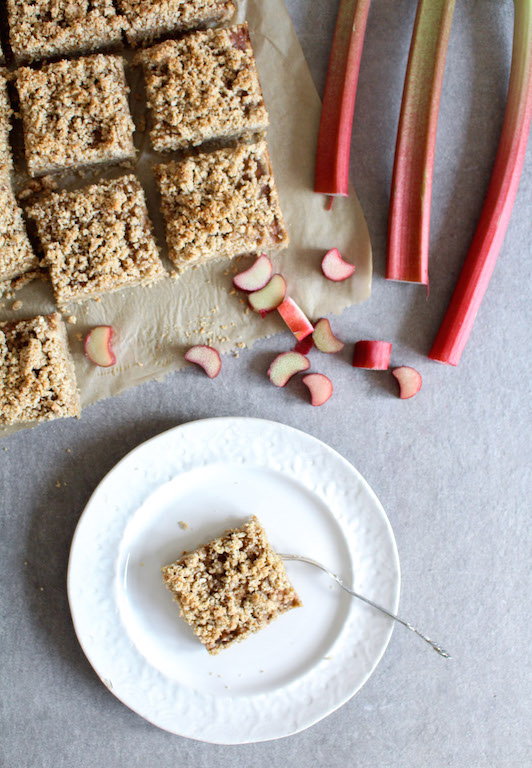 Rhubarb is an amazing fruit that tastes great in crumbles or tartes, so I thought it would be just as delicious in my oat bars. The long red roots are also extremely healthy as they contain lots of vitamins and minerals. They are a good source of calcium, which strengthens teeth and bones. Rhubarb is also a noticeable source of vitamin K, which is very important for blood clotting. It also contains the compound lutein, which is especially important for healthy eyes and skin.
The layer of rhubarb chia jam in between the two layers of crushed almonds, buckwheat flour and maple syrup really creates a sensation in your mouth that you and your guests will love. In fact, as I am writing this, I am really craving them again.

Rhubarb Oat Bars with Streusel Crumb Topping
Ingredients
For the base:
6 cups (600g) of (gluten free) oats
2 cups (300g) of almonds
⅔ cup (140g) of coconut oil
2 ripe bananas
½ cup (120ml) of maple syrup
2 tablespoons of coconut sugar
¼ cup (60ml) of almond milk
2 tablespoons of chia seeds + 6 tablespoons of cold water
1 teaspoon of aluminum-free baking powder
1 teaspoon of vanilla powder
a pinch of salt
For the rhubarb chia jam:
10 cups (1000g) of fresh or frozen rhubarb
4 tablespoons of maple syrup
4 tablespoons of chia seeds
a pinch of vanilla
For the streusel crumble topping:
1 cup (100g) of (gluten free) oats
1 cup (150g) of almonds
2 tablespoons of coconut oil
4 tablespoons of maple syrup
a pinch of cinnamon
Instructions
For the rhubarb chia jam:
Start by making the rhubarb chia jam. Slice the rhubarb into bite-sized cubes, and put them into a medium saucepan together with the maple syrup. Heat over medium heat while stirring it frequently and breaking down the rhubarb, leaving some for texture. Bring to a quick boil, then reduce the heat to low, and add the chia seeds. Stir for a couple of minutes, and then remove it from the heat and let it cool down and thicken.
To make the base:
Place the almonds and oats into a food processor to break them down into a flour. Place the flour into a mixing bowl with all the other dry ingredients, and mix everything well. Combine the chia seeds with the water in a small bowl and let it thicken for at least 10 minutes, Mash the bananas in a mixing bowl with a fork.
Heat the coconut oil in a small saucepan over low heat, and add the maple syrup. Remove the pan from the heat and pour the coconut maple syrup mix over the dry ingredients. Add the banana and chia mix, and mix everything well with a hand mixer or a wooden spoon.
Gradually add the almond milk to reach the desired consistency. You want a crumbly, but still slightly sticky dough texture. Add more almond milk if necessary.
Line a 17 x 15 inches baking tray (or two 8 x 8 inch square baking trays) with baking paper. This is a tough task, because the dough can be quite sticky and hard to spread. It helps if you get someone to hold the baking paper.
Evenly spread the rhubarb chia jam on top of the base.
Pre-heat the oven to 180°C (360°F).
For the streusel crumb topping:
Place the oats and almonds into a food processor, and pulse for a few times until it is nicely broken down into a flour, but still contains some pieces of almonds. Heat the coconut oil, honey and cinnamon in a small saucepan over low heat. Add the sticky coconut oil mix to the oats and almonds, and mix well in you food processor.
Using your hands, crumble the streusel on top of the chia jam.
Bake for about 20 - 25 minutes. Check the bars after 15 minutes to see if the streusel start to get brown. If necessary cover the bars with tin foil to avoid burning for the rest of the time. The bars need to be baked for at least 20 minutes, so the base gets heated all the way through.
Take the bars out of the oven and let them cool for at least 10 minutes before serving.
Enjoy!
Enjoy!
---
Did you make this recipe or have any suggestions, questions or comments?
Feel free to leave a comment below, and don't forget to tag your creations on social media using #heavenlynnhealthy.
I'd love for this blog to be a dialogue.
---