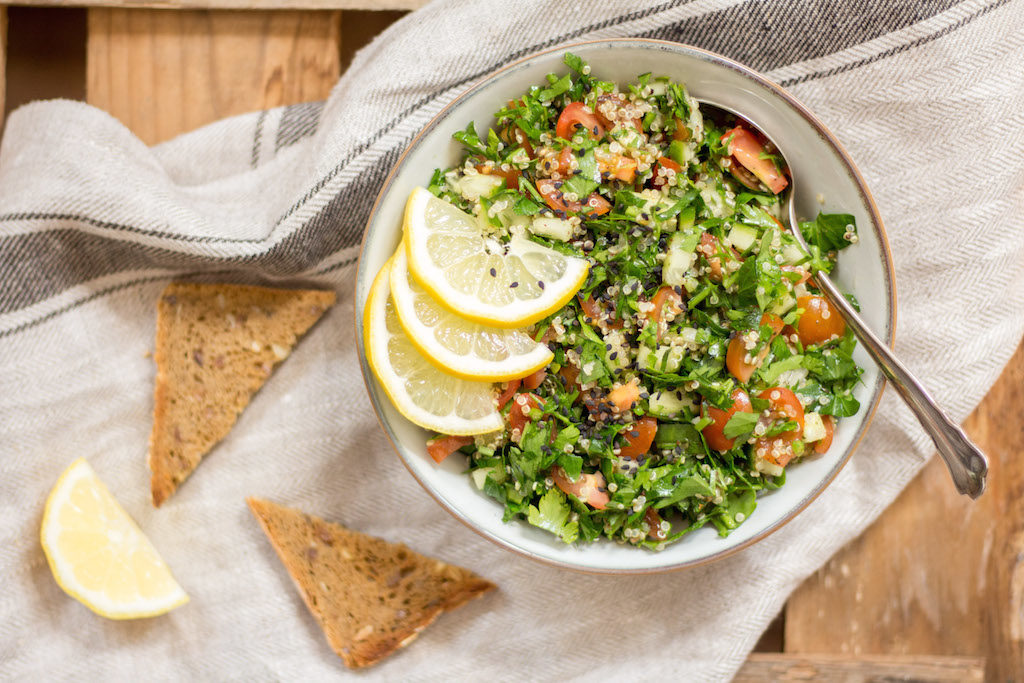 I am the biggest fan of middle eastern, north african and asian foods (especially vietnamese). Ok, I realize that those cuisines are all completely different from each other, but  if I had to chose a restaurant I could go to for the rest of my life it would probably be one of the three. Recently, I've played around with the north african spices such as za'atar, ras el hanout and or the spicy paste harissa, and I feel like they complement most of my dishes very well. That's why I added za'atar to my quinoa tabbouleh the other day, and it was such a game changer. 
If you don't have za'tar at home, don't worry, the salad will taste just as delicious without it. However, it's really easy to make your own za'atar, as I will write down in the recipe below. The only thing that you will probably need to buy is sumach, a unique spice, with a tangy, lemony flavor. You can get it at most middle eastern or turkish stores, as well as online.
Tabbouleh is one of my favorite salads, as it is so easily prepared, and the ingredients are cheap and always in stock at any grocery store. All you need is fresh parsley (lots of it!), cucumbers, tomatoes, and some kind of starch, such as couscous, bulgur, millet or quinoa. I prefer quinoa lately, as it contains all essential amino acids, which makes it a full protein. Parsley is becoming the new kale, by the way. You can easily find it locally grown, and it is one of the cheapest herbs in the produce isle. Like most greens, it contains a great amount of vitamin K, which is important for blood clotting and healthy bones. It's also an amazing source of antioxidants, which protect our cells from free radical damage, thus prevent chronic diseases.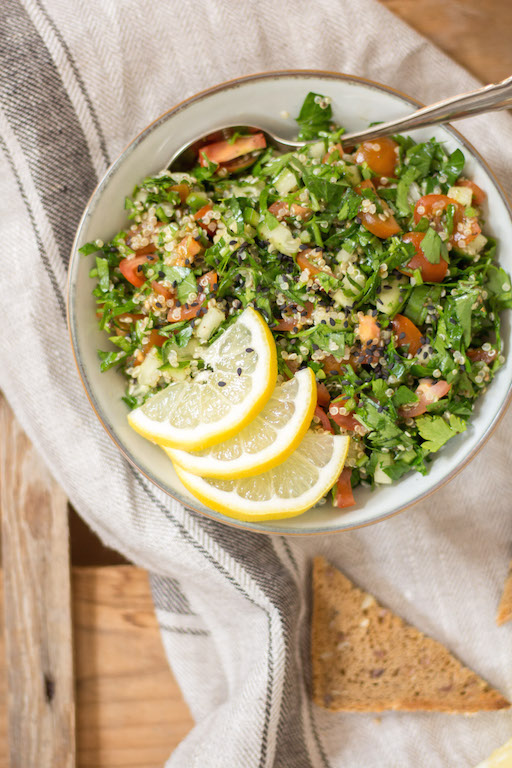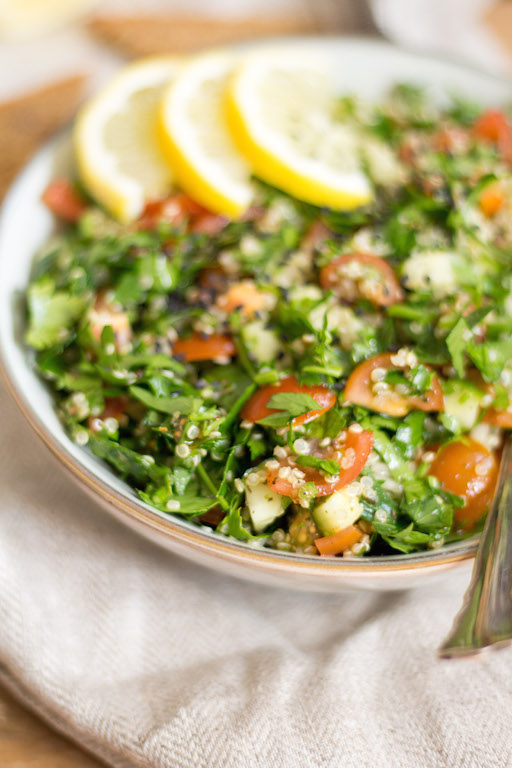 This quinoa tabbouleh with za'atar really is one of the easiest salads to prepare for a barbecue, a picnic, or simply as a side dish. It's such a fresh salad, too, with all the parsley, cucumber, tomatoes, and fresh lemon juice. Trust me, you'll never want to buy tabbouleh again, after you've tried this recipe.

Quinoa Tabbouleh with Za'atar
Ingredients
For the salad:
800g fresh tomatoes
1 cucumber
4 bunches of fresh parsley
1 bunch of fresh mint
185g (1 cup) of white quinoa
2 - 4 tablespoons of za'atar (see below)
For the dressing:
4 tablespoons of extra-virgin olive oil
4 tablespoons of freshly squeezed lemon juice
the zest of one organic lemon
2 teaspoons of raw honey
2 garlic cloves
sea salt
pepper
For the za'atar spice blend:
4 tablespoons of toasted sesame seeds
4 tablespoons ground sumac
1 tablespoon of dried thyme
1 teaspoon of ground cumin(optional)
1 pinch of sea salt
Instructions
For the salad:
Rinse the quinoa, and add it to a saucepan with 2 cups (500ml) of water. Cook the quinoa for 12 - 15 minutes or until little rings have formed around the seeds. Drain and set aside to cool.
Wash and finely chop the vegetables. Wash and dry the herbs, and finely chop them. Add everything to a salad bowl.
Combine all the ingredients for the dressing and pour it over the salad. Sprinkle the za'atar over it and serve immediately. If you serve it later, then sprinkle the za'atar over it just before you serve it.
For the za'atar spice blend:
Heat the sesame seeds in a skillet over medium heat for a few minutes until they turn slightly brown. Remove from heat and let cool completely. Mix the sesame seeds with all the other spices and mix well. Store in an air tight container. Keeps for many months.
Enjoy!
---
Did you make this recipe or have any suggestions, questions or comments?
Feel free to leave a comment below, and don't forget to tag your creations on social media using #heavenlynnhealthy.
I'd love for this blog to be a dialogue.
---