*This post is sponsored by Alpro.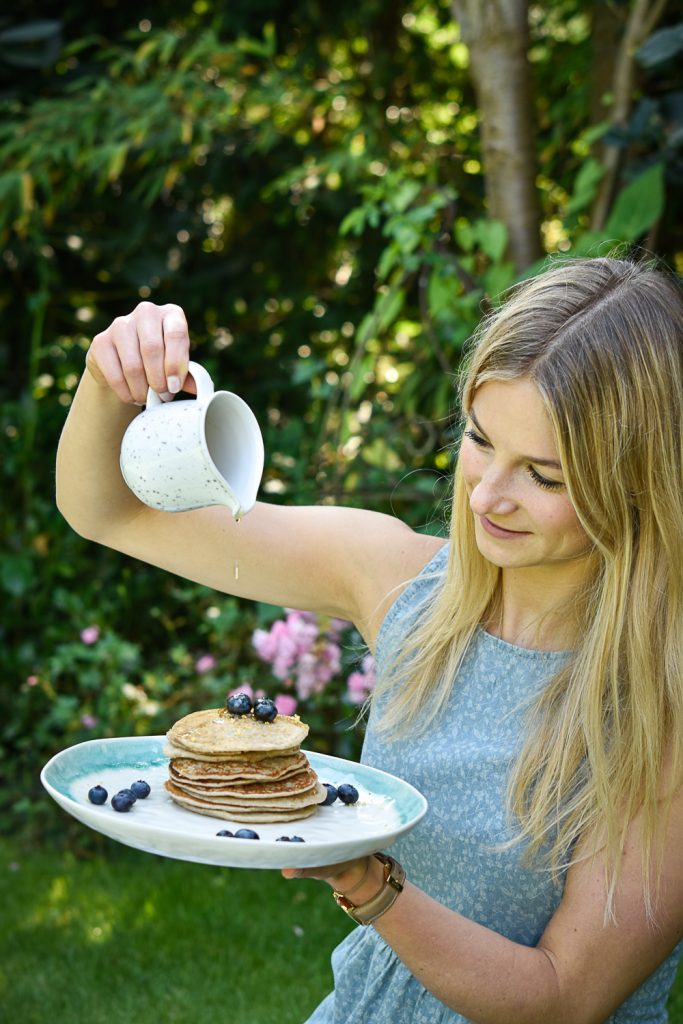 Wow, seems like I introduced fall season a tad bit too early here on the blog. This week is supposed to be really warm and sunny, so I thought it was time for a little farewell to summer with a post I wrote at the end of summer.
A few weeks ago, summer also actually decided to pay us a visit again. If you've ever lived in or visited Northern Germany, then you will understand why we were so excited about this. This year, our summer was rather cold and wet, and so we enjoyed the warm sun and cloudless skies to the fullest. Luckily, we were all home at my parents' house for my cousin's wedding and got to enjoy a few family days. Both my sisters came to visit, too, and we spent some wonderful summer days at home with lots of laughter, teasing and of course lots of delicious food.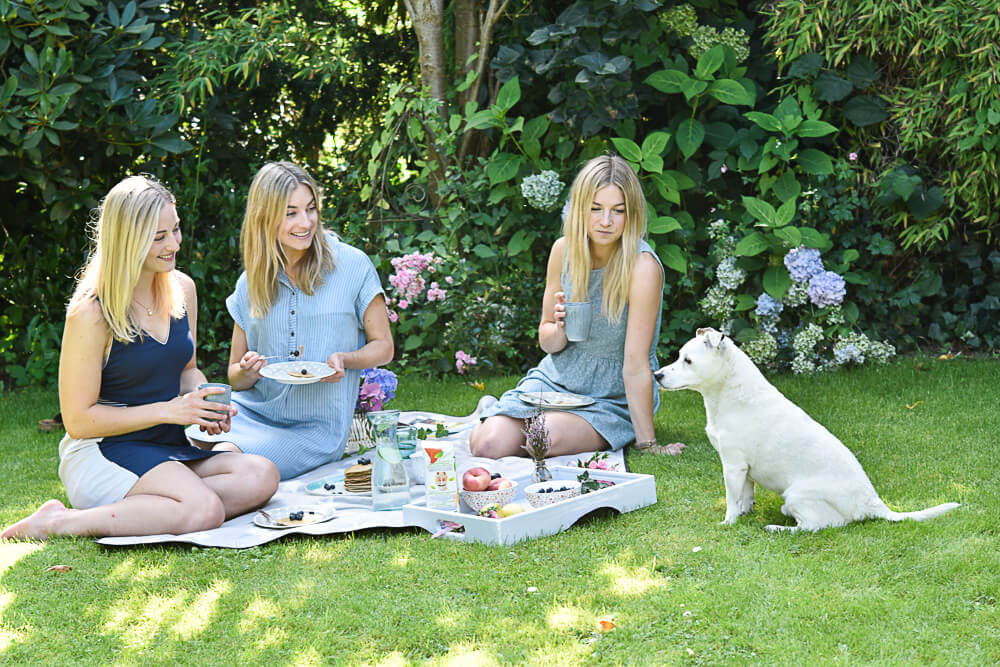 I don't know about you, but in my family, food always comes first. Since my sister has to eat gluten-free, we always prepare all of our foods sans gluten, so she does not have to miss out on anything. This is also much easier for all of us, since we do not have to prepare everything twice. As we are quite an active family, our Sundays usually begin with a family run followed by a delicious and healthy breakfast. Even our 13-year old dog Balu and our boyfriends tag along, so Sundays are always special in my family.
After a Sunday morning run, breakfast always tastes much better than usual, which is why breakfast is so important to all of us. We usually prepare lots of fruit, fresh buns and something special such as these lemony almond pancakes. They make the kitchen smell heavenly and they taste delicious.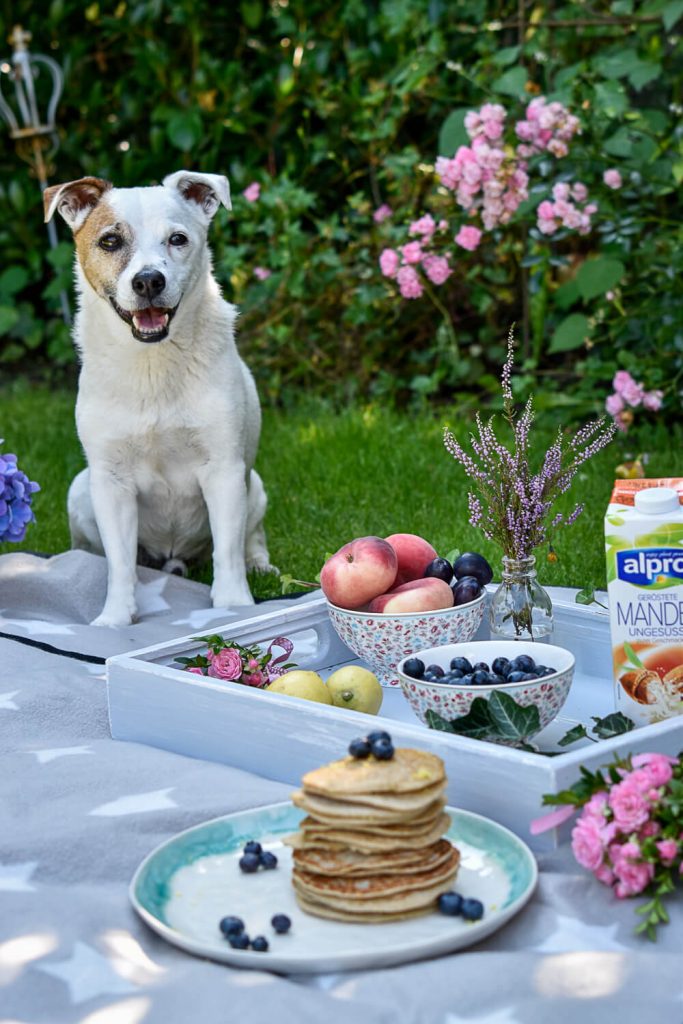 Since I get so many questions about what I eat and what I don't, let me repeat my food philosophy once again. My main reason to eat healthy is that I want to nourish my body with the best possible ingredients. I believe that food should be fuel that helps the body master everyday life, but also to protect our body from harmful outer influences. Healthy eating for me is not a trend, it's the natural way of eating that keeps our body alive. Most of my diet is plant-based, but I am not 100% plant-based all the time. Moderation is the key in my opinion, and I do eat cheese or eggs from time to time because I love goat's cheese and a good scrambled egg. However, I feel that the plant-based diet suits me and my body the best, and it enables me to get better through every-day life than other diets. Another thing that I believe in, is the elimination of processed sugar in our meals. That's why I try to cook most of my meals from scratch in order to know exactly what's in it.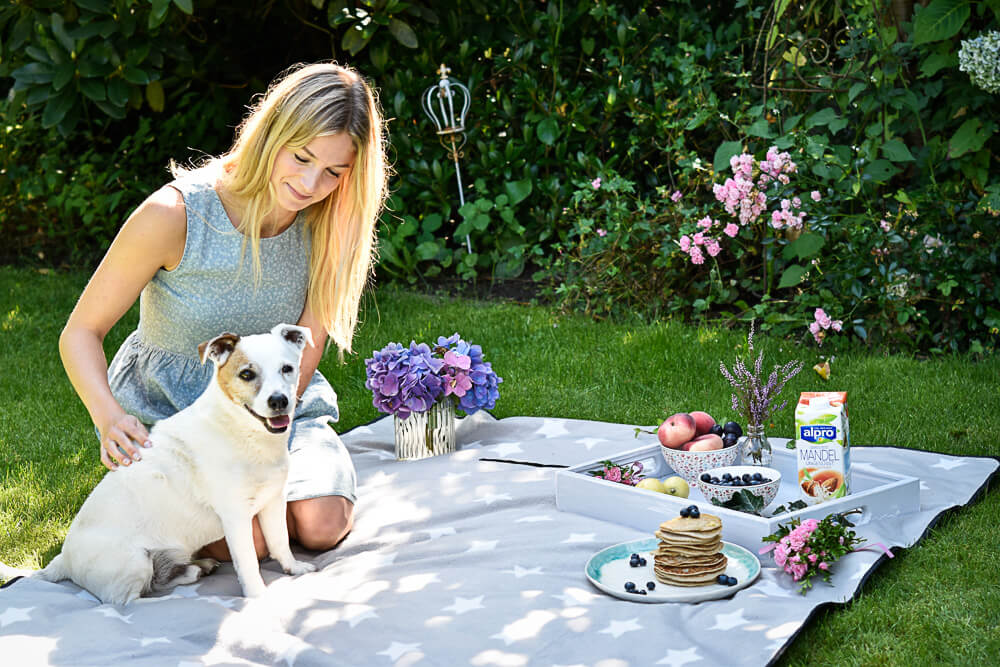 What I love most about the plant-based diet is its huge variety. If we take milk for example, all I ever drank was cow's milk. These days, there is such a diversity of plant-based drinks that we can choose from, which is amazing! From almond, to oat all the way until cashew milk, there are so many different kinds of drinks, which foster my creativity in the kitchen. Due to a lack of time, I do not always make my own plant-based drinks, which is why I love Alpro's range of plant-based drinks. Its variety of drinks reflects the plant-based diet so well.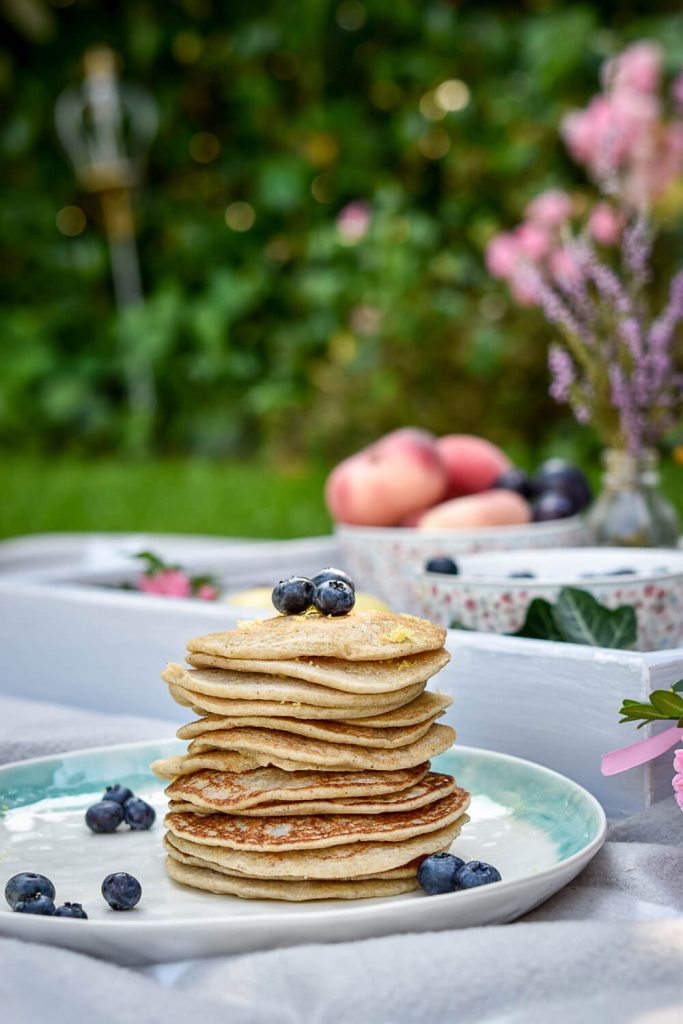 Back to these lemony almond pancakes. They combine both my sister's favorites: my middle sister LOVES everything with fresh lemons and my youngest sister is the biggest pancakes fan. When I made these pancakes for them a few weeks ago, we really celebrated them with a little breakfast picnic in the backyard. It was already pretty warm in the early morning, and so we really enjoyed the sun and the pancakes in our parents' garden. It was such a special moment that we will cherish and remember for a long time.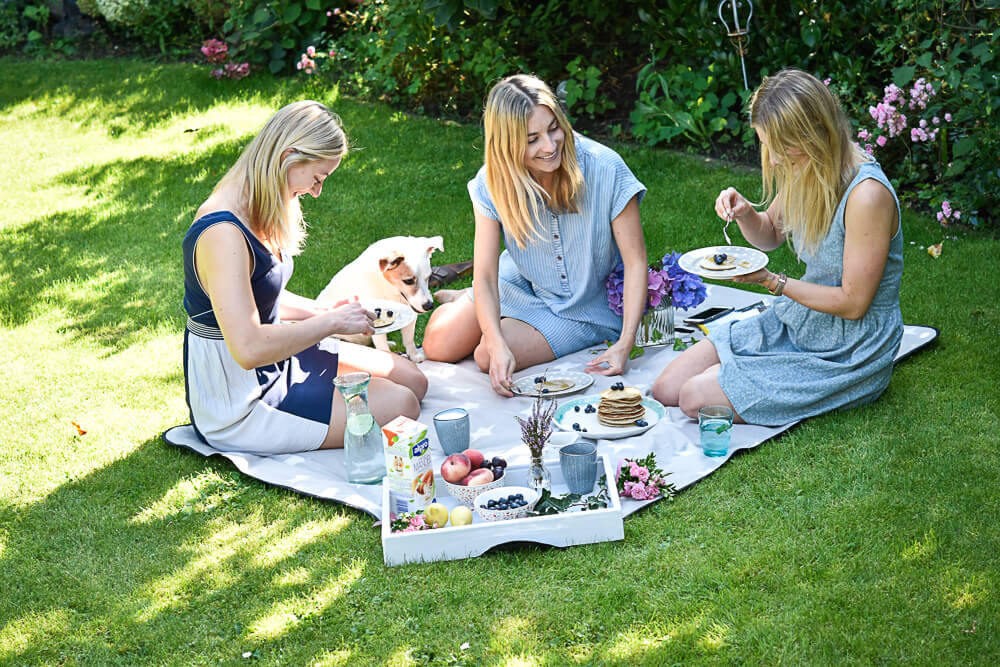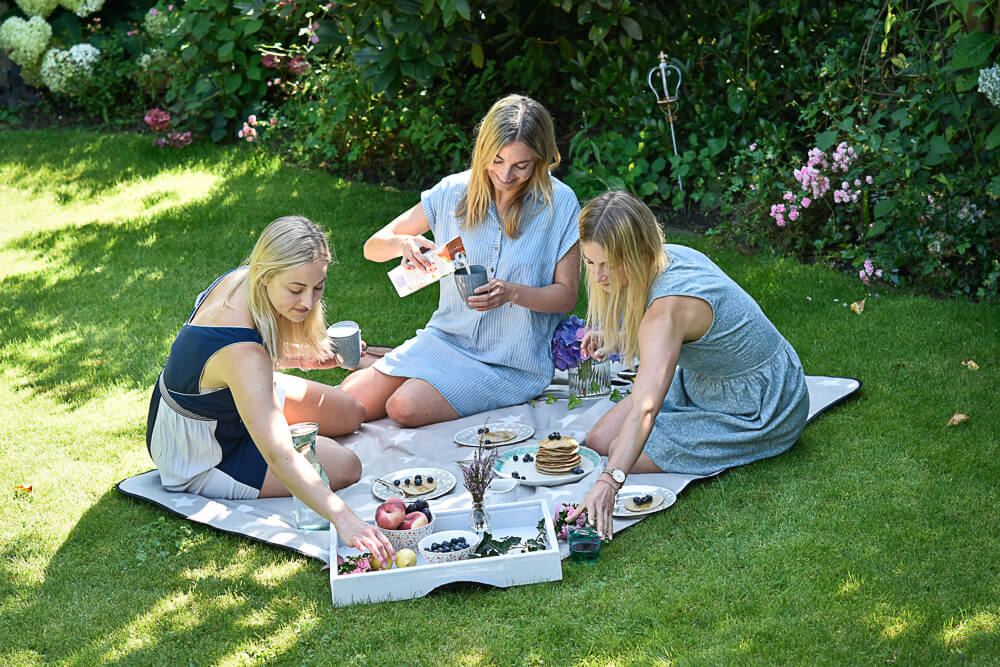 The best part of the pancakes, however, is the lemony maple syrup drizzle – if you ask my sister May. She loved this addition and even prepared a second batch, because she loved it so much. Such a compliment for me, and I have to admit that I was a little bit proud of myself.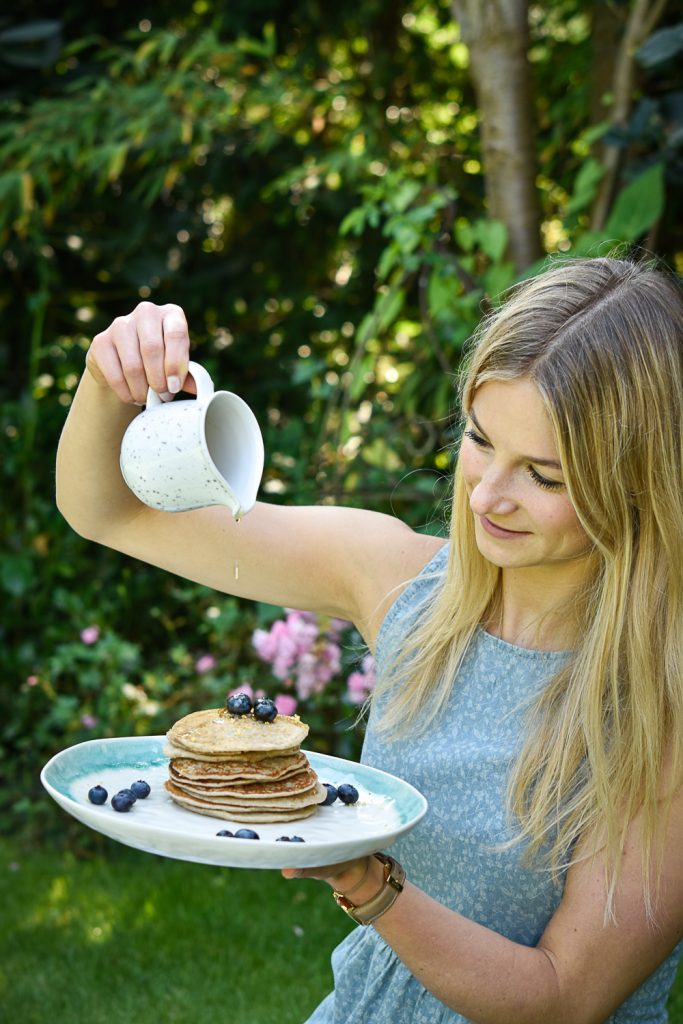 Another big plus of these pancakes is that they are only sweetened with banana, which you almost cannot taste because of the intense lemony-flavor. Such as plus of Alpro's plant-based drinks, in my opinion, because I love the idea of eating to feel good.
It would be my greatest pleasure of you made these pancakes for your loved ones and if you shared your special moments on social media using #heavenlynnhealthy. I cannot wait to see your photos.

Fluffy lemon almond pancakes for Alpronista & Friends
Ingredients
For the pancakes:
½ cup (50g) of gluten-free oats
90g of brown rice flour
30g of arrowroot powder or potato starch
½ cup (125ml) of Alpro unsweetened almond drink
½ cup + 2 tablespoons (130ml) of sparkling water
2 tablespoons (30g) of coconut oil
2 ripe bananas (about 160g)
the juice and zest of 1 organic lemon
2 teaspoons of aluminum-free baking powder
½ teaspoon of vanilla
a pinch of sea salt
For the lemony maple syrup:
4 tablespoons of maple syrup
the zest of one organic lemon
1 tablespoon of fresh lemon juice (optional, see notes)
Instructions
Start by blending the oats into flour using your food processor. Add the brown rice flour, arrowroot powder or potato starch, baking powder, vanilla powder, and salt.
Mix the banana with the almond drink, the coconut oil and the lemon juice and zest by using a mixer or food processor or a fork.
Combine the wet ingredients with the dry ingredients. Gradually pour the sparkling water into the batter and mix with a whisk and let the batter sit in the fridge for 30 minutes to 1 hour.
In the meantime, combine the maple syrup with the zest of the lemon and set aside while you make the pancakes. (See notes)
Place a saucepan on the stove and heat it for about a minute or two until it's hot enough. Grease it with a teaspoon of coconut oil. Wait until the coconut oil has melted, then add a quarter cup of the batter (about two tablespoons) to the middle of the saucepan. Form a round pancake with your spoon and wait until little bubbles form on the upper side of the pancake before flipping it over.
Allow the other side to cook for another one or two minutes, then remove the pancake and move on to the next one. Repeat this procedure until you've used up all the batter. Depending on the quality of your saucepan, you'll probably not need to use a new teaspoon of coconut oil for every other pancake.
Notes
My lemon-loving sister added a tablespoon of lemon juice to the maple syrup to make it even more "lemony". My other sister preferred the maple syrup simply with the addition of lemon zest. I liked both, so I recommend starting with the maple-zest version and then gradually adding lemon juice according to your personal preference.
Enjoy!
Merken
Merken