This super easy mediterranean sun-dried tomato quinoa dish is my knew addiction. It's so versatile, easy and nourisging – you're going to love it!
[Ad for a super amazing workshop in Hamburg] Before I continue with my small series of "30 minute and under"-dishes, I have a small announcement to make. I am giving a speech at the BetterYou Workshop this Sunday in Hamburg. There are still some final tickets left, so there is a 50 % Mother's Day special going on until the end of tonight. Simply use the code MAMAISTDIEBESTE at the Eventbrite check-out. In the workshop I will talk about my food philosophy, my take on a balanced diet and what drives my passion for healthy eating. I will also give some advice on healthy eating with a busy lifestyle. We will also cook a three-course meal together and have time to talk and mingle afterwards. I look forward to seeing many of you there! [End of ad]
Now on to this sensationally easy sun-dried quinoa dish. I don't know why it has taken me so long to realize that it's genius to cook your quinoa with some flavor-adding ingredients such as sun-dried tomatoes! It's really a genius move that I will definitely be using in the near future a couple of times. Also, the non-greasy dry sun-dried tomatoes become so delicious and soft when cooked with the quinoa. Definitely one oft he many reasons why I love this dish.
The whole dish is made with only six ingredients: red onion, paprika powder, tomato puree, sun-dried tomatoes, quinoa, and optionally vegetable stock paste or sea salt. That's it. Of course you can make it even better by adding pine nuts, fresh basil, olives and rocket to make it even more Mediterranean-style.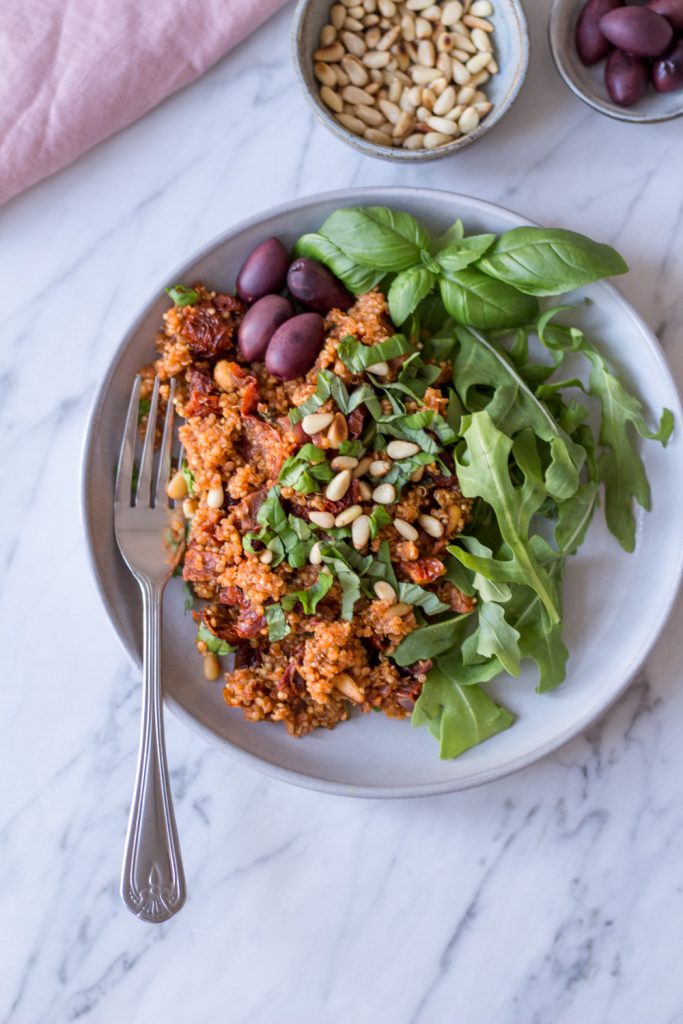 The best thing about this quinoa is that it really is so versatile. I have made it a couple of times by itself for lunch, but you can also eat it with roasted vegetables, or turn it into a salad with rocket. You can even use it as a base for a delicious Buddha bowl. There are endless possibilities.
If you live in Germany, then you can also get your local quinoa now as some local farmers are successfully harvesting quinoa in northern Germany – super exciting I think!
Quinoa is one of my favorite pseudo-grains and my preferred plant-based protein source. Quinoa not only contains all the essential amino acids, it also contains the amino acid L-Tryptophan, which aids in the production of the happiness-hormone serotonin. How amazing is that! I guess it's safe to say that quinoa really does make you happy on a bio-molecular level! So cool!
I am sure you'll love this super quick and delicious quinoa version just as much as I do! I look forward to seeing your creations online, so tag me on social media, if you want me to see your creations or use the hashtag #heavenlynnhealthy.

Super quick mediterranean sun-dried tomato quinoa - 30 minute recipes
Ingredients
For the quinoa:
1 red onion
2 tablespoons of extra-virgin olive oil
1 teaspoon of paprika powder
1 tablespoon of tomato puree
1 cup (180 g) of quinoa
3 cups (550 ml) of water
1 ½ cups (100g) of sun-dried tomatoes
sea salt and pepper to taste
Optional:
1 bell pepper
¼ cup (50 g) of pine nuts
2 handful of rocket
1 handful of fresh basil
Instructions
Finely chop the onion, thoroughly wash the quinoa, cut the sun-dried tomatoes into small pieces.
Heat the olive oil in a pan. Sauté the onion for about a minute, then add the paprika powder and tomato puree and sauté for another minute or so. Add the quinoa, water, and sun-dried tomatoes. Bring to a boil on high heat, then reduce the heat and let it simmer for about 15 minutes or until the water is fully absorbed. Season with sea salt and pepper according to taste.
In the meantime, roast the pine nuts in a saucepan without oil on medium heat for about five minutes. Be careful, they burn really quickly. Cut the bell pepper into bite-sized pieces.
Wash and dry the rocket, roughly chop the basil and add the basil and bell pepper to the quinoa. Serve it with the rocket, pine nuts and Kalamata olives.
Guten Appetit!