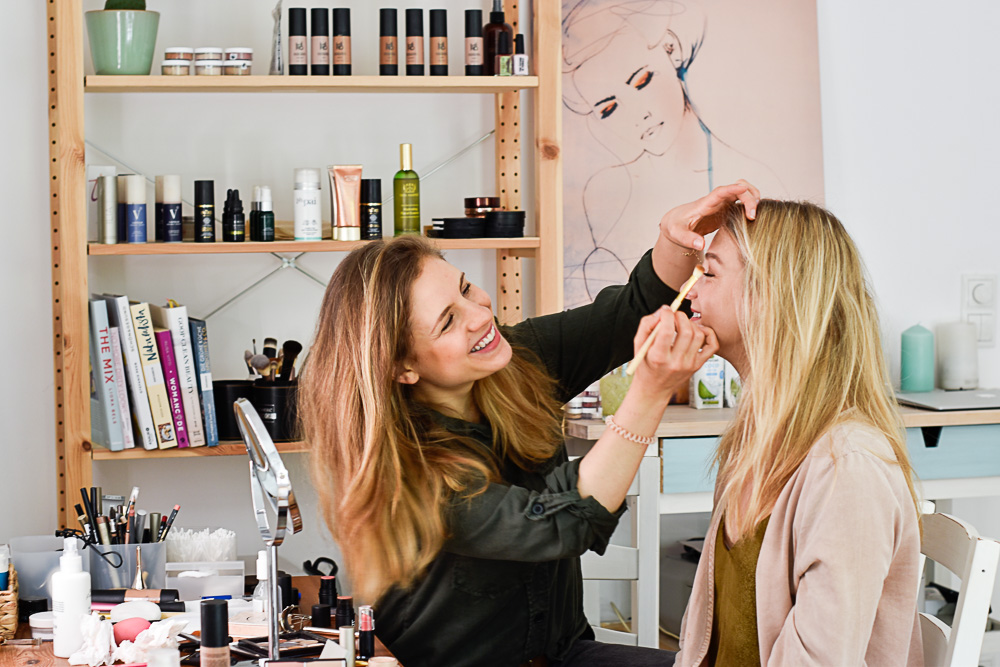 It was one of those days when I was in the shower realizing that my shampoo and conditioner were empty. If that wasn't enough already, I was out of body lotion, too. In hindsight, I think it was meant to happen this way. Empty skin and haircare products are always an opportunity to try something new. So I went to the drug store, and realized that I was completely overwhelmed by the choices. I could spend hours at DM, reading labels, smelling fragrances and losing myself in the endless product varieties. So I took out my phone and asked my awesome social media community for advice on natural skincare products.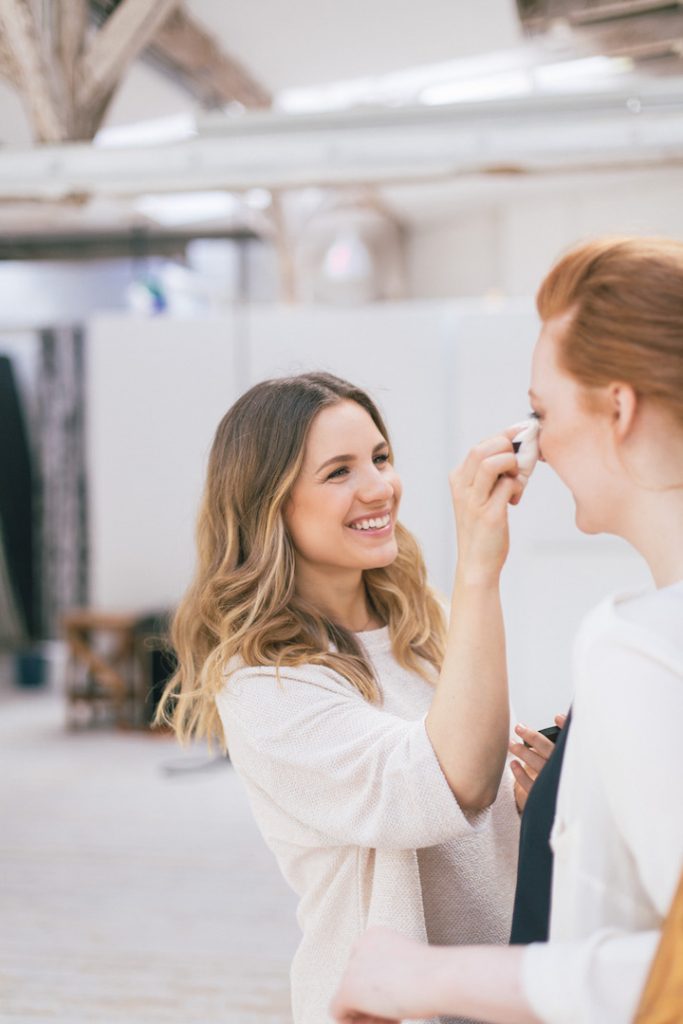 Long story short, a week later I was sitting in Lisa Scharff's apartment at a natural beauty coaching. Lisa Scharff, natural make-up artist and coach, is the personalized natural beauty coach we've all dreamed of. She's that girl from school that you've always admired because of her flawless skin, super voluminous hair and heart-warming smile. Serious girl-crush material.
We had arranged a natural beauty coaching for my sister as a belated birthday present, and I was simply there to observe and learn. Lisa usually only offers one-on-one beauty coachings to assure 100% focus on each client, but for my sister and I, she made an exception. Lisa guided us through the basic skincare and make-up routines that she has come to adapt and develop over the years. Her routine includes a double-cleansing program (my favorite part) consisting of a mild soup and an oil wash with jojoba oil. I literally felt like being on a spa day. The jojoba oil wash was the first thing I ordered after the coaching.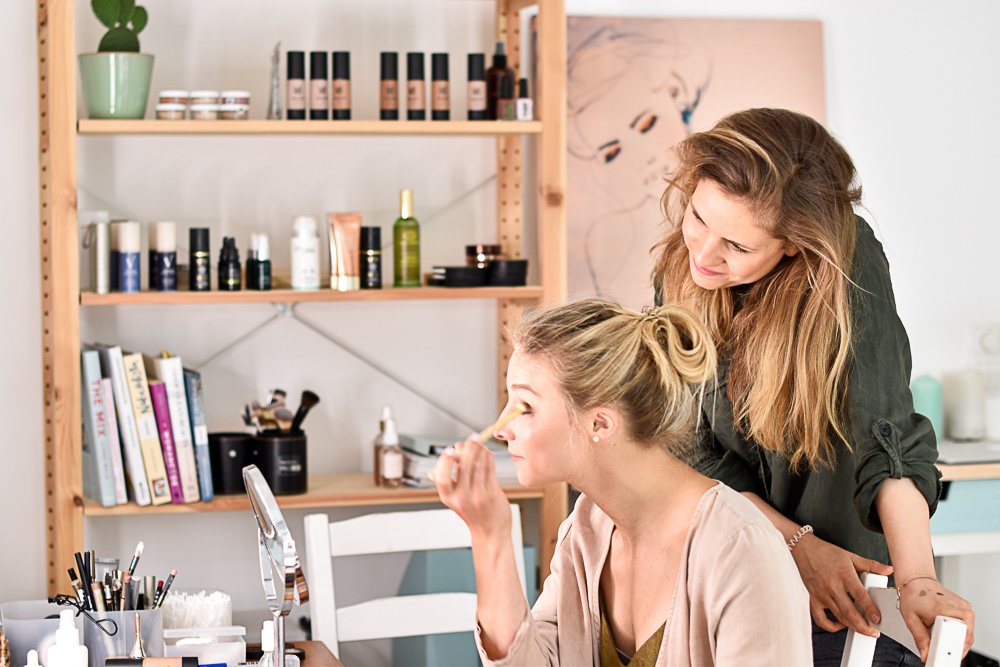 Next was moisturizer: Lisa is a big fan of natural essential oils, and she recommended Pai Facial Oil as an amazing moisturizer. It really felt so light and yet comfortably enriching on the skin. Another new item in my natural bathroom. After our skin was perfectly clean and nourished, we chose a fitting natural foundation. A new Berlin-based brand, that Lisa recommended was Hiro, and the foundations covered all redness and discolorations quite well, without making us feel masqueraded.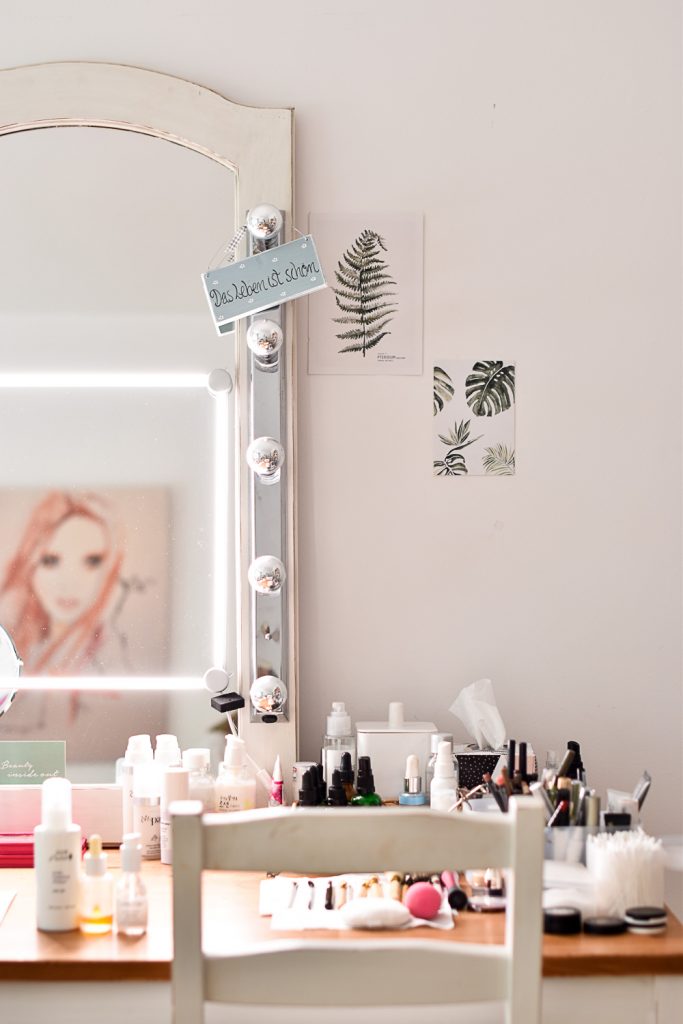 I'm going to spare you with every single detail from our coaching – after all, it was individualized and adapted to our skin and or problems and needs. What will be more interesting for you, is what to pay attention to, when buying natural beauty products:
Lisa offeres two different types of coachings. We chose "Clean your Beauty Bag", which guides you through the basics of natural cosmetics and skincare, face wash routines, applying moisturizer and how to support your natural beauty with the help of some make-up products. What's so unique about Lisa is that she follows a holistic approach with her coachings. That's why there is another coaching called "Beauty Inside Out", where Lisa will also get into details of healthy eating to make your skin look as healthy and radiant as possible. The coachings start at 179 Euros, and they are worth every single cent.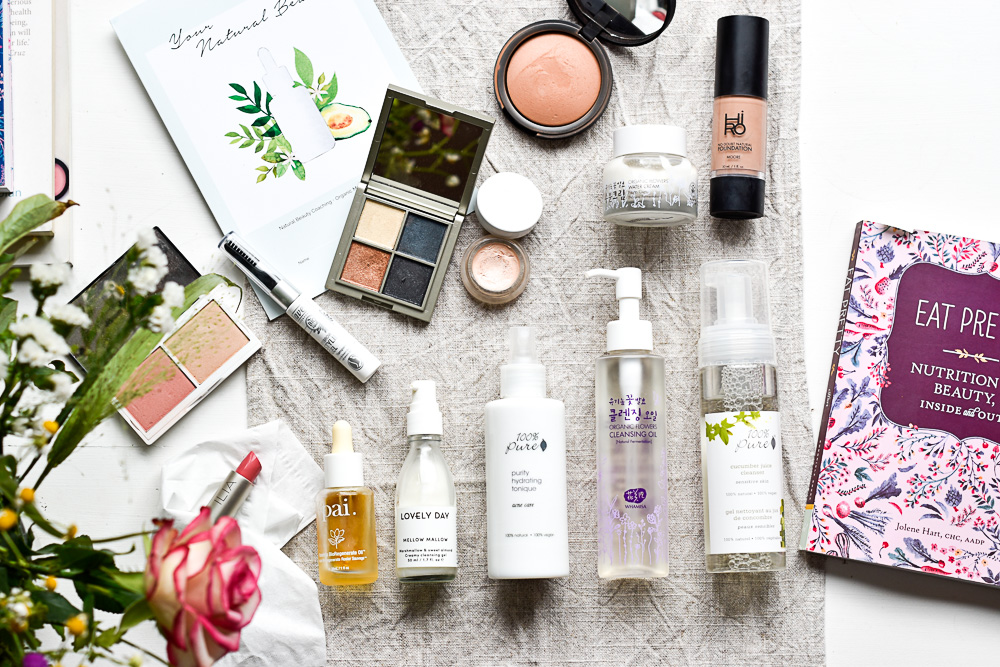 You can, of course, also pamper yourself with some of the products that Lisa recommended to my sister and I, here is a list of products* that we used. I've ordered some of the products, but have not tried them all. They are recommendations of Lisa's for my skin (which is quite problematic). If you want to find the perfect products for your skin, I'd recommend booking one of Lisa's coachings.
Face Wash:
Face moisturizer:
Face Oil:
Toner:
Foundation:
Highlighter
Bronzer:
Eyes:
Lips:
Dental care:
Body Lotion:
Face mask for blemished skin:
Lisa's Summer Tips: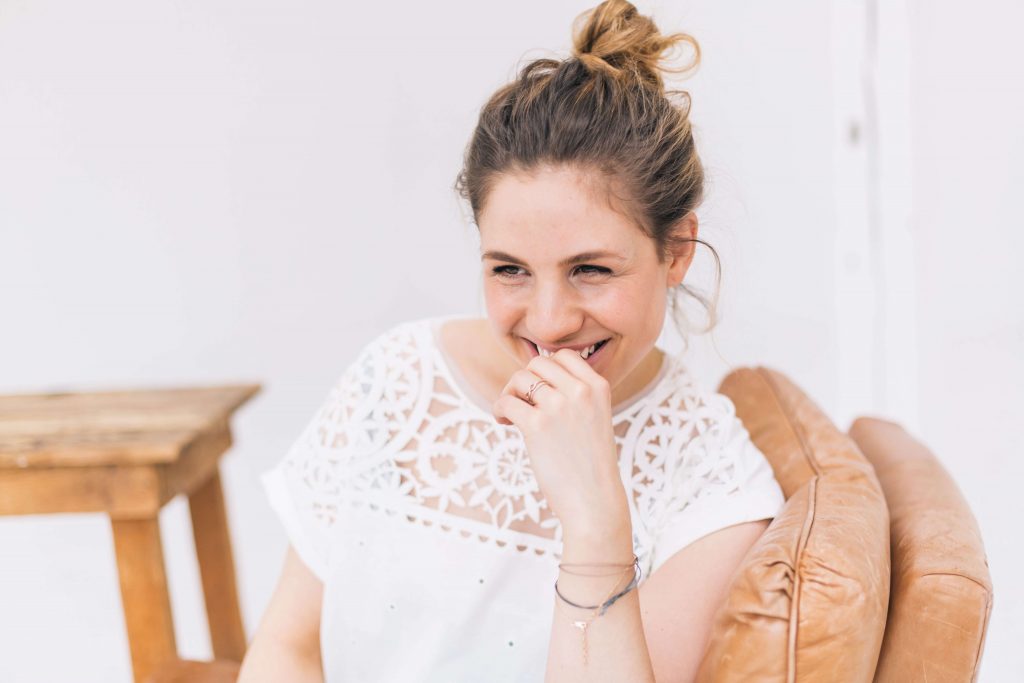 If you want to book one of Lisa's Coachings, you can do so through her website or just shoot her an email at hello@lisascharff.com. Her coachings do not just stop after the two hours of intense one-on-one time. Her mission is to help her clients on their way to an all-natural beauty bag. She just recently helped me out when I was standing in front of the natural beauty isle at my local drug store, clueless what to buy.
Thank you, Lisa, for the lovely and informative day. I am so very happy that you came into my life, and I look forward to learning much more from you in the future.
*The links are not affiliate links, they are simply recommendations by Lisa or even myself. There are several online stores where you can buy the products. I like Amazingy, but you will probably also find some offline stores in your city that sell them.
**Dear Lüneburger friends, there is a natural beauty store in our beautiful city called Pure Schönheit, Am Berge 6. Happy Shopping!
Merken
Merken
Merken
Merken