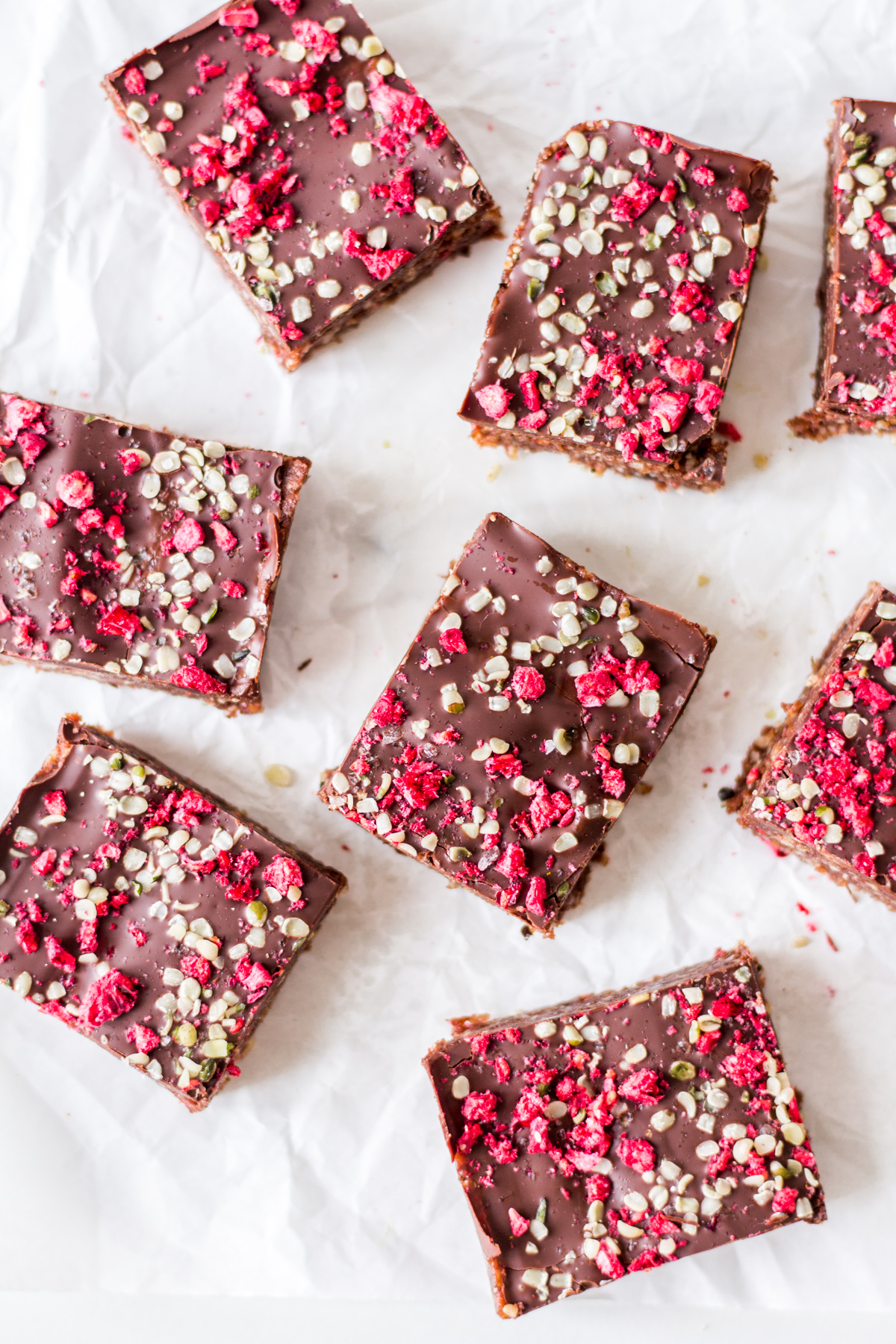 Hello energy bars / pralines / best thing you will be eating this summer. I know, I say this about all of my recipes, but this one is a whooole different story. Lately, I've been obsessed with energy balls and have been randomly combining different ingredients I had in my cupboard. My best friend actually inspired me to become more bold in my energy balls combinations, because she definitely is the queen of energy balls. I believe that she has never made the same combination twice and is always coming up with new ideas. These energy bars actually happened when I did not have enough time to roll energy balls.
So I quickly pressed the dough into a baking dish and cut them into squares. So easy, so quick and surprisingly different. The next time I made them, I added a thin layer of dark chocolate to the game and sprinkled it with hemp seeds and freeze-dried raspberries. And BOOM! They say you eat with your eyes, so there you have it.
The bars also survived the ultimate stress test: my dad who is very suspicious when it comes to so-called healthy treats. But he even suggested adding them to next cookbook. Typical for me, I can never wait to share great recipes on the blog, so here you go. Enjoy these little pieces of heaven.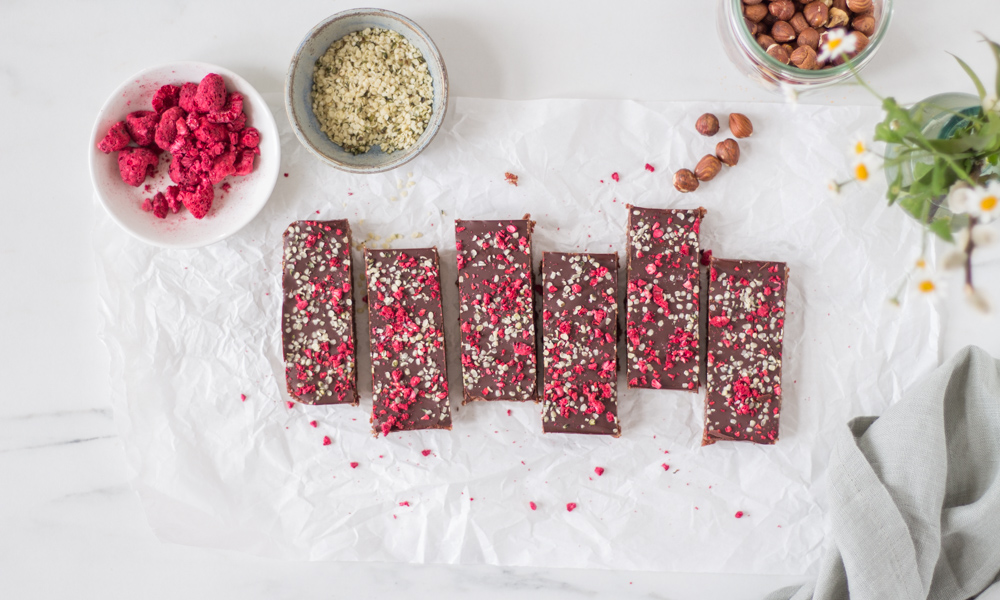 I created these recipes for my monthly column at the German blog magazine OhhhMhhh.de, and this month my column was all about hemp. By now, most people probably know that hemp seeds won't make you high. The hemp plant they come from contains only traces of THC, the cannabinol that creates the known effects of cannabis. So eating hemp seeds, drinking hemp milk or using hemp oil will not make you high, but they are great for your overall health.
Heavenly for body and soul, because …
… hemp seeds have the ideal ratio of omega-6 and omega 3 fatty acids. These days, we eat a ratio of 21:1, when we really need a ratio of 3:1. Luckily for us, hemp seeds contain omega fatty acids in exactly this ratio. Whooooo!
… hemp seeds contain the B-vitamins B1 and B2. B1 is important for our nervous system and B2 actually helps us feel less stressed due to its effect on the hormone cortisol.
… hemp seeds are also a good source of the beauty vitamin E. This vitamin has an effect on our skin, hair and nails.
… hemp seeds also contain all 8 essential amino acids, making them a complete protein, which is super amazing.
You see, hemp seeds are pretty much the best thing ever. Yes, I tend to exaggerate, but this time, I mean it. I do not buy a lot of superfoods, with the exception of chia seeds, quinoa and hemp seeds. Their nutrition profile is just amazing, so add them to your next grocery list. You can sprinkle them on pretty much anything from salads, to sandwiches, bowls, nicecream, add them to smoothies or to pesto. Or to these energy bars.
Enjoy making these bars this weekend, and if you do, please send me a picture on Instagram!
xx
Lynn
Print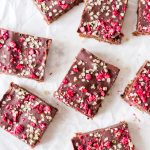 Hemp seed energy bars with raspberries
---
Author:

Total Time:

15 minutes

Yield:

12

bars

1

x
200 g of dates, pitted
100 g of nuts of your choice (for example hazelnuts, almonds, walnuts)
30 g of hemp seeds, peeled, more to sprinkle
2 tablespoons of raw cacao powder
1 tbsp of natural almond butter (or peanut butter, cashew butter, sunflower seed butter)
1 pinch of sea salt
8 g of freeze-dried raspberries, more to sprinkle
60 g dark chocolate, at least 70% of cacao

---
Instructions
Add the dates to your high speed blender or food processor and pulse until a rough paste forms.

Set aside. Then c

hop the nuts and freeze-dried raspberries by hand or food processor.




Put all ingredients together in a food processor or mix well all the chopped and pureed ingredients with the remaining ingredients by hand.




When using a food processor or blender, quickly knead the dough with your hands after having combined everything.

The warmth of the hands makes the ingredients blend together better.




Lay out a baking pan with baking paper and firmly press the dough in with your hands.

Melt the chocolate over a hot water bath and then spread it eavenly over the dough.

Sprinkle with hemp seeds and freeze-dried raspberries and refrigerate for at least 1 hour to cool down.




Cut the mass into cubes or bars as you like.


Stored in an air-tight container they will last for at least 1-2 weeks.

Notes
– The smaller your baking dish, the thicker the bars will be. I used a small bread form and got about 12 very thick bars. But you can also push the mass into a casserole dish, just make sure they are at least 0.7-1 cm high so they do not break too easily.
– You do not need freeze-dried raspberries for the recipe to work. Just leave them out if you cannot find them or do not have them in your cupboard. I do not recommended replacing them with real raspberries.
– You can change the recipe according to your mood and what you have in your cupboard . Ground flax seeds, sesame seeds, flax seeds, coconut flakes, other dried fruits, oats, etc. can all be used in these energy bars. Just make sure that you keep the ratio of 200 grams of dates and about 130-150 grams of dry ingredients.
– You can also omit the almond butter. It just makes the bars a bit smoother.