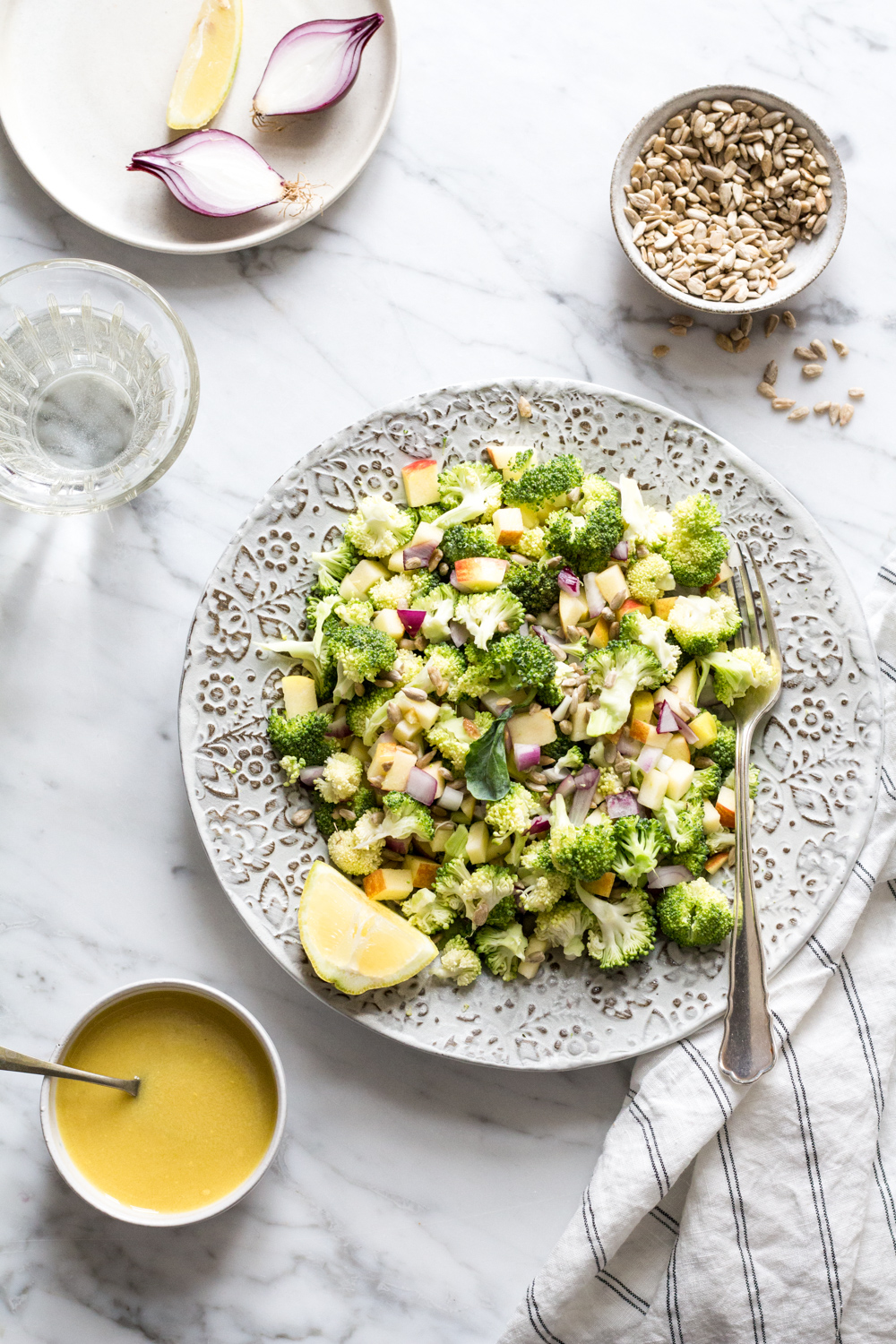 *Ad. This post is sponsored by Klara.
Hi friends. I am back. I took quite a long break from my English blog, as I am writing on my second cookbook. Oh and I also got married a few weeks ago. We had the absolute perfect wedding, and I still cannot believe what a wonderful day it was. I think I will share some photos on social media soon, we'll see. So do follow me on Instagram, if you do not already do so.
Now on to today's recipe and topic. I know, I know, hay fever and allergy peak season is long over as we are approaching late summer. On paper this may be true, but try telling that to my nostrils. With August comes weed pollen season and this means itchy eyes and throats, blogged airways and sneezing attacks for many people including me. Ever since I can remember, I have suffered from allergies in spring and summer. It's become a sort of normality for me, and I have gotten used to it by now, but it is still annoying. My hay fever even played a role in the selection of the wedding month. April and May are the worst months for me, so we picked June. I feel like everyone I know has pollen allergies, so this is definitely a topic for the masses.
Because of my wedding, I started researching more about holistic approaches to easing hay fever symptoms. I also researched foods that can alleviate the symptoms to some degree. Of course, no food can cure hay fever – but some compounds in certain foods can clear the airways, alleviate inflammatory processes in the body or reduce the release of antihistamines. During my research I also came across a free allergy app called Klara. But more about that later.

Foods that can help with pollen allergy symptoms**:
– Broccoli. The tasty cabbage is already a super healthy vegetable. But it also contains the antioxidants glucosinolates, which can clear the respiratory tract. This can relieve inflammations and irritations and free the nasal sinuses.
– Lemons. Researchers have found that vitamin C can relieve symptoms of hay fever. Therefore, foods containing vitamin C are ideal for allergy symptoms. These include, of course, all citrus fruits but also peppers or green leafy vegetables.
– Green leafy vegetables. A classic. Due to the high nutrient density, green leafy vegetables are the number one health food on the planet. Green leaves, such as spinach, kale or chard, contain a large number of carotenoids and antioxidants that can fight inflammations in the body.
– Onions and garlic. Yes, after you've read this report, you'll be annoying your colleagues in the office not only with sneezing, but also with bad garlic breath. But onions and garlic contain the active ingredient quercetin, which can act like an antihistamine. Eat a lot of garlic and onions and you might be able to fight off those allergy symptoms.
– Apples. Apples are also rich in quercetin. One more reason to enjoy "an apple a day".
Note: Unfortunately, there are also foods that should be avoided at high pollen levels. These include white wine, salami and cheese.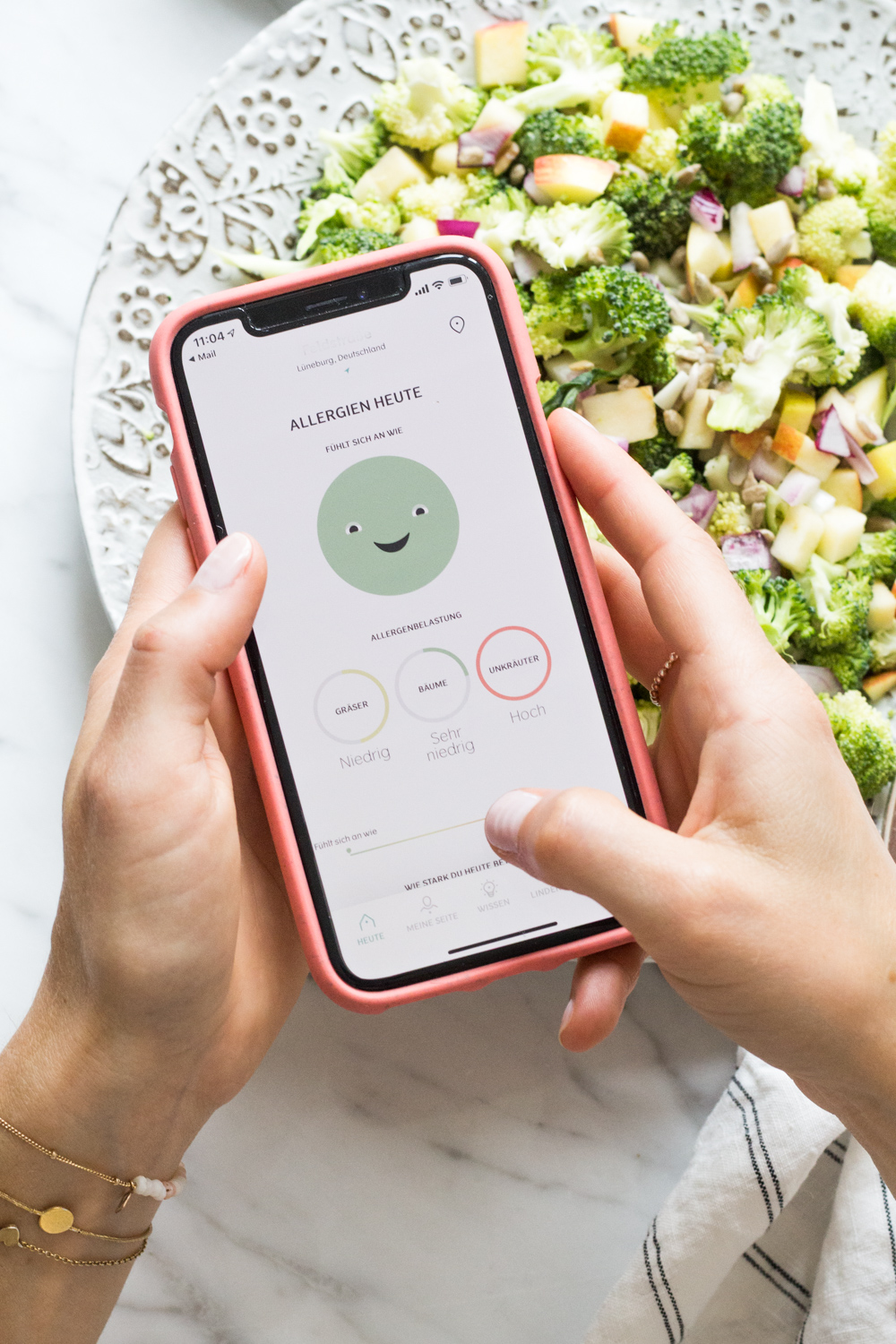 This year I added something new to my hay fever repertoire: the free allergy app Klara. I discovered Klara this year when I was looking for holistic tips to combat the symptoms of hay fever. You can easily download the app from the App Store and Google Play for free and instantly feel like you're not alone in this battle. What does Klara do? Basically Klara is an information app for people suffering from pollen allergies. Like me. You get extremely accurate, location-specific pollen counts, air quality levels and 3-day forecasts of pollen exposure. In comparison to the normal pollen charts of weather apps, you get your pollen information location-specifically. This feature is unique in the world and quite impressive.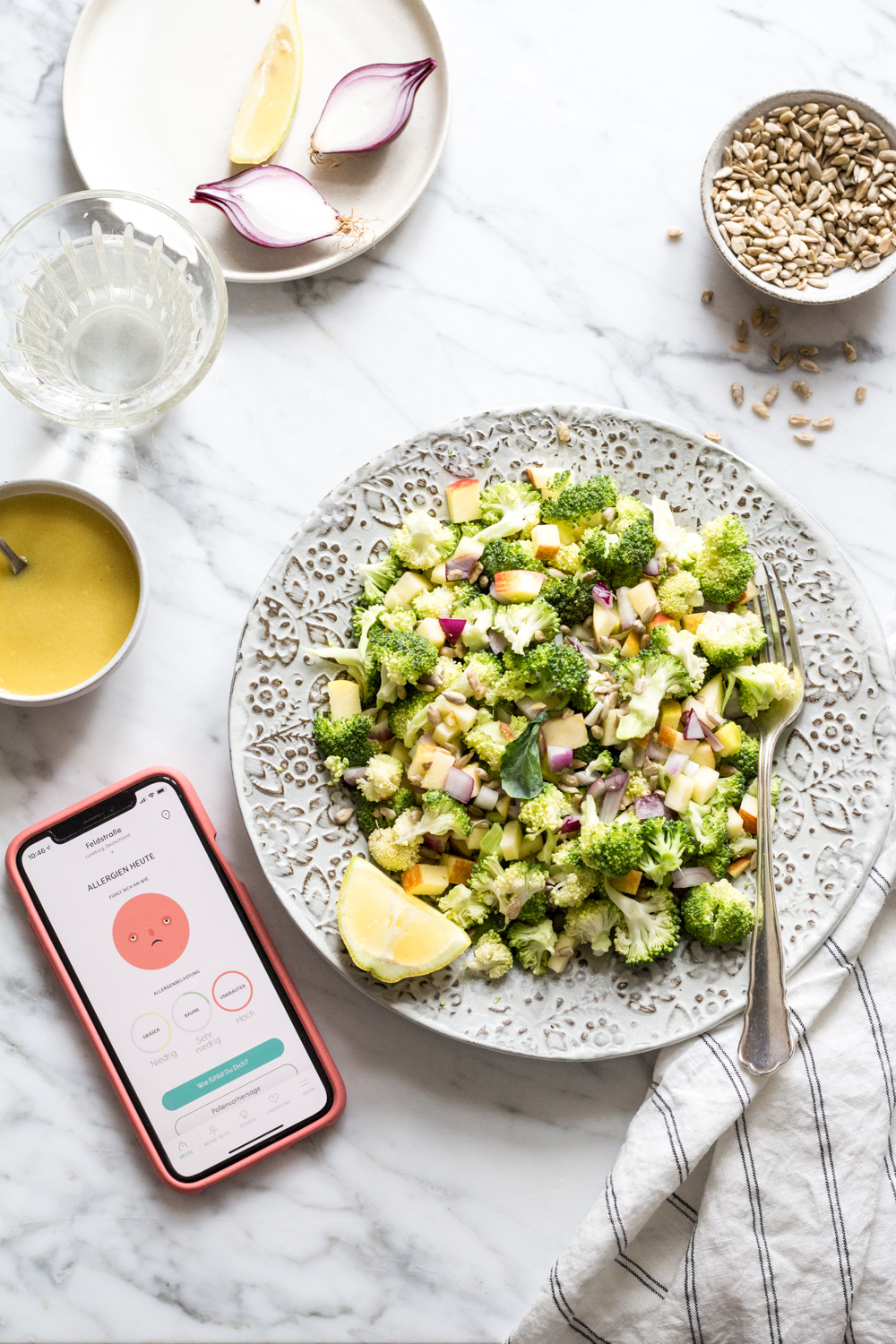 If you feel like it, you can also keep an allergy journal to keep log on your symptoms. Of course, you will also find tips to alleviate symptoms, tips to avoid pollen pollution and much more. I also love how they answer basic allergy-related questions: what are antihistamines, what is in nasal spray, what are steroids and what are the natural alternatives to tiring hay fever medicines like cetericine, etc.? I love the holistic and natural approach of the app. Moreover, the "Recommended activities" feature helps users to decide what indoor – and outdoor activities to do at a given time. It takes today's pollen count, air quality level, and the users' specific location into account.
I've really used the app many times this year and recommended it to many friends suffering from allergies. The free app is currently only available in the UK and Germany. You can download it here. Klara is free and a great little companion for all hay fever sufferers.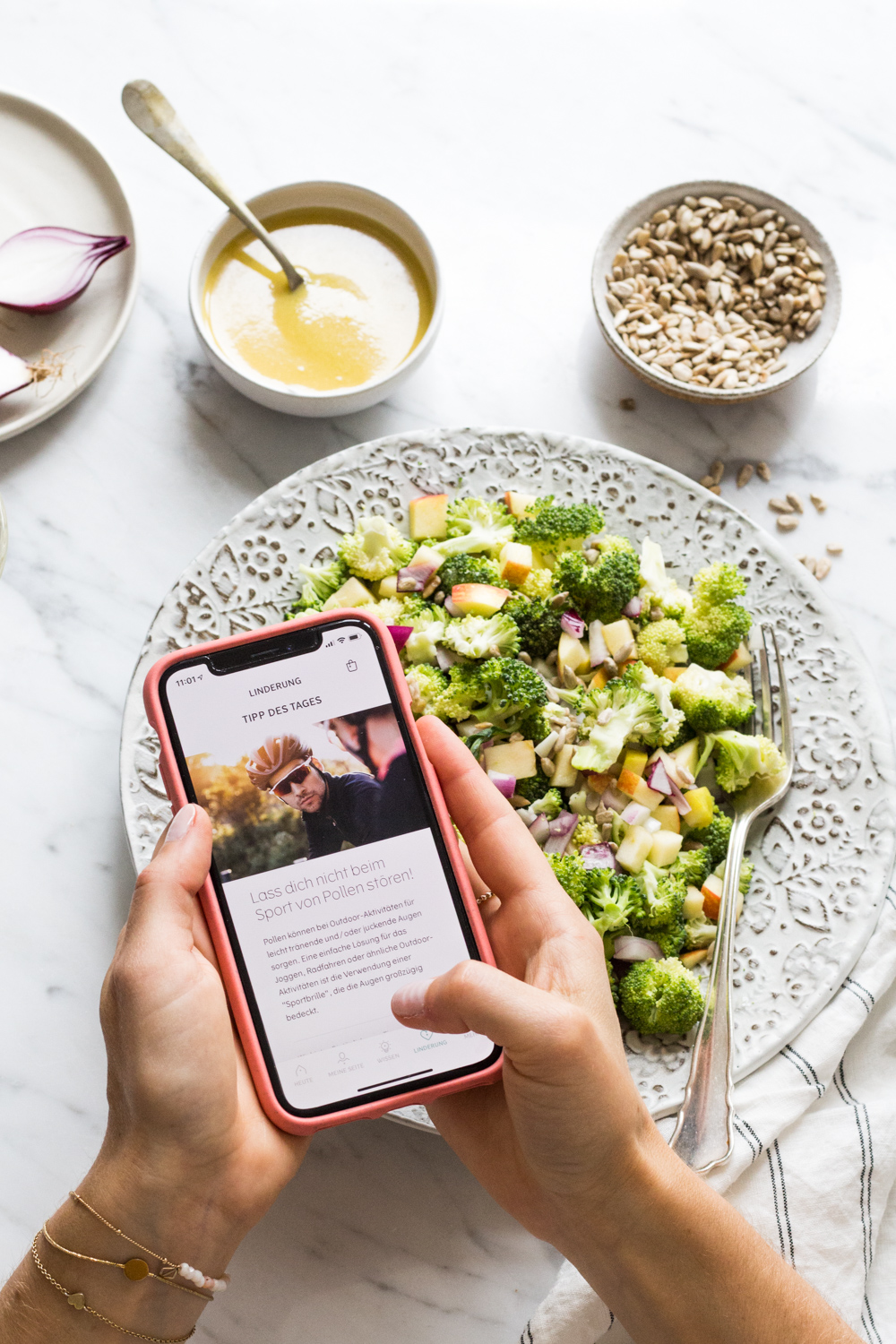 Since I've been suffering from hay fever ever since I can remember, I've acquired a small repertoire of household remedies over the years that really give me relief. You probably already know many of those tips, but I still wanted to share them nevertheless.
Natural home remedies for hay fever:
– Inhaling with table salt. A tried and tested remedy that really brings relief. Simply dissolve one or two teaspoons of table salt in boiling water and inhale. It clears the respiratory tract and moistens the mucous membranes.
– Nasal rinsing with table salt. A tip from my grandma. You have to get used to it, but then it brings such nice relief. Simply dilute a teaspoon of table salt with 250 ml of water (not hot! I like it lukewarm) and flush it into a nostril with a little nose jug (pharmacy) and let it run out again on the other side. Sounds disgusting, but it's not that bad.
– Inhaling with essential oils. Essential oils are perfect for respiratory diseases. Depending on the symptom different oils can help. Eucalyptus or peppermint, or Manuka and Melissa have an anti-allergic effect and cedar wood or Ylang Ylang have an anti-inflammatory effect.
– Room fragrances with essential oils. Here I prefer peppermint (not suitable for children) and eucalyptus. In times of high pollen load I use my diffuser daily.
– Showering and washing my hair in the evening. In spring and late summer I have got used to washing my hair in the evening (instead of in the morning). That way I don't take the pollen from my hair to bed with me. Yes, I often wash my hair daily in the spring and summer. That might be the reason why my hair is so damaged. But washing my hair at the peak pollen seasons really makes a difference to me.
– Hydrate. Water moisturizes the mucous membranes and strengthens the pollen barrier.
Now, of course, I have also brought along a delicious recipe, which I have created from the above-mentioned foods: the – in my opinion – best 10-minute broccoli salad. With a super creamy honey mustard dressing with a secret ingredient: white almond butter. The salad is so incredibly simple, but all the more ingenious. You'll have it on the table in less than 10 minutes. No joke! And it contains everything that makes for a good salad: vegetables, proteins, fiber and healthy fats. Let's get cooking. Alternatives to the ingredients can be found in the recipe.
Let's have a look at the recipe.
Print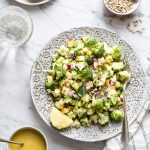 10-minute broccoli salad
---
Author:

Total Time:

10 minutes
For the salad:
1

broccoli

1

apple

30 g

sunflower seeds

1/2

red onion

1

lemon (also for the dressing)
For the dressing:
2 tablespoons

of olive oil

1 tablespoon

of white almond paste

1 teaspoon

of Dijon mustard

1 teaspoon

of cider vinegar

1 teaspoon

of honey

2 tablespoon

of lemon juice
a pinch of salt
---
Instructions
Pluck the broccoli florets with your hand. The stem can easily be fried in a pan, but I find it too hard to eat it raw.
Dry-fry the sunflower seeds in a pan without fat until golden brown.
Cut the apple into small pieces and rub with a few spritzers of lemon juice so that it does not brown so quickly. Finely chop the onion. If you don't like raw onions, fry them in a pan with a little olive oil.
Mix all the ingredients for the dressing with a whisk.
To assemble, place the broccoli, apple, sunflower seeds and onions together with the dressing into a bowl and stir well.
Notes
Add cooked quinoa, millet or brown rice to the salad. Yum!
Sunflower seeds can also be replaced with almonds, pumpkin seeds or other nuts.
If you are allergic to almonds, you can replace the almond butter with cashew butter or tahini. It can also be omitted completely.