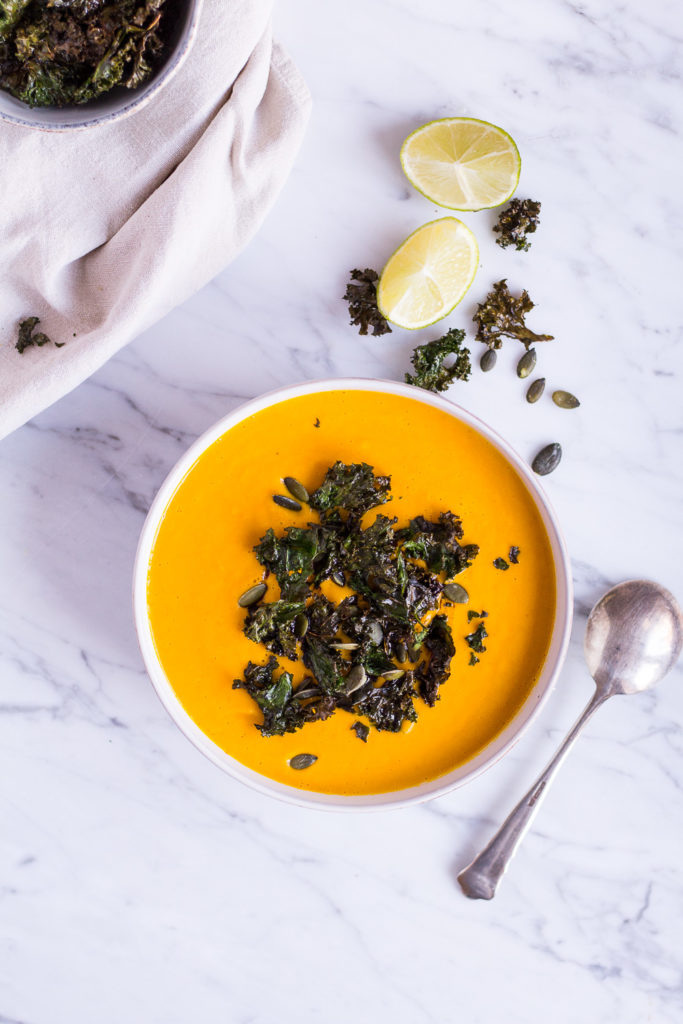 This is my first healthy pumpkin soup recipe on the blog. I never thought I'd ever put a pumpkin soup recipe on the blog, because I thought that pumpkin soup is the one recipe that everyone can master, and nobody needs a food blog to tell them how to make it. I feel like everyone who likes to cook has a favorite pumpkin soup recipe, so why change a winning team, right? Well, turns out, I got quite a few requests from readers to post my personal favorite recipe on the blog. So here it is. Since pumpkin soup is special to many people, myself included, this recipe is a deep inside into soul – haha maybe not that deep, but you know, like maybe 15 feet down. Anyhow, this recipe has been my favorite ever since I started cooking, and it's also one of the first soups I ever cooked. The special ingredient that I added this year is crispy kale chips, which add the final crunch, and make this my favorite pumpkin soup ever.
I cooked this healthy pumpkin soup in my favorite kitchen gadget, my Vitamix 750*. It's amazing what this thing can do, and how much you can actually love a kitchen gadget. However, there is one key step that I still use my good old pot for: sautéing the onion, vegetables and spices. I feel like this is a crucial step for getting the perfect flavor in any soup. The good news is that you do not need a fancy kitchen gadget to make an incredible tasting soup (but a fancy gadget never hurts, right?!). So whether you are a proud owner of a Vitamix or prefer the old fashioned way of cooking, this recipe is a winner for everyone.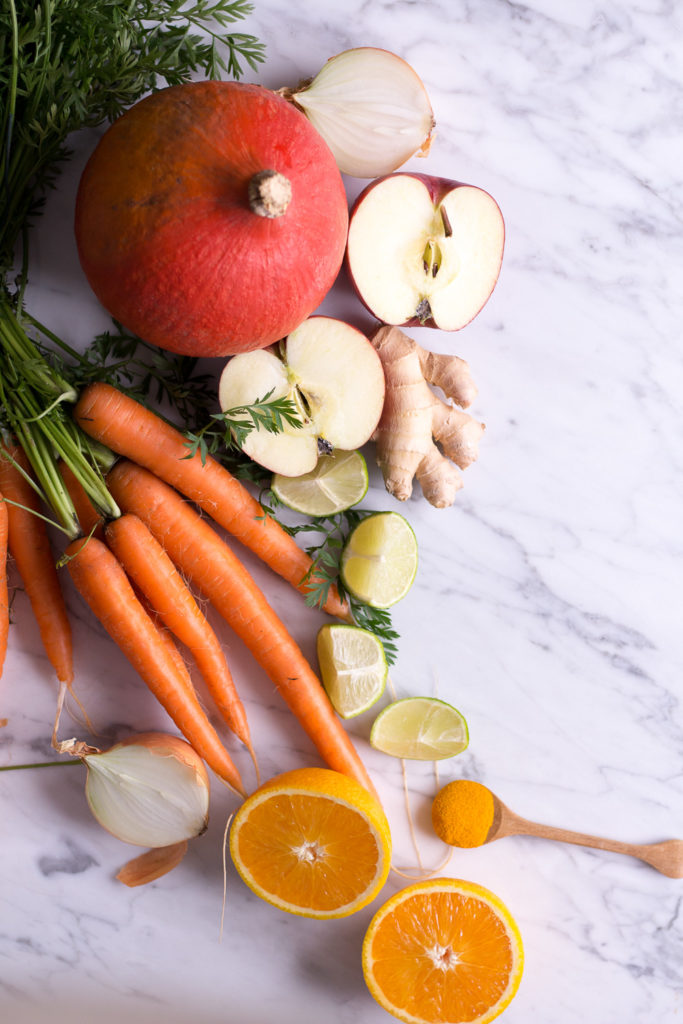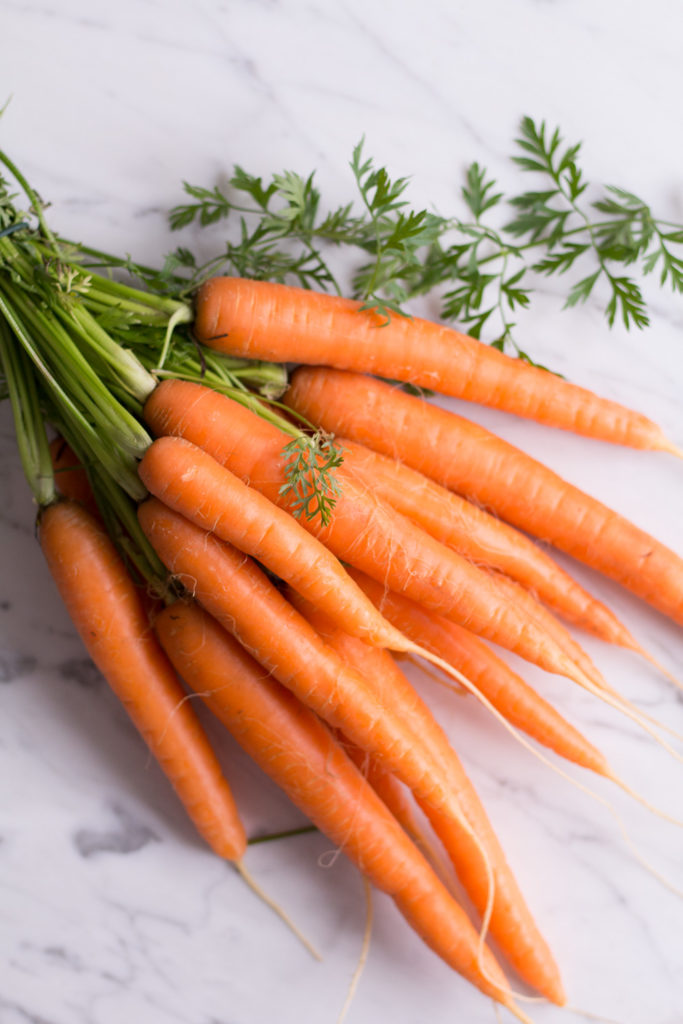 So, what makes this healthy pumpkin soup my favorite? Well, for starters it has pumpkin in it, so it's gotta be good. Then we have carrots, apples, ginger, coconut milk and limes, which already sounds pretty neat, right? I also love the taste of turmeric and cumin in it, as well as a hint of orange juice. I guess it's the mix of all of these ingredients that make it taste so delicious.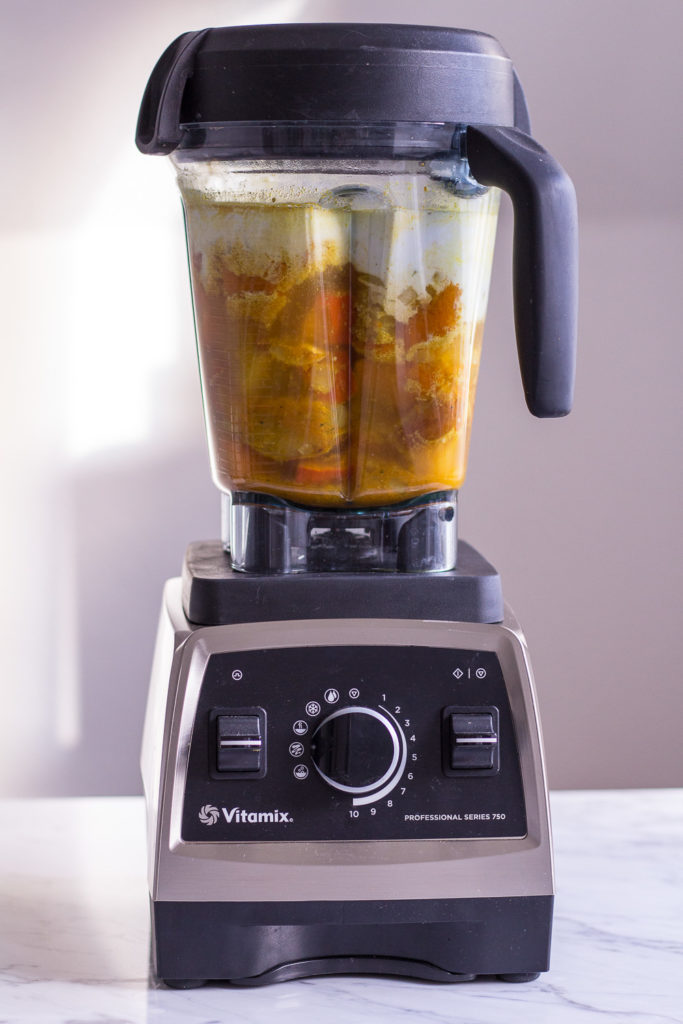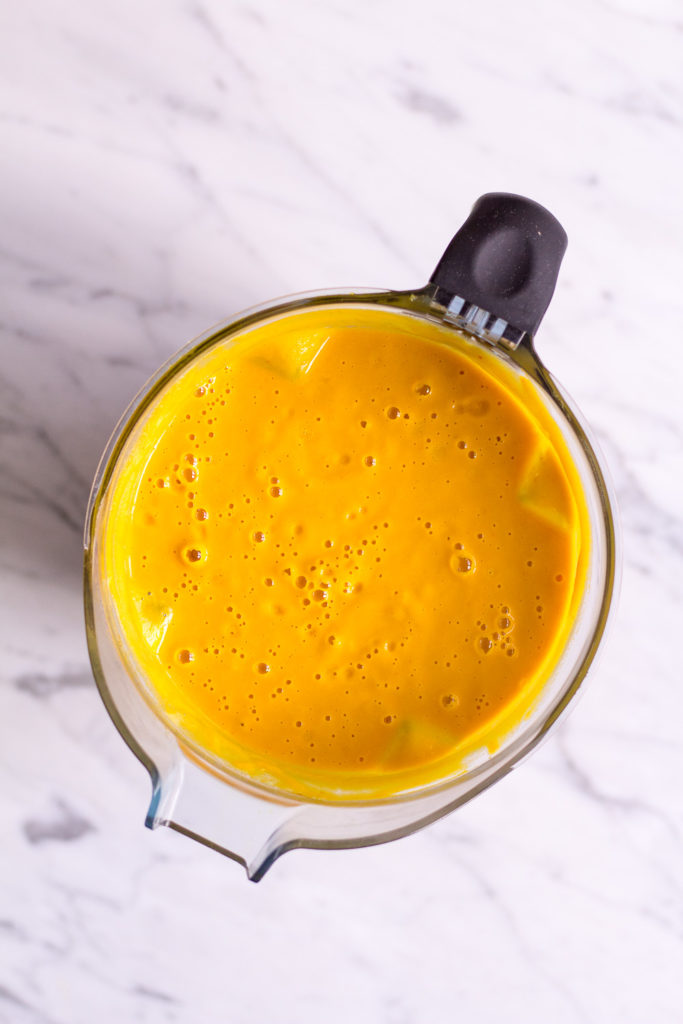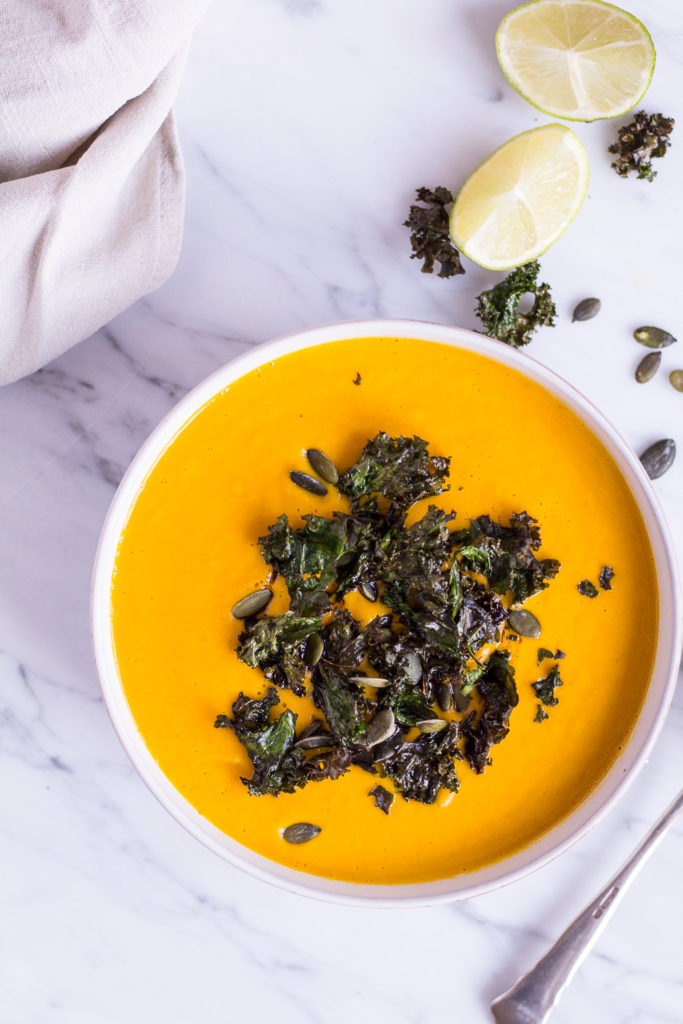 Health-wise, this soup is bursting with nutrients. The color already indicates that it is loaded with beta carotin, a pre-stage of vitamin A, which is vital for a healthy vision. The other superfood in this soup is kale, which is one of the best anti-inflammatory vegetables you can find. The anti-inflammatory properties can mainly be traced back to the vast amount of omega-3 fatty acids present in this leafy green. One serving of kale covers roughly 30% of our daily recommended omega-3 doses, which is amazing, given that most people do not get enough omega-3 in their daily diet.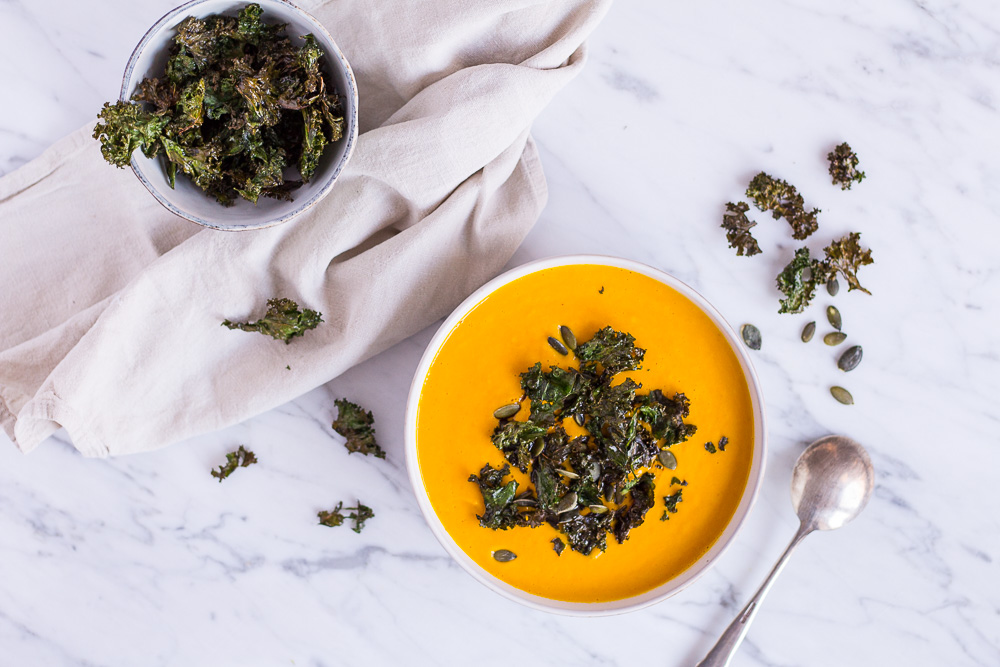 I hope you'll find a new way to enjoy pumpkin soup, and please, I'd love to hear about your favorite ingredients in pumpkin soup.

My favorite healthy pumpkin soup with kale chips
Ingredients
For the pumpkin soup:
2 hokkaido pumpkins (700g)
1 large apple (about 200g)
2 carrots (about 100g)
4 cm (2 inch) of fresh ginger
2 tablespoons of extra-virgin olive oil
1 onion
1 teaspoons of turmeric
1 teaspoon of cumin
2½ cups (about 725ml) of vegetable broth
½ can coconut milk (200ml)
the juice of one orange
the juice of 2 - 3 limes, I use 3
salt and pepper to taste
4 teaspoons of pumpkin seeds
For the kale chips:
3 handful of kale
1 - 2 tablespoons of extra-virgin olive oil
a pinch of salt
Instructions
For the pumpkin soup:
Cut the hokkaido pumpkin in half, remove the seeds and cut into 1 inch pieces. If you are not using a hokkaido pumpkin, then check if you need to peel your pumpkin first. Peel the carrots and onion and cube both. Remove the core from the apple and roughly cut into bite-sized pieces. Peel and chop the ginger.
Heat the olive oil in a pot and sauté the onions on high heat. Lower the heat and add the spices and sauté for about a minute until fragrant. Add the vegetables, ginger and apple and sauté for about 2 - 3 minutes on medium heat. Add more olive oil if needed to avoid burning.
With the Vitamix 750: Add the sautéd vegetables to the Vitamix together with the vegetable broth. Turn on the "Soup" function and the Vitamix will do the rest.
Without the Vitamix: Add the vegetable broth, bring to a boil, then reduce the heat and let it simmer for about 40 minutes. Puree the soup with a regular blender (make sure your blender is suitable for hot liquid!) or immersion blender. Transfer back to the pan if you are using a blender.
For both versions: finally add the coconut milk, orange and lime juice to the soup and season with salt and pepper if needed.
For the kale chips:
Pre-heat the oven to 175°C (350°F).
Thoroughly wash and dry the kale. It should be as dry as possible. Tear the kale into small pieces, add it to a bowl together with the olive oil and salt. Coat every piece of kale with olive oil and spread it evenly on a baking sheet that you aligned with baking paper. The pieces should not overlap. I used three baking sheets for the whole bowl of kale.
Bake the chips for about 10 minutes until crispy, and then let them cool.
Serve the pumpkin soup garnished with kale chips and pumpkin seeds.
Enjoy!
*My Vitamix Professional 750 was kindly given to me by Vitamix. All opinions are my own. Thank you for supporting the brands that make hour-long recipe testings in the Heavenlynn Healthy kitchen possible.
---
DID YOU MAKE THIS RECIPE OR HAVE ANY SUGGESTIONS, QUESTIONS OR COMMENTS?
Feel free to leave a comment below, and don't forget to tag your creations on social media using #heavenlynnhealthy.
I'd love for this blog to be a dialogue.
---