Wow, thank you so much for your overwhelming support on my latest blogpost. I never thought that writing down my exact feelings would have such a huge impact on others as well. It seems like we're all in this together, aren't we? So as I was reading all of your comments, I suddenly had the urge to cook something healthy and delicious. I went to the farmer's market and got the most amazing-smelling tomatoes, packed a bunch of beetroots and some fresh rosemary and went into the kitchen.I had so much enery, so much love in me that this soup turned out especially great. All of you, with your comments here on the blog, on Instagram, personal emails and even phone calls from friends showed me that being honest can be so relieving. It also happened that I gave a workshop at a school that day. The kids had organized a day under the motto: crises and life. There were many workshops with topics such as healthy eating and yoga (moi), depression, stress management, mobbing and relaxation. It was such an inspiring day, and I wish that we would have had a day like that back when I was in school. I also really loved talking to these kids about healthy eating and many of them had really never given it much thought before. So we talked about what healthy eating means and why it is so helpful in stressful times such as their upcoming final exams in the Spring.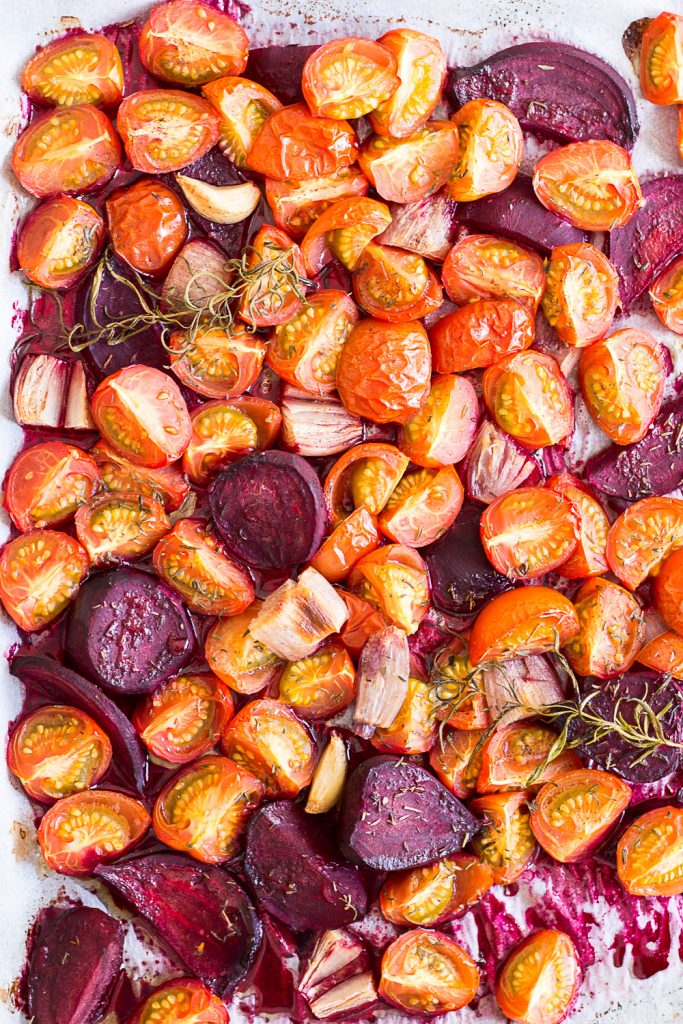 I really hope that I will have the chance to talk to more students about healthy eating in the future. It's such an important task, because not all of them learn how to cook or eat fresh food at home. Perhaps there will be another workshop opportunity in the future – who knows.
Now back to this soup. Since it was the first real meal that I had cooked in a week, I cherished every bite of it. It's super easy yet very fragrant and delicious. All you need to do is roast the veggies and then puree them with vegetable broth. That's it. It could not be any easier. You also won't need much more salt to season it as the roasted vegetables and herbs are so flavorful!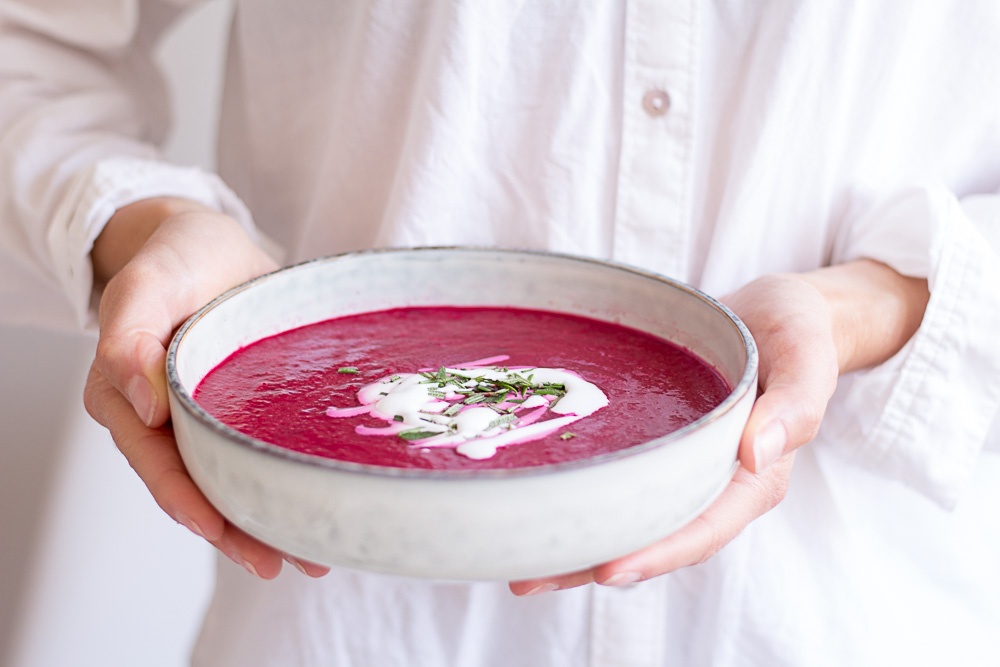 Oh and also, the soup is pink. Oh yes, you're welcome. Everyone needs a little bit of pink in their lives, don't you think? It really reminds me of the Indian summer colors that we will be seing everywhere soon. Oh dear, fall is my absolute favorite season, and I cannot wait for the cozy and cold weather. This soup will get you through the first weeks of fall, it will strengthen your body and it will make you feel your best. Just what you need this season.

Roasted tomato soup with beetroot and rosemary
Ingredients
3 shallots
2 gloves of garlic
250g of beetroot
750g of tomatoes
1 tablespoon of raw honey
2 tablespoons of extra-virgin olive oil
2 strangs of rosemary
1 teaspoon of dried thyme
600ml of homemade vegetable broth
a bit of coconut milk and chopped rosemary to garnish
Instructions
Peel the shallots and and garlic and cut the shallots in half. Peel the beetroot and rougly cube it. Quarter the tomatoes. Place all of these ingredients on a baking tray aligned with baking paper or into a baking dish. Drizzle with one or two tablespoons of olive oil, the honey and season with sea salt, pepper and thyme. Add the strang of rosemary and cook at 200°C (400°F) for about 30 minutes.
Place the roasted veggies and their juice in a saucepan, add the vegetable broth and bring to a boil. Puree the soup using a hand mixer or blender and season with salt and pepper and more honey if needed. If you want you can strain the soup with a colander to get rid of the skin and seeds of the tomatoes. I like my soup a little chunky, but that's up to you.
Serve the soup on four plates, and garnish with 2 tablespoons of coconut milk and chopped rosemary.
Notes
You can also eat this soup ice cold as a gazpacho. Simply let it cool completely and store in the frige before serving it with coconut milk and rosemary as a topping.
Enjoy!
Merken
Merken
Merken
Merken