This Watercress, Beetroot and Avocado Salad with Beluga Lentils is such a soul food and definitely not boring at all. The combination of the healthy ingredients really melts in your mouth, literally throwing a little foodie party in there.
I have never really had watercress until this summer when I was in this amazing restaurant in North Carolina that sprinkled the most delicious vegan pad thai with a huge amount of watercress. The moment I tried it, I was instantly hooked. If you can't pick watercress yourself, then try the farmer's market. If they don't sell it then they can certainly get it for you somewhere. I always ask at my favorite stand at the farmer's market and pre-order it for the next market day.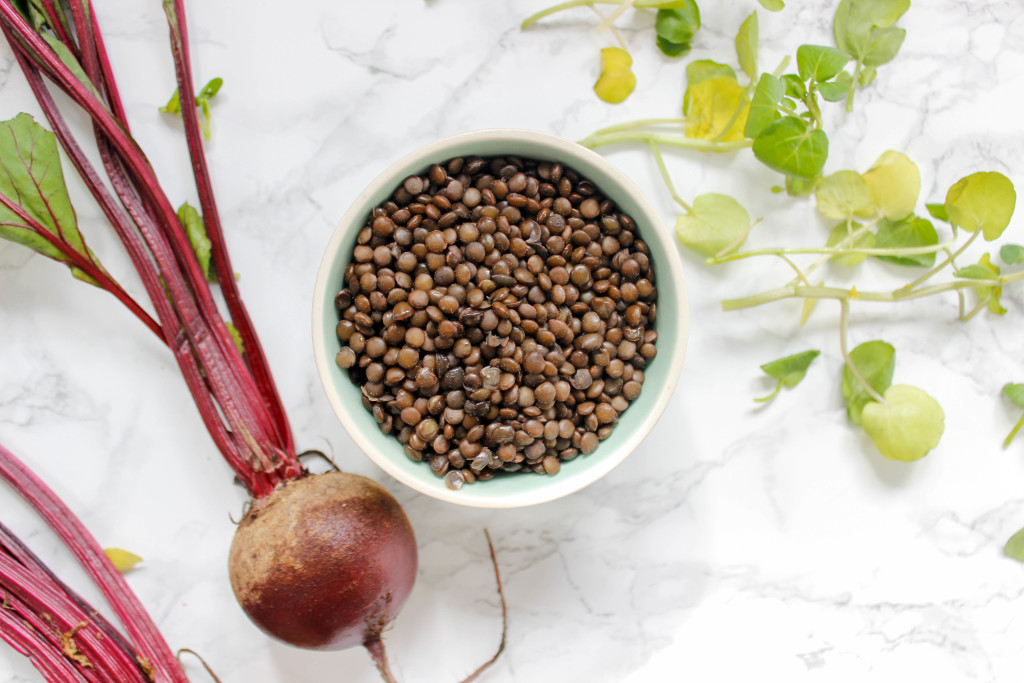 Watercress along with most leafy greens contains a very large amount of dietary nitrate which has been shown to lower blood pressure. It is also a rich source of many vitamins and minerals, particularly vitamin K, which is a bone-building and strengthening vitamin, and vitamin A, which is important for eye health. Beets are a great source of iron, which helps transport oxygen via our red blood cells. Like watercress, beets are also high in nitrate, which relaxes our blood vessels and helps our blood flow more easily through the body – resulting in a decreased blood pressure. This salad is a basically a real blood pressure lowering salad if you will.
The lentils add some nice texture and protein to the whole dish, making it a complete meal that fills you up, because the fiber in the lentils will keep you satisfied for hours. It's really the perfect satisfying autumn-y salad that I'm sure you'll love just as much as I did.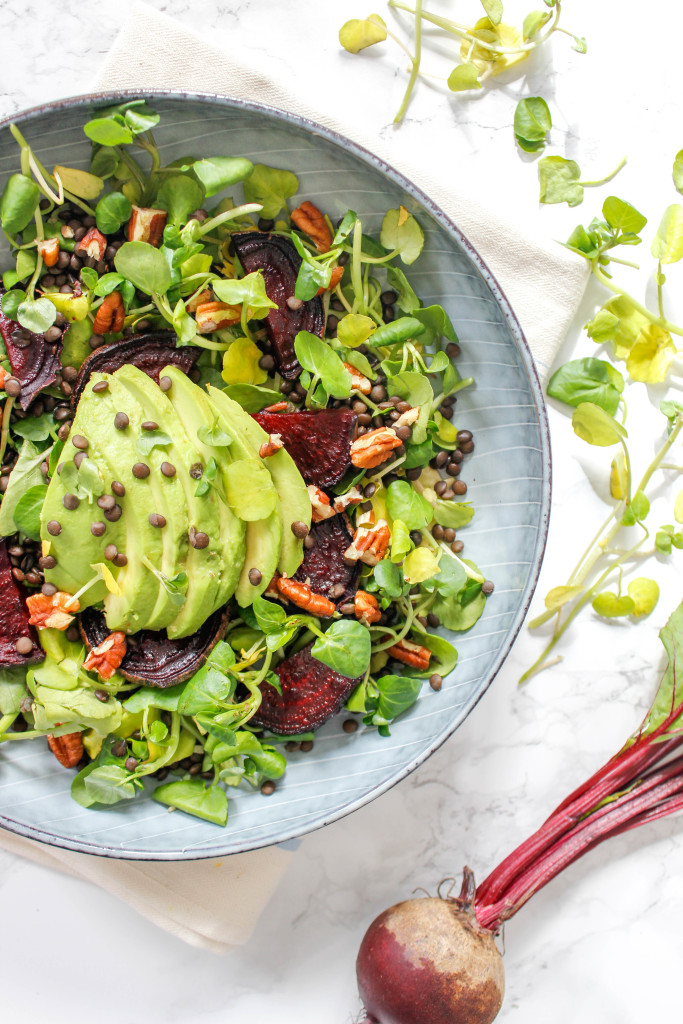 Watercress, Beetroot and Avocado Salad with Beluga Lentils
Ingredients
For the salad
2 handful of watercress
2 handful of leafy greens (rocket, mâche, etc.)
2 medium sized beetroots
½ cup of beluga lentils
1 ripe avocado
½ cup (65g) of pecans
½ teaspoons of cumin (optional)
For the dijon-maple dressing:
2 tablespoons of olive oil
1 tablespoons of apple cider vinegar
1 teaspoon of dijon mustard
1 teaspoon of maple syrup
salt and pepper
Instructions
Pre-heat the oven to 200°C (390°F).
Cut the beets into bite-sized pieces and place them on a baking sheet. Drizzle the beets with some olive oil, salt and pepper and a little cumin. Roast the beets for about 20 minutes until tender.
Cook the lentils according to the instructions in home-made veggie stock (for amazing flavour and extra nourishment) or water with a drizzle of apple cider vinegar - this takes approximately 15 minutes.
Meanwhile, wash the watercress and leafy greens, removing any brown leaves. Cut the avocado in half, remove the pit and scoop out the flesh with a spoon. Cut the avocado into stripes or bite-sized pieces.
To make the dressing, simply add all ingredients to a blender and blend until smooth or whisk it together in a small bowl.
Let the cooked beetroot and lentils cool while toasting the pecans in a skillet over medium heat.
You could combine all the salad ingredients together in a bowl but I like to pile everything up. Start with a layer of watercress and leafy greens, followed by beluga lentils, roasted beetroot, avocado, then finally the pecans. Drizzle the dressing on top.
Enjoy!