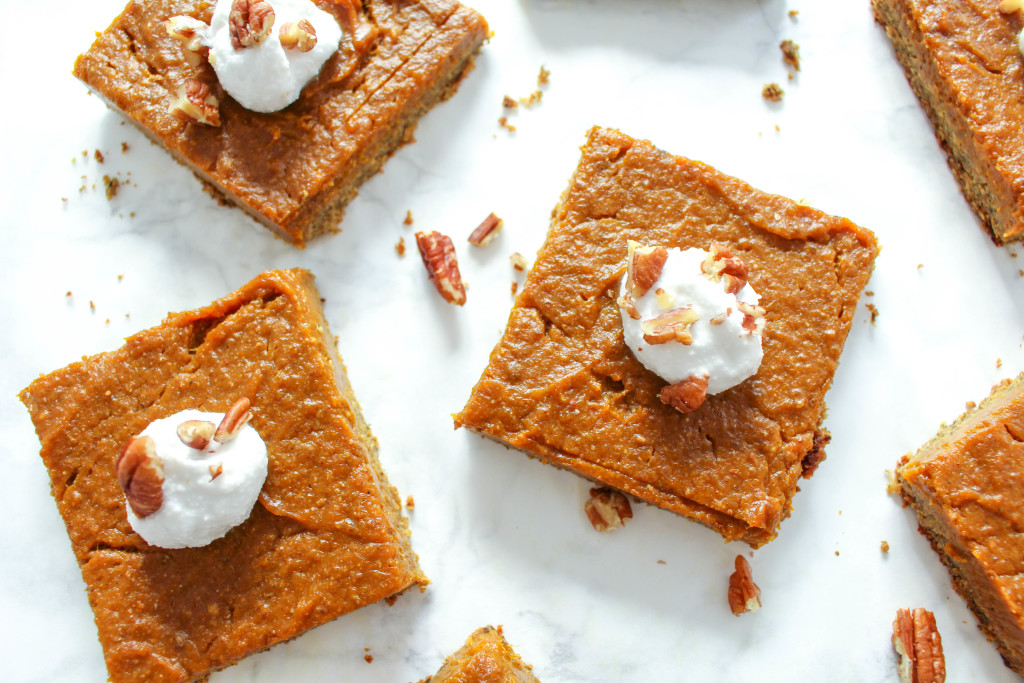 These vegan, gluten-free, nut-free healthy pumpkin pie squares officially announces the start of pumpkin season on my blog. Luckily, I've never met anyone who doesn't like pumpkins, so if you're one of the few, please hang in there and don't leave me during pumpkin season. But don't worry, there will be pumpkin-free recipes, too.
Now back to these delicious treats. I have been in love with pumpkin pie ever since I spent my first Thanksgiving in the United States in the fall of 2006. I will never forget the taste of my first bite of delicious, creamy pumpkin pie, and I have been slightly obsessed with anything pumpkin ever since. Sadly, Germans aren't really a big fans of pumpkin spice flavored things like lattes, cakes or other dessert. We probably eat 90% of our pumpkins in the form of soup or as an oven roasted side dish. Pumpkin Pie is not well-known in my country, which might be because there is no such thing as canned pumpkin in our stores. In order for us to make anything pumpkin, we need to make our own pumpkin purée, which is too much of a hassle for many.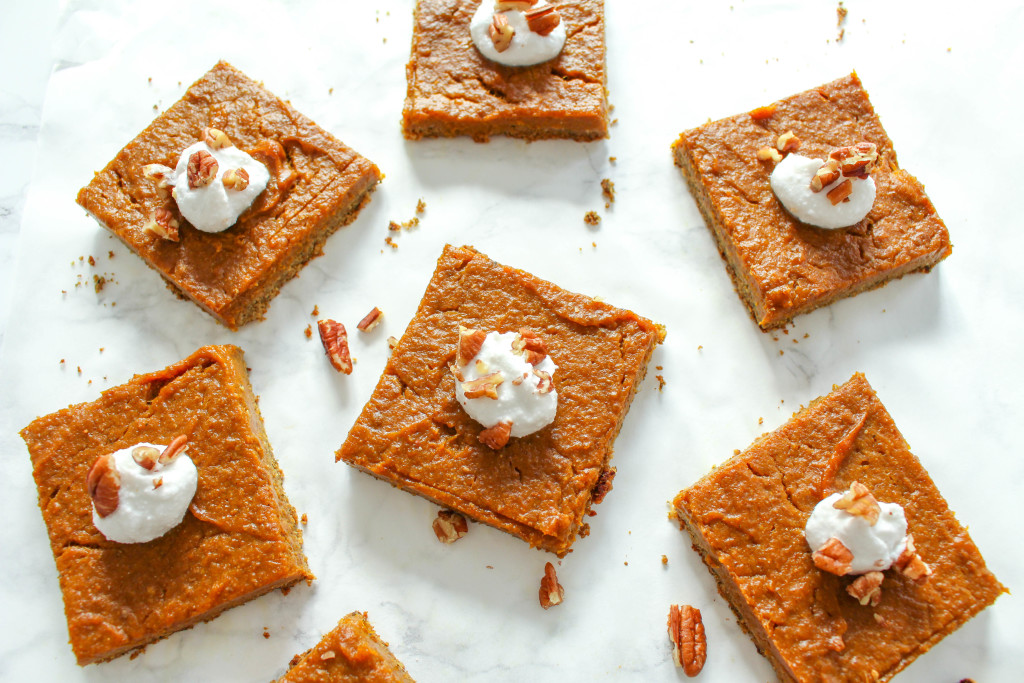 These vegan pumpkin squares are just the perfect treat for a autumn-y Sunday afternoon spent on the couch, reading a book, drinking a cup of homemade pumpkin spice latte (recipe coming soon). The pie squares are so creamy and delicious, that they just melt in your mouth. Served with some coconut whipped cream, it's absolutely the perfect warming soul food. The pie is also completely nut-free, which I know many of you will appreciate. There's no cashew cream on anything in these squares, just pumpkin, coconut milk and coconut sugar. Combined with ginger, cinnamon, nutmeg, ground cloves and vanilla powder, they make the most warming Sunday treat, that you won't stop eating them.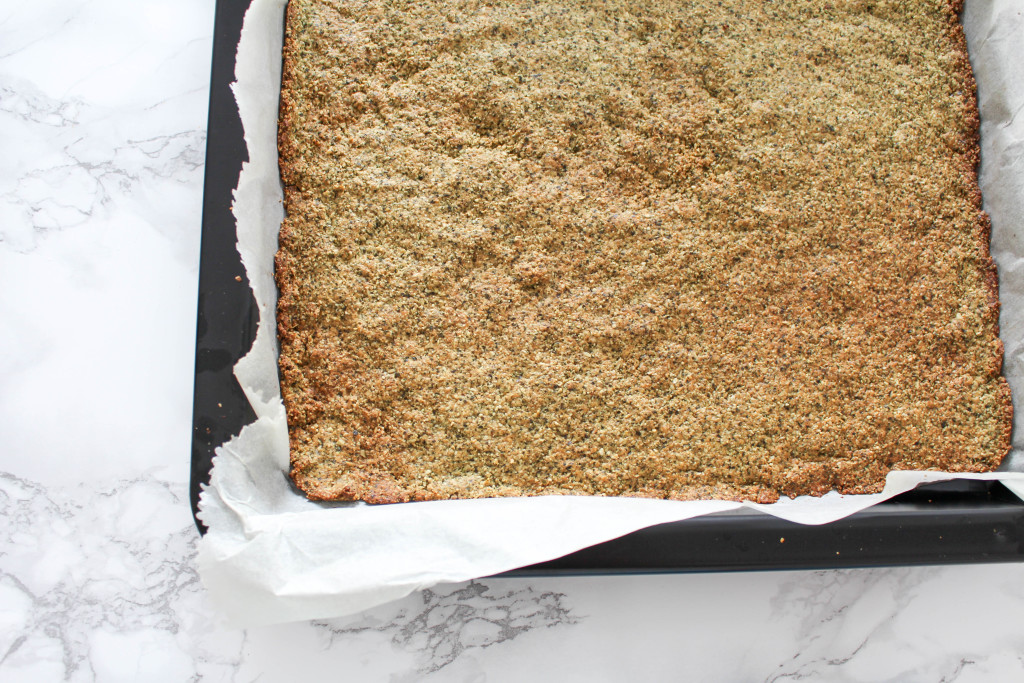 INGREDIENTS:
For the pumpkin-crust:
– 1 cup (100g) oats
– 1 cup (120g) pumpkin seeds
– 3 tbsp(40g) coconut oil
– 3 tbsp (60ml) maple syrup
– a pinch of salt
For the pumpkin-pie-filling:
– 2 1/4 cup (550g) homemade pumpkin purée
– 1/2 cup (100g) coconut milk
– 1/2 cup (55g) coconut sugar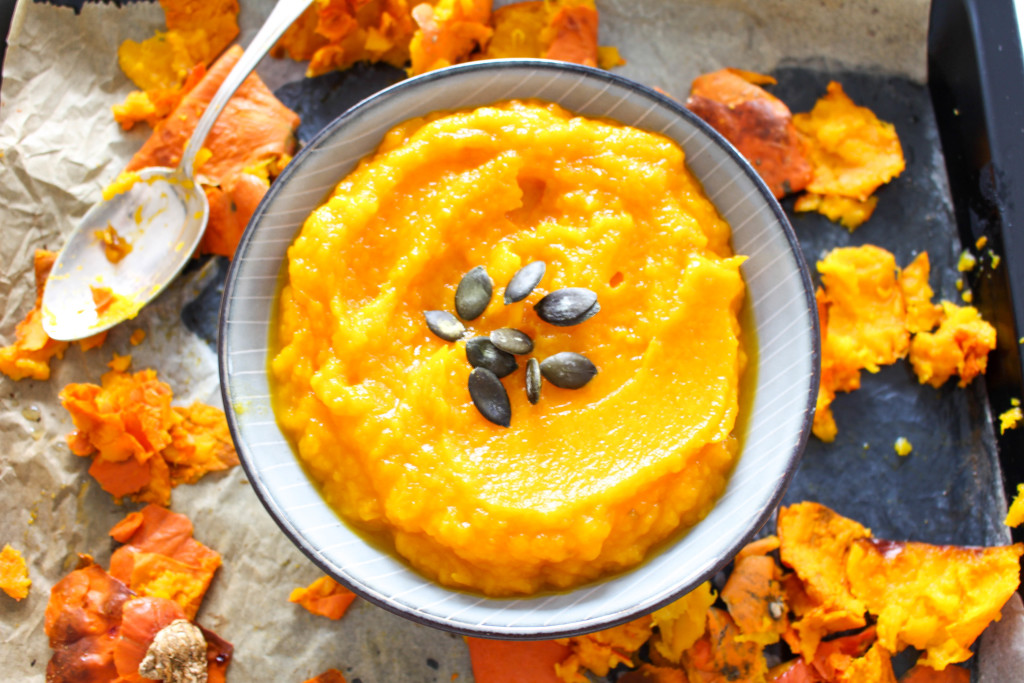 – 1/4 cup maple syrup
– 3 tbsp ground (white) chia seeds or 2 tsp arrowroot powder
– 1/2 tsp pure vanilla powder
– 2 tbsp almond milk or oat milk
– 1 tsp ground ginger
– 2 tsp cinnamon
– 1/2 tsp ground nutmeg
– 1/4 tsp ground cloves
– a pinch of salt
For the coconut-whipped cream:
– 1 can of full-fat coconut milk without any additives
– 1 – 2 tsp of agave or sweetener of choice
NOTES:
Two tablespoons of chia seeds make about three tablespoons of ground chia seeds. To grind the seeds, simply put them into your food processor and break them down on the high power for about one minute.
Instead of ground chia seeds you can use 3 tsp of arrowroot powder. Just whisk them together with the maple syrup until to clumbs remain and add it to the mixture.
If you're allergic to pumpkin seeds, use ground almond instead.
If you don't have fresh ginger, just use a little more ground ginger.
METHOD
For the pumpkin pie squares:
Pre-heat the oven to 180°C (350°F) and lightly grease a baking pan (27 x 18 cm) with coconut oil.
Start by placing the pumpkin seeds and oats into a food processor and break them down until you have a nice flour. Add all the remaining ingredients and mix them until a sticky dough forms.
Using your hands, scoop the dough into the prepared pan and spread evenly. Press it into the pan evenly. You really want to press hard so the crust sticks together.
Pre-bake the crust for about 8 – 10 minutes.
Now prepare the filling: In a small bowl, whisk together the ground chia seeds or arrowroot powder with the maple syrup and almond milk until no clumps remain.
Add this to a food processor together with all other ingredients and mix it until it is smooth. Once the crust is pre-baked, immediately scoop the pumpkin filling into the pan, spreading it evenly with a spatula.
Now bake it for about 40 minutes until the top gets slightly darker. Remove the pan from the oven and set to cool for about an hour. Then place it into the fridge for another 6 -8 hours or preferably overnight to set. This is when you want to place your coconut milk into the fridge too.
The next day, cut it into squares and serve with the coconut whipped cream and some pecans on top.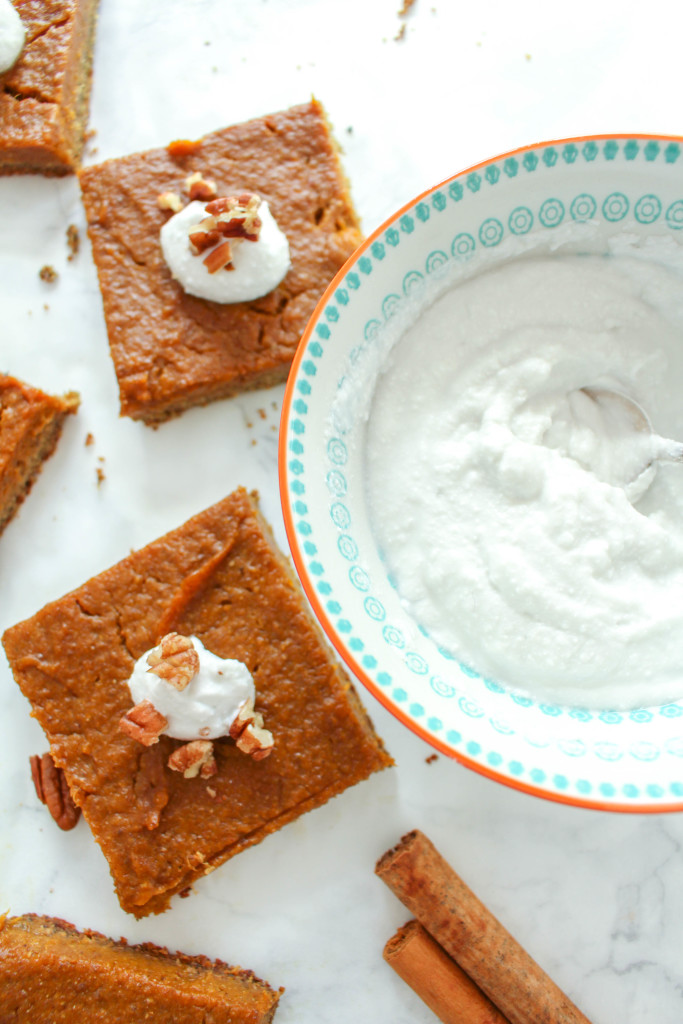 How to make the coconut whipped cream:
Chill the coconut milk can in the fridge over night. This is a crucial step, because you want the cream to seperate from the liquid coconut water. It won't work if you don't chill it first.
Remove the can from the fridge and flip it upside down so the hard, solid cream will be on the bottom and the liquid will be on top.

Drain the coconut water but keep it. It tastes amazing as a liquid base in smoothies.

Remove the solid cream from the can and place it into a baking bowl.

Whip the cream with a hand mixer or in a food processor until it's fluffy.
Enjoy!