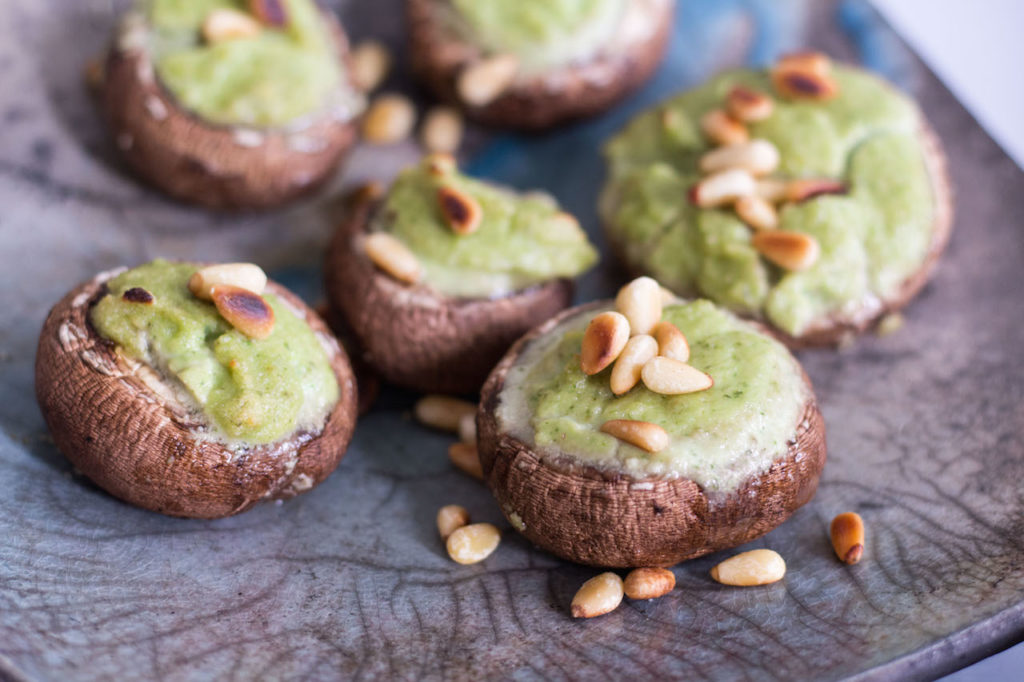 I'm so excited to share these stuffed mushrooms with cashew basil cream with you, as they have become my family's barbecue favorite this month. They are super easy to make, require little prep time, and both carnivores and plant-eaters love them. The cashew basil cream is truly divine – in fact, your guests will probably not even realize that they are actually eating healthy, when you serve them these goodies. It can be hard for plant-eaters to find protein-rich barbecue foods, so I'm so happy that this recipe turned out to be a success. The cashew basil cream is very nutrient-rich, so these mushrooms will actually fill you up quickly, meaning that you won't have to go crazy on the bread in order to be satisfy your hunger.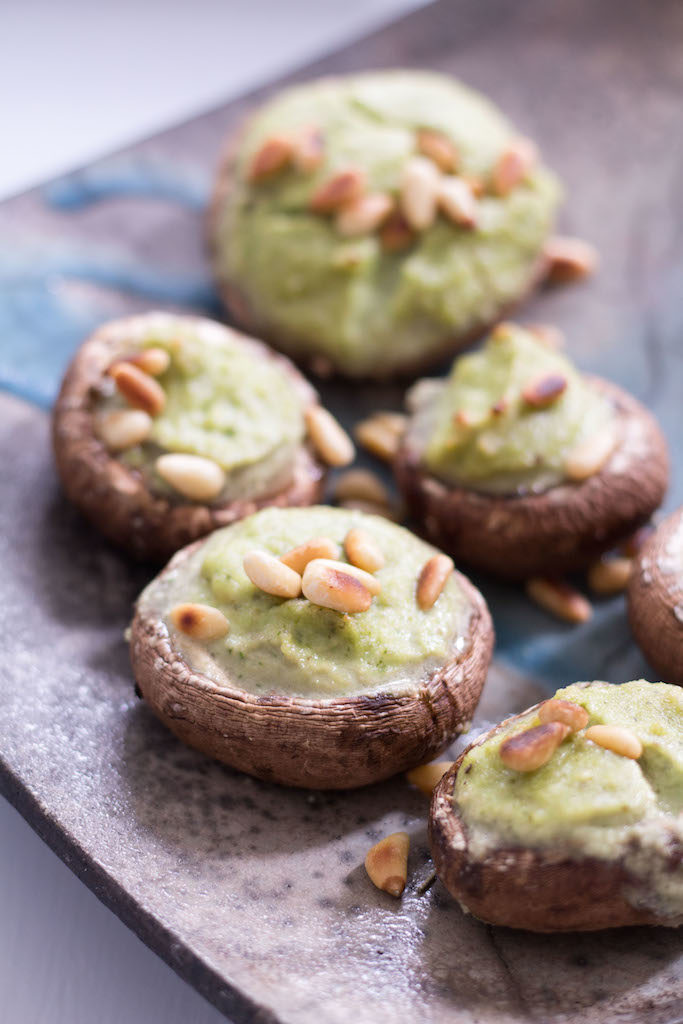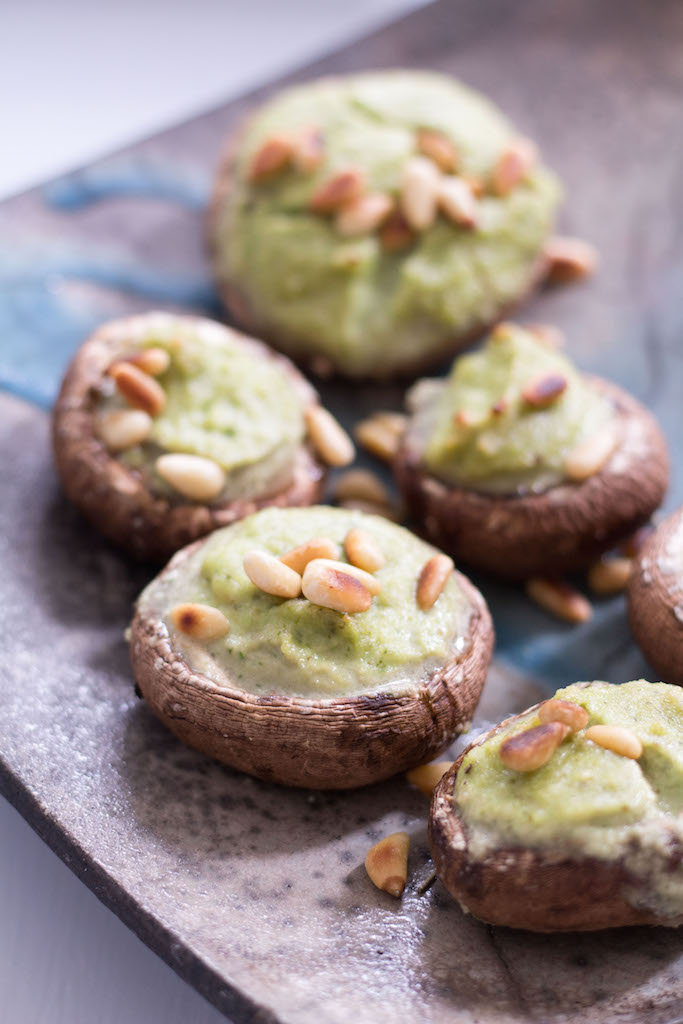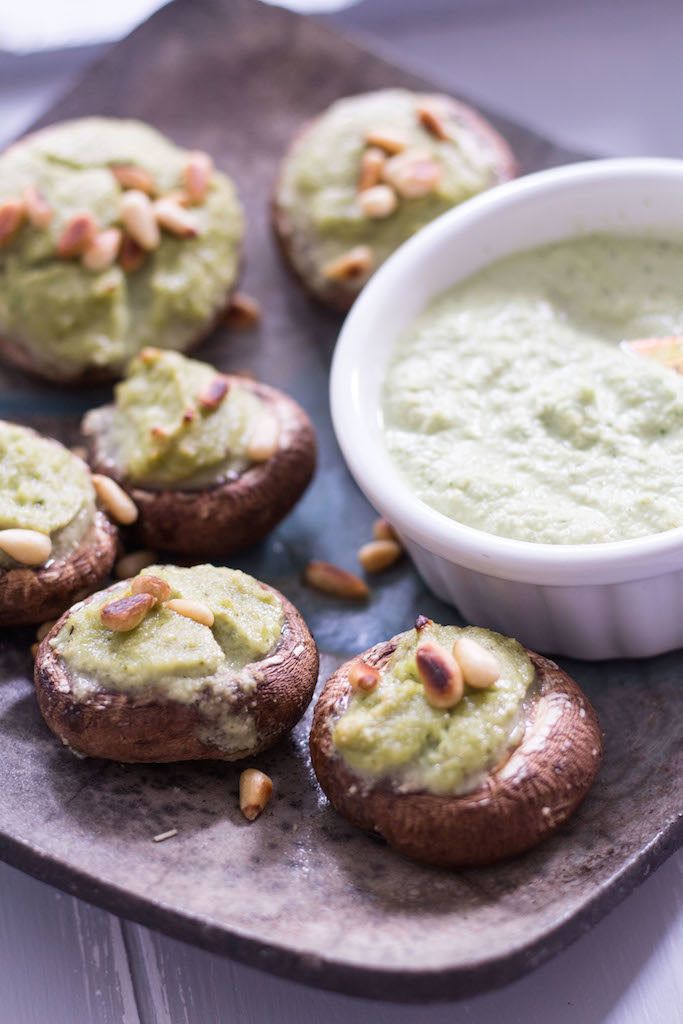 Cashews are such a versatile ingredient that I always have in stock. They are a great source of magnesium, which helps with building protein and producing energy in the body. Cashews also contain a good amount of iron, which is needed for the oxygen-supply of the cells. Like all nuts, cashews are rich in unsaturated fats, which helps lower cholesterol and protect the body from cardiovascular disease. So don't be afraid of the fats in nuts, because it is actually really good for you!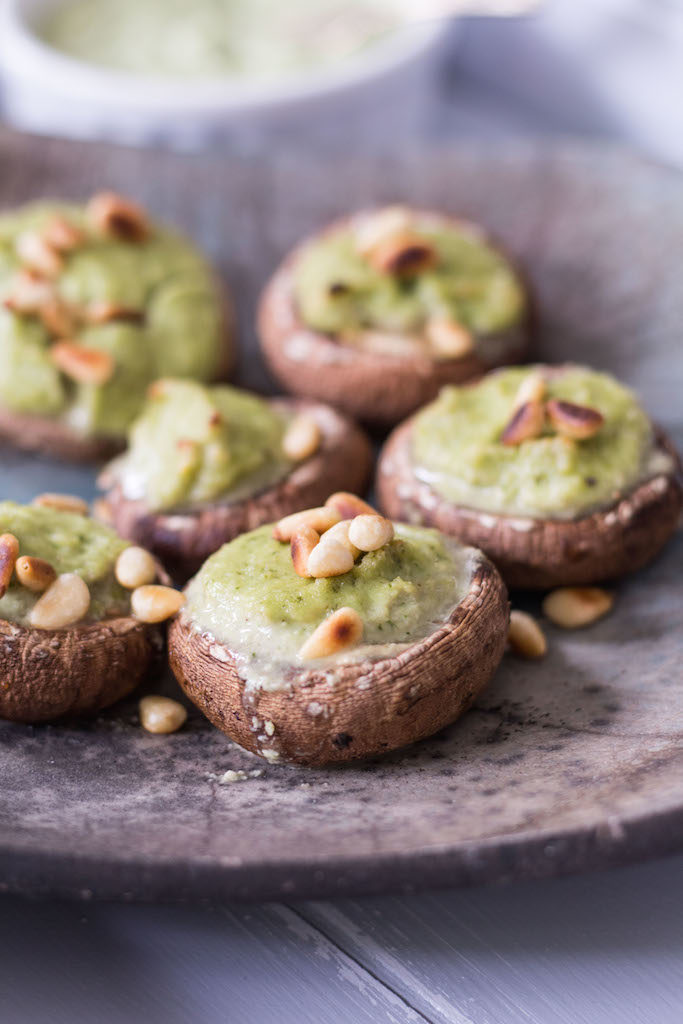 Stuffed Mushrooms with Cashew Basil Cream
Ingredients
8 larger mushrooms
¾ (115g) cup of cashews
1 handful of fresh basil
2 tablespoons of coconut milk (full-fat)
the juice of ½ lime
¼ cup (60ml) of water
2 tablespoons (30g) of pine nuts
½ tsp of sea salt
pepper to taste
Instructions
Soak the cashews in fresh water for about 30 minutes to an hour.
Drain the nuts, and add them to a blender or food processor together with all the other ingredients. Blend until a smooth cream forms. Add more water, one teaspoon at a time, if your blender isn't strong enough.
Stuff the mushrooms with about 1 to 2 teaspoons of cashew basil cream each. Place them on the barbecue for about 10 - 15 minutes until the mushrooms are cooked through. Alternatively you can bake them in the oven at 180 °C for about 15 - 20 minutes. The exact time will vary depending on the heat of your barbecue and oven. The mushrooms are done when they turn wrinkly, and moist.
In the meantime, roast the pine nuts in a pan without oil until they are golden brown. This takes very little time, probably between 3 - 5 minutes, so watch them carefully so they don't burn.
Sprinkle the pine nuts on top of the stuffed mushrooms and serve immediately.
Enjoy!
---
Did you make this recipe or have any suggestions, questions or comments?
Feel free to leave a comment below, and don't forget to tag your creations on social media using #heavenlynnhealthy.
I'd love for this blog to be a dialogue.
---