It's gonna be a sunny week in Germany, and so I prepared some healthy strawberry coconut popsicles, to keep us cool when temperatures reach 30°C tomorrow. Germany may not be known for its outdoorsy culture, but as soon as temperatures reach the 20°Cs (70s in Fahrenheit), you will see people everywhere. Our little old town districts are flooded with crowds, people are sitting in the little cafes or restaurants, in our parks or in their backyards barbecueing. Though I love strolling through our old town districts with its many ice cream places, I was never really into ice cream. I know this sounds totally strange, but it's true. I am not an ice cream person. I've tried all sorts of ice cream, and I even had the supposedly best gelato ever in Venice, Italy, but it's just not something that I love. Binge-eating ice cream when you are said is also something that I can absolutely not relate to as I cannot eat anything when I'm not feeling well. So it wasn't until I discovered healthy ice cream, that I actually grew fond of the cold dessert. I tried making my own popsicles about three years ago, and I have been hooked ever since. There is something so magical about making your own ice cream from real, natural fruits that you will never want to go back to the store-bough kind. These popsicles actually taste like strawberry, because, well, they are made with fresh, locally grown strawberries. Like all berries, strawberries are bursting with antioxidants, which I have really come to love ever since I started my program to become a nutritional health coach. I keep telling everyone about the benefits of antioxidants, and I think I'm already boring everyone around me with details. Well, thankfully I have a blog with readers who actually appreciate this knowledge (I assume). So be prepared to hear a lot more about antioxidants in the future.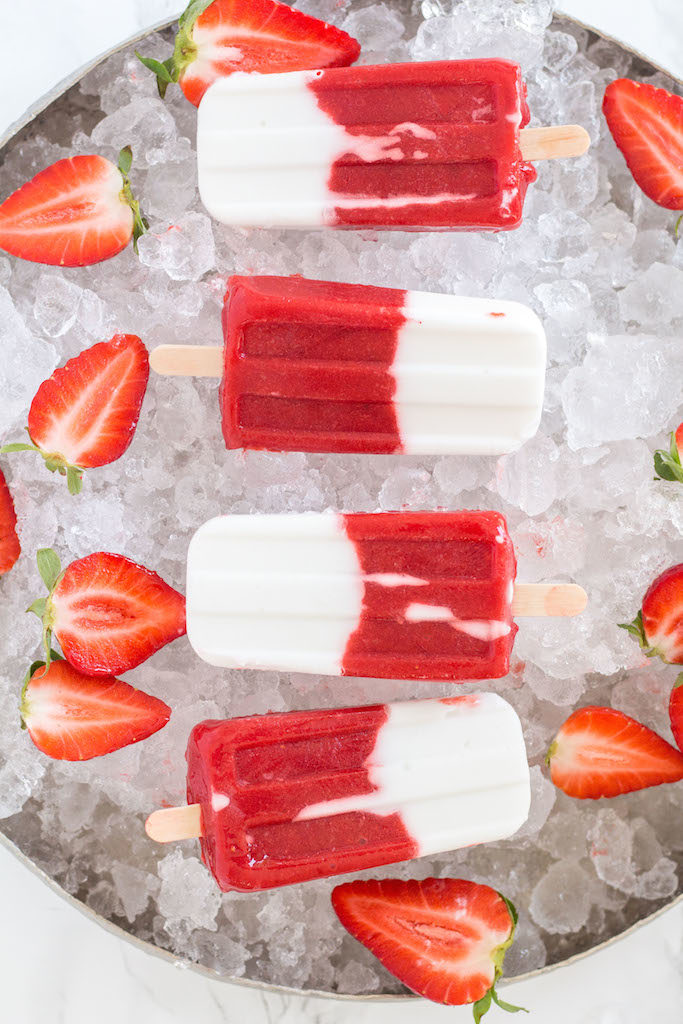 The white layer in these healthy strawberry coconut popsicles is a mix of coconut cream and raw honey. If you are vegan, feel free to substitute the honey with rice malt syrup. I love the health benefits of raw honey as it has amazing anti-bacterial properties. Coconut milk contains lots of nutrients such as B-vitamins, which are promote heart health and support the energy production in our body.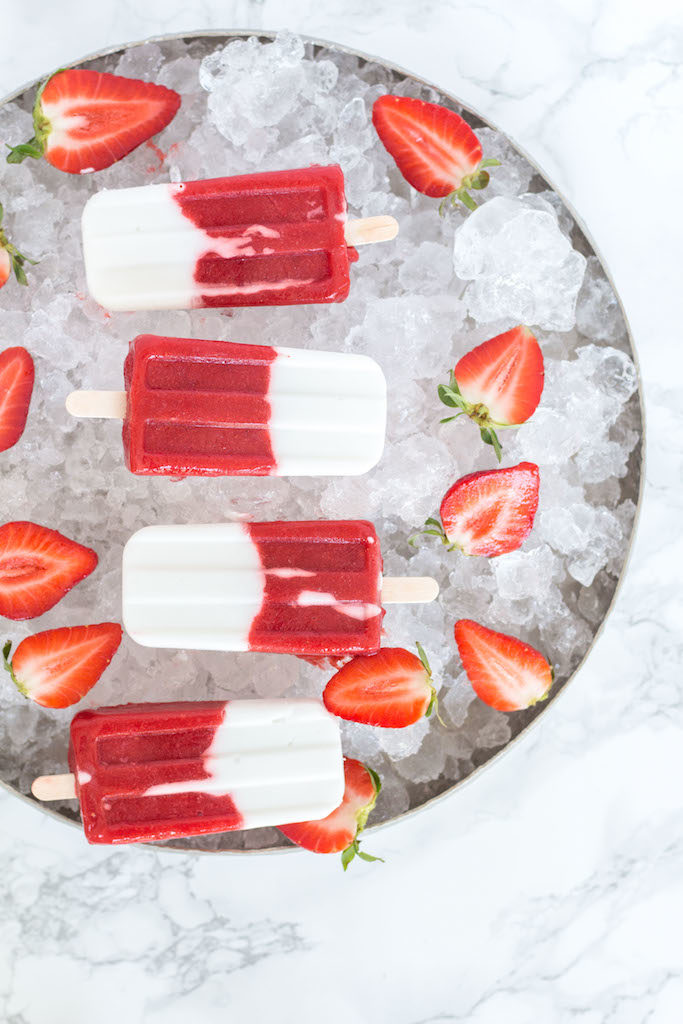 Combined with the sweetness of the strawberries and raw honey, these popsicles are a welcome treat for hot summer days. They are also kid-friendly, and make a great summer surprise treat for barbecue parties.

Healthy Strawberry Coconut Popsicles
Ingredients
3 cups (450 - 500g) of strawberries, cut in half
1 can (15oz, 425ml) of full-fat coconut milk
3 tablespoons of raw honey or rice malt syrup
1 vanilla bean
Instructions
In a bowl, whisk together coconut milk, 2 tablespoons of honey and the insides of the vanilla bean.
In a blender or food processor, blend together the strawberries and the remaining tablespoon of raw honey.
For an easy option: Mix the coconut cream and strawberry puree and fill evenly into the popsicle molds. Freeze for 25 - 30 minutes and insert the popsicle sticks. Freeze for a minimum of 4 hours, preferably overnight before you serve them.
For a pretty look: Fill the popsicle molds half way up with the coconut cream. Freeze for 30 minutes before adding the strawberry layer. Freeze for 15 minutes before adding the popsicle sticks. Freeze for a minimum of 4 hours or overnight.
Notes
You can use leftovers that did not fit into the popsicle molds as a smoothie base or as a topping for your morning overnight oats.
Enjoy!
---
Did you make this recipe or have any suggestions, questions or comments?
Feel free to leave a comment below, and don't forget to tag your creations on social media using #heavenlynnhealthy.
I'd love for this blog to be a dialogue.
---