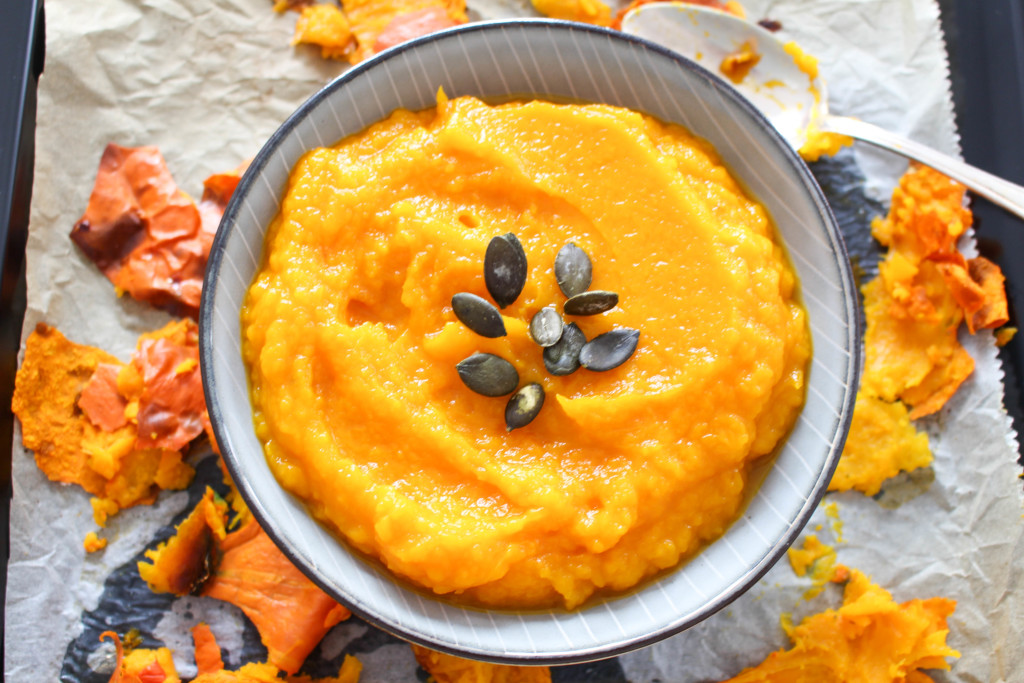 I made these photos along with a recipe that I will be posting tomorrow, but I ended up with so many photos, that it would have been way too many for just one recipe. I don't know about you guys, but I love step by step cooking tutorials so I thought I started this "How to…" series and pumpkin pie puree will be my first post of that sort. I hope you'll like it. If you live in the United States or in the U.K. you're lucky because you can buy canned pumpkin puree in the grocery store, but if you're like me and you live in Germany, then it's not that simple. Having lived in the Unites States for a couple of years, I was pretty spoilt when it came to canned pumpkin puree, so when I came back last year I asked a friendly woman in a German store if they sold canned pumpkin puree. All I got was a weird look and she told me that there was nothing easier than making you own pumpkin puree. Which I knew because I had been making my own for several years before I moved to Germany.
To make it, you need either store-bought canned pumpkin purée or you need to make your own.  Making your own pumpkin purée is really easy though, let me quickly show you how:
How to make your own pumpkin purée:
Pre-heat the oven to 180°C (356°F).
Cut your pumpkin in two equal halves. Remove the pumpkin seeds and place the two pieces face-down onto a baking tray that you alinged with baking paper. 
Roast the pumpkin for about 40 minutes at 180°C (356°C) until the skin gets wrinkly. The exact time may vary depending on the size of your pumpkin. You should be able to stick a fork into the skin easily. Then your pumpkin is ready!
Remove the pumpkin from the oven and let it cool down a few minute. I waited about 1o minutes.                                           
Now scrape off the skin with a spoon and compose it. I don't think theres's any other use for the skin. At this point you can use the flesh for soups, casseroles or risottos, where you don't need super smooth pumpkin puree. I like mine smooth though, especially for a pumpkin pie recipe that I will be sharing with you tomorrow. 
Place the pumpkin flesh into a blender and blend until smooth. You really want it to be as smooth as possible so be sure to blend for a minimum of 1 minute.
Use it immediately or freeze it for later.