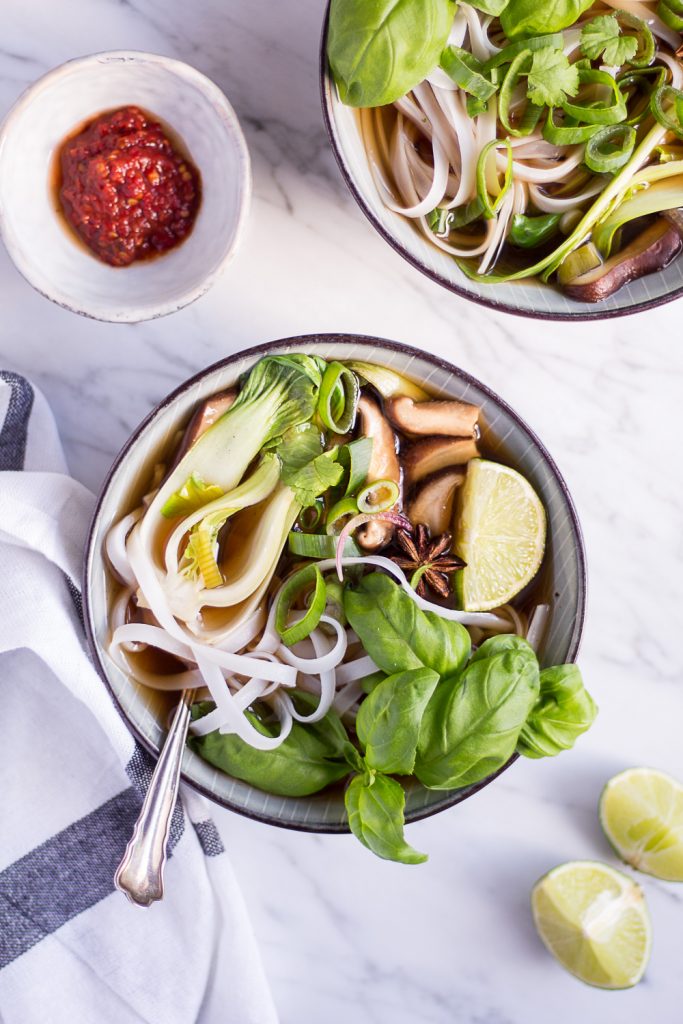 I am sorry for the long silence here, but I was on vacation and then got knocked down by a cold or flu, so I did not really feel like being creative in the kitchen. However, I do like a strong vegetable broth like this delicious vegetarian pho. I have already mentioned that I was introduced to the vietnamese kitchen by a former co-worker, who was vietnamese. It was him who told me that it's not pronounced "pho" but "pha". Something nobody seems to believe when I tell them – but I won't stop calling it pha.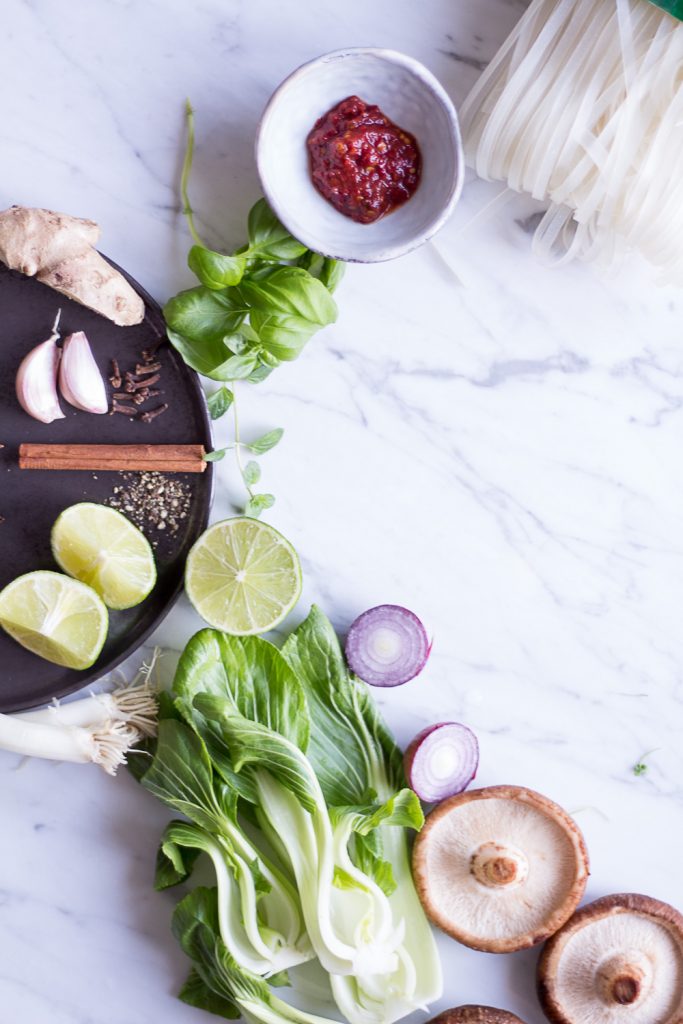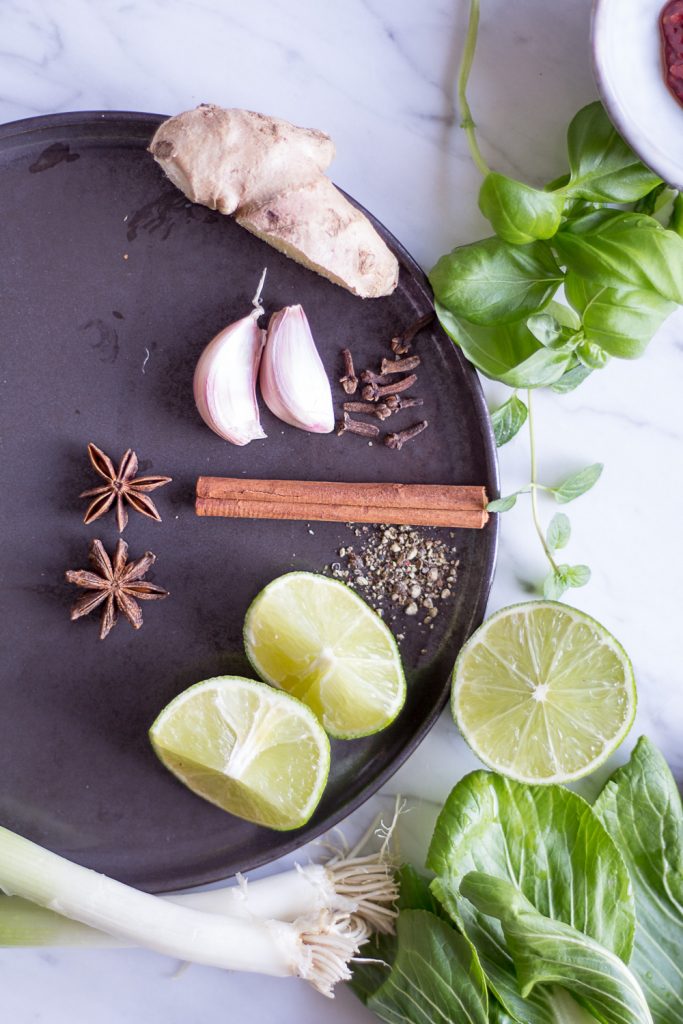 My co-worker was also a great cook, and told me about the vietnamese cuisine, and its signature spices. The secret to a good pho are all the spices such as star anise, cinnamon sticks, cloves, coriander and ginger. They need to be roasted before setting up the broth, so they really become fragrant.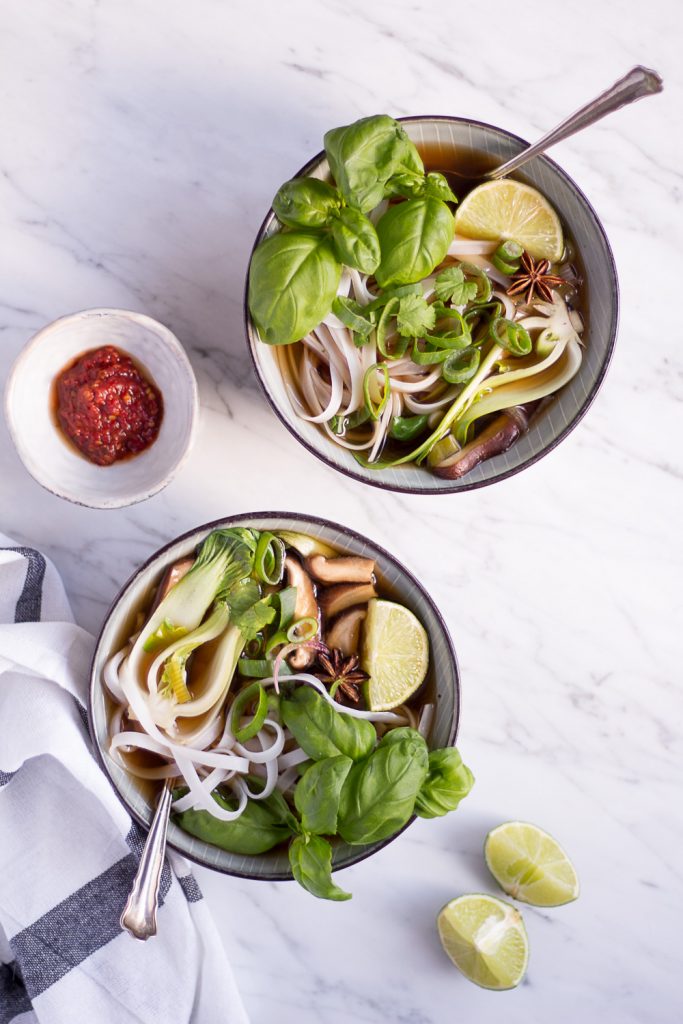 Besides from all the spices that make the broth so delicious, there is also warming red onions and garlic involved, to make it taste more like a broth. Even though the original pho is usually a beef broth, I believe that this vegetarian version is even more delicious as the spices, onions and garlic add a unique and strong flavor.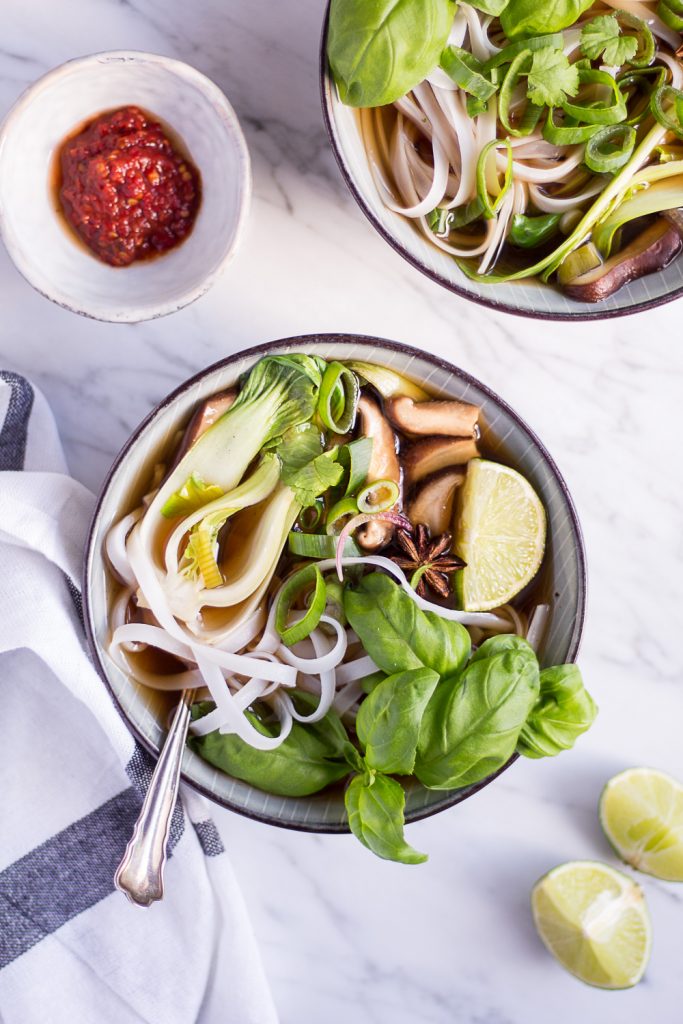 You may add whatever vegetables you have in stock, but I especially recommend using shiitake mushrooms and bok choy as they are not only rich in minerals, they also taste amazing in combination with the broth. If you can, try to find brown rice noodles as they are more nutritious than white rice noodles. However, they are hard to find where I live, so I use white rice noodles anyways.
Nobody's perfect. Am I right?
I really hope that you'll like this soup just as much as I do. Let me know what your favorite Asian cuisine is, I'd love to add more Asian recipes to the blog.

Vegetarian Pho
Ingredients
For the broth:
2 red onions
2 star anise
4 cm fresh ginger
2 cloves of garlic
2 cinnamon sticks
6 whole cloves
1 tablespoon of coriander seeds
6 cups (1.5 liters) of water
3 tablespoons of vegetable stock paste or 1.5 liters of vegetable broth
1 tablespoon of tamari or low sodium soy sauce
a handful of cilantro
For the soup:
1 tablespoon of sambal eelek
2 spring onions
2 bok choy
200g of shiitake mushrooms
200g of rice noodles (or brown rice noodles)
2 limes
50g of carrots strips (optional)
fresh herbs such as thai basil, cilantro or mint
Instructions
Cut and peel the onions. Peel and slice the ginger. Place the onions, ginger and garlic cloves on a baking sheet and bake on the highest heat for 5 minutes until fragrant.
Add all the spices into a saucepan and roast for about 5 minutes until fragrant.
Add the water and vegetable broth paste (or vegetable broth), the onion, garlic, ginger, tamari and a handful of cilantro. Bring to a boil, lower the heat and cook for about 40 - 45 minutes.
While the broth cooks, slice the shiitake mushrooms and bok choy. Slice the spring onions and cook the rice noodles by placing them in a bowl of boiling water for about 8 - 10 minutes. Drain and set aside.
Drain the broth using a colander and pour the broth back into the saucepan. Place the shiitake and bok choy to the broth and cook for another 10 minutes on medium heat.
Season with sambal oelek and lime juice, and serve with the spring onions, rice noodles and fresh herbs.
Enjoy!
---
DID YOU MAKE THIS RECIPE OR HAVE ANY SUGGESTIONS, QUESTIONS OR COMMENTS?
Feel free to leave a comment below, and don't forget to tag your creations on social media using #heavenlynnhealthy.
I'd love for this blog to be a dialogue.
---