An upside down lemon and blood orange upside down cake – aka the perfect birthday cake.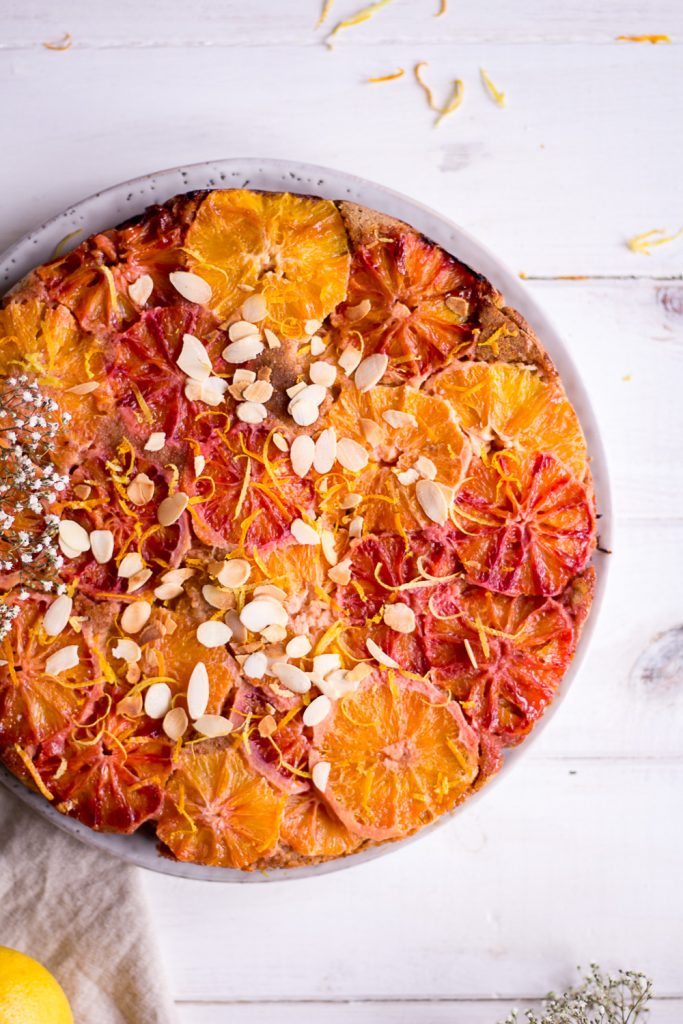 This cake has made my day on several occasions in the past weeks – I made it for my boyfriend's birthday, then again when my aunt and cousins visited a couple of days ago, and I also made it for the local newspaper yesterday. It was always a hit, not just because it looks incredibly pretty. Almost too pretty to eat I feel. But it definitely has to be enjoyed with friends, so you really need to make plans with your loved ones this weekend and serve them this lemon and blood orange upside down cake this upcoming weekend.
If you do not fancy a pretty cake, but rather want a simple yet healthy and delicious cake, then this recipe if definitely for you. It's not necessary to turn it into an upside down cake, you can simply use the batter to make a regular cake. You can probably through it together within 10 minutes, and it only needs a little bit more than 30 minutes in the oven, so it's almost a last-minute-cake.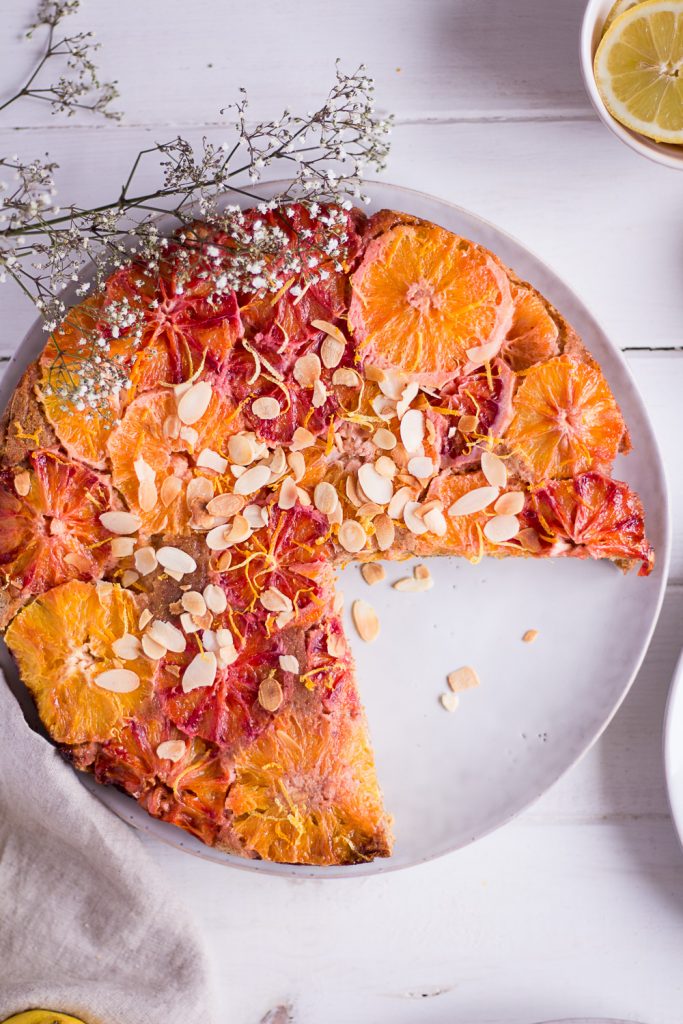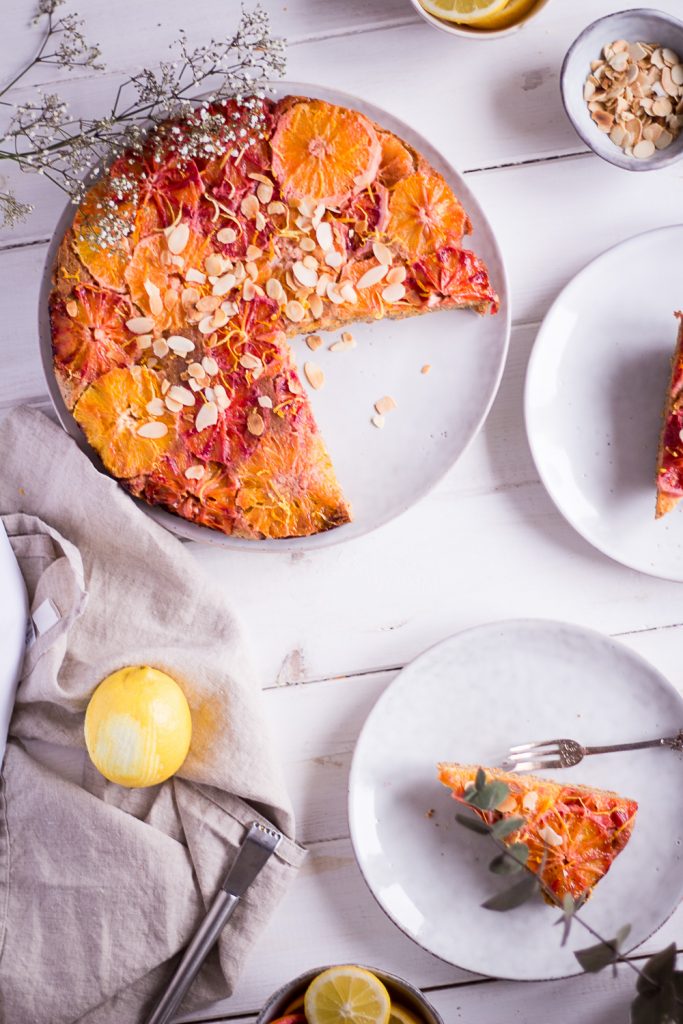 In terms of ingredients we are talking major health alert – ground almonds for vitamin E (hello pretty skin, nail and hair), polenta for beta-carotene (hello healthy eyes) and is an amazing naturally gluten-free flour), coconut blossom sugar (hello blood sugar control). That's the majority of ingredients and can be bought in any regular supermarket. The cake gets its decadent citrus flavor through real lemon and blood orange zest and juice, which give it its signature flavor.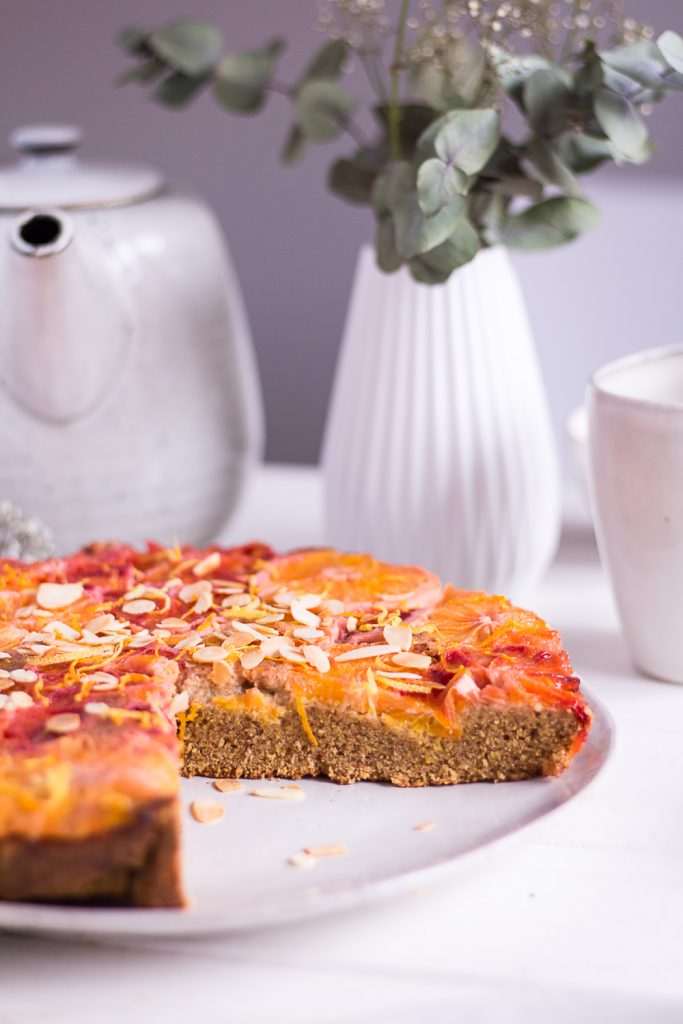 You really cannot do anything wrong with this cake, and you will be the hero amongst your friends this weekend, I promise!

Healthy Lemon & Blood Orange Upside Down Cake
Ingredients
2 cups (350g) of almonds
1 cup (150g) of polenta
2 teaspoons of aluminum-free baking powder
2 tablespoons of arrow root powder
½ cup (120g) of coconut blossom sugar
½ cup (120ml) of oat or almond milk
1 teaspoons of apple cider vinegar
the juice of two organic lemons
the juice of one blood orange
the zest of one organic lemon
the zest of one organic blood orange
a pinch of salt
For the upside down cake:
three blood oranges or regular oranges
1 - 2 tablespoons of maple syrup or coconut blossom sugar
2 tablespoons of almond slices
Instructions
Ground the almonds into a flour. Mix the plant milk with the apple cider vinegar and set aside for 10 minutes. Zest the lemon and blood orange and then juice two lemons and the blood orange. If you are making the upside down cake version, cut the blood oranges or oranges into thin slices and remove the peel.
Combine the almond flour, polenta, baking powder, salt and coconut blossom sugar in a bowl and mix until completely combined.
Add the plant milk and lemon and orange juice, starch and mix everything well in a food processor or hand mixer.
Pre-heat the oven to 180°C (356°F).
Place a sheet of baking paper into a round baking dish and place the orange slices on the bottom of the dish. Sprinkle with maple syrup or coconut sugar. Then add the cake batter.
Bake at 180°C for 35 - 40 minutes until you can pull a knife out of the center of it clean.
Let the cake cool for at least 30 minutes before flipping the cake upside down. Peel down the baking paper and let cool completely. Garnish with almond slices and or more lemon / blood orange zest.
Enjoy!
---
DID YOU MAKE THIS RECIPE OR HAVE ANY SUGGESTIONS, QUESTIONS OR COMMENTS?
Feel free to leave a comment below, and don't forget to tag your creations on social media using #heavenlynnhealthy.
I'd love for this blog to be a dialogue.
---