Pear and Hazelnut Porridge for a healthy start in the morning.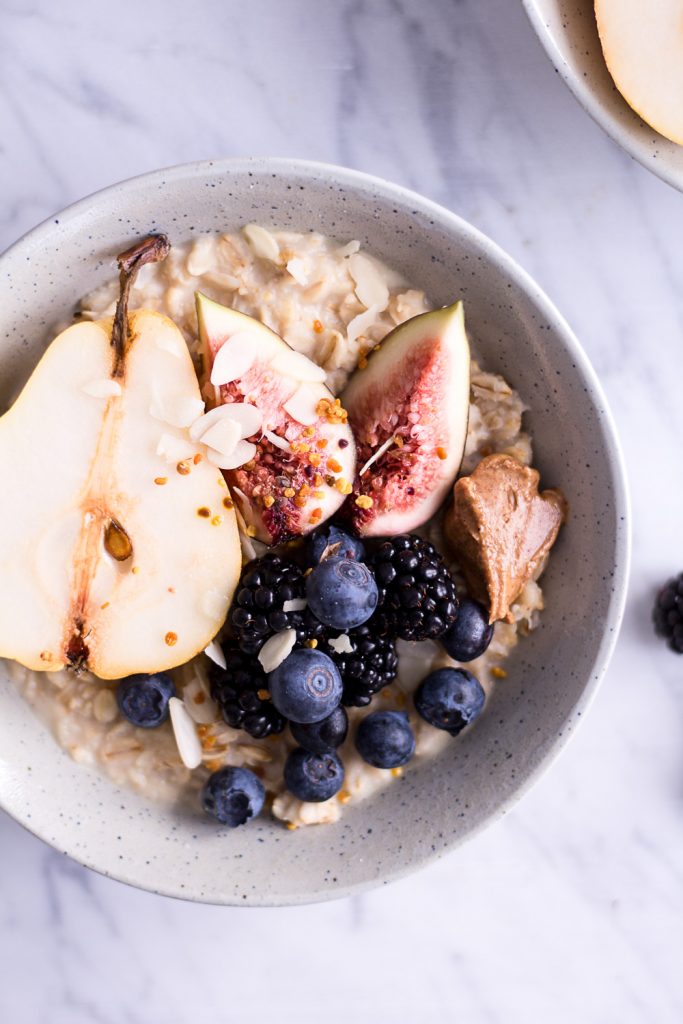 Thank you for all your warm comments regarding my blog birthday under my last post. It's so crazy that Heavenlynn Healthy is already two years old. Time really flies by. I did a little poll regarding what your favorite recipes from my blog are, and it was pretty clear that many of you especially like my porridge recipes. So this post is dedicated to all of you, my readers from all over the world. 
To be honest, I never expected my porridge recipes to be the most popular ones on the blog as I can never follow any porridge recipe. I always improvise because I never have time in the morning to follow a step by step recipe. So I was very surprised that many of you appreciate healthy breakfast recipes. From now on I will try to upload one breakfast recipe per month.
So now to this delicious pear and hazelnut porridge. Since it's still winter here in Germany, I try to keep my porridge toppings as seasonal as possible. Well, obviously blueberries and blackberries are NOT in season right now, but I had them for a different photo shooting and needed to use them (which I did not mind, tbh as I LOVE all kinds of berries). They also just look so crazy pretty in porridge pictures.
I've been trying out different types of plant-based milk lately, and I must say that my favorite is still oat milk, which I use for porridge most mornings. However, I have come to love hazelnut milk, too, because it tastes a little bit like nutella if you mix it with a bit of raw cacao. It really tastes delicious, and if you like plant-based milk, then you will love hazelnut milk. It also goes really well with the pear and almond butter (though of course you could use hazelnut butter as well).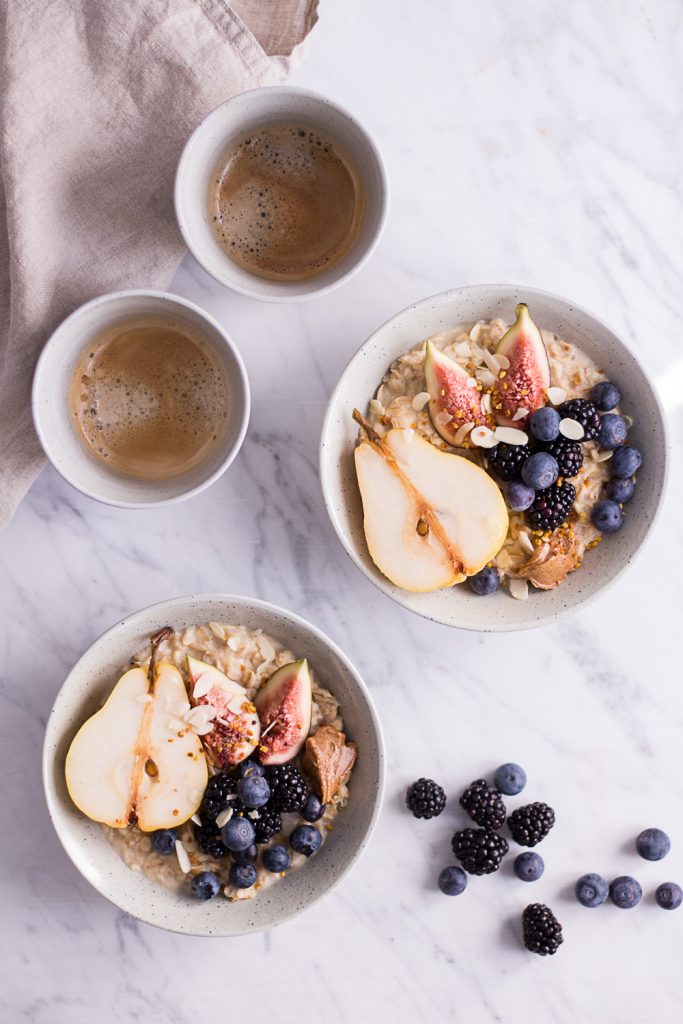 I do feel kind of silly posting a simple recipe like this, but I can most definitely say that it's absolutely delicious!

Pear and Hazelnut Porridge
Ingredients
1 cup (100g) of oats, use gluten-free if needed
1½ cups (375ml) of hazelnut milk
the juice of ½ orange
½ teaspoon of cinnamon
¼ teaspoon of vanilla powder
a small pinch of cardamon
½ teaspoon of grated fresh ginger or ginger powder
2 teaspoons of almond butter, or any other nut butter
3 tablespoons of sliced hazelnuts or almonds
1 teaspoon of organic raw honey (optional)
1 pear
½ cup of fresh or frozen berries, I like blackberries and blueberries
Instructions
Heat the hazelnut or almond slices in a pan without oil for 5 minutes until brown. Remove the chore from the pear and cut it into small cubes.
Add the oats and hazelnut milk to a saucepan and allow it to heat for about 5 minutes, or until bubbly.
Now add the orange juice, pear slices, almond butter and spices and let it dissolve completely while frequently stirring. If it gets too dry, add more hazelnut milk.
Finally add the honey or maple syrup for a final stir.
Once it's all mixed, pour into two bowls and garnish with the toasted hazelnuts or almonds, pear, berries and more almond butter. Or go completely crazy with any other topic of your choice.
Enjoy!
---
DID YOU MAKE THIS RECIPE OR HAVE ANY SUGGESTIONS, QUESTIONS OR COMMENTS?
Feel free to leave a comment below, and don't forget to tag your creations on social media using #heavenlynnhealthy.
I'd love for this blog to be a dialogue.
---