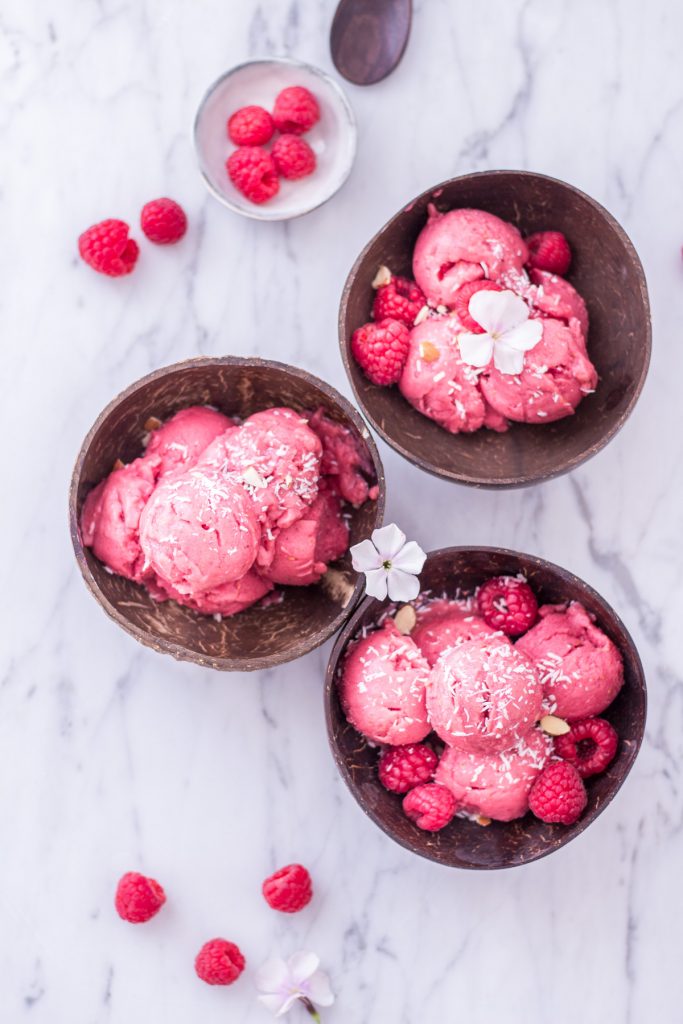 This recipe is also available in German. / Dieses Rezept gibt es auch auf deutsch.
I know it's crazy but I recently realized that my blog does not have a single "Nicecream" recipe. If you've lived under a rock these past years: nicecream is a plant-based ice cream that really is creamy. Nicecream comes from "Banane Ice-cream", which is the basis of Nicecream. It is made with frozen bananas and frozen berries, mangos, dates or chocolate powder – the variations are endless. Today I am sharing with you the most basic nicecream – raspberry nicecream, which is so simple that you won't even need a recipe for it.
If you're totally yawning right now, I completely understand. But I am really not one of those super up-to-date trendy people. I am always behind trends. Always.
So I am actually really sure that there are some folks reading this right now, who might appreciate a quick homemade ice-cream recipe. After all, my 30-minute pasta dish from the other day was so popular because it was so basic and so simple. I am still blown away by how many people clicked on this last recipe.
Back to this nicecream. The idea behind nicecream is that frozen bananas make the creamiest of bases ever. Also, ripe bananas are very sweet, so you won't need any additional sweeteners at all. My personal favorite nicecream is the raspberry version as raspberries are just the perfect blend between sweet and tangy. And they are my personal favorite berry right behind blueberries.
The best thing about nicecream is that you really don't need a recipe and that the combinations are endless. I love the raspberry version, but you can also use frozen mangos, pineapple, dates for a caramel version or chocolate powder for a rich chocolaty flavor.
If you're not into sugar lately (I'm not either), then I can understand that you will cry out loud, because bananas are high in fructose. If you are avoiding fructose, then this banana ice-cream is probably not for you. I suggest you try one of my coconut yoghurt popsicles, and replace the maple syrup or honey with rice syrup. I am not eating a lot of sweets anymore, but if I do, I do not stay away from fructose. It's my personal choice and I tend to digest fructose well.

Two-ingredient raspberry nicecream
Ingredients
For the basis:
For the raspberry version:
300 g of frozen raspberries
For the mango version:
One very ripe, frozen mango
For the chocolate version
3 – 5 tablespoons of raw cacao powder
Instructions
Cut the bananas into very small pieces and freeze them for at least 12 hours, preferably 24. Right before you want to make the nicecream, take the bananas out of the fridge and let them defrost for about 10 minutes. Do not skip this step.
In a powerful blender, blend the frozen bananas until a very smooth paste forms. Then add the raspberries and blend until you get a creamy soft nicecream.
Enjoy right away or top with your favorite toppings.
Notes
Troubleshooting:
- If you do not defrost your bananas a bit, your blender might turn them into tiny banana flakes. Please wait until your bananas are a bit defrosted.
- If you have not listened to number 1, and you're standing in your kitchen with banana flakes in your blender, then wait a bit until the bananas have defrosted further more. Then try blending again. It might help to add about a tablespoon of ice-cold water.
- The amounts of raspberry or other berries and chocolate vary depending on your taste. The more berries you add, the watery the nicecream gets. Start with just a bit of berries and then work your way up until you like it.
Enjoy!