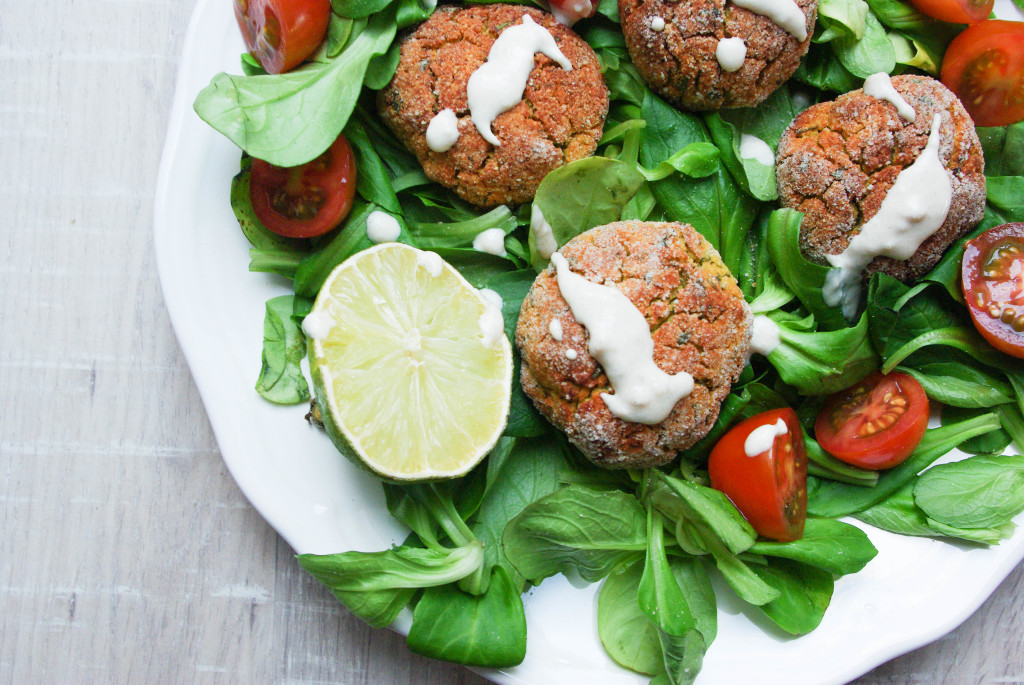 Falafel are traditional Middle Eastern deep-fried chickpea balls that are typically served in a pita or flatbread. Since I don't eat fried or deep-fried foods, I tried making a healthier and more nutritious baked falafel version. I just love how they turned out and how delicious and easy they are. I used red lentils instead of chickpeas because lentils have a higher protein content, and I assure you that lentil falafel taste just as good as chickpea falafel.
Red lentils are also extremely healthy as they contain a variety of vitamins and minerals such as potassium, magnesium, calcium, zinc and vitamin K, but are especially rich in dietary fiber, protein, and iron. Lentils are also a great contributor to a healthy heart. Its high magnesium content improves oxygen, blood and nutrient flow in the body, which keeps the heart healthy. Lentils are also high in lean protein, which makes them a great source of plant protein for vegetarians or vegans.
The dip is used is more of a drizzle but I assure you, it tastes amazing. I love tahini by itself, but combined with the salty tamari and fresh lime juice, it's even better.
The lentil falafels can also be enjoyed cold, which makes them a great on-the-go lunch, too. You'll have to try it for yourself in order to taste the harmony of the nutty lentils, fresh herbs and refreshing tahini-lime dip.
Ingredients:
– ½ cup (120g) red lentils
– ½ cup (120ml) vegetable broth
– 1 tbsp olive oil
– 1 onion
– 1 garlic clove
– 1 thumb-sized piece of fresh ginger
– ½ tsp turmeric
– ½ tsp cumin
– ½ tsp curry powder
– 1 small handful fresh coriander (cilantro)
– 1 small handful fresh mint
– 1 small handful fresh parsley
– 2 tbsp fresh lemon juice
– ½ tsp salt
– ¼ tsp pepper
– 1 tsp chili flakes (optional)
– ½ cup rice flour or buckwheat flour
For the tahini-lime dip
– ¼ cup (60ml) tahini
– 1 tsp tamari or soy sauce
– 1 tsp lime juice
Start by chopping the onion, garlic and ginger. Rinse the lentils over running water. Heat the olive oil in a large pot and sauté the onion and garlic for about one minute, then add the turmeric, cumin and curry powder. Sauté for another minute then add the lentils and vegetable broth. Bring to a boil and let simmer for about 10 minutes. Once the broth has completely evaporated, remove lentils from heat and pour the lentil mix in a cold bowl to cool.
While the lentil mix cools, wash and dry the fresh herbs, remove the leaves from the stem and finely chop them.
Pour the lentil mix into a food processor and mix them until they are heavenly smooth and creamy.
Now add the fresh herbs, salt and pepper, lemon juice, flour and chili flakes, and stir the lentil mix until everything is combined.
Pre-heat the oven to 180 °C. Using your hands, form about 15-20 lentil balls (depending how small or large you want them). Place them on a baking tray covered with parchment paper. Using the palm of your hand, squeeze the balls down a little so they're more flat than round. This makes the baking process easier.
Bake the lentil balls for about 15 minutes, then flip them over and bake for another 5-10 minutes. The outside should be a little crunchy, but the inside should still be a bit moist.
For the dip, simply combine all the ingredients in a small bowl and whisk with a fork.
Take the lentil balls out of the oven and serve them over a fresh summer salad or use them inside a wrap.
Enjoy!