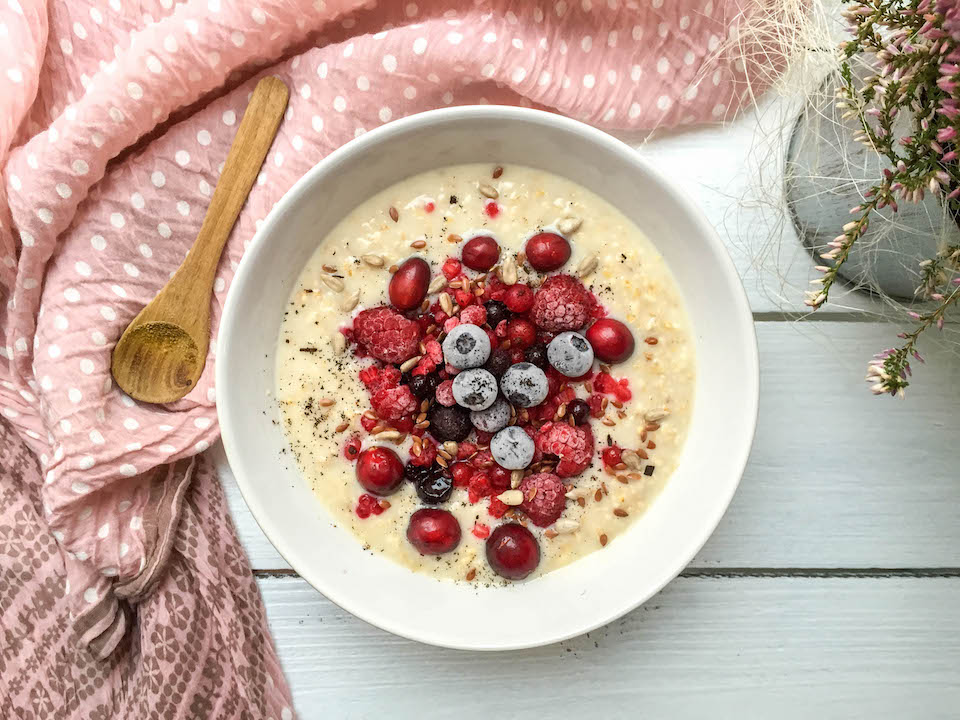 I'm sorry for this super short recipe description, but I just did not have time to write a whole lot this week. As some of you know, I've started my Masters a few weeks ago, and it has already kept me busy, especially since I am also trying to work full time for the family business. Anyway, no excuses, there is always time for food. Especially now, when days get darker and the temperatures get colder I need a proper breakfast in order to be productive throughout the entire day. Now that does not mean that I have a huge amount of time to prepare it in the morning. In fact, I am a strong believer that breakfast can be prepared quickly without having to sacrifice on nourishment or goodness. Porridge is a great way to make a highly nutritious breakfast in no time. This quick vanilla porridge literally takes 3 minutes to prepare. Everybody has 3 minutes in the morning, right? The porridge needs another 10 minutes to sit, during which you can get ready for the day, because you don't even have to watch it. Those of you following me on Instagram have probably noticed my addiction to coconut porridge in the morning. Well, I still love coconut porridge, but oh man, this vanilla porridge has great potential to become my next big thing. Vanilla is just perfect for this time of the year, especially now that we are getting closer and closer to Christmas. It is so comforting and really warms you from the inside.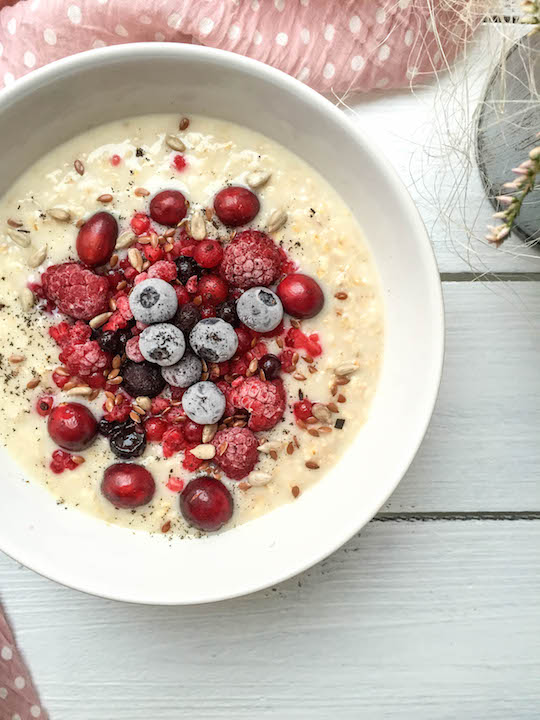 I buy my vanilla powder in a jar, but you can also use traditional vanilla pods if you like. I know that vanilla is not the cheapest, but a little jar of vanilla powder lasts me for many months, and the flavor is definitely worth it. If you love porridge and vanilla, then you are going to love this one. Trust me on this.

Quick Vanilla Porridge
Author:
Heavenlynn Healthy
Ingredients
½ cup of oats (50g)
¼ cup of almond milk (60ml)
⅔ cup of boiling water (160ml)
½ teaspoon of vanilla powder
a pinch of cinnamon
1 teaspoon of agave or maple syrup (optional)
Favorite toppings:
banana
shredded apple
frozen or fresh berries
stewed fruits
homemade almond butter
superfoods such as pumpkin or sunflower seeds, chia seeds, bee pollen, etc.
Instructions
Start by boiling the water if you haven't already done so.
Place the oats into a saucepan together with the boiling water, almond milk, cinnamon, vanilla powder and sweetener if your are using one.
Let it sit with the lid on the pan for about 10 minutes.
If the oats have softened, heat the pan up on high heat for about 3 - 4 minutes while stirring them frequently.
Serve with your favorite topping.
Enjoy with your favorite toppings.
Merken