I know it may seem a bit trivial to be talking about food when something so awful has happened in Paris yesterday. Let me just say how shocked I am about the current events in the city of love. I thought about not posting a recipe today, but then I realized that I will not let my life be dictated by terror. Maybe one of you will make this salad today and share it with your loved ones for dinner – this way you can bring a little bit of peace to your home. My thoughts and prayers are with the French people today.
There is no bridge that could connect the first paragraph with the second, so I will just jump right into what I wanted to say about this salad. Please excuse my exciting voice in the following text, but like I said, I won't let them take away my happiness.
Oh how I am loving kale season. Unlike Americans or Brits, Germans cannot get fresh kale all year around. It's simpy one of those things that you can only get seasonally. Of course it's a shame that kale season is only a few months long, but the good thing is that you really learn to appreciate seasonal food. Kale season has a very long tradition in my country, we've always been eating it, even before it became known as a superfood. Ok, the traditional German kale recipes are anything but healthy and we probably boil vitamins out of it, but hey, at least we try.Kale salad is something that is not so commonly known by most Germans. In fact, many probably think that it's incredibly weird to eat kale raw. But trust me, once you've tried a massaged kale salad, you'll never want to go back. It's such an exciting dish and completeley different than most salads.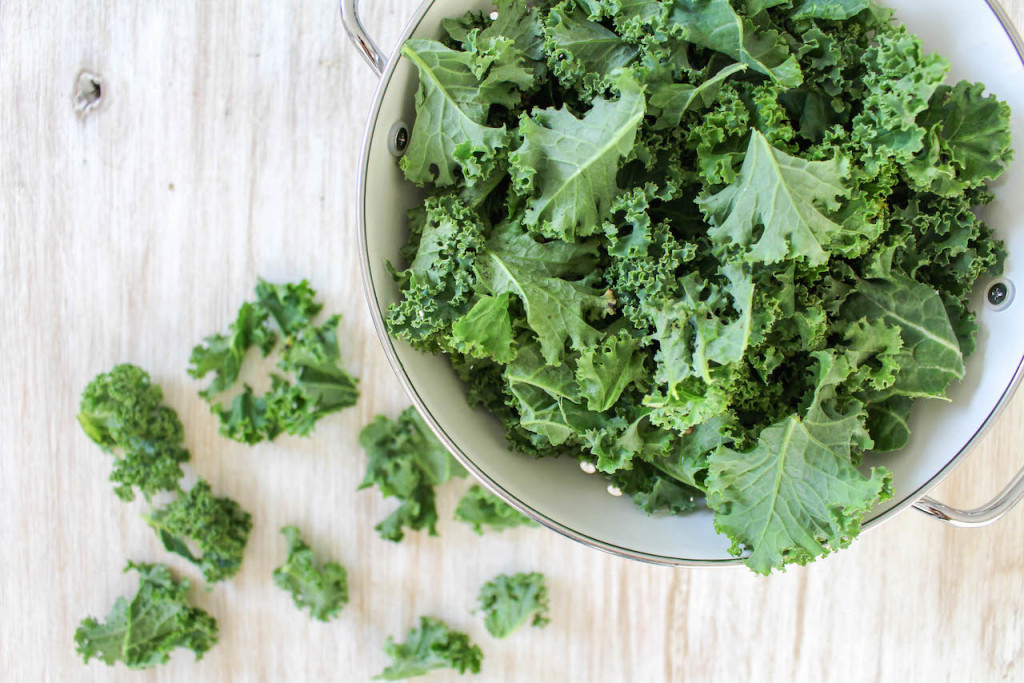 Combined with other foods such as pumpkin or pomegrante seeds, this salad really is the perfect fall salad. It's a great side dish for Thanksgiving or Christmas dinners, too. And just like that you'll be adding tons of vitamins and minerals to your diet, because this composition is bursting with nutrients. Kale is one of those dark leafy greens that actually contain more iron than beef. Iron enables the oxygen to be carried to our cells – a process that gives us energy. It's also a wonderful source of vitamin K, which regulates our blood sugar level.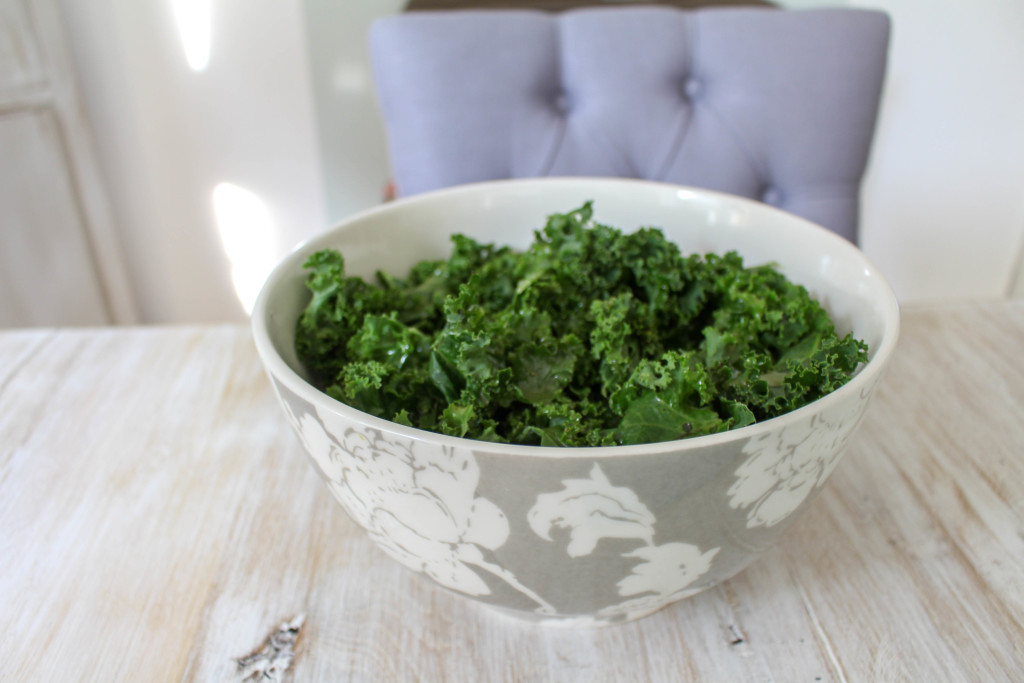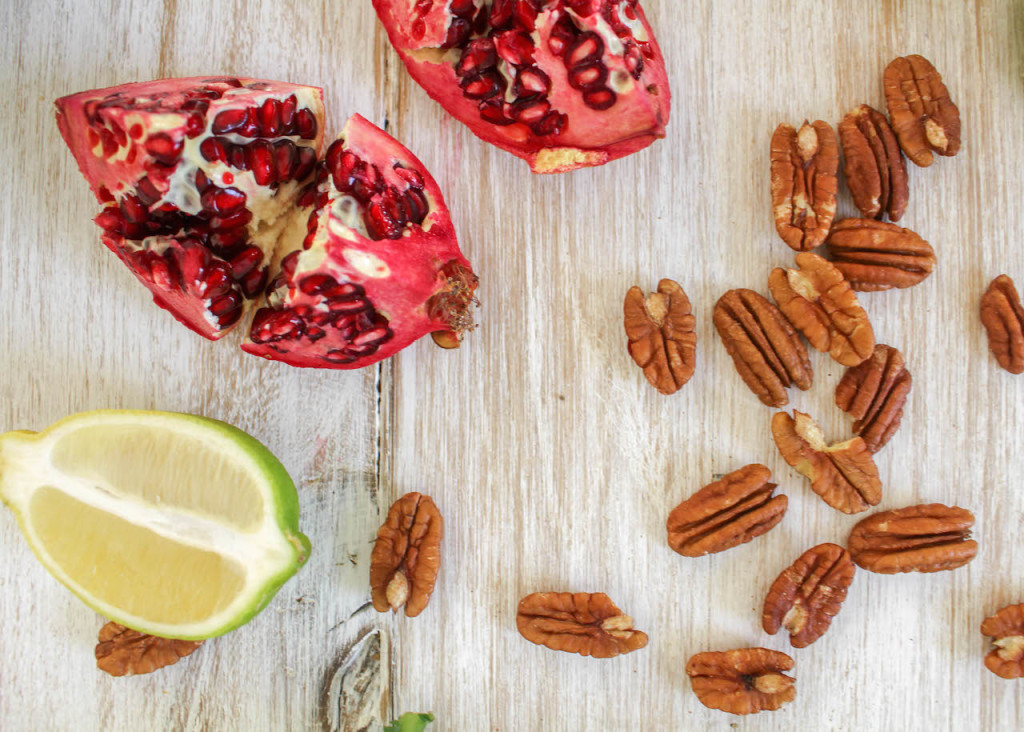 Besides almonds, pecans are my favorite kind of nuts because of its sweet, caramel-like flavor. As all nuts, they contain healthy fatty acids that help lower cholesterol and prevent cardiovascular and heart disease. Like almonds, pecans are a wonderful source of vitamin E, the beauty vitamin that lets our hair, nails and skin glow.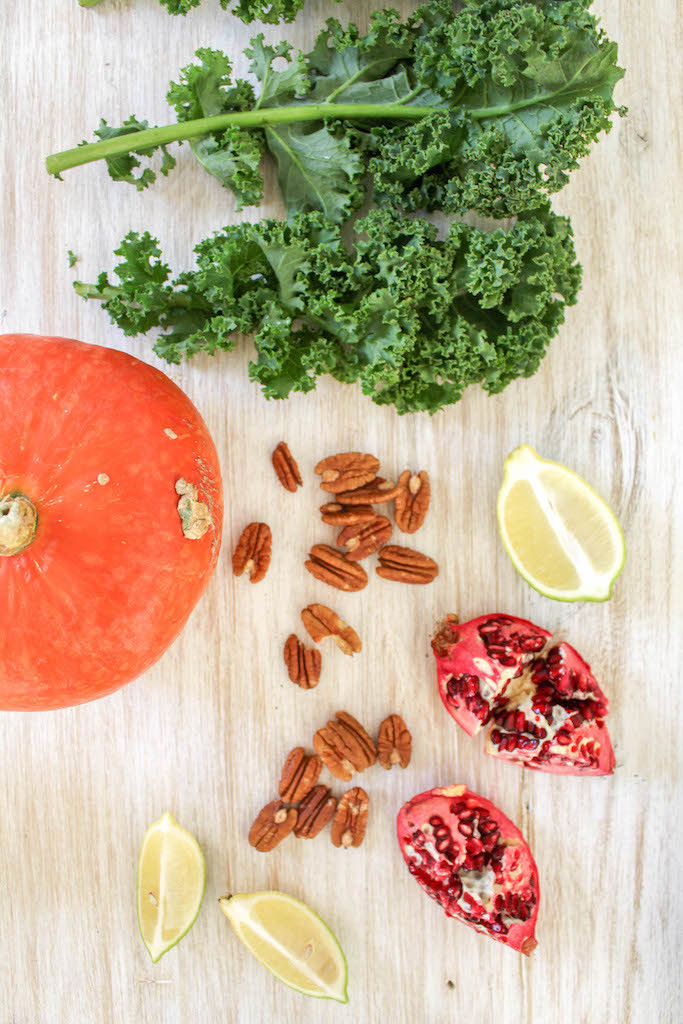 Pumpkin squash is one of the best sources of vitamin A, which keeps our eyes healthy and helps build beautiful, glowing skin. It also has lots of antioxidants, which help prevent several chronic diseases. Omega-3-fatty acids found in pumpkin squash can even help prevent cardiovascular disease. Hokkaido squash also contains lots of vitamin C, which is the most commonly known antioxidant.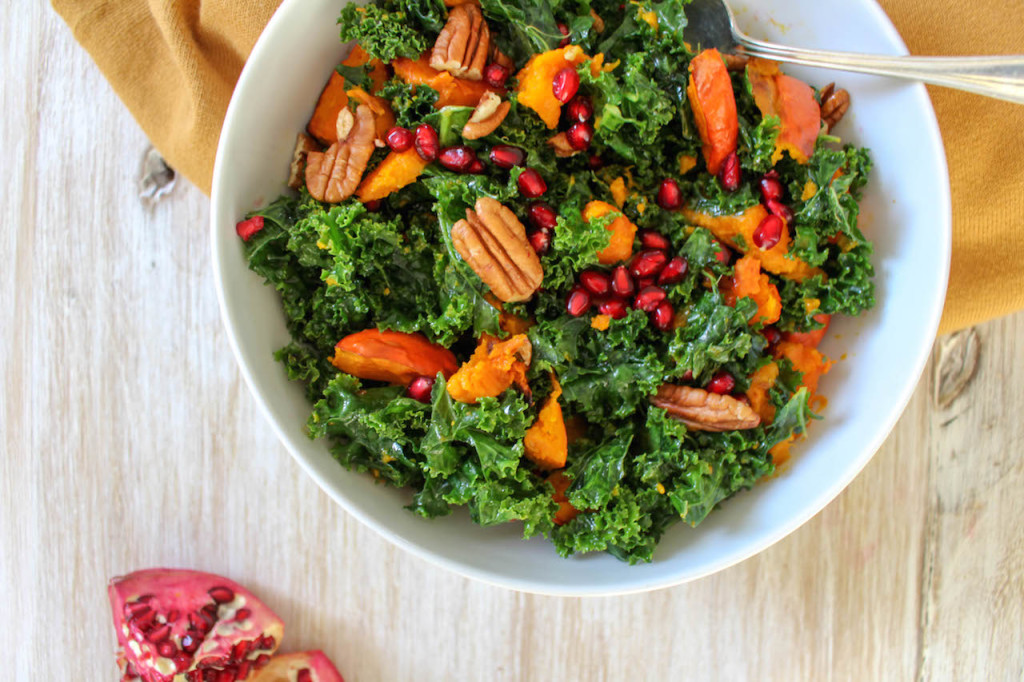 So what are you waiting for? I'd say, you should definitely plan a visit to the local farmers market today to get all the ingredients for this delicious kale salad with roasted pumpkin squash.
INGREDIENTS: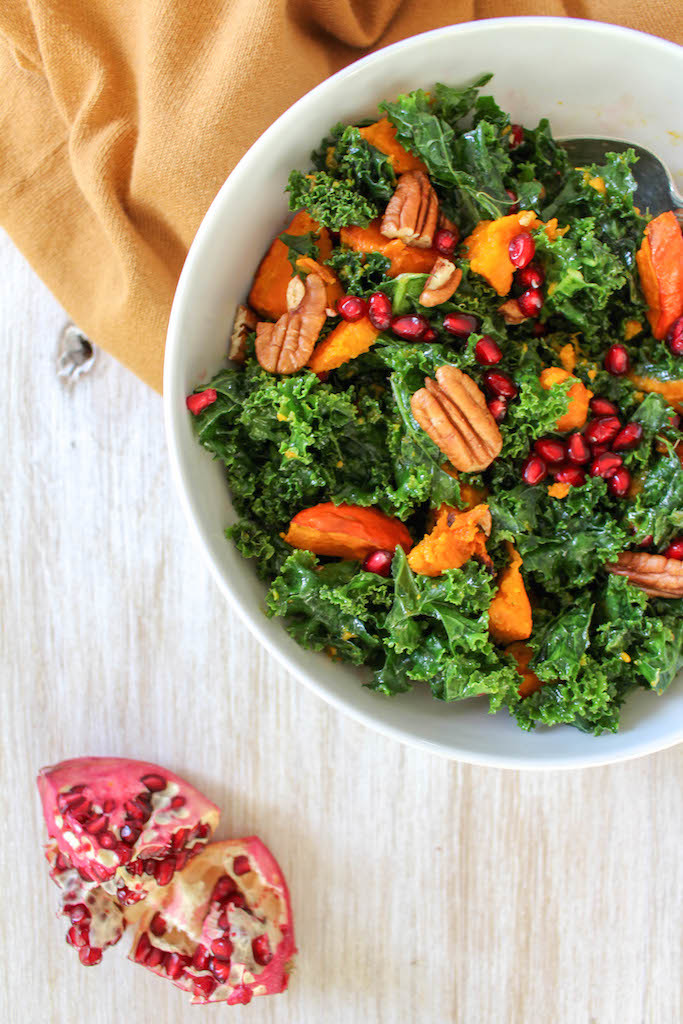 Serves 2:
– 6 handful of kale
– ½ hokkaido pumpkin (about 600g)
– ½ pomegrante
– 1/2 cup (65g)
– 1 tablespoon of raw honey or maple syrup
– 1 tablespoon of olive oil
– sea salt
For the lemon-dijon-vinaigrette
– 3 tablespoons of olive oil
– 1 tablespoon of apple cider vinegar
– 1 tablespoon of fresh lemon juice
– 1 teaspoon of honey or maple syrup
– ½ teaspoon of salt
– pepper to taste
METHOD
Start by pre-heating the oven to 180°C.
Cut the pumpkin into bite-sized pieces and place them on a baking sheet aligned with baking paper. Drizzle the olive oil and sea salt on top and bake for about 20 minutes until tender.
Wash the kale, and remove the leaves from the stems. Discard the stems and place the leaves into a salad bowl.
To make the maple-glazed pecans, heat the maple syrup (honey would also work) in a small saucepan and bring to a boil. Remove from heat and add nuts and toss to coat. Place the nuts on a baking sheet aligned with baking paper and toast them for 5 minutes. Set aside.
Drizzle all the dressing ingredients onto the kale. Massage the kale firmly using your hands. Massage them for a few minutes so they turn soft and wilt. This is a crucial step, so please don't skip it. Once the leaves are nice and soft, stir in the pomegrante seeds and the roasted pumpkin.
Sprinkle the nuts on top and serve immediately.
Enjoy!