Since I studied in North Carolina, I feel very strongly connected to the U.S. Southern states. I love the laid-back way of life, the sweet accents, the amazing weather, the beaches, and of course the peaches. Luckily, I got to go back last month to visit my sweet North Carolinian friends. Of course we also took a little road trip down South to visit the lovely city of Charleston. The long drive down the highway was filled with large billboards advertising one of the South's signature items: peaches. The U.S. American South is one of the largest peach crowing areas in the world, and especially Georgia is known for its especially sweet and tasty peaches. Of course whole foods and Trader Joe's were packed with local picks and we couldn't get around buying some of the locally grown peaches.
Back home in Germany, I was still inspired by our vacation and the endless varieties of peaches that we saw, that I had to make this delicious Peach and Strawberry Crumble. I am so excited to share this recipe with you as it has become one of my favorites healthy desserts. Traditionally, crumbles contain a lot of butter, milk and sugar, but this one contains none of the above and is totally suitable for healthy eaters like me, celiacs or vegans. When I had my boyfriend try it, he immediately loved it and told me to sell it on the local market. He also asked me what was un-healthy about the crumble, and my honest answer was "I guess, nothing, really". Every bite of this Peach and Strawberry Crumble is packed with natural goodness, but it tastes to divine and forbidden, that you and your family or friends won't believe it's really healthy. The power foods in this crumble are of course the strawberries, with its high vitamin C content, but even more so, the peaches. The fruits that need a lot of sunshine to grow, contain a large variety of different vitamins, minerals and nutrients that provide many health benefits to the body. For example, peaches are high in potassium, which is important for cellular functioning, and the regulation of muscular tissue. Especially athletes and active people need potassium in order to prevent muscle cramps or injuries. Another health benefit of peaches is improved eyesight due to a large amount of beta-carotene, which is present in peaches. But also our skin and immune system benefit from the healthy fruit. Its high vitamin C content fights free radicals and infection, and protects the skin from harmful ultraviolet radiation.
As you can tell, I am a big fan of peaches and their health benefits, and I assure you that every bite of this delicious Peach and Strawberry Crumble will release the happy hormones endorphins, and nurture your body with amazing natural goodness.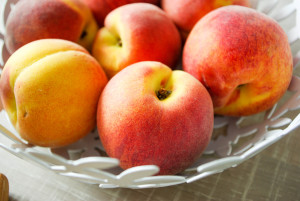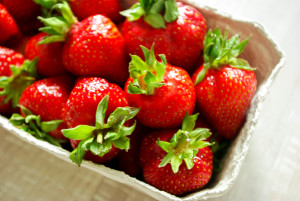 Ingredients:
Serves 6:
For the strawberry peach filling:
– 6 peaches (700g)
– 400g strawberries
– 1 tbsp maple syrup
– 1 tsp cinnamon
– 1 tsp coconut oil
For the oat and coconut topping:
– 2 cups (200g) whole walnuts
– 2 cups (200g) oats
– 3 tbsp coconut oil
– ¼ cup + 2 tbsp (110ml) maple syrup
– 2 tsp cinnamon
– 2 tbsp shredded coconut
– a pinch of salt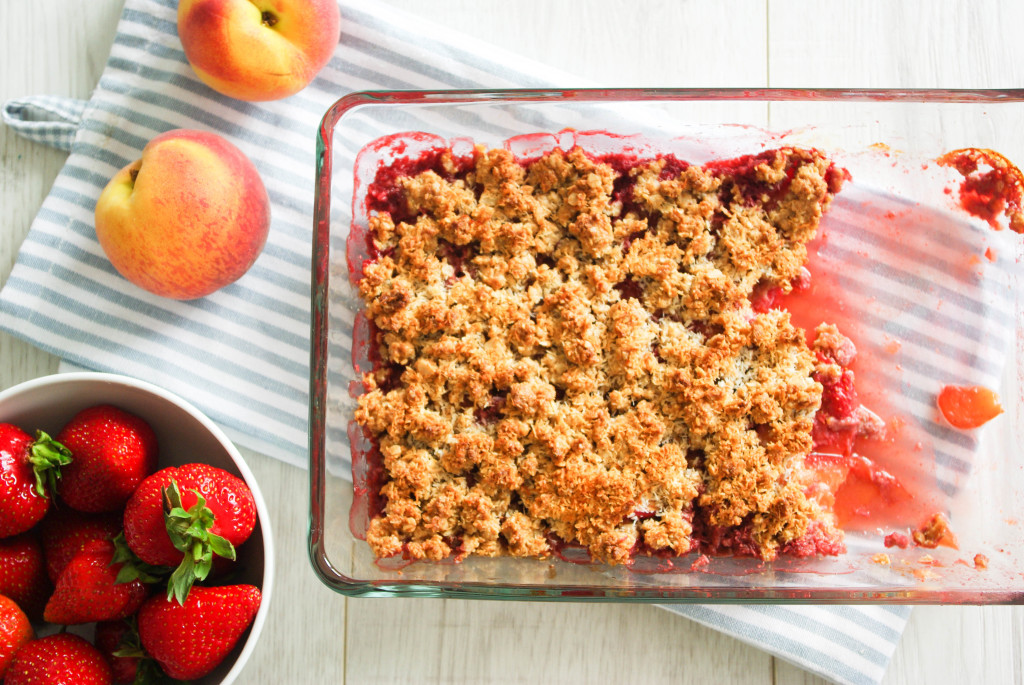 Note:
– The shredded coconut is optional, but it gives the crumble a nice crunch and texture.
– If you're allergic to nuts, use oat or buckwheat flour to replace the walnuts.
– If you don't have maple syrup, you can use honey.
– You can vary the amount of peach and strawberries in this recipe. Just make sure you have just about 1 kilogram of fruit in your base layer.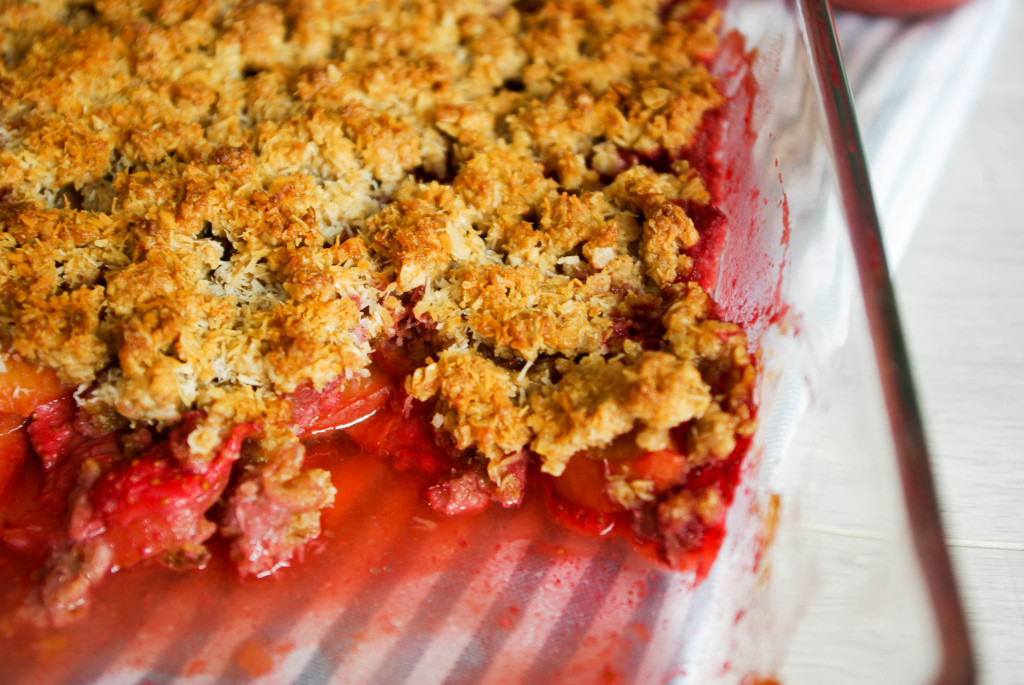 Start by making the oat and coconut topping. Place the walnuts into a food processor and blend until they are completely broken down into a nice, moist flour. Pour the walnuts into a bowl and add the oats, shredded coconut, and salt. In a small saucepan, heat the coconut oil, cinnamon and maple syrup. Pour the sticky coconut cinnamon mixture over the walnut and oat mix and combine with a spoon until everything is evenly coated. Set aside.
Now make the strawberry peach filling. Simply wash and dry the peaches and the strawberries. Remove the core from the peaches and the stem from the strawberries and slice both into even pieces. Place the peach and strawberry slices into a large enough saucepan. Heat the fruit on medium heat and add the maple syrup, cinnamon and coconut oil. Let the peaches and strawberries simmer for about 5 to 10 minutes until they are nice and tender. Be sure to stir frequently in order to avoid burning. In the meantime, pre-heat the oven to 180 °C.
Now remove the saucepan from the heat and pour the strawberry peach filling into a large baking tin. Using your hands, sprinkle the oat mixture on top of the strawberries and peaches and make sure that every inch is covered with topping.
Bake the crumble for about 25 minutes until the topping is heavenly crunchy.
Enjoy!