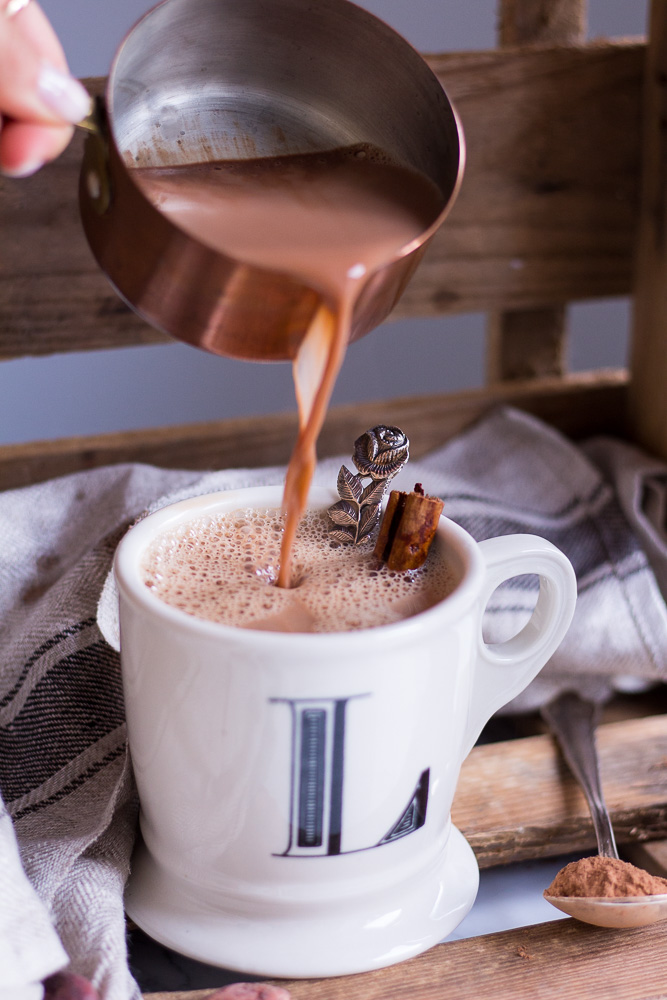 I am so excited to share this hot superfood chocolate recipe with you as it's one of my favorite at the moment. I literally drink it every morning and every night when I'm all cuddled up on the sofa. I was always a fan of hot chocolate but disliked all the loads of sugar that you find in literally every hot chocolate on the globe. So I've tried many different versions, different plant based milks, dates, honey, different kinds of spices, but I finally found the version that works best for me. It's not overly sweet, but has a strong chocolate-y flavor, and it also tastes a lot like fall and winter.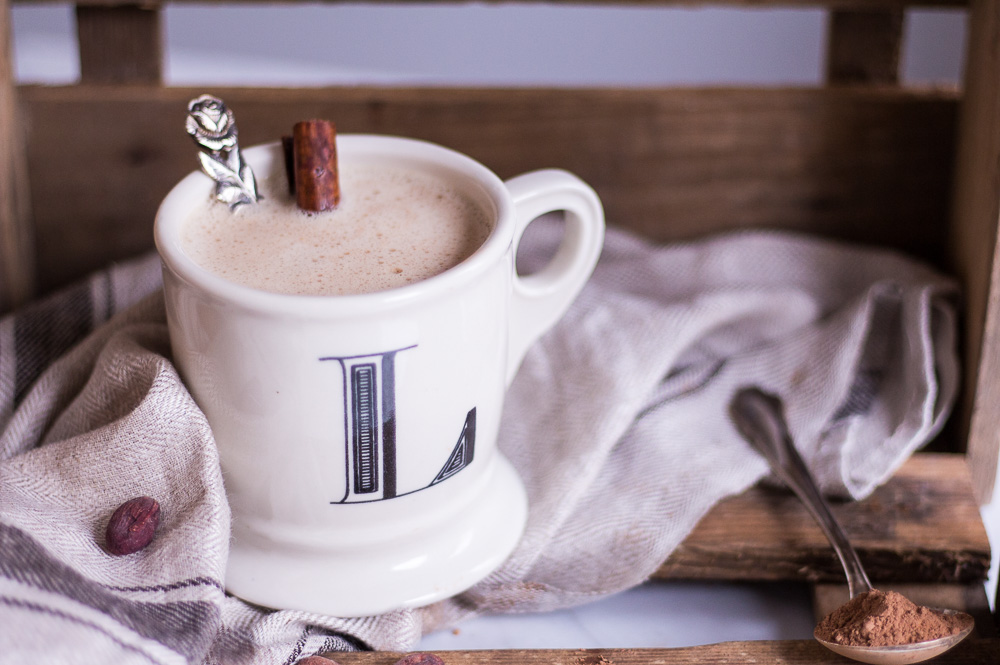 The superfood idea for the hot chocolate came to me, when I added loads of turmeric to my hot chocolate. As some of you might already know, I am the biggest turmeric addict these days. I literally go through one container of turmeric in a fortnight, which is totally crazy, but turmeric is just such a warming spice that it goes with anything in the fall. So let's see what kind of goodness we have in this recipe: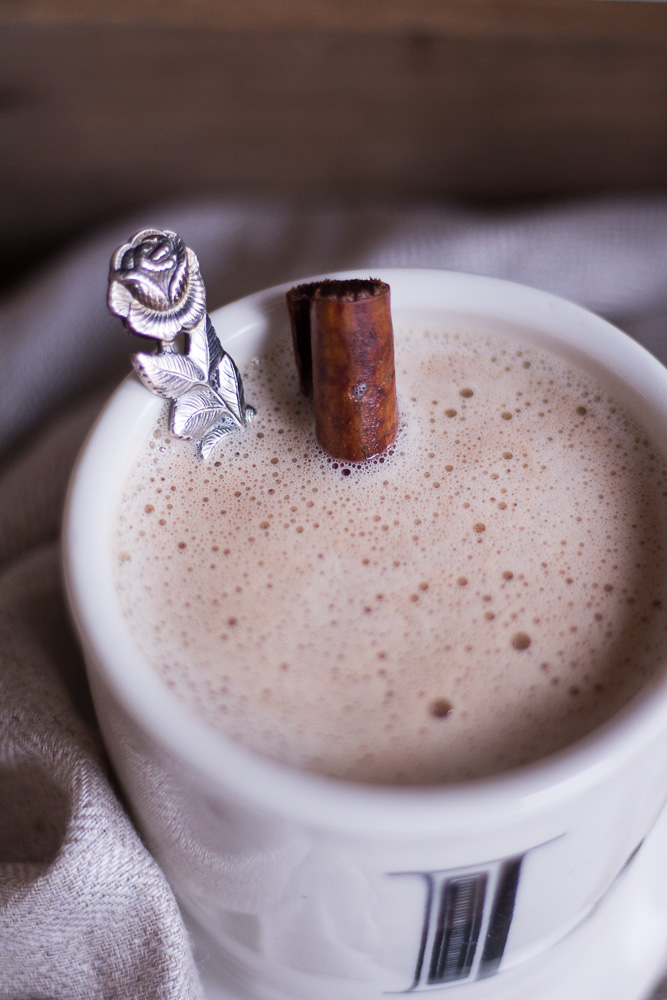 Raw cacao: Raw cacao is actually totally healthy! Contrary to the sugar-loaded and processed cocoa powder, raw cacao still contains all its nutrients. Cacao has amazing antioxidative properties, which means that it protects our cells from free radical damage. It also contains lots of minerals such as magnesium, calcium or zinc. Magnesium is especially interesting in my case as it is essential for blood pressure regulation.
Turmeric: Turmeric has many health benefits, which is why it is the number one health spice used in the ayuvedic kitchen. It is commonly known for its anti-inflammatory properties, high antioxidant amount and phytonutrients. Historically it has been helping people with tooth aches, menstrual pains, bruises or colics.
Maca: Maca powder is made from them maca root, and it has its origins in South America. Maca is supposed to help with menstrual pains, menopause symptoms, memory loss and energy production. It is also said to increase fertility in women and promote sexual function in both men and women.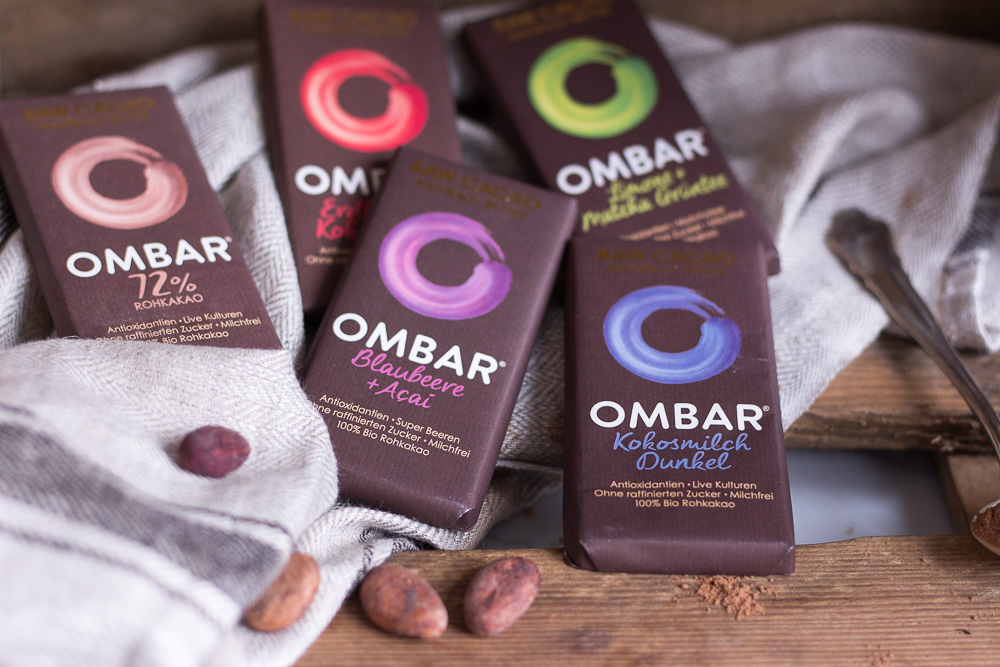 For this recipe, I teamed up with Ombar* chocolate which make my all-time favorite chocolate bars, and I am super excited to have created this recipe for them. I would not promote anything that I do not absolutely love, and Ombar is just one of these brands that I completely adore. I've tasted so so many plant based and refined sugar free chocolate bars, but none of them could compete with the ones from Ombar. Yes, they are quite pricey compared to traditional chocolate bars, but I think that less is more when it comes to quality chocolate, don't you think? The raw chocolate in this hot superfood chocolate recipe makes it extra creamy and chocolate-y, which is the best p.
If you can't find good quality chocolate bars, then simply leave it out, it will still taste delicious, just not as creamy. I hope that you'll enjoy a cup of this hot chocolate this weekend – I certainly am planning to do so every day until spring…. ok, just kidding, but hey, at least I'll be treating my body with something good and delicious.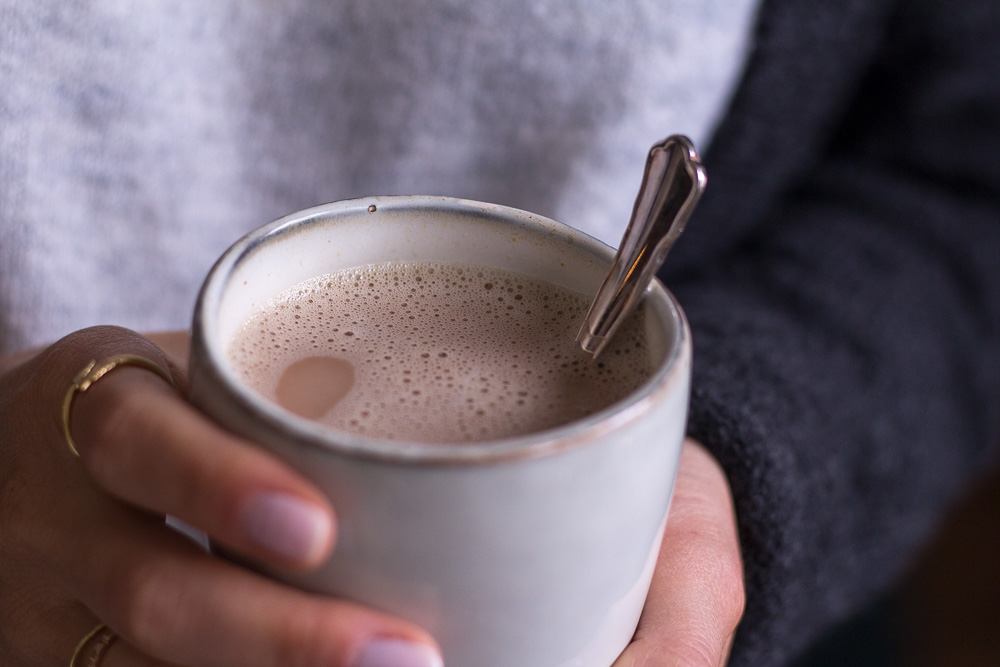 Hot Superfood Chocolate
Ingredients
1 cup (250ml) of unsweetened oat milk (use almond milk when gluten-free)
¼ cup (60ml) of water
1 tablespoon of raw cacao powder
1 square of raw chocolate
½ teaspoon of cinnamon
½ teaspoon of turmeric
1 teaspoon of maca powder
a pinch of black pepper
a pinch of salt
a bit of honey (or maple syrup if vegan) for sweetness
Instructions
Combine the oat milk and the water in a saucepan and gently heat on medium heat. Do not let it boil as this will decrease the amounts of nutrients in the chocolate.
Remove from the heat, add the raw chocolate and gently whisk until it dissolves. Add the spices and give it another stir. Sweeten with honey or maple syrup if desired, but oat milk is already rather sweet.
Froth the top of the milk for a few seconds with a milk frother. If you don't have one, just serve it as it is.
Notes
If you do not have raw chocolate, you can use regular dark chocolate with at least 70% of cacao. You can also leave it out completely as long as you have raw cacao powder.
VIDEO HOT SUPERFOOD CHOCOLATE:
Enjoy!
*I kindly received the pictured chocolate bars from Ombar for recipe testing purposes. All opinions are my own. Thank you for supporting the brands that make hour long recipe testings in the Heavenlynn Healthy kitchen possible. 
---
DID YOU MAKE THIS RECIPE OR HAVE ANY SUGGESTIONS, QUESTIONS OR COMMENTS?
Feel free to leave a comment below, and don't forget to tag your creations on social media using #heavenlynnhealthy.
I'd love for this blog to be a dialogue.
---