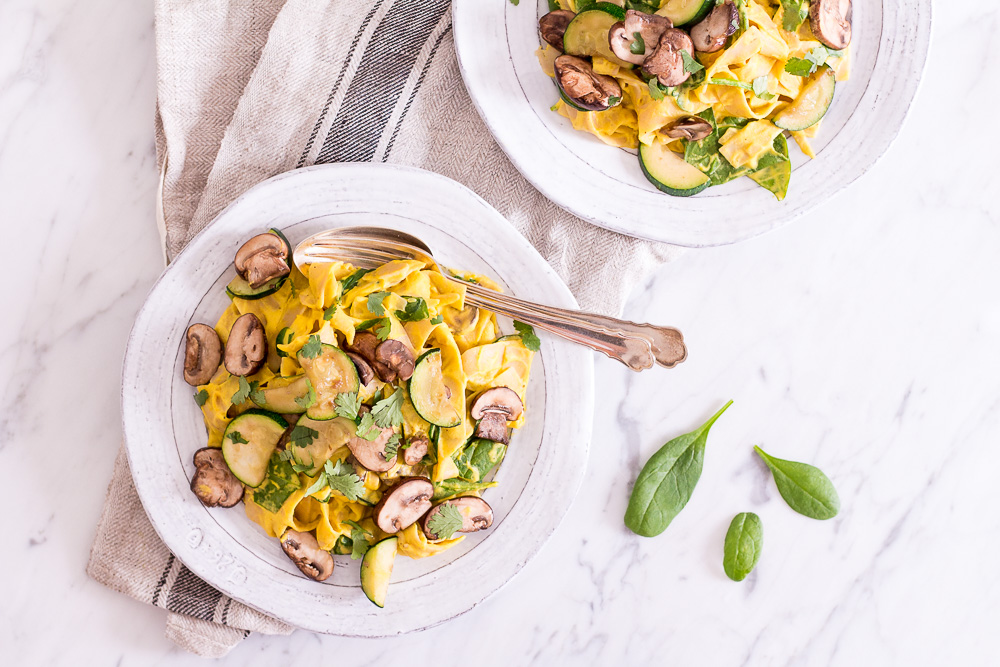 It's pumpkin season, in case you haven't noticed, so I'll start pumpkin season with this creamy pumpkin alfredo sauce with cashews and sage. This recipe is actually really special to me since it is the first recipe in my new healthy eating column on the German lifestyle blog OhhhMhhh. Unfortunately the column is written in German only, so I thought I'd just share it here in English with you guys. Well, basically, it's nothing other than what I usually write about my recipes, but with a fancy title and published on one of Germany's most well-known lifestyle blogs. Just a tad bit intimidating. But hey, a girl's gotta go conquer the world at some point, right?
So what makes this pumpkin alfredo so special. Well, for starters it's absolutely cream and dairy free, which is already a big win for all the lactose intolerant, vegans and health conscious out there. Instead of cream, I used soaked cashews, which not only add heart healthy fats to the sauce, but also give it an unbelievable creaminess that you wouldn't even get with regular cream. Not that I checked, but this sauce really is absolutely creamy. Of all nuts, cashews are actually the ones that are lowest in fats, but highest in the amount of unsaturated fats. Almost 80% of the fatty acids found in cashews are unsaturated, which is super cool, don't you think. So cashews make for the best cream substitute ever, no matter if you're plant based, vegan or simply want to eat a little healthier.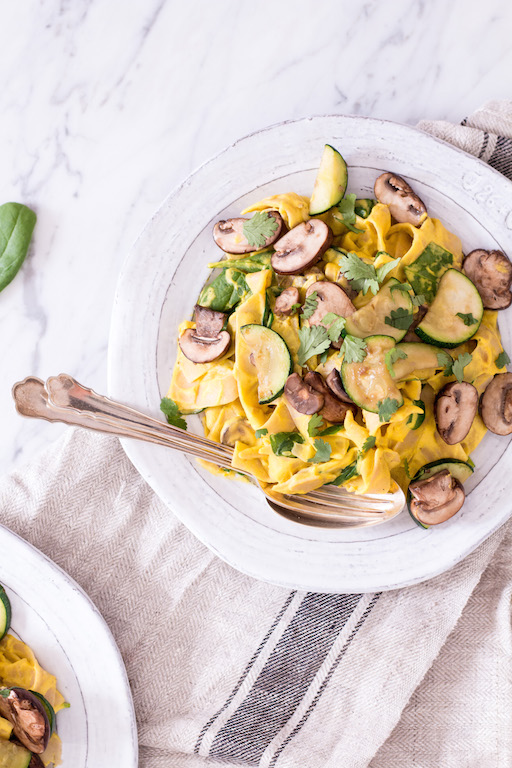 Besides cashews, the sauce contains sage, which is a completely underrated herb if you ask me. It actually grows pretty fast, so it might be a great herb to add to your herb growing collection at home. I really don't have a green thumb, but my sage really grows like weed. Sage has a nice fragrant aroma with a warm flavor, which is why it is perfect for a fall comfort food like this pumpkin alfredo sauce.
If you haven't already done so, now is the time to prep and freeze pumpkin puree. Literally, this is all I've been using lately and I can't have enough pumpkin puree in my freezer at the moment. I  use it for pumpkin spice latte, healthy pumpkin squares, in my morning porridge and obviously in this pumpkin alfredo sauce. Pumpkin is also super healthy as it is low in calories, but high in nutrients such as beta carotin. This antioxidant is transformed into vitamin A in our body, which is vital for a healthy vision.
What are your favorite ways to use pumpkin puree? What's your all time favorite pumpkin recipe? The recipe was first published exclusively for OhhhMhhh, if you're interested, here's the full (German) column.

Creamy Pumpkin Alfredo Sauce with Cashews and Sage
Ingredients
For the creamy pumpkin alfredo sauce:
100g of cashews, soaked for at least two hours
250g of pumpkin puree
1 garlic clove
5 sage leaves
1 teaspoon of turmeric
½ teaspoon of cumin
250ml of vegetable broth, preferably homemade
¼ teaspoon of black pepper
salt to taste
For the pasta:
1 teaspoon of olive oil
1 garlic clove
300g of mushrooms
1 zucchini
four handful of baby spinach
500g of whole-wheat or gluten free pasta
a pinch of salt
more sage or other herbs (coriander, basil...) to serve
Instructions
Soak the cashews in clean water for at least two hours, preferably longer. Drain them and put them in a strong blender together with all the other ingredients for the sauce. Blend until you have a fine puree.
Cook the pasta according to instructions on the package. Add a bit of salt to the water if you like.
In the meantime, finely chop the garlic or press it through a garlic press. Wash and cut the mushrooms and zucchini as desired. Thoroughly wash the baby spinach.
Heat the olive oil in a large pan and fry the garlic for a minute or so until fragrant. Now add the vegetables and sauté them for about 5 minutes on medium heat. Add the pumpkin alfredo sauce and heat everything until warm and ready to eat. Add the baby spinach and stir until wilted. Finally, add the drained pasta and re-heat for another two minutes or until warm enough to eat.
Serve with herbs such as more sage, coriander or basil.
Notes
If you do not want to use cashews, use 120ml of full-fat coconut mil. You can also substitute the pasta for zucchini noodles for a low-carb option.
Enjoy!
---
DID YOU MAKE THIS RECIPE OR HAVE ANY SUGGESTIONS, QUESTIONS OR COMMENTS?
Feel free to leave a comment below, and don't forget to tag your creations on social media using #heavenlynnhealthy.
I'd love for this blog to be a dialogue.
---