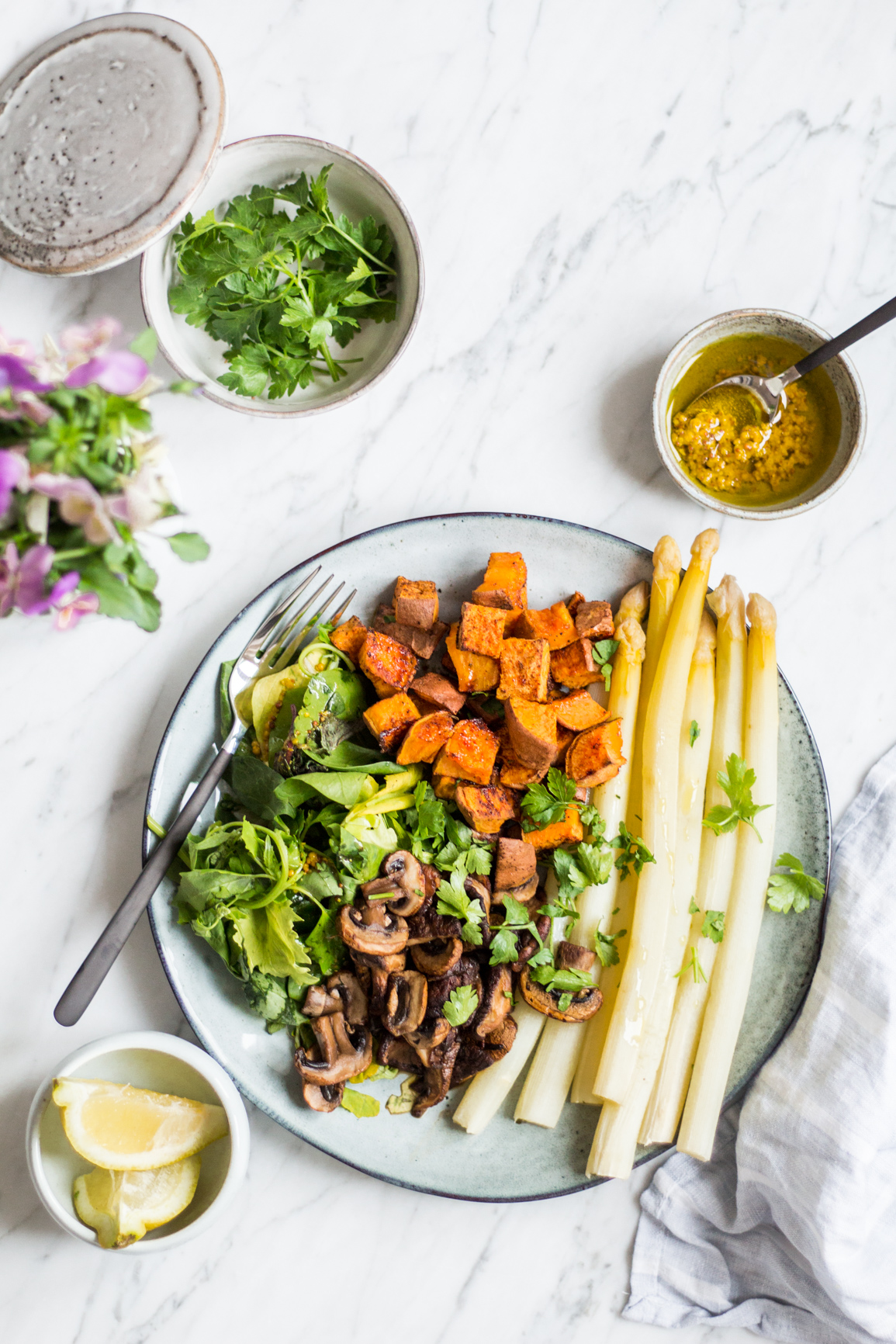 'Tis is the season. The season of strawberries, asparagus and rhubarb aka my favorite time of the year on the farmers market. It comes so naturally to me to only buy certain fruits and vegetables seasonally that I would not even think to buy strawberries in the winter. Also, nothing compares to sun-grown, local strawberries, fresh white and green asparagus and juicy rhubarb. For example, buying strawberries in the winter can mean a lack of taste, nutrients and color due long journeys from overseas or other countries. I therefore celebrate the seasons to the fullest to make sure that I need a break from them until the next year.
When I lived in the U.S. I was surprised that white asparagus was not really a thing over there. You could get some in fancy grocery stores, but green asparagus was the main type of asparagus at least in the placed where I have lived (North Carolina, New York, Texas). Now I have not lived in the U.K., but I remember seeing white asparagus in London last time I visited. So if you read this, please let me know where you are from and if white asparagus is common where you live. Just me being curious. So if you can't find white asparagus, you can of course use the green one instead.
For me, asparagus season is almost like a Holiday. We really celebrate this time with annual family get-togethers where we serve many pounds of asparagus with potatoes, hollandaise and – traditionally some sort of salty meat. I prefer eating asparagus in a bit more modern way with sweet potatoes, tamari-roasted mushrooms, wild herb salad and a delicious salad dressing. We have been eating this recipe literally every single Saturday and Sunday since asparagus season started and I still have not gotten enough of it.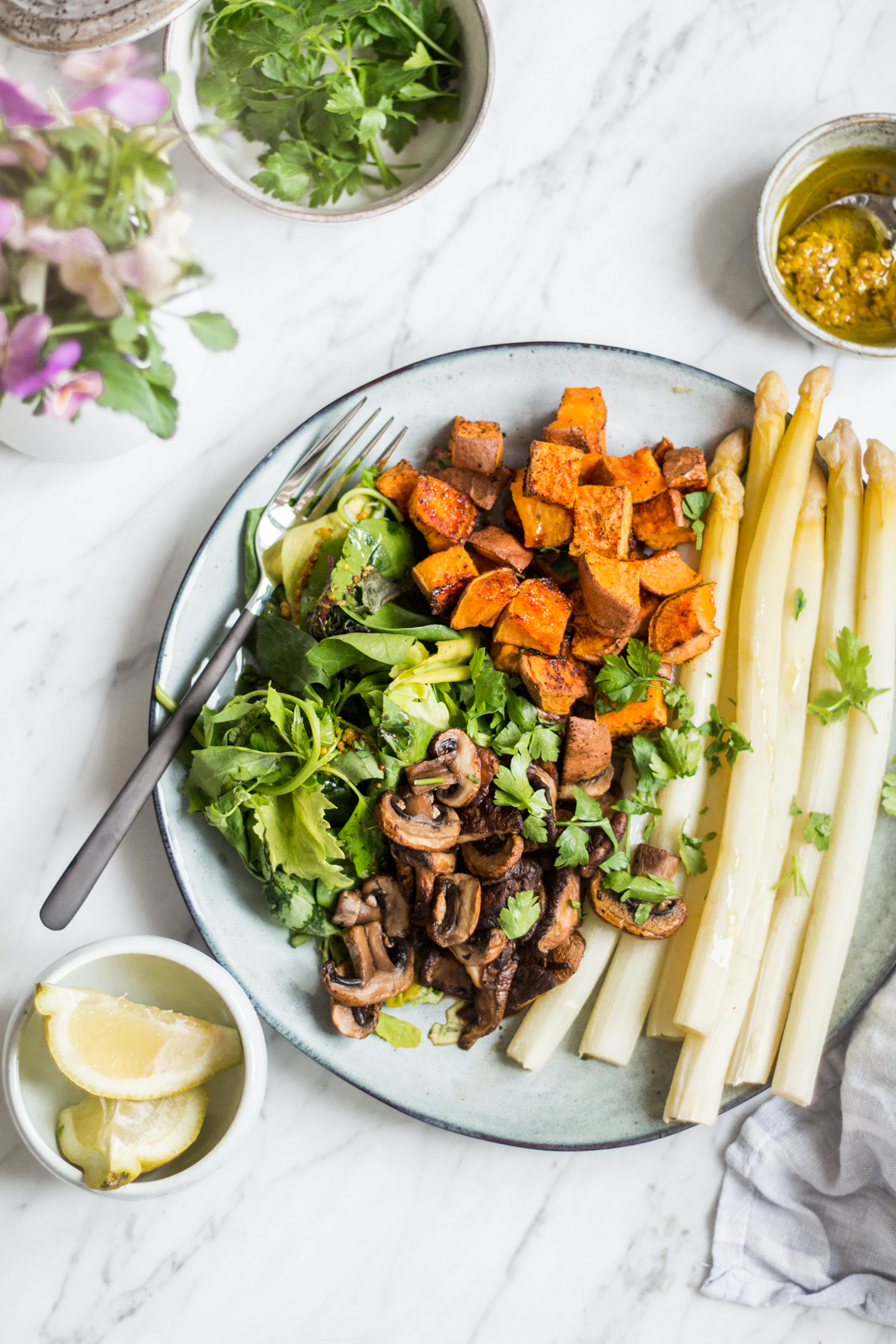 So while I have you here, I thought I'd share a quick anecdote from our home to yours. We are terrible with getting things done around the apartment. Our hallway still lacks proper lighting, there are posters and picture frames that we were went to hang on the walls and we even have cupboards in our storage that have still not been installed. So imagine how proud we were this week when we actually managed to get this String pocket cupboard on my kitchen wall. OMG – I had been wanting one of these for years and when I finally got it I could not – for the live of me – decide where exactly I wanted it to go. Embarrassing, I know, so if you can at all relate to this, please let me know.
So now that the cupboard is hanging in my kitchen, it feels like it has been here forever. Sometimes, you just need a little push to get things done. What do you think?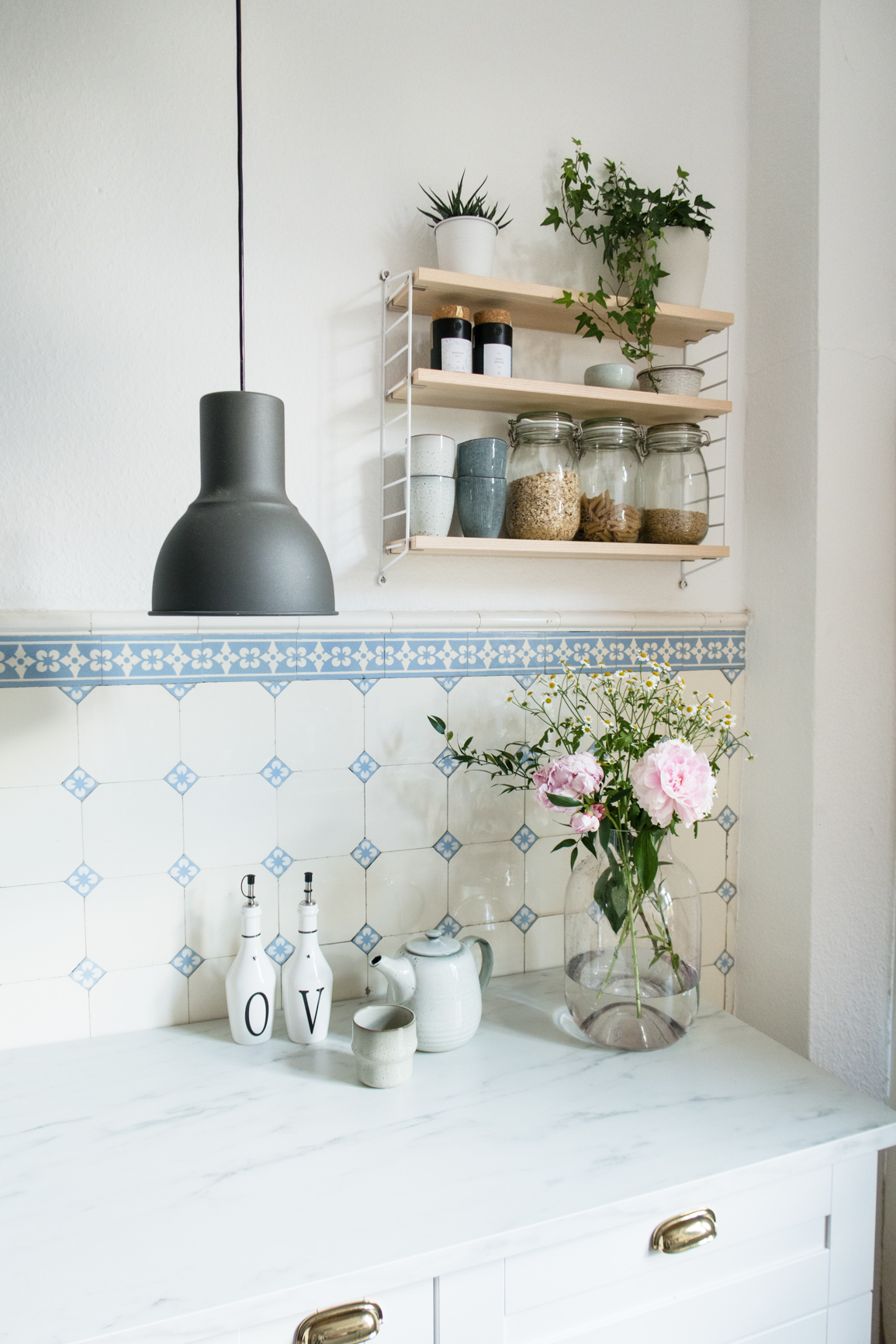 So let's examine this heavely Spring Bowl:
Heavenly for body and soul, because …
… asparagus really is a treasure for our health. It contains a good amount of folic acid, which is not only important for the happiness hormone dopamine, but it is also very important for unborn children. A folic acid deficiency can lead to spina bifida, an open spine, which is why pregnant women are often recommended to eat lots of folic acid containing foods or take supplements.
– Even though asparagus is not red, it contains a good amount of beta-carotene, which is most commonly found in orange or red produce. 100 g of asparagus already contain 30% of the daily-recommended intake of beta-carotene. Given that it's easy to eat 300-500 g of asparagus at once, asparagus really is a great source of beta-carotene. Combined with the sweet potato, this dish really is great for your eyesight and immune system.
– Another nutrient in asparagus is vitamin E, the beauty vitamin. It is a strong antioxidant and can slow down the aging process and increase fertility.
– Asparagus is also rich in vitamin C and K. Vitamin K is needed for blood clotting and strong bones. Vitamin C is another strong antioxidant that protects the immune system and increases iron absorption.
Print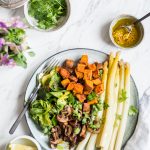 Seasonal asparagus spring bowl
---
Author:

Total Time:

40 minutes

Yield:

2
For the bowl:
– 500 g of peeled asparagus
– 2 handful of mixed salad, I use wild herb salad
– 200 g of mushrooms
– 1 sweet potato
– 2 red onions
– 1 tablespoon of olive oil
– 1 teaspoon of paprika
– ¼ teaspoon chili flakes (optional)
– ½ teaspoon of coconut blossom sugar
– 1 tablespoon of tamari (gluten-free soy sauce)
– stone salt and pepper
For the dressing:
– 3 tablespoons of olive oil
– 2 tablespoons of apple cider vinegar
– 1 teaspoon of course mustard, use Dijon regular one if not available
– 1 teaspoon of honey or apple sauce, or sweetener of choice
– a squeeze of fresh lemon juice
– stone salt and pepper
Optional:
– lemon mint pesto
---
Instructions
Preheat the oven to 160 ° C (180 ° C top and bottom heat).

Cut the mushrooms into strips and wash and dice the sweet potato. Peel and quarter the onions. Clean the salad and spin it dry or dab.

Put the sweet potatoes and onions on a baking tray with baking paper and mix well with the olive oil, paprika, chilli flakes, salt and pepper until the potatoes are completely covered. Roast the potatoes for about 30 minutes.

For the asparagus, boil about 2 liters of water, add a generous amount og salt and 1 pinch (about ½ teaspoon) of coconut sugar add. Boil the asparagus for about 8 minutes. Alternatively steam the asparagus for about 20-25 minutes.

Put the mushrooms in a pan without fat and heat until the mushrooms release some of their water. Deglaze with Tamari, sauté briefly and set aside.

For the dressing mix all ingredients in a bowl. Arrange the potatoes, mushrooms and asparagus on the plates and serve with the dressing or the lemon-mint pesto.
Notes
– You can make this recipe using green asparagus, too.
– Use maple syrup or apple sauce to make it vegan.
– You can use any types of green salad leaves.
– Toppings can also include fresh herbs such as parsley, coriander or mint.
Prep Time:

10

Cook Time:

30