Berry Chia Pudding for all the breakfast lovers (recipe from the Alpro* H.AP.P.Y. Challenge)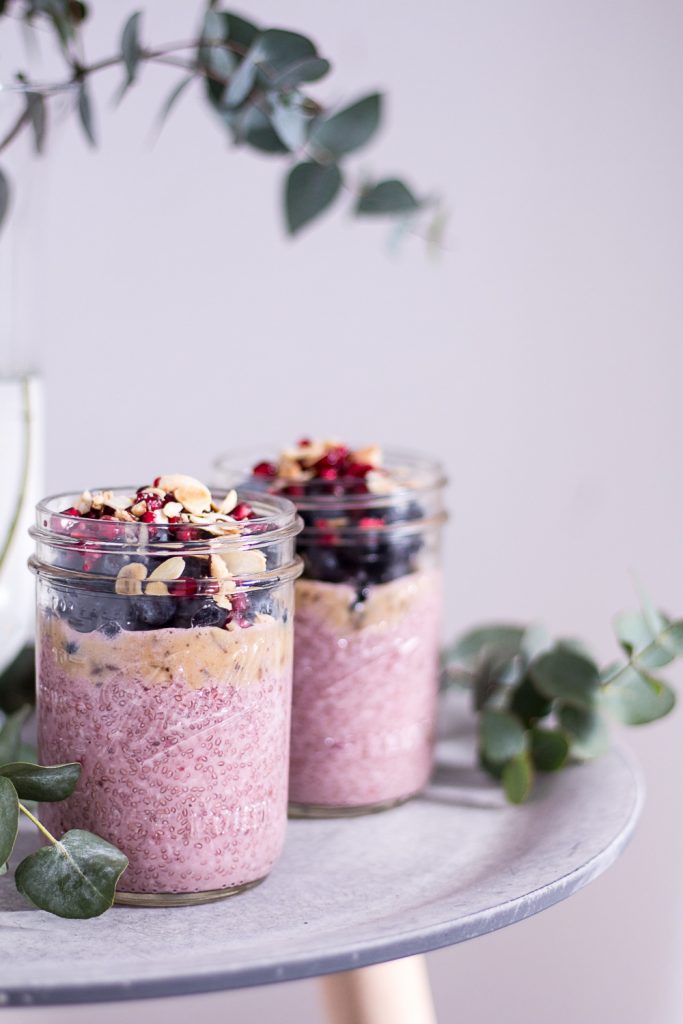 I am currently doing the Alpro* H.A.P.P.Y. challenge, which is a 14-day program designed for a happy and positive start of the new year. After a week of movement and delicious recipes, I am feeling energized, positive and ready for a day of shopping and girls stuff with my bestie today. In my last post "4 tips how to become a morning workout person" I talked about the importance of movement for a healthy lifestyle. It is one of the three pillars of my overall holistic healthy lifestyle: movement, nutrition and positive thinking. Today, however, it's all about the best meal of the day: breakfast!
I am the biggest breakfast person, y'all. You could wake me up in the middle of the night and I'd be ready to enjoy a delicious and decadent breakfast buffet. That's why I totally loved the Alpro H.A.P.P.Y. booklet for the young and active, it contains so many breakfast recipes that I am totally overwhelmed by all the choices.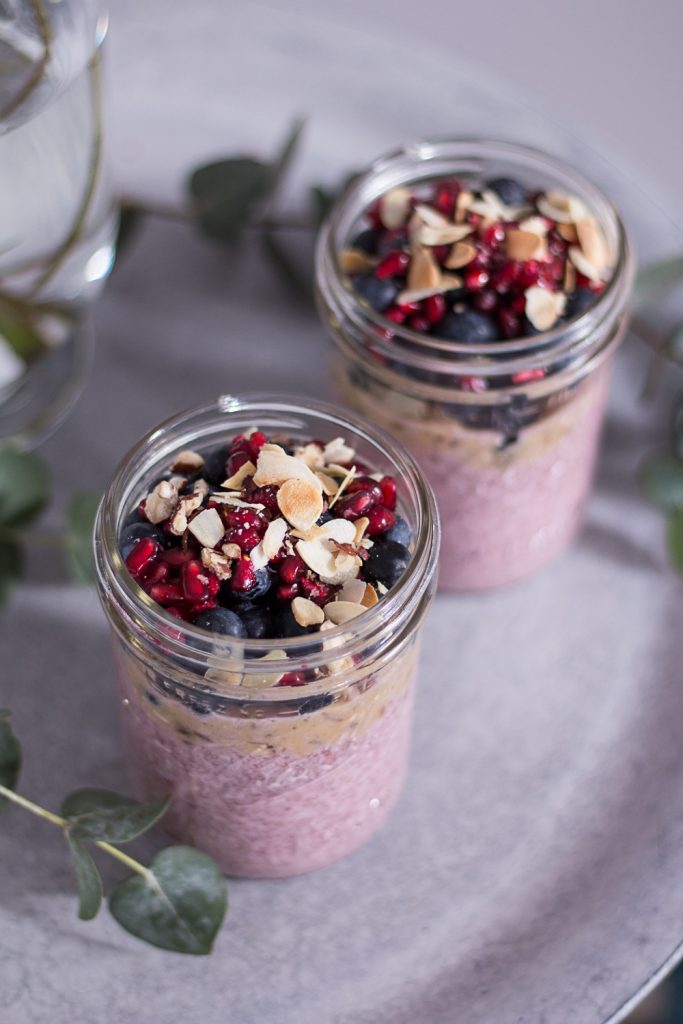 Basically I could have breakfast for lunch and dinner as well, but the thing is that I hardly ever eat vegetables for breakfast, so lunch and dinner are a must for me. This berry chia pudding immediately caught my attention when I was browsing through the booklet. Not only is it beautifully photographed by Katharina Küllmer, it is also amazingly delicious and totally healthy!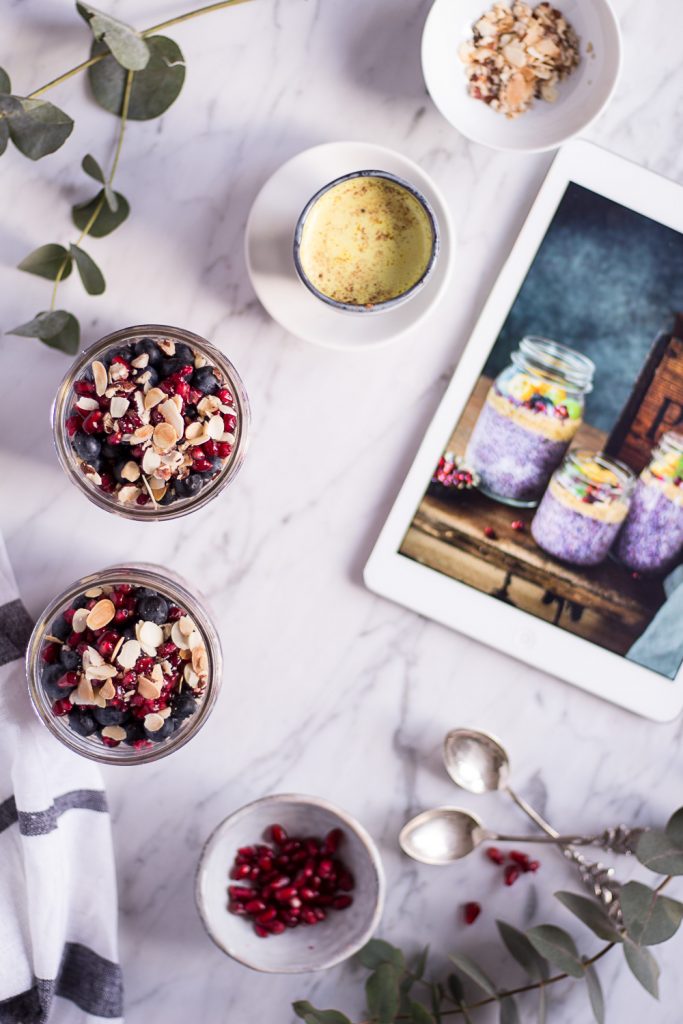 The bottom layer is a delicious blend of chia seeds, coconut and almond drink, and frozen blackberries, and the middle layer a heavenly date-peanut butter caramel creme.
Yup. Dates and peanut butter. Need I say more?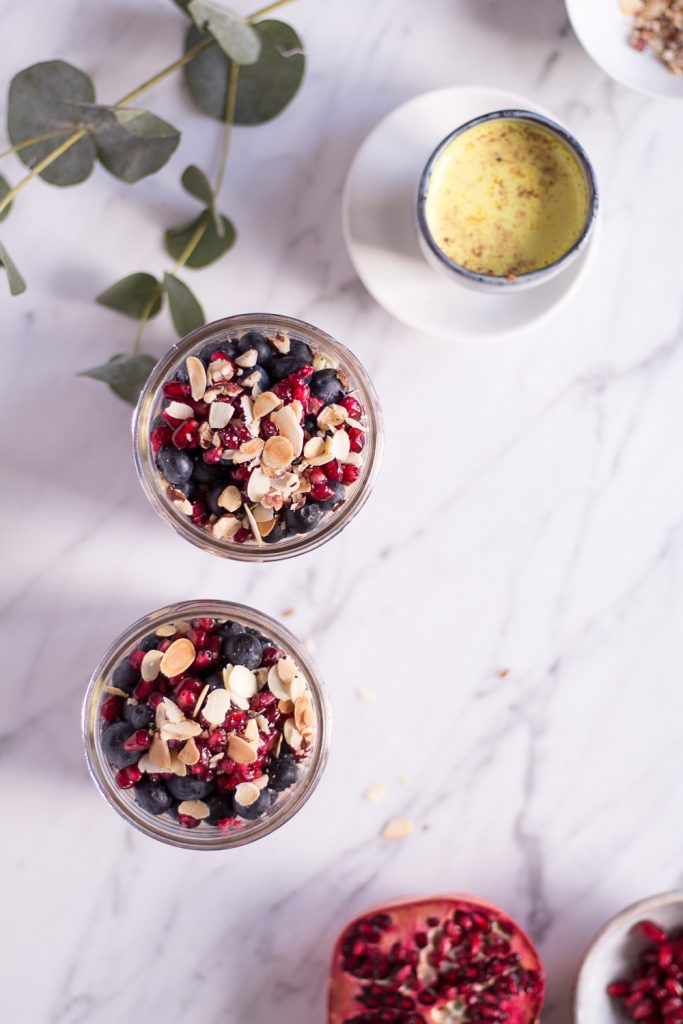 You can top the chia pudding with any fruits and nuts you have in stock, and then there is nothing more to do than enjoy this little beauty for breakfast. You can also easily take it to work with you, and I bet that your co-workers will be over the moon jealous when you eat this beautiful berry chia pudding in front of them. Another plus of chia pudding is that it keeps you satisfied for hours. So you will not only have the most beautiful breakfast in the office, you will also be the most productive that day.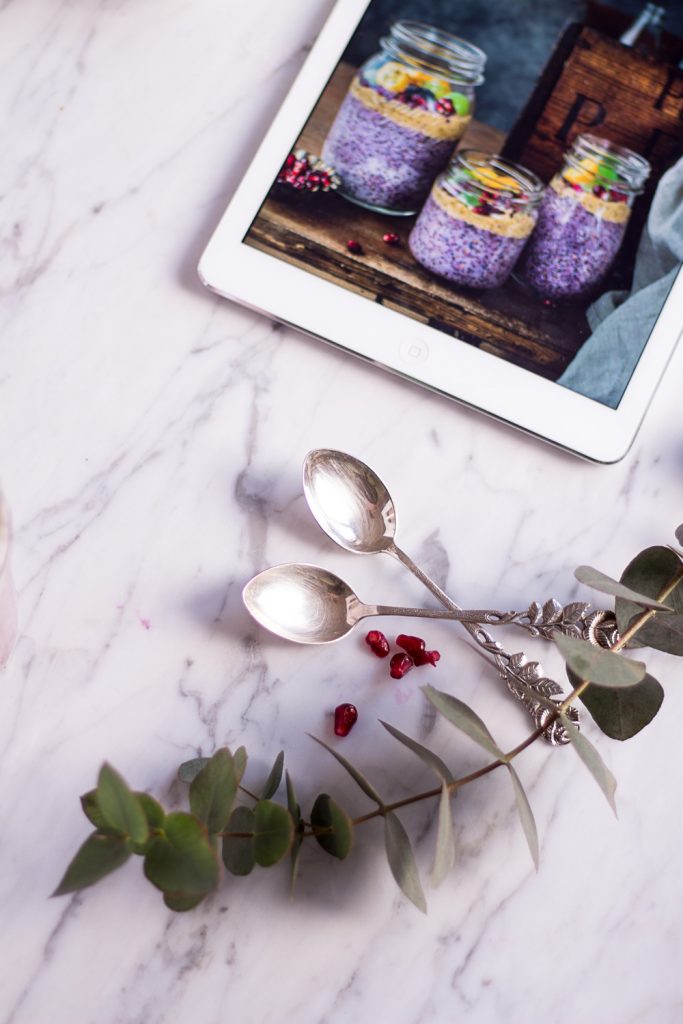 For those of you who are still not convinced that this chia pudding is the real deal, please have a look at this video and then we can talk.
Berry Chia Pudding
Author:
Katharina Küllmer for the Alpro H.A.P.P.Y Challenge
Ingredients
100g of blackberries, frozen
150ml of Alpro coconut drink original fresh
300ml of Alpro almond drink unsweetened
1 vanilla pod
1 tablespoon of honey or maple syrup (the recipe calls for 3, but I think 1 is sweet enough)
5 tablespoons of coconut flakes
8 tablespoons of chia seeds
For the date-caramel-creme:
100g of dates
1½ tablespoons of peanut butter
90ml of Alpro almond drink unsweetened
Instructions
Mix the blackberries with the Alpro coconut drink and almond drink in a blender. Add the insides of the vanilla pod, honey or maple syrup, coconut flakes, chia seeds and stir well. Transfer to glasses and set aside for at least 30 minutes in the fridge, preferably over night.
For the date-caramel-creme, simply combine the dates (stones removed!) and blend with the peanut butter and coconut drink. Add a layer of the date-caramel-creme to the two glasses and top with your favorite fruits and nuts. The chia pudding can easily be taken to work.
Enjoy!
*This post is sponsored by Alpro and sisterMag for their H.A.P.P.Y. Challenge that I am part of this year. Thank you for supporting the brands that make hour-long recipe testings in the Heavenlynn Healthy kitchen possible!