Green Kale Vegetable Soup for all those healthy January people out there!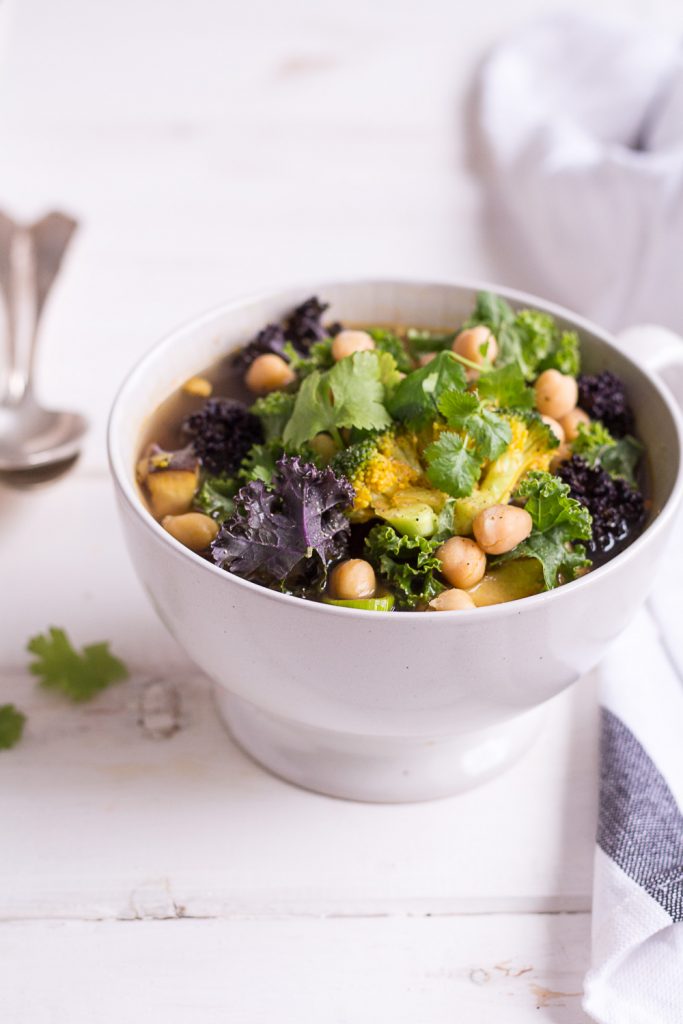 Hi there January New Year's resolution people. It's mid-January and I feel really good for some reason. Normally, January has got me like….uhhhh….but this year, I feel strong, confident and definitely confident. This might be partially due to all the healthy food that I consumed since Christmas, and partially due to the lovely people that I am sourrounded by. It's the first year of having my best friend living really close to me, like 30 minutes close, which is a new record-breaking closeness for us. And I am focusing more on date nights with my boyfriend, which is another great feature of this January.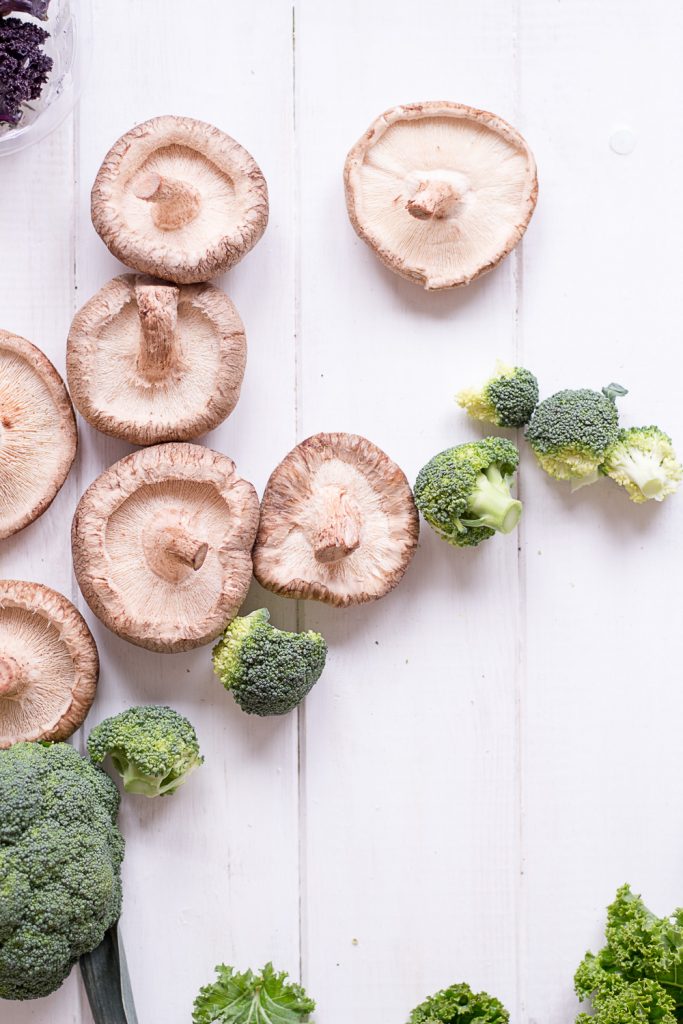 I have been doing lots of yoga, too, attended a couple of sweat-wrenching HIIT classes and I've been fairly productive for my Master's studies.
Do you hate me already?
Please don't! I am really just trying to encourage you that you can work on more positive goals in your life as well. Maybe you are balancing a full-time job, kids and a husband all at the same time? Maybe you are a single-dad trying to raise a teenage girl all by yourself? Maybe you have just started or finished university, and you feel completely lost right now?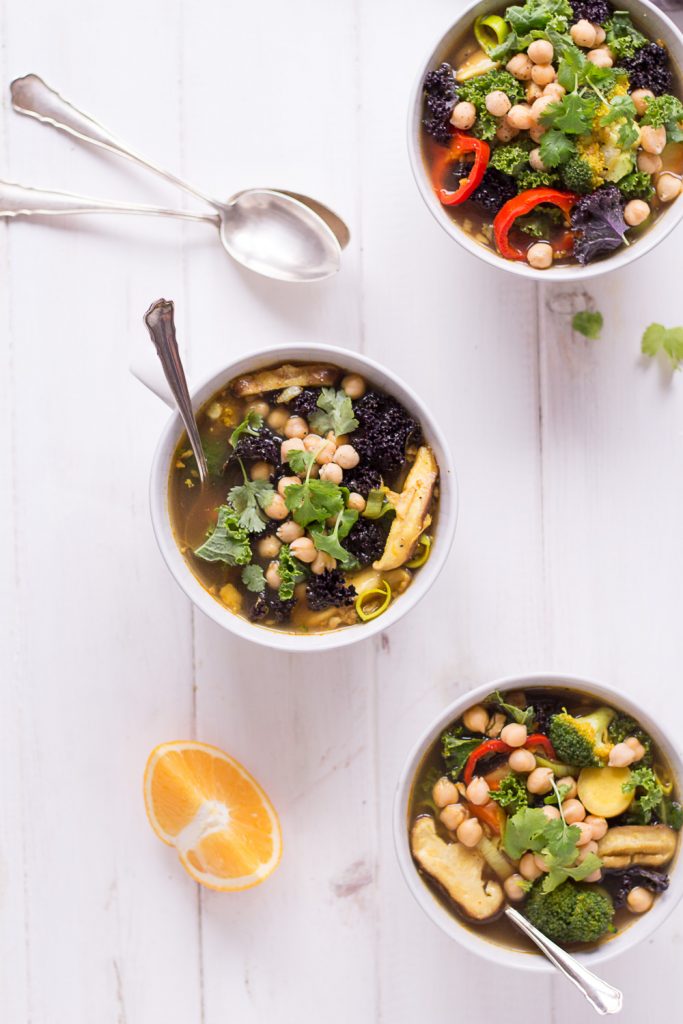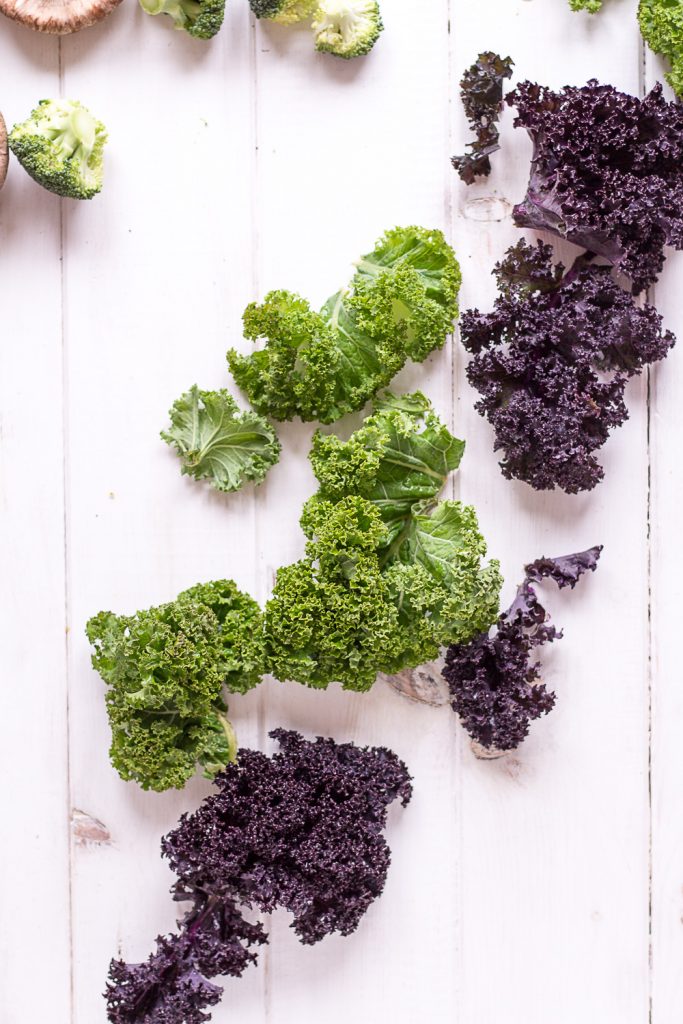 Whatever place you are in right now, it is definitely possible to move closer to your goals this year, even if it is just a tiny little bit. We all have baggage to carry, but it is so important to look after ourselves, and to pay attention to what we want and what we need.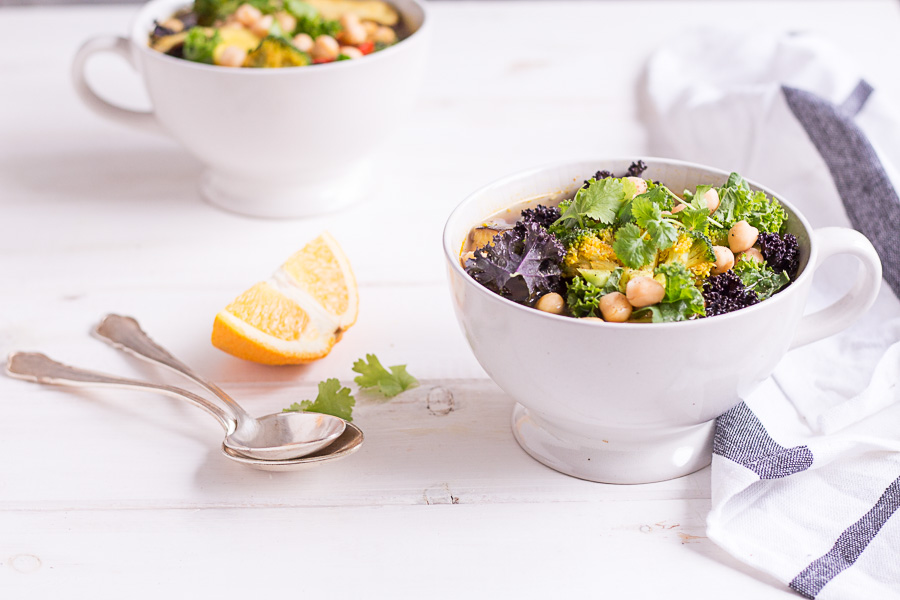 This soup is a gift to treat your body well, to take some time off, and to get back on track this year. There are so many awesome veggies that your body needs right now to fight the cold and the wet weather, and to nourish itself from the inside.
Be kind to yourself and do take some time to relax from time to time!
This recipe was created for my monthly column on "Ohhh….Mhhh". If you like German, you can check out my column on Steffi's blog.

Green Kale Vegetable Soup
Ingredients
1 teaspoon of coconut oil
1 large garlic clove
1 red onion
1 large leek
1 thumb-sized piece of fresh ginger (about 20g)
1 bay leaf
1 teaspoons of cumin
1 teaspoon of turmeric
½ teaspoon of coriander
½ teaspoon of paprika
a pinch of cinnamon
a pinch of cayenne pepper
1 red bell pepper
½ broccoli
150g of shiitake mushrooms (or other mushrooms)
2 carrots
1.5 liters of water or vegetable broth
3 tablespoons of homemade vegetable stock paste (if using water)
1 cup of chickpeas
2 handfuls of kale or spinach
the juice of 1 orange
sea salt and pepper to taste
fresh coriander (cilantro) and/or parsley to decorate
Instructions
Wash the vegetables and cut them into bite-sized pieces. Wash and slice the leek. Peel and dice the garlic and onion. Wash and tear the kale into small bite-sized portions.
Heat the coconut oil in a large pot. Sauté the onion, garlic and leek for about two minutes until translucent. Add the spices, bay leaf and vegetables and sauté for another two to three minutes until fragrant.
Add the water and vegetable stock paste (or vegetable broth) and let simmer on medium heat for about 20 minutes until the veggies are tender.
Then add the torn kale and chickpeas and cook for another 5 minutes. Stir-in the fresh orange juice, and season with sea salt and black pepper.
Decorate with some chopped, fresh herbs and enjoy!
Enjoy!
---
DID YOU MAKE THIS RECIPE OR HAVE ANY SUGGESTIONS, QUESTIONS OR COMMENTS?
Feel free to leave a comment below, and don't forget to tag your creations on social media using #heavenlynnhealthy.
I'd love for this blog to be a dialogue.
---