It's Overnight Oats-time, everyone!
Now, please don't think "Boooooring" or "Lynn, we know how to make overnight oats".
Well, I'm sure you do, but I'm on a mission to promote healthy eating and well-being and I have a feeling that there are still many people out there who appreciate a simple basic overnight oats recipe. For me, making the perfect overnight oats is a science and they can be a hit or miss, all depending on the right ratios of ingredients.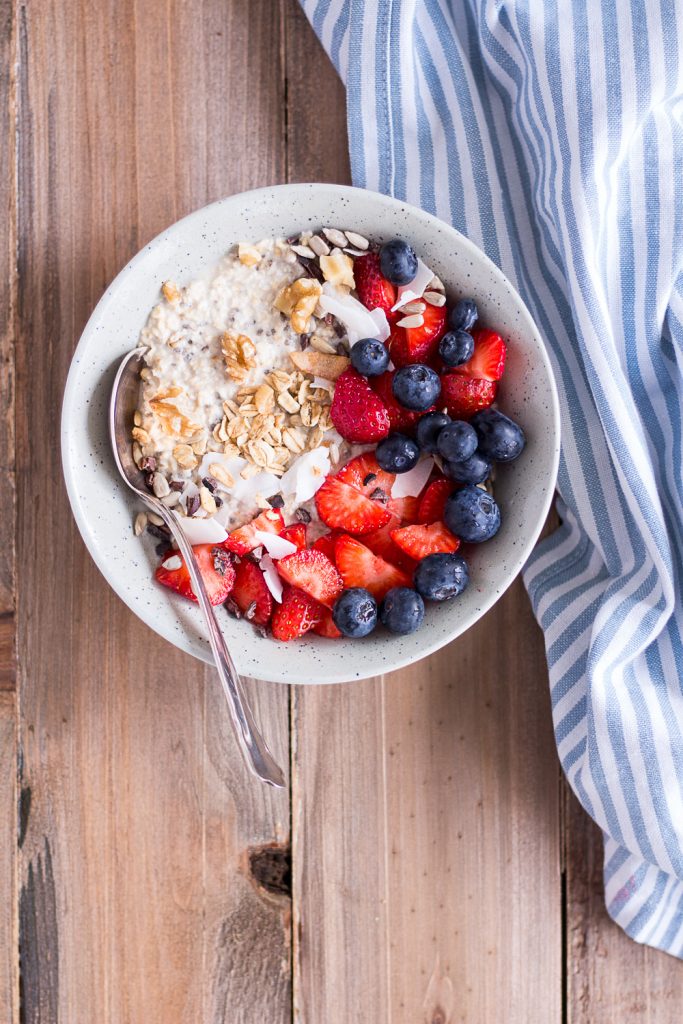 When it comes to overnight oats, people seem to have lots of opinions. "They are too dry. They are too soggy. They taste weird." – are all phrases I've heard people say about my favorite breakfast. But overnight oats are nothing other than soaked cereal. In fact, my boyfriend's father used to soak his muesli in milk before serving it to him. So technically my boyfriend ate overnight oats all through his childhood, while I had not even heard about overnight oats six years ago.
Why are Overnight Oats healthy?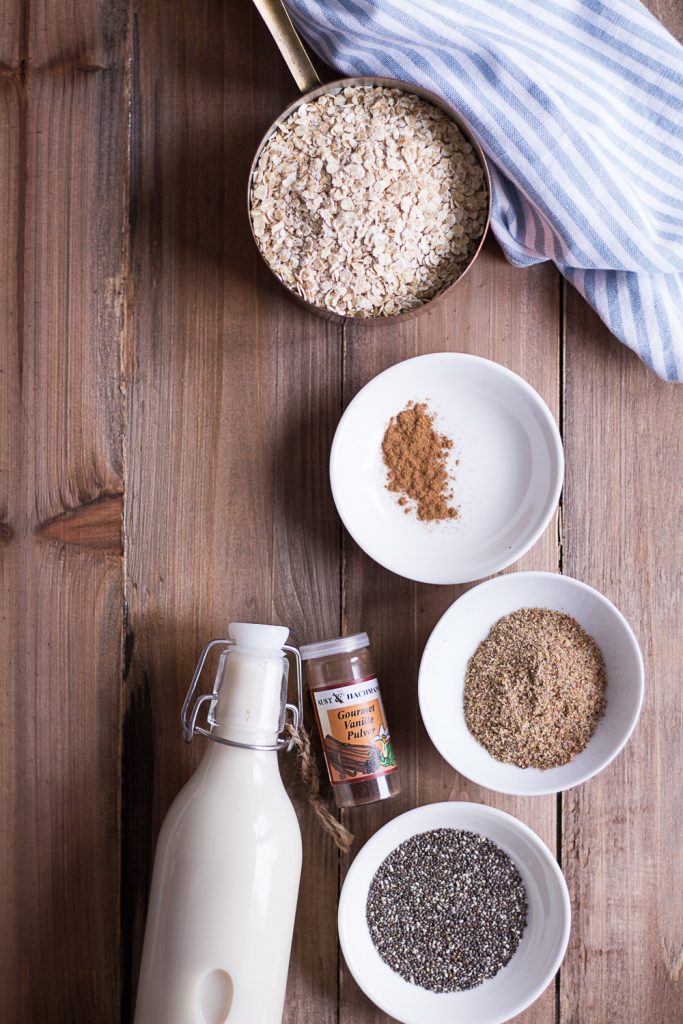 Oats contain many essential nutrients such as biotin, magnesium, iron, silicium and even B-Vitamins. Biotin is vital for healthy skin and hair, Vitamin B1 is responsible for a healthy nervous system and Vitamin B6 is required for healthy blood. It is also needed during the production of seratonin, a happiness hormone, so oats can literally make you happy.
By soaking oats overnight, they are much better digestible. The reason why you should soak them for a few hours before eating them, lies in the phytic acid. Phytic acid is contained in the outer layers of grains, beans, nuts and legumes and protects the food from sprouting in the pantry. Once sprouts are in the ideal environment, phytic acid helps them sprout because it is a source of energy for them. For humans, however, phytic acid inhibits the ideal absorption of many nutrients such as zinc, magnesium, iron and calcium. Soaking the grains such as oats, breaks down the phytic acid. Adding small amounts of acid liquid such as vinegar or lemon juice is said to activate phytase, an enzyme that breaks down phytic acid.
It's all about the perfect ratio
I mix my overnight oats with a ratio of 1:1,5. For every cup of oats, I use 1.5 cups of oat milk to soak them. In grams and mililiters that equals 100 grams of oats and 375ml of oat milk. Sometimes it happens that I add just a little bit more milk until the oats are completely covered, but there is a small step between just right and too soggy, so be careful not to add to much milk. Then I add two tablespoons of chia or freshly ground flax seeds.
If you have a gluten intolerance, then make sure to use certified gluten-free oats as well as certified gluten-free oat milk. Unfortunately that one can be hard to find, so almond milk would work as well, or you can make your own gluten-free oat milk with this recipe.
Toppings-Party:
The next morning, you'll have yourself a delicious pot of overnight oats, and this is where the fun begins. Now you can add all the ingredients that you love and that will nourish your body. As breakfast is, for many people at least, the healthiest meal of the day, it's extremely important that we treat our body with extra goodness in the morning. Here's a list of my favorite toppings, but feel free to chose your own.
fresh berries
banana
nuts & seeds
hemp seeds
bee pollen
homemade granola
almond butter
peanut butter
cashew butter
cacao nibs
mulberries & goji berries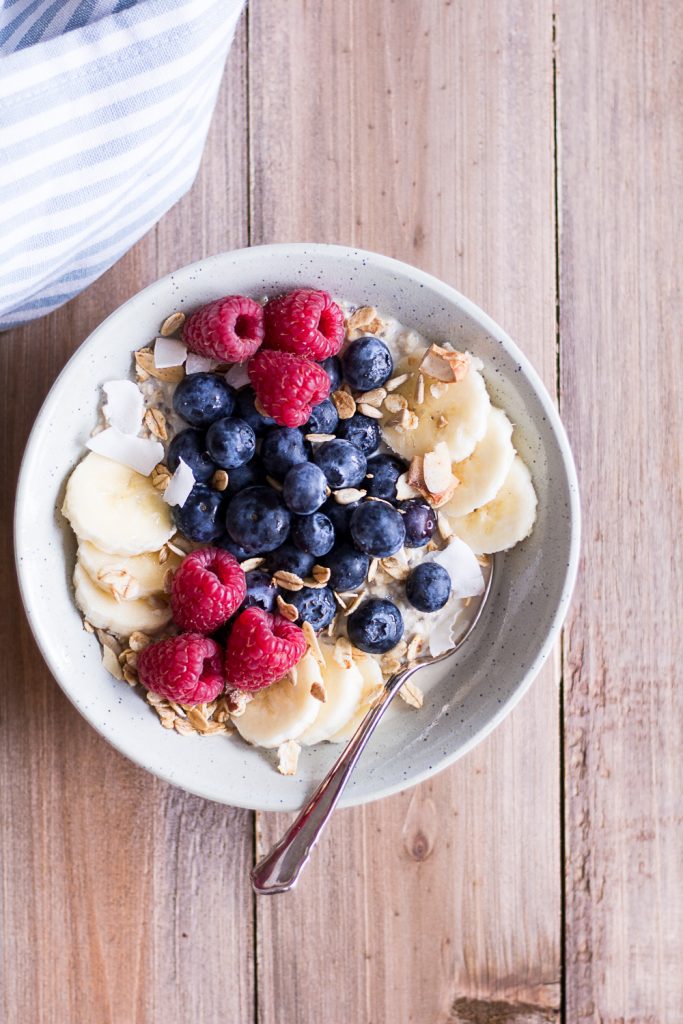 I hope this little guide was helpful and you'll know enjoy your overnight oats much more than you have before. Let me know what your favorite healthy breakfast choices are, in the comments below.
Print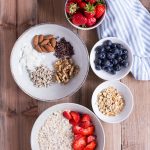 Overnight Oats – my favorite basic recipe
---
Author:

Total Time:

5 minutes

Yield:

2

1

x
1 cup

(

100g

) of rolled oats, use certified gluten-free if needed

1.5 cups

(375ml) of oat milk, use certified gluten-free or almond milk if needed
a squeeze of lemon juice

2 tablespoons

of chia seeds or freshly ground flax seeds

1/2 teaspoon

of cinnamon
a pinch of vanilla powder
---
Instructions
Simply mix all the ingredients in a bowl or glass container and let soak overnight in the fridge or at least for 30 minutes.
Enjoy in the morning with your favorite toppings.
Enjoy!
---
DID YOU MAKE THIS RECIPE OR HAVE ANY SUGGESTIONS, QUESTIONS OR COMMENTS?
Feel free to leave a comment below, and don't forget to tag your creations on social media using #heavenlynnhealthy.
I'd love for this blog to be a dialogue.
---
Merken
Merken
Merken
Merken
Merken
Merken