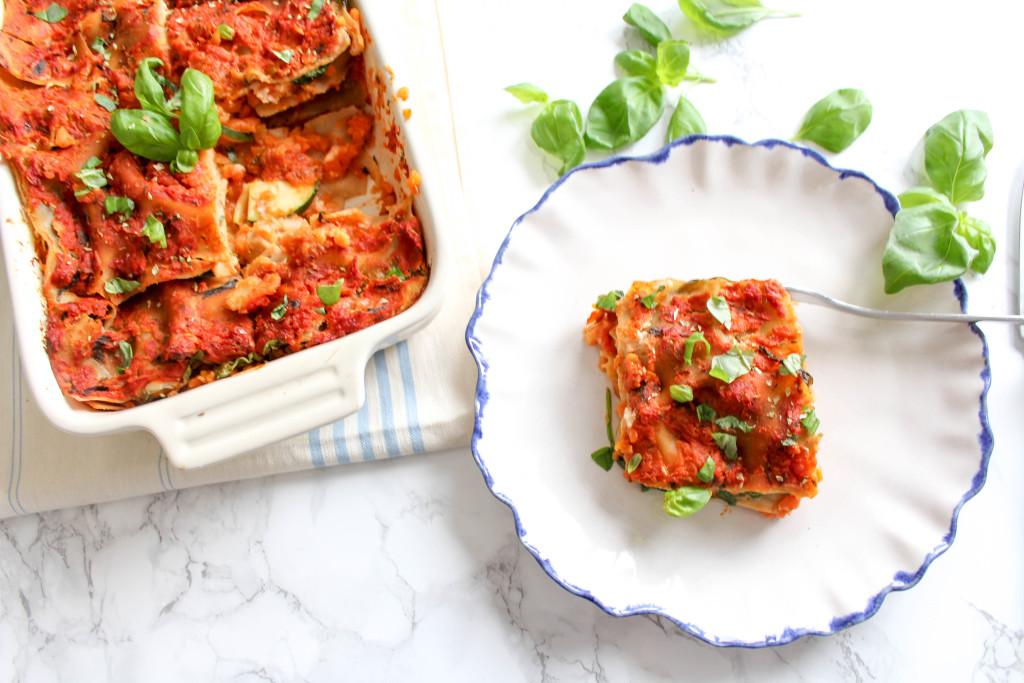 Lasagna is one of my secret favorites. However, it can be quite heavy, especially when you make it with a cream-based bechamel sauce. That's why I've tried this healthy version a few days ago, and luckily it turned out amazing. It's filled with fresh veggies (whereas the freshest thing in most lasagnas is probably the onion), fresh herbs and it is topped with a creamy cauliflower bechamel that is so delicious and nourishing that you won't even taste that it is healthy.
I've used cauliflower as a base for a healthy carbonara (alfredo) sauce before, so I have been wanting to try it as a substitite for bechamel for ages.The result was more than satisfying. It tastes pretty much like a vegetable lasagna, but much fresher and better than most bechamel–based lasagnas. There's so much goodness in this lasagna, such as vitamin A-rich carrots, vitamin K-rich cauliflower or manganese-rich zucchini squash. I promise that you won't even miss the cheese (although, sprinkling some feta cheese on top, won't hurt – nobody's perfect, right). Just try it next time you feel like comfort food, but don' t want to feel crappy afterwards. This lasagna is the best way to get some nutrients into your system, without compromising on taste.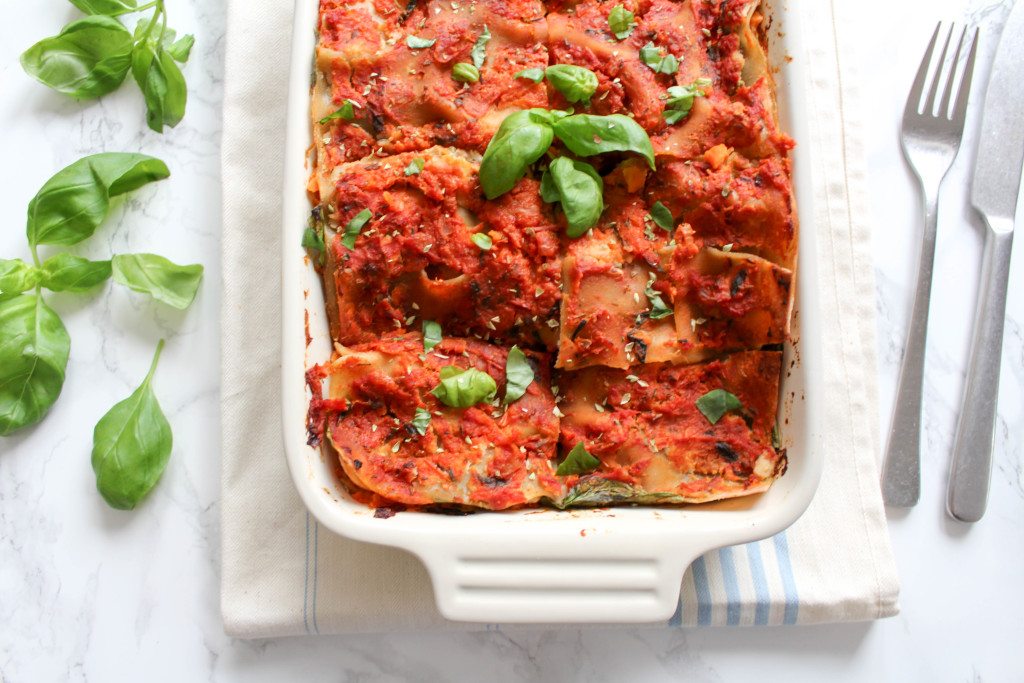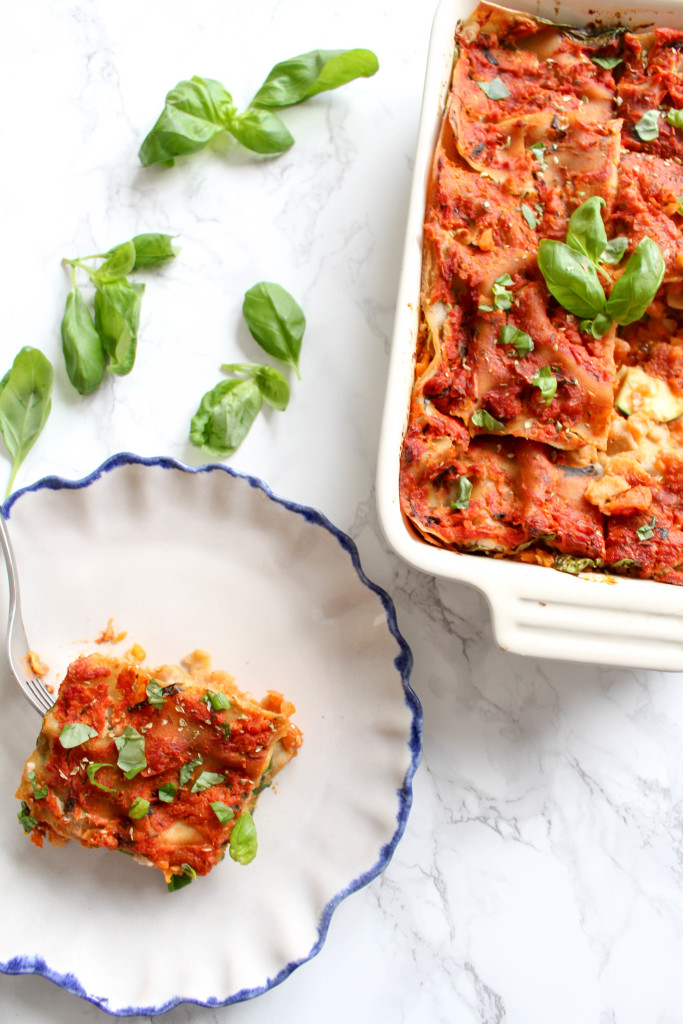 Healthy Cauliflower Lasagna
Ingredients
For the tomato sauce:
2 onions
1 garlic clove
½ red chili
2 sticks of fresh rosemary
2 (30ml) tablespoons of extra-virgin olive oil
3 cans of tomatoes
1 tablespoon of homemade veggie bouillon
1 large handful of fresh basil
5 sticks of fresh oregano or 2 tablespoons of dried
salt & pepper to taste
For the cauliflower bechamel sauce
200g cauliflower (4 - 5 florets)
1 - 2 cloves garlic
½ onion
¼ cup of buckwheat or spelt flour
1 tablespoons of fresh lemon juice
2 tablespoons of extra-virgin olive oil
¼ cup nutritional yeast
½ cup (120ml) unsweetened almond milk
1 pinch of nutmeg
salt and pepper to taste
For the vegetable filling:
2 – 3 carrots
3 large handful of spinach
2 zucchini squash
1 Prise Salz
To assemble:
about 10 – 12 lasagna noodles (spelt or gluten-free)
¼ cup of pine nuts (optional)
Instructions
Wash the cauliflower, carrots, zucchini squash and spinach.
Steam the cauliflower, carrots and zucchini for about 10 – 15 minutes until they are nicely soft. If you don't have a steamer, then you can also boil them for the same amount of time.
While the veggies steam or cook, prepare the two sauces.
For the tomato sauce, finely chop the onion and mince the garlic. Remove the seeds from the chili and cut it into thin slices.
Heat the olive oil in a large saucepan, and sauté the garlic, onions, and chili for about two to three minutes until they become translucent.
Add the canned tomatoes and veggie bouillon. Cover with the lid and let cook on medium heat for about 20 minutes.
And the whole basil leaves, salt and pepper and the fresh rosemary and oregano leaves and cook for another 5 minutes. Set aside.
To make the cauliflower-bechamel sauce:
Add the steamed cauliflower and all the other ingredients to a food processor or strong blender and mix until smooth. Set aside.
To assemble:
Pre-heat the oven to 200°C (392°C). Grease a baking dish with coconut or olive oil and spread a few spoonfuls of tomato sauce around in the bottom of the pan. Add the lasagna noodles, ¼ of the vegetables and 1 handful of spinach, ¼ oft the bechamel sauce and ¼ of the tomato sauce. Repeat this until you run out of everything. Make sure to wrap the whole thing up with a layer of bechamel and tomato sauce.
Optional: Sprinkle some pine nuts on top.
Bake for 30 minutes. Then serve immediately.
Enjoy!