Spicy Roasted Almonds as the perfect travel companion.
*This post is sponsored by California Almonds.
I just returned from my trip to Bali, so this is my first blog post after my long-anticipated vacation. My trip to Bali was a dream come true. We stayed in the most magical AirBnB and yoga hotels (which I will tell you all about in my Bali blog posts), and simply enjoyed some relaxing days in the jungle – a first for me, because while my boyfriend and I had a long-distance relationship for over five years, we spent every Penny to visit each other. Now we finally saved up some money to start exploring Asia. Always behind the time, Lynn, but that's ok.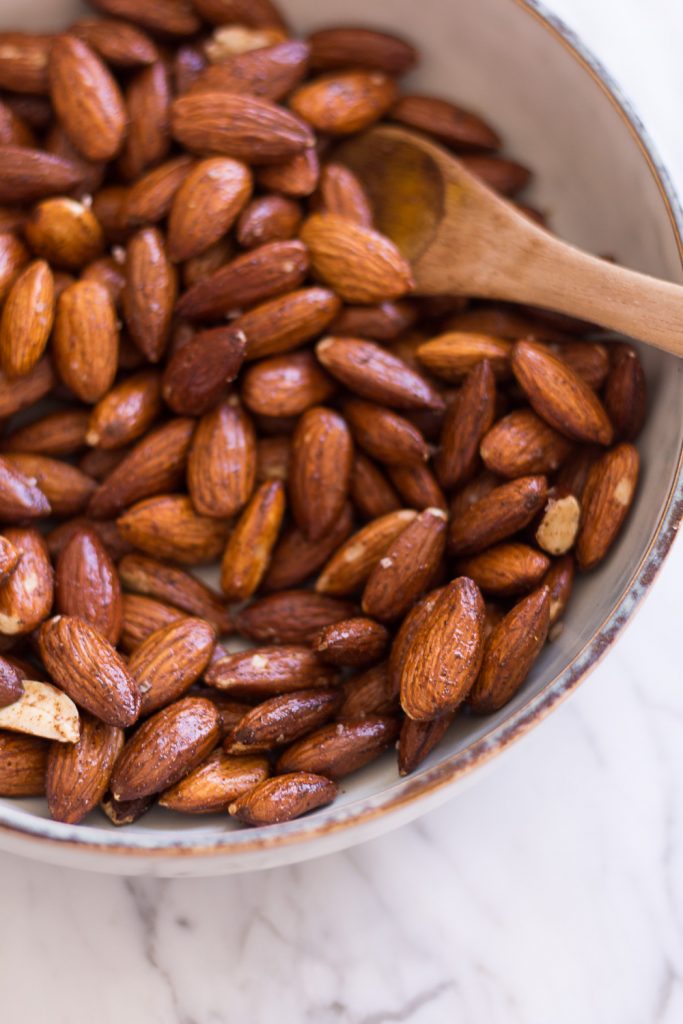 Like I mentioned in my previous post, I am currently running a small series about my favorite natural and healthy snacks. "Embracing Nature's Goodness" is what I like to call it. In my first post with California Almonds* I talked all about the health benefits of almonds, and this post will be all about why almonds are my preferred travel snack, and how I like to make almonds a little bit more fun.
Since I love travelling just as much as I love to cook healthy food, it's a no-brainer that I also try to stay healthy while touring the world. Interestingly, my mother recently told me about a conversation she had with her yoga group about the topic of healthy eating while traveling. Apparently, it is a lot easier for her and her friends to stay healthy at home, but it seems nearly impossible to eat and stay healthy while on vacation.
This is exactly the reason why I – whether I am going on a day trip or a longer journey – do my research online to find healthy restaurants or cafés in advance. I also always take some healthy snacks with me – preferably a bag of almonds. Eating about a handful of almonds a day gives me the nutrients I need to make it to the next larger meal. Packing almonds in your purse while on-the-go, will save you from those instant sugar cravings, and are a lot healthier than convenient products that only consist of empty carbs.
The protein in almonds keeps us satisfied longer:
The great thing about almonds is that they are bursting with nutrients as I previously mentioned in this post. They also consist of valuable fiber and healthy fatty acids, as well as protein, made up of amino acids. The body can use those amino acids to build and maintain a healthy muscle mass or even to fill up our reserves.
A handful of almonds (about 23) contain 6 grams of protein, 3 grams of fiber and 9 grams of unsaturated fatty acids, all the nutrients we need to survive the (hopefully positive) travel stress. The proteins in the almonds really help fight energy lows, and the fiber helps us to stay satisfied longer – preventing us from buying the first convenience food that we come across.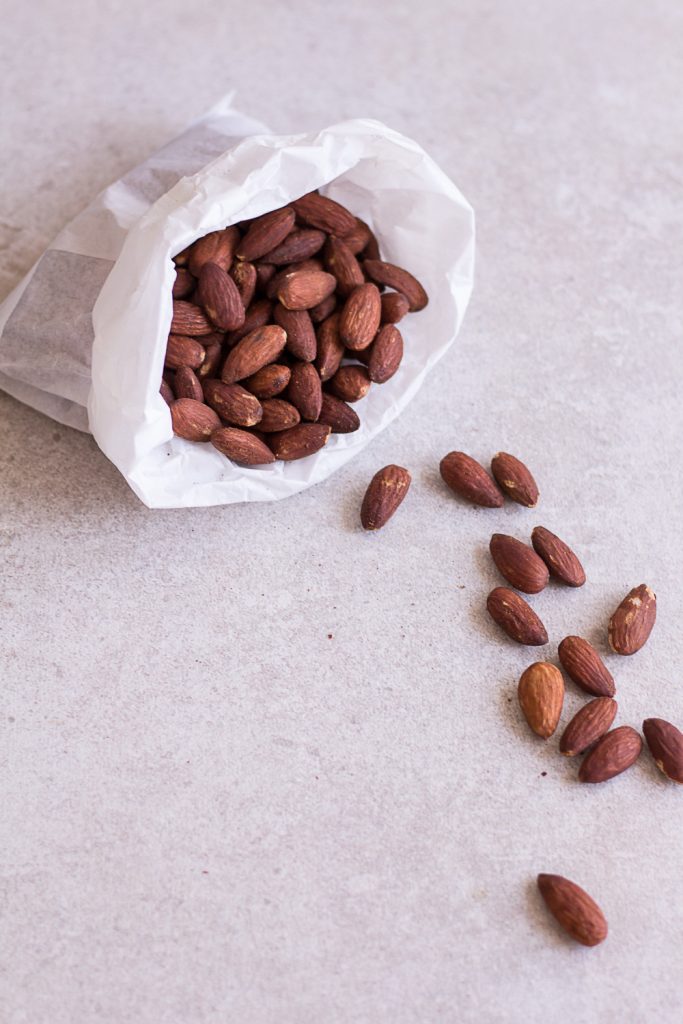 Another plus is that almonds are available in every city, (almost) every country on the planet and are even sold in smaller stores in the countryside. They are also known everywhere, and you do not even need to find special health stores to purchase them in.
So, now that you are an expert when it comes to almonds, I quickly want to add that almonds are of course not the only healthy snack out there. But they are my number one choice for quick and easy snacks. If you pair them with fresh fruits or vegetables that you cut at home, you have yourself a complete snack with everything that you need.
To spice things up a little, I've come up with a fun way to roast your almonds, inspired by my recent trip to Bali: Spicy Roasted Almonds. Bali is an amazing destination if you love food and spices – cinnamon, cardamom, pepper, cacao, ginger, turmeric – all these spices can be found growing in the Balinese plantations and forests. As much as I would have loved to add turmeric to this mix, I decided against it, because it will definitely turn your hands yellow. And that's not exactly something that you want while traveling. If you love turmeric a lot though, then go for it – but don't blame me for yellow hands ;-).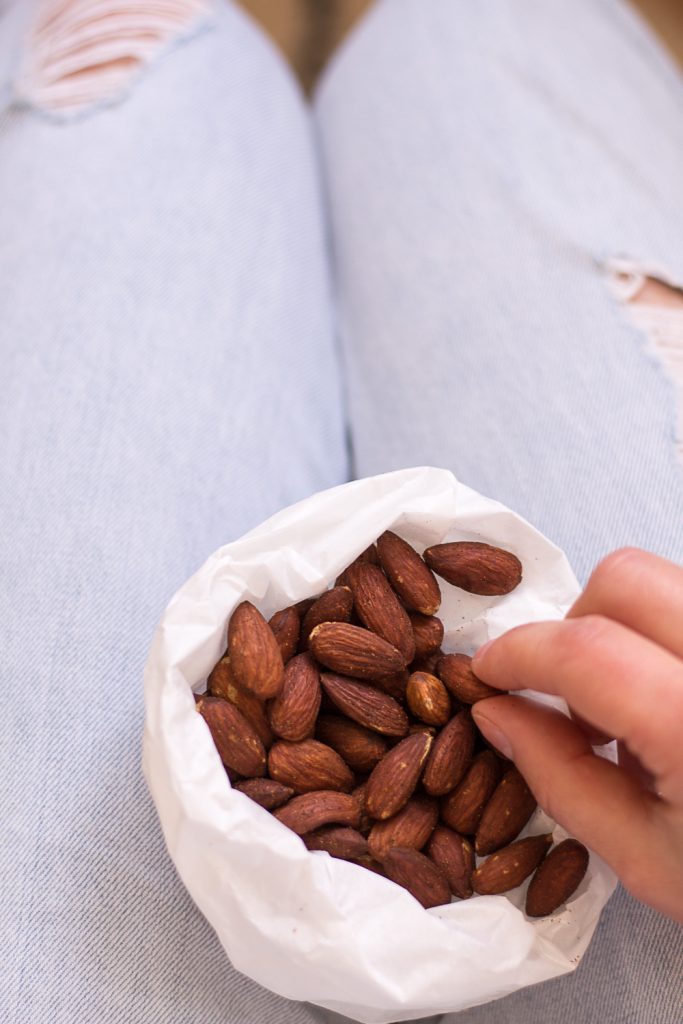 The mix can be easily carried in a reusable box or paper bag, and it definitely is the perfect travel companion. Feel free to play around with the spices that you like – I really like mine a bit spicier, but if you like it sweet, you could easily sub the coconut oil with maple syrup. The almonds keep for at least a week, so they are perfect for a weekend-trip or whatever plans you have this summer.

Spicy Roasted Almonds
Ingredients
200g of almonds
1 teaspoon of coconut oil
¼ teaspoon of cinnamon
¼ teaspoon of cumin
¼ teaspoon of raw cacao (optional)
a good pinch of cayenne pepper (more if you like it spicy)
a pinch of sea salt
Instructions
Pre-heat the oven to 160°C.
Heat the coconut oil in a small pan until soft. Mix all the ingredients and stir everything together. Place the almonds on a baking tray aligned with baking paper. Bake them for 8 minutes, then take them out and give them a stir, and place them back in the oven for another 3 minutes or so. Be careful not to burn them!
Let the almonds cool down completely before storing them in an air-tight container.
Enjoy!
Before I end this post, I quickly want to mention that it is not always allowed to transport food from one country into the other (especially with air travel), so be sure to eat your snacks on the plane before entering another country to prevent being called out by customs. (Happened to me when I forgot I still had a banana in my bag from when I left the Dominican Republic.)
What are your preferred snacks while traveling? Let me know in the comments below.
*Sponsored Post. This post is supported by California Almonds. Thank you for supporting the brands that make hour-long recipe testings in my kitchen possible. All opinions are my own. Always.

Merken
Merken