This is an amazing variation of my Best Hummus recipe. The taste of the roasted beets combined with the amazing flavor of chickpeas and tahini is simply divine. It is also really great on the eyes because it has this pretty pinkish color. My aunt told me that kids love to eat anything red so I'm sure that even kids would like their veggies with this hummus.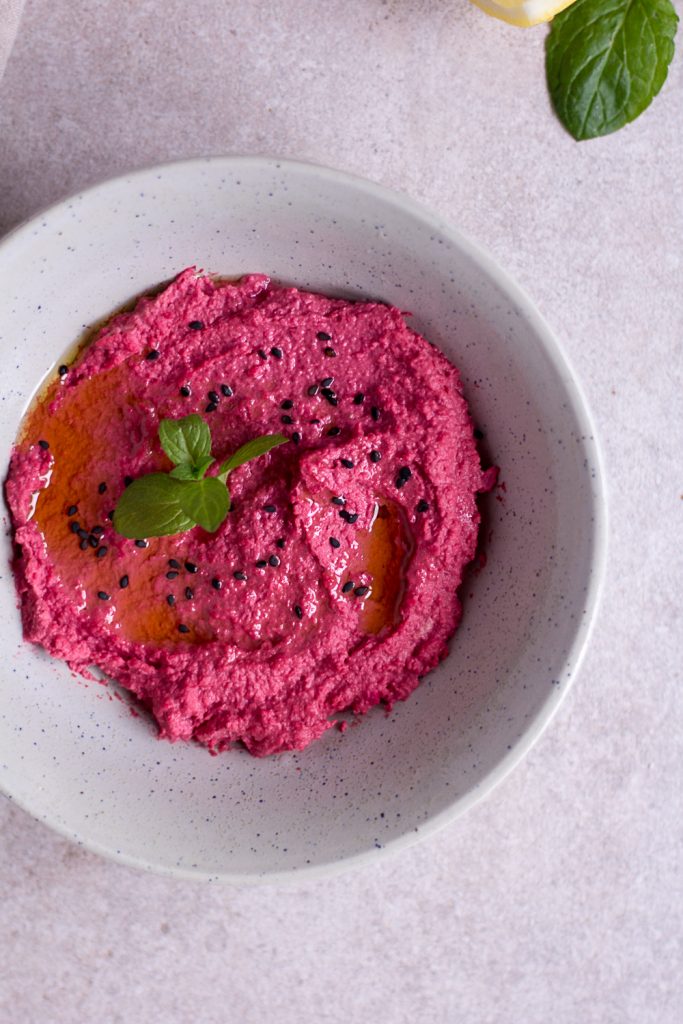 If you're worried about the typical earthy taste of beets, I can assure you that the distinct hummus taste still prevails. For everyone who wants to add some extra iron into your diet (shout out to all ladies out there) this is your recipe. The chickpeas, tahini, and beetroot together are basically an iron bomb. Combined with the protein and fiber, it gives you so much goodness that you will hardly find in any other dip. Although it does take longer to make than the regular hummus, it is still a quick recipe that I am sure you will love.
Health benefits in this roasted beetroot hummus:
– calcium (important for bone, teeth, muscle and nerve health)
– fiber (important for heart health, lowers cholesterol levels)
– iron (important for healthy red blood cells that transport oxygen through your body)
– magnesium (important for a healthy nerve system, muscle health, energy production)
– potassium (lowers cholesterol levels and blood pressure)
– protein (important for a healthy metabolism, immune systems, production of enzymes)
– vitamin E (antioxidant against free radicals, prevents skin ageing

Roasted Beetroot Hummus
Ingredients
1 medium beetroot
⅓ cup water
2 cups of chickpeas (soaked overnight or from a can)
2 garlic cloves, peeled
2 tbsp tahini
juice from 1 lemon
1 tsp ground cumin (optional)
2 tbsp extra-virgin olive oil
½ tsp salt
Instructions
Preheat the oven to 200°C (390°F). Wrap the beetroot in tin foil and place it in the oven for about 40 minutes.
Once the beetroot is nice and soft when poked with a fork, take it out of the oven and let it cool for a couple of minutes, then remove the skin. It should come off easily. Cut the red beet into rough chunks and place it into a good food processor, add all ingredients and blend until the hummus is heavenly smooth. Store it in an air tight container to keep it fresh for about a week.
Enjoy!