Sweet Potato and Parsnip Soup with Truffle-Popcorn as part of my 2016 Christmas Menu.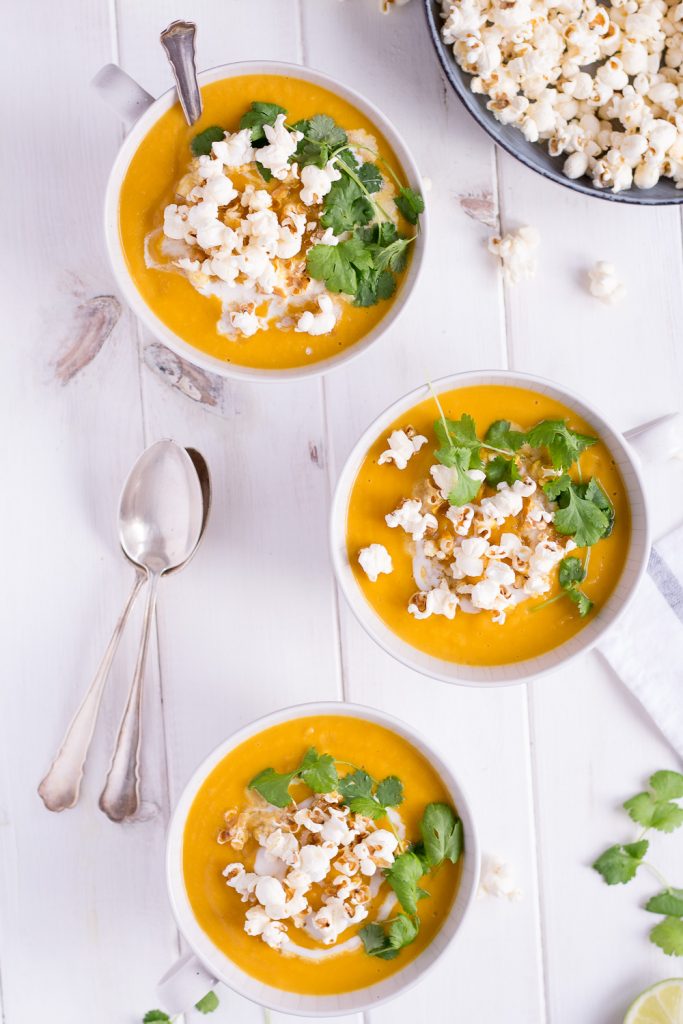 Even though it's still 12 days until Christmas, it's never too early to think about Christmas dinner, right? This year, I have prepared something really special: a three-course Christmas menu in cooperation with REWE Feine Welt*. The recipes not only taste incredible, they are also really good for your body and soul. Indulging over the Holidays does not have to involve greasy, overcooked meals with zero vitamins or minerals – it can be delicious while making you feel your best, powerful and ready for the new year.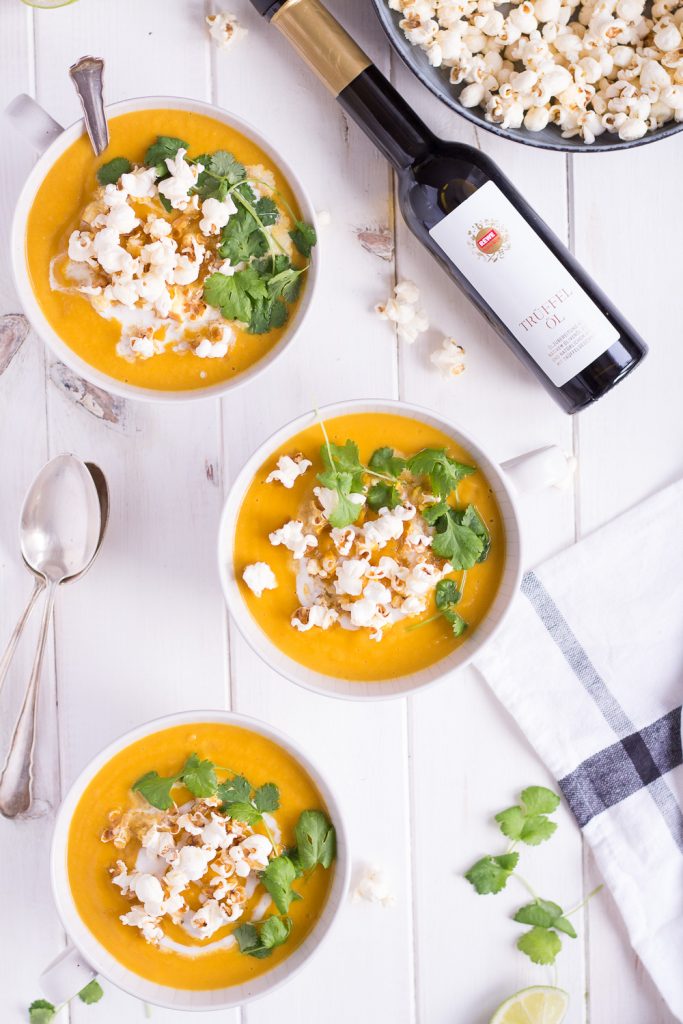 While I do believe that it's ok to eat whatever you like on Christmas, I do not think that it does not matter what we feed our body with during the Holidays. I want to take care of my body while enjoying delicious, wholesome meals, and the menu I prepared for you fulfills this purpose wonderfully.
The first point on the menu is this sweet potato and parsnip soup with truffle-popcorn.
Yes, you heard right: I said POPCORN!
Popcorn is the best invention of mankind in my opinion. Well, maybe not THE best invention, but one of the best inventions, certainly. It's also not just any popcorn, it's truffle-popcorn, which instantly gives this soup a festive upgrade. Beautifully decorated with lots of coriander and coconut milk, this sweet potato and parsnip soup will result in many "ohhhhs" and "ahhhhs", especially with the popcorn  on top.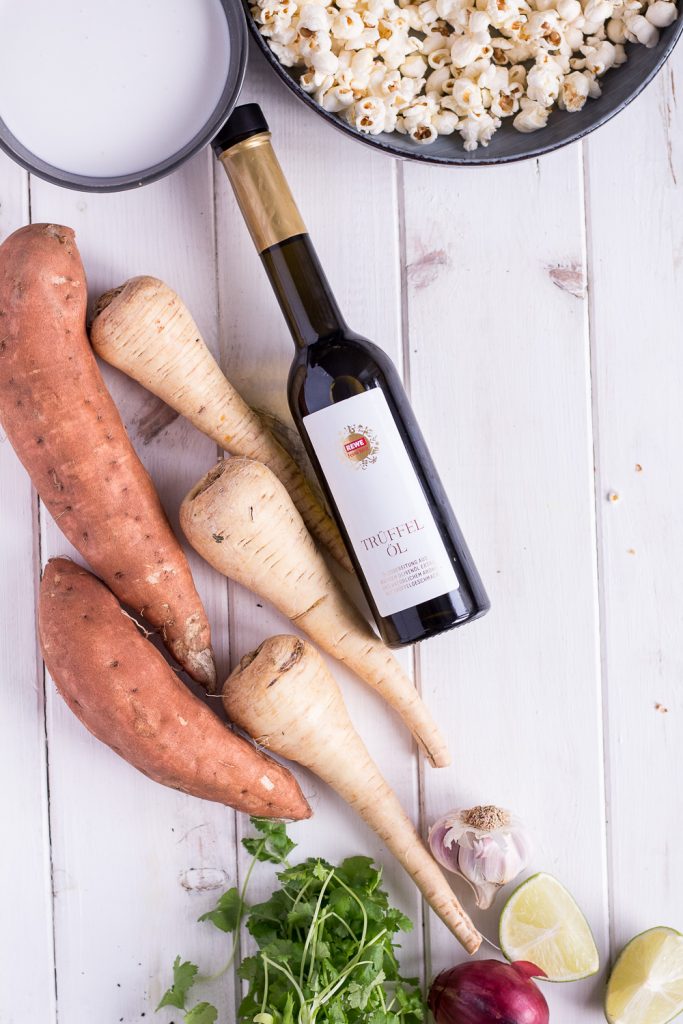 Have you ever cooked with parsnips before? I never really paid attention to this vegetable as it is not really one to stand out in the crowd. But the beige-colored root is actually a hidden gem. It's a great source of potassium and folate, which are two vital minerals for heart health. Potassium helps regulate blood pressure, which is something I really need to pay attention to. Folate promotes red blood cell growth, and helps break down homocysteine, an amino acid linked to atherosclerosis and stroke.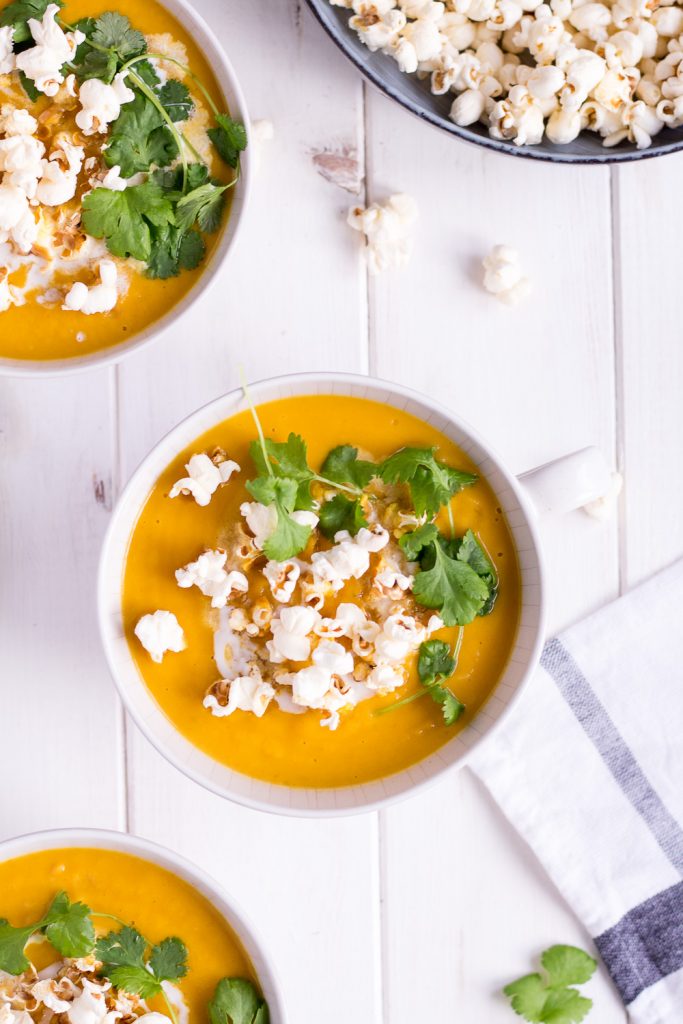 This sweet potato and parsnip soup is only the beginning of my healthy christmas menu, there will be a delicious stuffed butternut squash entrée and my personal favorite are the healthy mince pies. I'll post the main course on Thursday, and the dessert on Sunday! In the meantime, check out last year's favorites: 21 Heavenly Healthy Christmas Recipes .

Sweet Potato and Parsnip Soup with Truffle-Popcorn
Ingredients
For the soup:
3 tablespoons of extra-virgin olive oil
500g parsnips
300g sweet potatoes
2 garlic cloves
1 red onion
2 cm fresh ginger
750ml water
3 tablespoons of home made vegetable broth paste (or 750ml of low-sodium veggie broth)
200ml coconut milk
2 teaspoons of turmeric
1 teaspoons of cumin
1 teaspoons of paprika
¼ teaspoon of chili flakes
½ teaspoon of cinnamon
½ teaspoon of sea salt
¼ teaspoon of fresh pepper
1 lime
a handful of coriander for decoration
For the truffle-popcorn:
50g popcorn kernels
2 tablespoons of coconut oil
1 - 2 teaspoons of truffle oil
a pinch of sea salt
Instructions
Peel and cut the sweet potatoes and parsnips, red onion, garlic and ginger. Mix all the spices in a small bowl.
Heat two tablespoons of olive oil in a large pot, and sauté the red onion, garlic and ginger for about a minute. Add the spies and the rest of olive oil and fry for a few moments until fragrant. Then add the sweet potato and parsnip pieces and fry for about two minutes until the veggies are covered in the spices. Constantly stir while frying the veggies.
Add the water, veggie broth paste and bring to a boil. Reduce the heat and cook for about 25 minutes until you can easily break the sweet potatoes apart.
Once everything is cooked through, puree the soup with a hand mixer or high speed blender (make sure your blender is equipped for hot liquids).
Add the coconut milk, the juice of the lime and sea salt and pepper.
For the truffle popcorn:
Heat the coconut oil in a pot together with about three popcorn kernels. Place the lid on the pot and wait until the three kernels have popped. Remove them, and add the rest of the kernels. Do not forget to place the lid on the pot again! Wait until all kernels have popped (shake the pot in between to prevent burning). Transfer the popcorn into a large bowl, add the truffle oil and sea salt and mix well so everything is coated.
To assemble:
Fill each bowl with soup, decorate with a bit of coconut milk and coriander, and a handful of truffle-popcorn.
Enjoy!
*A Big Thank You to REWE Feine Welt for sponsoring this post. And thank you, readers, for supporting the brands that make hour-long recipe testings in the Heavenlynn Healthy kitchen possible.
---
DID YOU MAKE THIS RECIPE OR HAVE ANY SUGGESTIONS, QUESTIONS OR COMMENTS?
Feel free to leave a comment below, and don't forget to tag your creations on social media using #heavenlynnhealthy.
I'd love for this blog to be a dialogue.
---