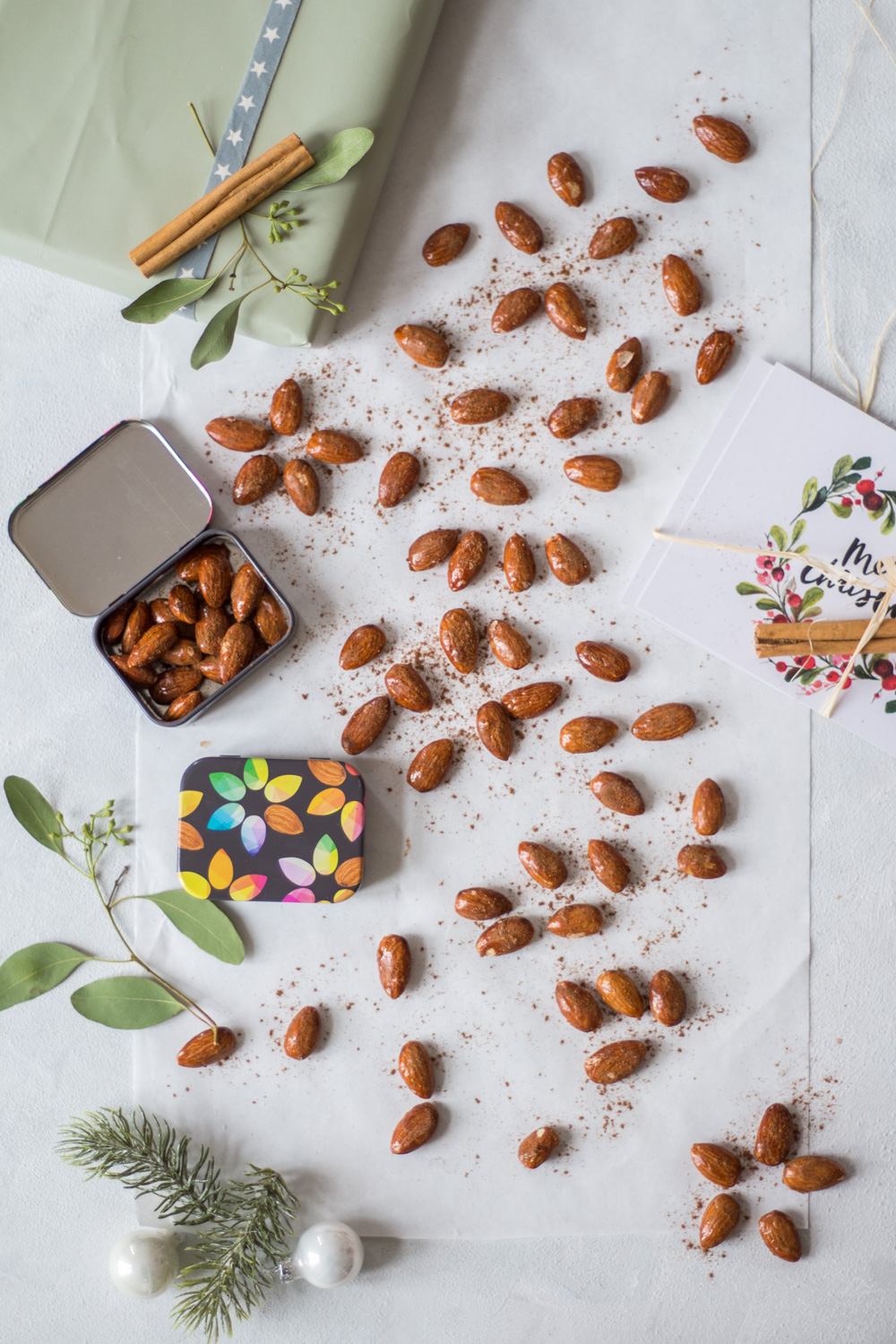 *Ad / Werbung. This post is sponsored by California Almonds.
Diesen Beitrag gibt es auch auf deutsch.
Are you already in the Christmas mood? Slowly but surely, I am getting into the Christmas spirit, even though December is the most stressful month of the year. These days, I often light a candle, pause for a moment and remember the beautiful moments in December: the beautiful smells or the Christmas lights, which help to keep a sunny mood even in this dark season. Packing presents, watching a Christmas movie and nibbling on Christmas-flavored snacks is my perfect way to spend an afternoon in December. It makes me so happy when the whole apartment smells of Christmas spices and Christmas music is playing.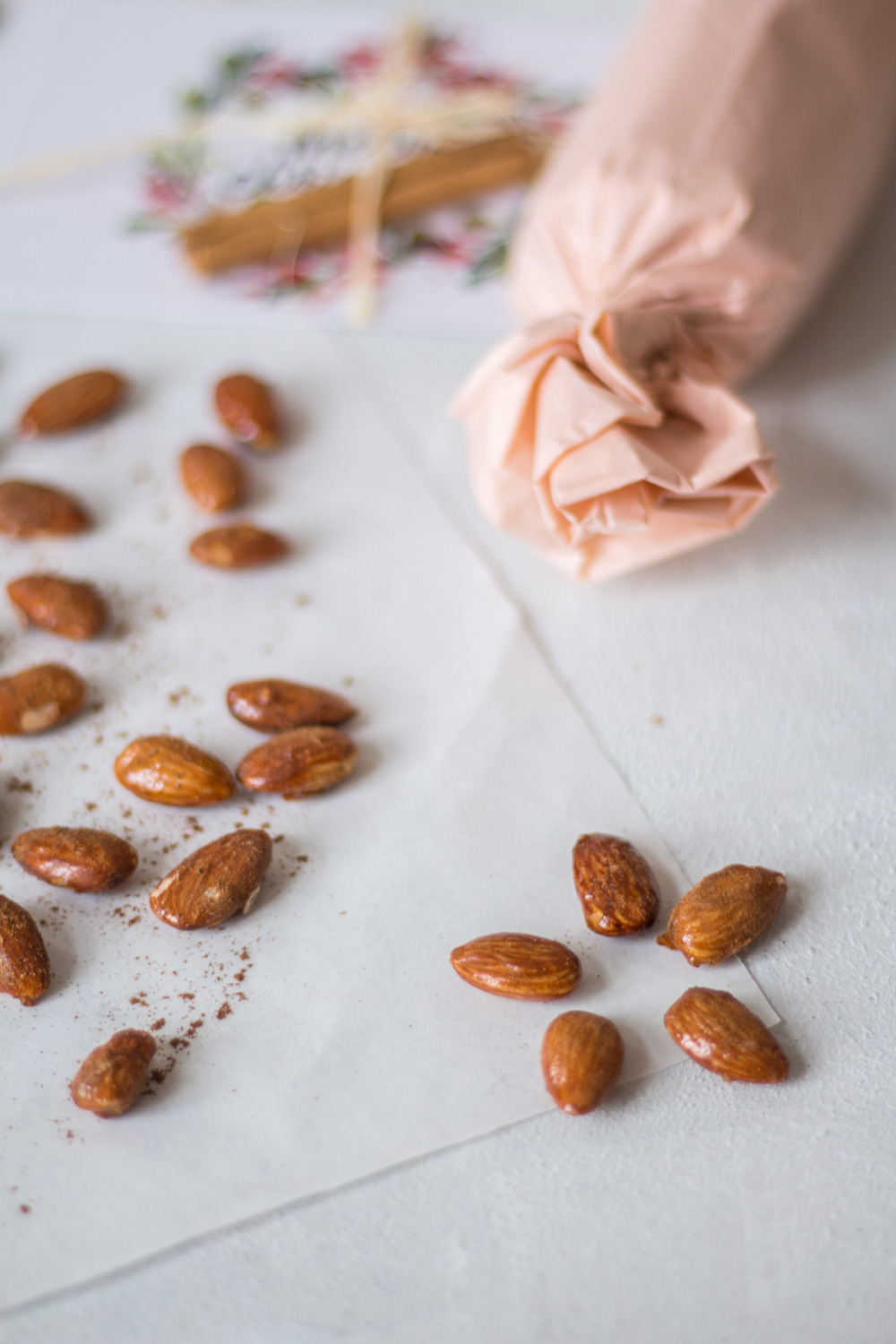 Do you love Christmas-inspired treats too? For those who do not feel like making a mess in the kitchen but love quick prepared and tasty snacks you can feel good about, I have this super simple, delicious recipe for Christmas-spiced roasted and caramelized almonds that will get you in a sunny disposition, too.
Ok, basically these are not real roasted almonds, but rather caramelized. Traditionally, German roasted, and caramelized almond recipes call for as much sugar as almonds. Delicious, but not really in line with my food philosophy. In this recipe, 100 g of almonds are mixed with 1 tablespoon of rice syrup and 1 tablespoon of coconut blossom sugar, which is why they contain significantly less sugar than regular roasted almonds. They are also only pan-roasted briefly so that they still contain all the health benefits like pure almonds.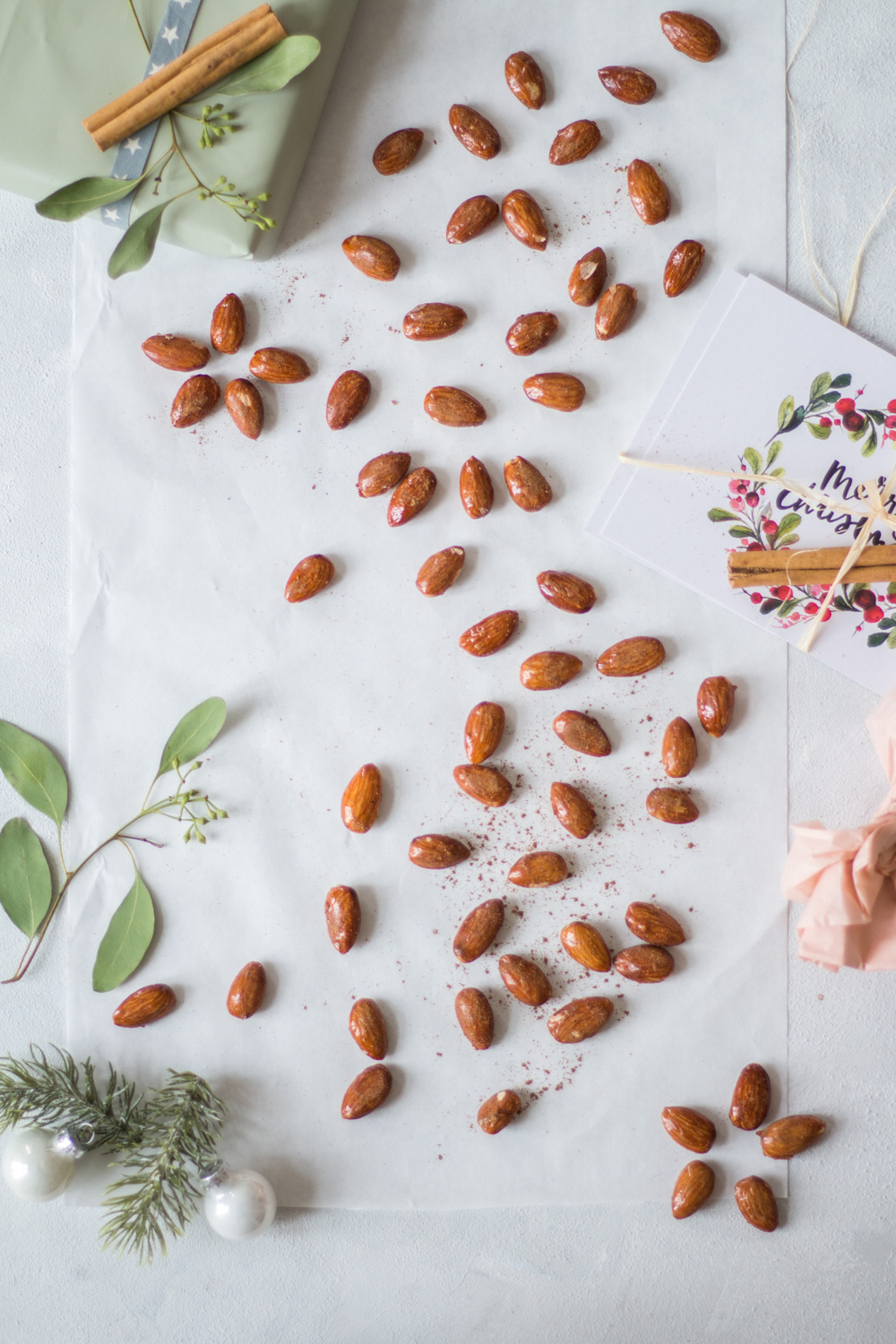 I am often asked what I can recommend as healthy snacks. The first thing I always tell everyone is almonds. Almonds are really my go-to snack in every situation and year-round. Not only because you can easily transport them, but also because of their many health benefits. Especially the delicious Californian almonds*, taste fantastic because of their mild sweetness. In addition, they give you a quick energy boost, ideal for the sometimes so stressful pre-Christmas time. They keep you going between meals without weighing you down and put me in a sunny mood. They also put you in a good mood as they are sustainably grown in a very sunny area. You can definitely taste this in their sweetness and delicious flavor and I think that Californian almonds taste sweeter and more aromatic that other almonds do which is probably due to the Californian sunshine.
Almonds are heavenly for body and soul, because …
They contain nutrients like plant protein, healthy fats and fiber which helps to stay on track.
Pure or in combination with fresh fruits and spices a handful of almonds (28 g or approx. 23 pieces) almonds are an easy-prep snack.
They are a nutritious, tasty and versatile snack for every season.
They are portable, crumb-free and grease-free, making almonds perfect for on-the-go and for the office or college.
They contain vitamin E which is one of the best antioxidants ever (in addition to Vitamin C). It protects our cells from oxidative stress caused by free radicals. One serving of almonds (28 g or approx. 23 pieces) already provides you with 60 % of the recommended daily dose of vitamin E.
They are a high source of magnesium that contributes to the reduction of tiredness and fatigue which often come up during the dark season.
They are rich and light snack you can feel good about because they are nutrient-rich and help to tide you over to the next meal without weighing you down.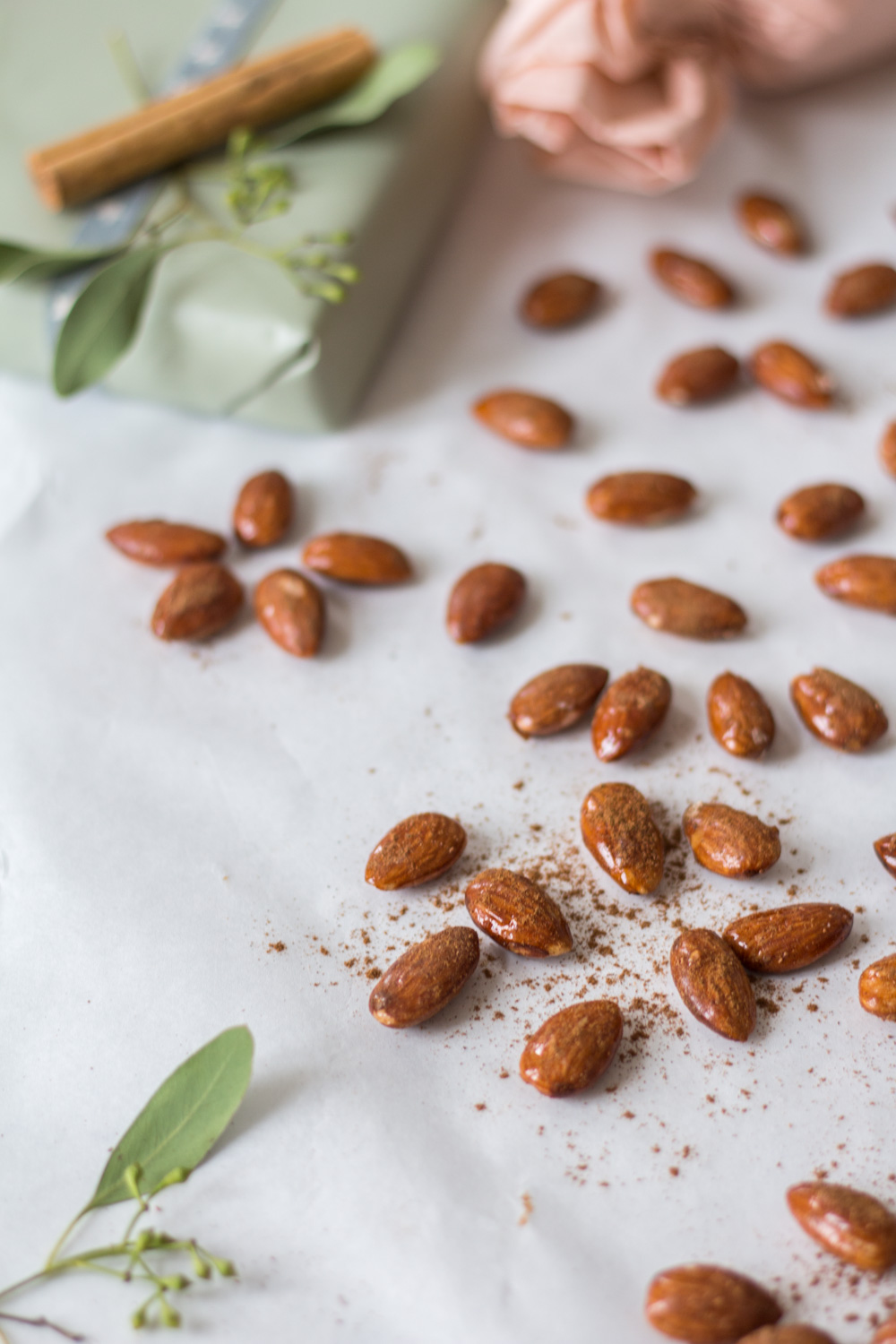 By the way, rice syrup is not only suitable for people with fructose intolerance. It is less sweet than other sugar alternatives and does not raise blood sugar levels as much as table sugar. Also, coconut blossom sugar is my favorite choice for granulated sugar because it is gentler for the blood sugar level as well. Oh, and cinnamon – yes, cinnamon is my favorite spice for blood sugar anyway. The spice which is popular during the Christmas season stabilizes the blood sugar level, so I always add a bit of cinnamon to my breakfast or – in this case – to my almonds. Therefore, these Christmas-spiced roasted and caramelized almonds are a great and delicious combination bringing a bit of Californian sun to the German winter.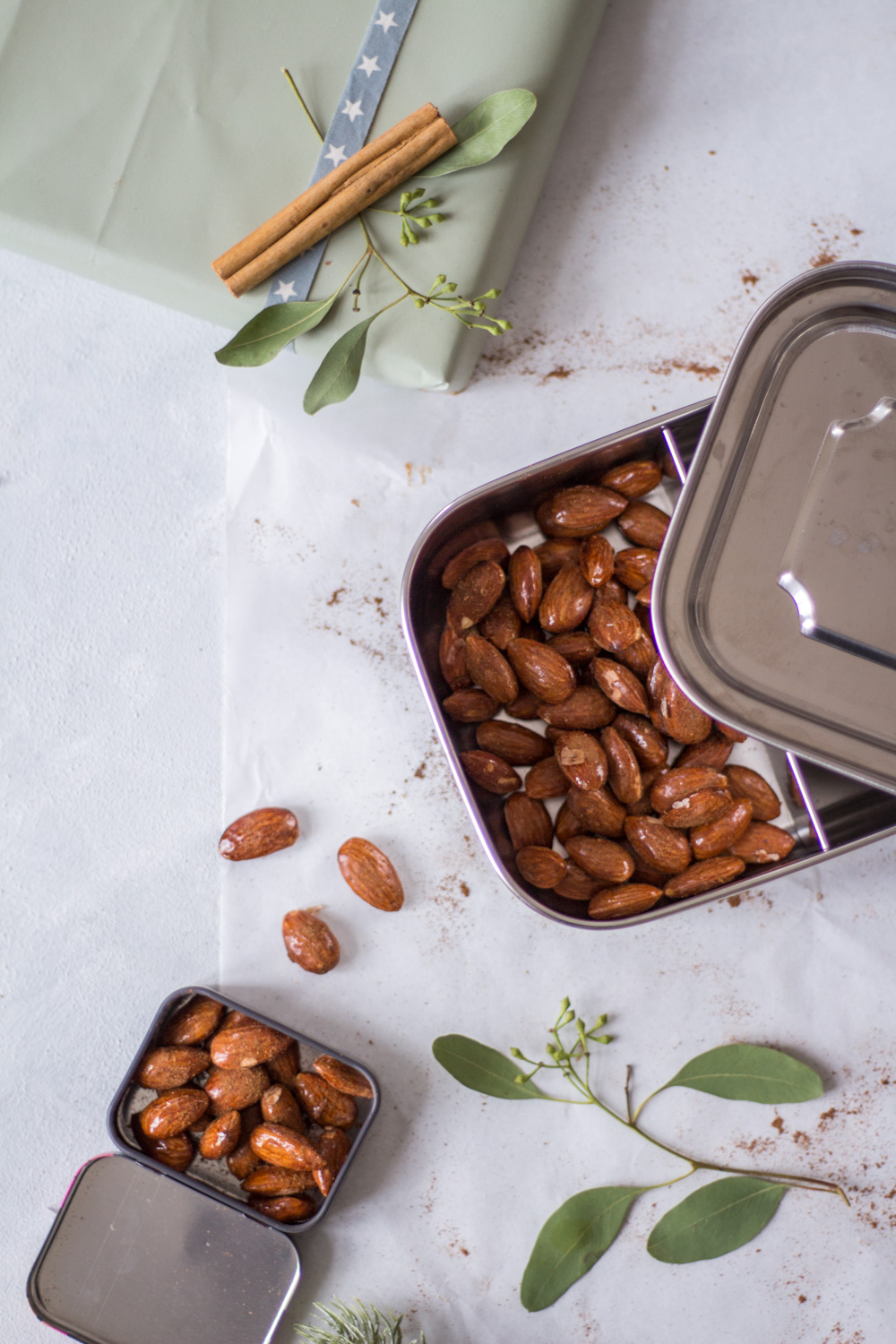 Now I'm curious: are these roasted almonds known in the U.S.? Or is that a German Christmas market thing only? If my American readers could let me know in the comments below, I would be more than grateful!
So, when you smell the scent of roasted almonds on the (German) Christmas market next time, remember this delicious recipe and go make your own Christmas-inspired roasted almonds alternative with less sugar but the same pleasure.
Have fun with the recipe, happy holiday season and #SnackTheSun!

Christmas-spiced & roasted (caramelized) almonds
Ingredients
For the almonds:
100 g almonds
1 tablespoon of rice syrup
1 tablespoon of coconut sugar
1 teaspoon of cinnamon (or gingerbread or pumpkin spice)
To sprinkle:
1 teaspoon of coconut blossom sugar
½ teaspoon cinnamon
Instructions
Slowly heat the rice syrup, coconut blossom sugar and cinnamon in a large pan. Bring the mixture to a boil while stirring constantly. Reduce the heat to medium and add the almonds to the pan. Caramelize with constant stirring for about 5 minutes.
Place the almonds individually on a baking paper lined with baking paper (never touch with your fingers – they are hot!).
Since the almonds are very sticky, mix a teaspoon of coconut blossom sugar with the cinnamon and sprinkle over the almonds. This will make them easier to store and they are less sticky.
Stored in a sealable glass container, the almonds last for a few weeks.
Enjoy!
*Advertising/Werbung. This post is sponsored by California Almonds. Thank you for supporting the brands that keep me dancing through my kitchen all day