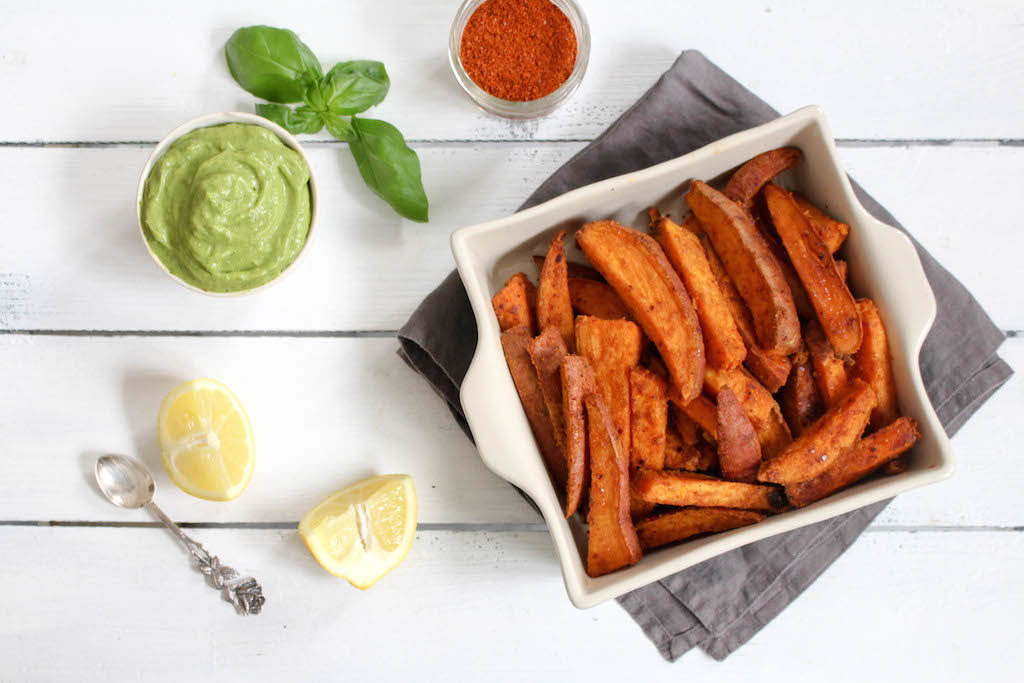 Many of you have been asking for healthy BBQ recipes, and with this recipe, I am officially starting a new series called "Healthy BBQ". I agree that these harissa spiced sweet potato wedges are not exactly prepared on the grill, but I think they are a great side dish that you can easily prepare in advance. Combined with the creamy and spicy avocado dip, these sweet potatoes will amaze everybody. Harissa is a Maghreb spice mix, which is actually a paste made out of chili, garlic, cumin, cayenne pepper and other delicious spices. I used the powdered version in this recipe, as it is the easiest way to get the significant harissa taste. 
The avocado dip also tastes incredible with grilles vegetables, and will hopefully also please the meat loving crowd. As harissa is already pretty spicy by itself, you might want to reduce the amount of chili flakes in the avocado dip if you or the people you cook for are sensitive to spice.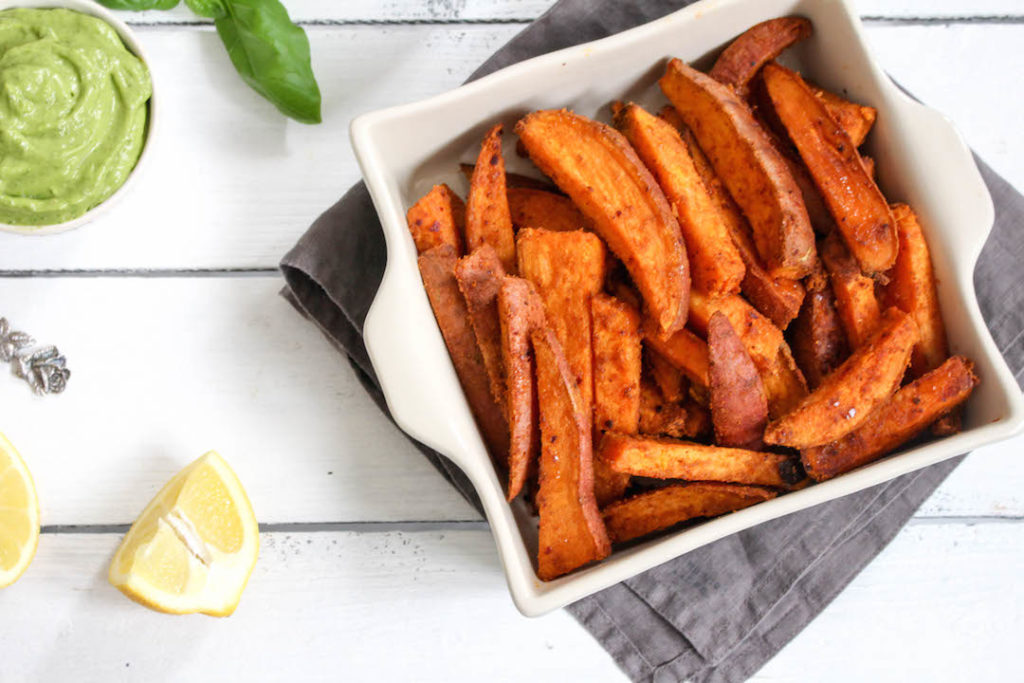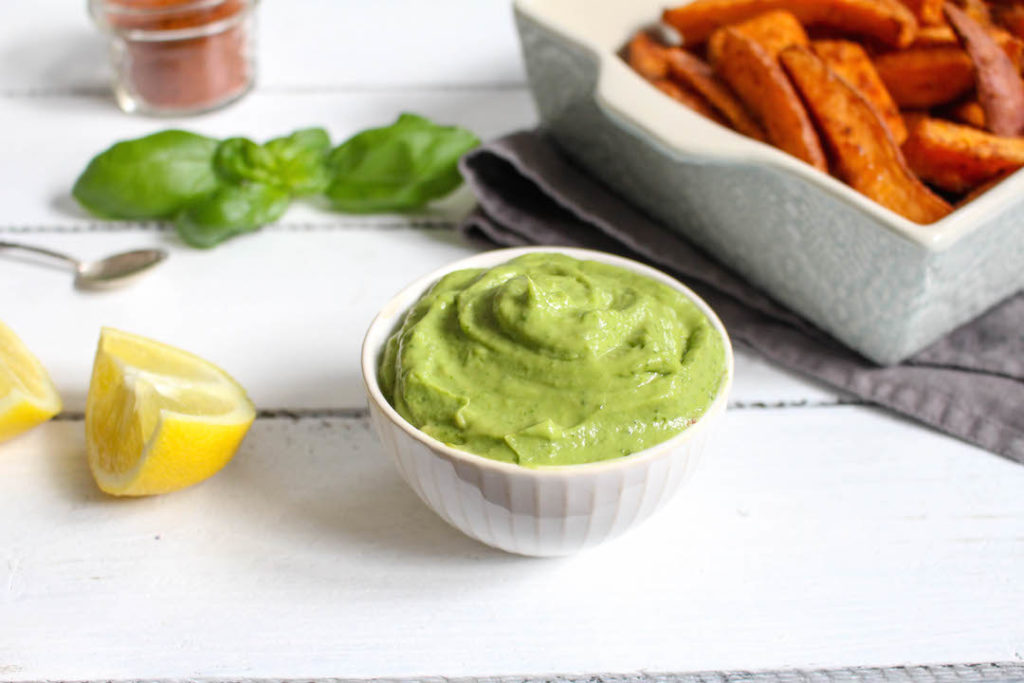 You can buy harissa in most well sorted grocery stores as well as in Middle Eastern Stores. The ladder will probably serve harissa as a paste – I haven't tried these potatoes with the paste version, so I can't vouch for this to be a success. There are many supermarkets that sell it these days, too. I know Sainsbury's has it, and WholeFoods does, too. If you live in Germany, then you can get it from a brand called JustSpices, they can be found in all major supermarkets at the moment. With the code 'justlynn' you can even get a free spice at the moment.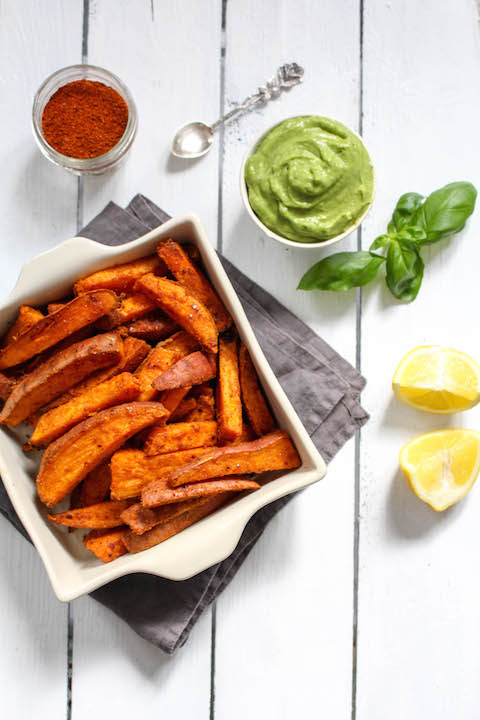 My recipe testers already approved this recipe at my second cooking class yesterday. We had so much fun making these last night, along with the buckwheat chili with dark chocolate, the green spring smoothie and a so far unpublished recipe for snickers brownies. So much goodness to come in the next few weeks. Let me know if you are anyone you know would be interested in a cooking class somewhere in Germany. I am planning a few set dates especially in the Hamburg and/or Munich area.

Harissa Spiced Sweet Potato Wedges with Spicy Avocado Dip
Ingredients
For the sweet potatoes
2 large sweet potatoes
2 tablespoons of extra-virgin olive oil
2 teaspoons of harissa spice mix
1 tablespoon of (certified gluten free) buckwheat flour
For the spicy Avocado-Dip
2 very ripe avocados
2 tablespoons of extra-virgin olive oil
2 handful of fresh basil
¼ teaspoon of chili flakes, more or less depending on how spicy you like it
a squeeze of fresh lemon juice
sea salt
Instructions
Pre-heat the oven to 180°C (360°F).
Wash the sweet potatoes and cut them into wedges. Leave the skin on!
In a large bowl, combine sweet potatoes, olive oil, buckwheat flour and harissa, and mix well until every sweet potato wedge is covered.
Place the sweet potatoes on a baking sheet that you aligned with baking paper and cook for 25 - 30 minutes. The time may vary depending on the strength of your oven. Do not let them burn.
For the spicy avocado-dip:
Cut the avocados in half, remove the stone and scoop out the flesh with a spoon. Combine all ingredients in a food processor and blend well until it has transformed into a smooth avocado cream. Add salt and chili flakes according to taste.
Serve the sweet potatoes with the avocado dip.
Enjoy!