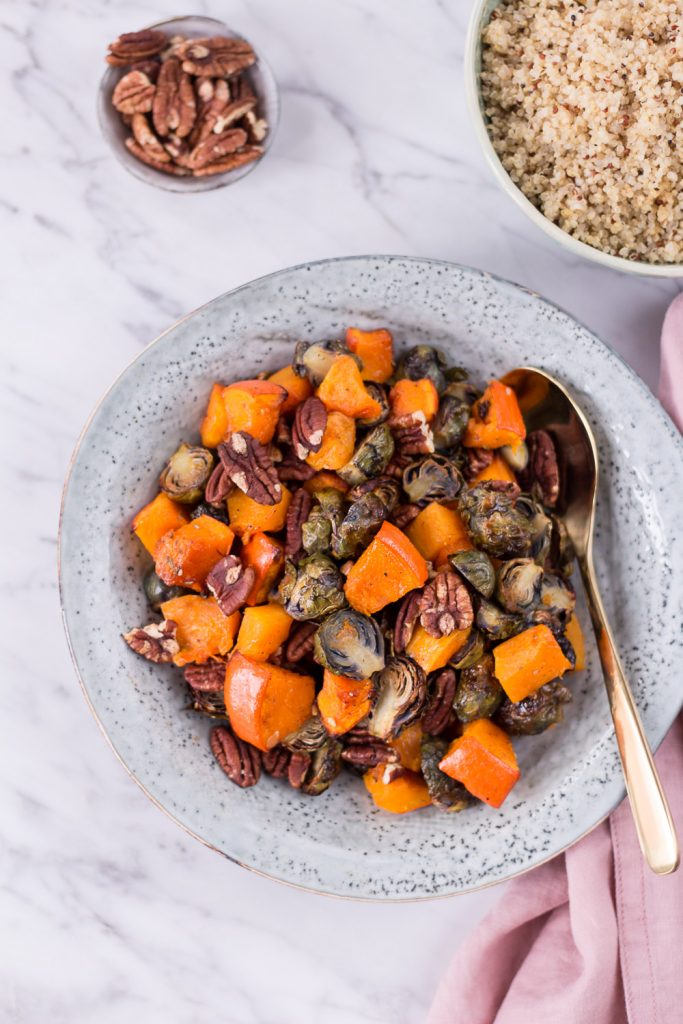 Brussels Sprouts. Pumpkin. Pecans.
That's my "secret" whenever I want to surprise someone with a simple yet delicious meal. Well, actually it's more of a side dish, but combined with a delicious salad and quinoa, it may very well serve as a main dish.
I served this combo to friends that we had for dinner yesterday, and even though they thought they didn't like brussels sprouts, they ate it all. Happens all the time, I secretly wanted to say.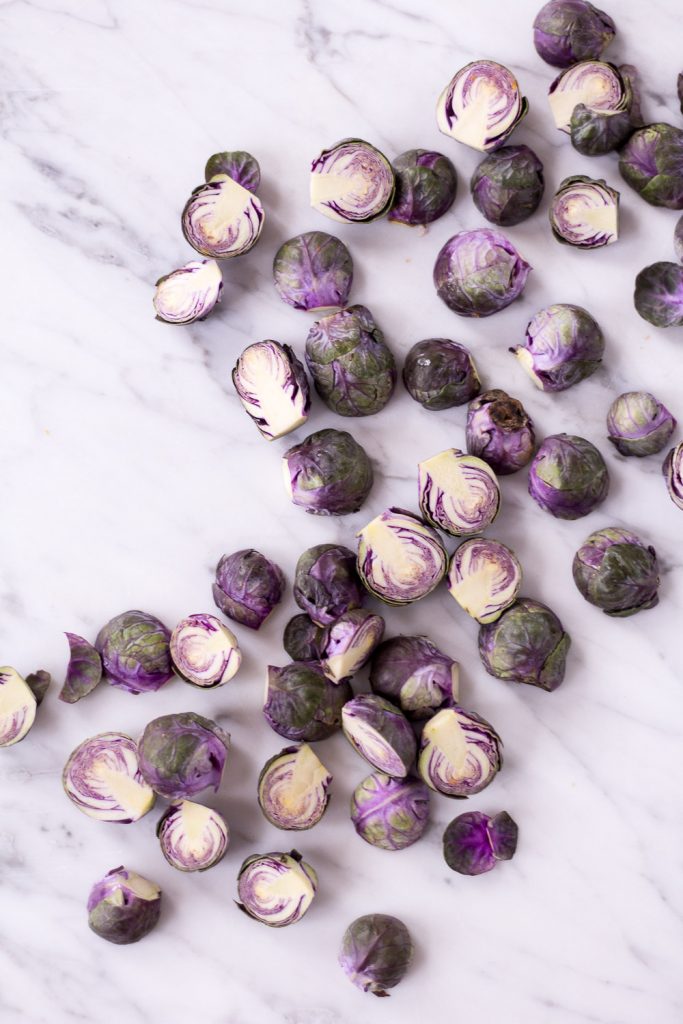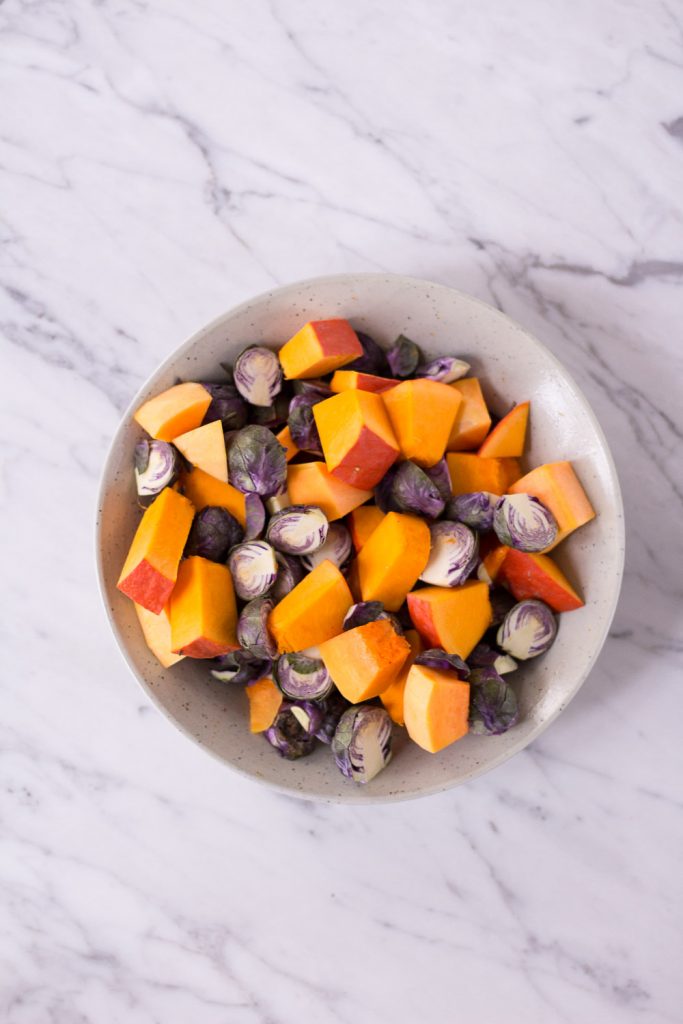 This dish is the perfect addition to any Christmas buffet as it can be enjoyed by anyone – health-conscious or not. The combination of crunchy sweet & satly brussels sprouts paired with the sweet pumpkin and the caramel-like pecans is absolutely insane. I first ate a dish similar to this in the United States at Thanksgiving, and I have been wanting to recreate it ever since.
If you're allergic to pecans, you can swap them for any other kind of nut or even pumpkin seeds. However, if you can have nuts, then pecans are definitely your best bet this Christmas.
Speaking about Christmas. Do you know the Christmas feast dilemma? We're not a family of traditions, so we have something different for Christmas every year. Partly because we love food so much, and partly because we all have different taste. You have my dad who wants the traditional German dishes, my sister who is the biggest raclette fan, my other sister who has special dietary requirements and then my mom and I who want anything but ordinary. So last year we made one of Jamie Oliver's dishes from his book "Superfoods", which wasn't a big hit with the others unfortunately. This year will be more relaxed with a miso salmon soup, and lots of delicious winter salads and sides such as these winter roasted brussels sprouts.
How to survive the Christmas festivities in a healthy way
I've been getting this question a lot lately, and I have to be honest: I don't think Christmas is the time to stress about food and health. For me, Christmas is not about the food, but about spending time with your loved ones, destressing, recharging those batteries before another year knocks on the door. My family always goes for a run in the mornings, no matter what the weather, so we got the exercise part covered together. Then we like to have a long breakfast with lots of oats, granola and fruit, so we usually skip lunch anyways. For dinner, we try to incorporate as many fresh veggies as possible, so it's not really like you have to be afraid of food komas.
My tip is always to prepare something healthy and delicious yourself and then bring it along if you're invited for lunch/coffee/dinner. The host will greatly appreciate it, if he or she does not have to think about all the guest's dietary restrictions, which can be quite overwhelming. And instead of saying, "I'll bring this vegan, gluten-free, refined sugar-free salad", you could just say "I'm bringing a winter roasted brussels sprouts salad with pumpkin, pecans and maple-dressing." Do you hear the difference? Exactly. Sometimes it's the choice of words that make the difference.
Do you have any tips to survive the upcoming Christmas madness? Let me know in the comments below.
Winter Roasted Brussels Sprouts, Pumpkin & Pecans
Ingredients
500g of brussels sprouts
500g of pumpkin (I used hokkaido and butternut)
2 tablespoons of extra-virgin olive oil
1 teaspoon of dried rosemary
½ teaspoon of cinnamon
2 tablespoons of maple syrup
½ teaspoon of sea salt
50g of pecans
300g of cooked quinoa (optional, to serve)
Instructions
Pre-heat the oven to 200°C (180°C fan).
Cut off the ends of the brussels sprouts and cut the sprouts in half. Cut the pumpkin in bite-sized pieces. If you're using butternut, then you need to peel it first.
Combine the sprouts, pumpkin and all other ingredients except for the pecans. Place everything on a baking tray aligned with baking paper and bake for about 30 minutes until almost done.
Add the pecans right before it's all cooked through and roast them with everything for about 5 minutes. Not too long or they will burn.
Serve with quinoa or enjoy as it is.
Enjoy!