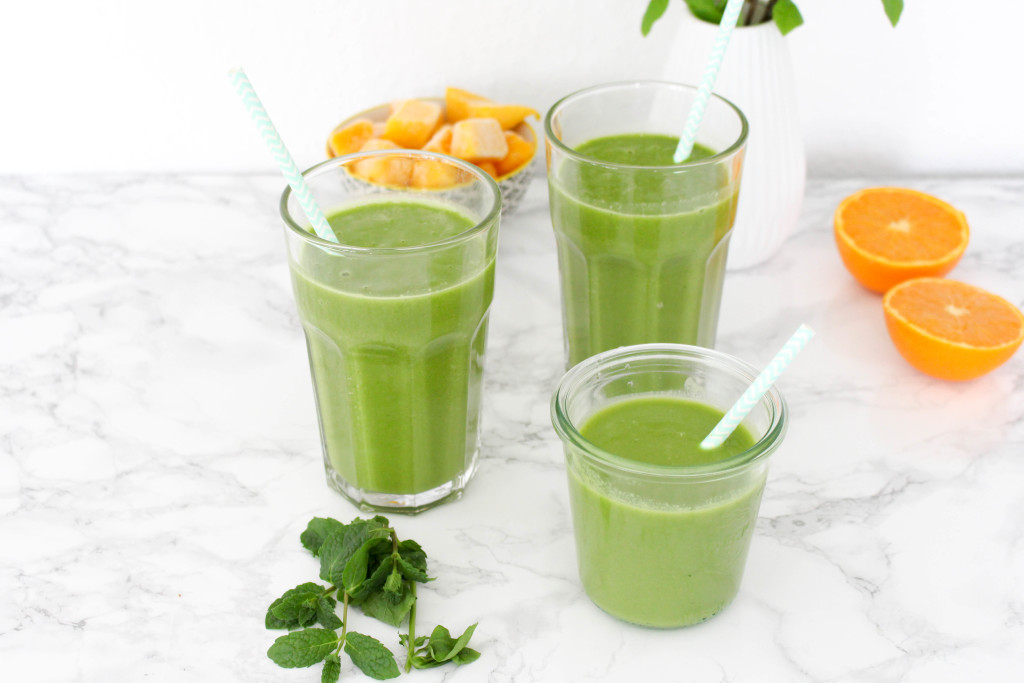 I love spring and I love fall. I mean, don't get me wrong, of course I like summer and winter, too, but there is something so magical about spring and fall that I would absolutely declare those two as my favorite seasons. I'm really sorry that I'm talking about the weather, but I needed a smooth transition into this smoothie, which I have declared to be a Spring Smoothie, because the  ingredients are a mix of winter and summer fruits. We have oranges, which are definitely more of a winter fruit, mangos, which I associate with summertime, and then we have bananas, which, well, let's face it – are in season all year around in almost every country on the planet. What's really making this smoothie special, however, are the mint and basil leaves that give it an incredibly fresh taste.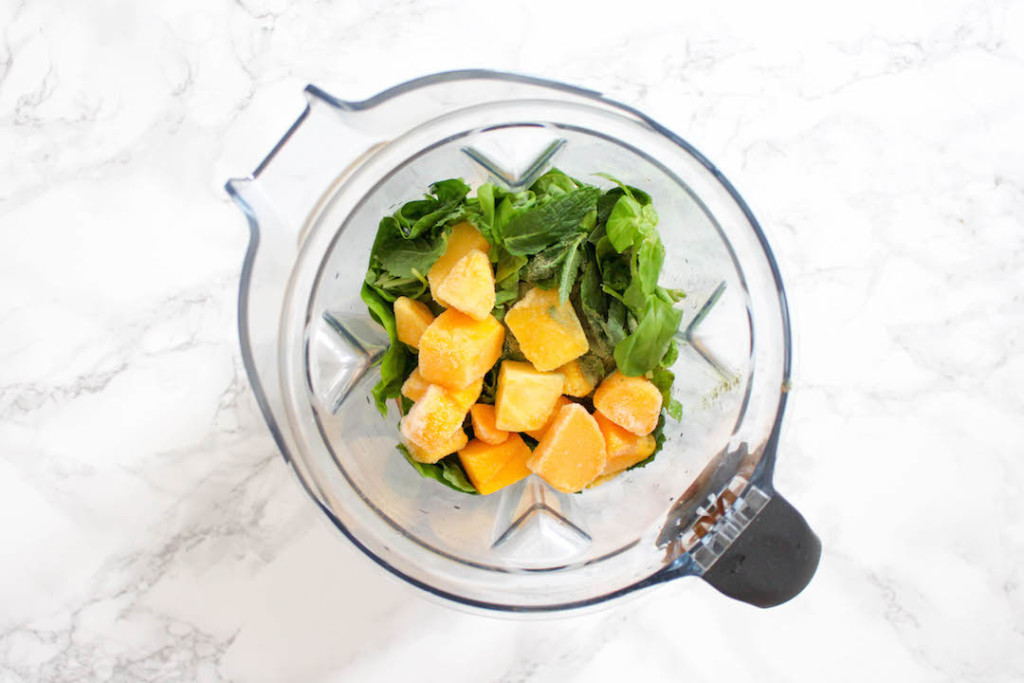 If you're not a big fan of mint in smoothies, then start out slowly and increase your mint leaves with time. I guarantee you that you will come to like it eventually. Both mint and basil have antibacterial and anti-inflammatory properties, which means that they help our body fight various diseases. So they literally turn smoothies into deliciously tasting medicine. One cup of basil contains almost 100% of the daily vitamin K intake, which is vital for healthy bones and blood clotting. Mint has been used to cure stomach or throat aches for years, so there's the reason why people drink peppermint tea when they are fighting a sore throat.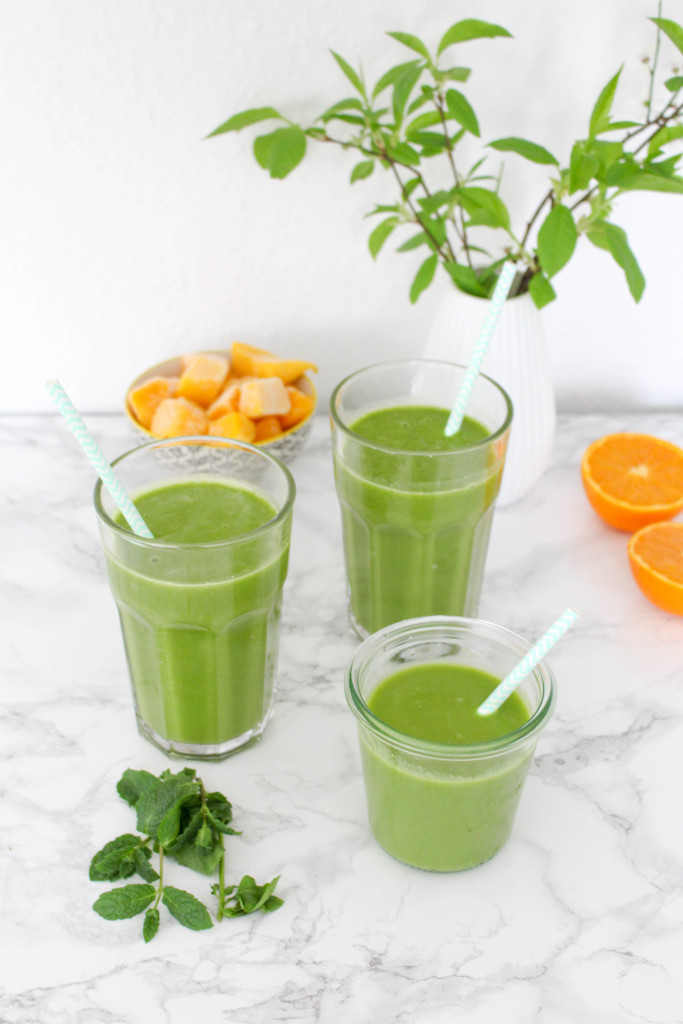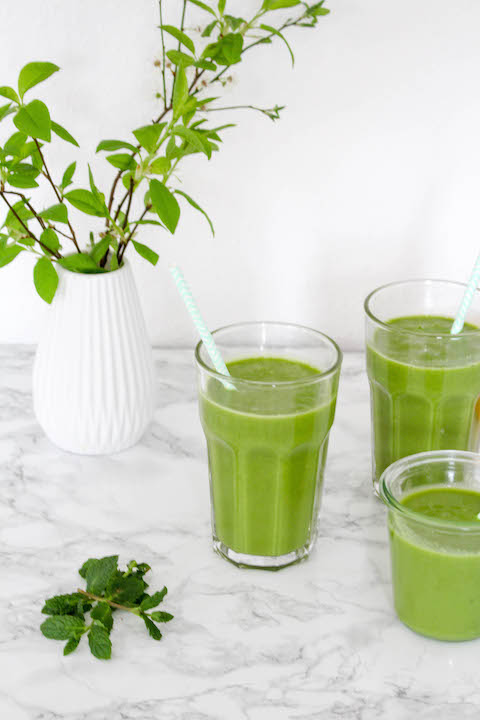 The sweetness in this spring smoothie comes from the banana and mango. Bananas are one of the best sources for potassium, which is vital for a healthy heart and a regulated blood pressure. Mango comes with a good amount of vitamin A, which is important for a healthy vision. I like to use frozen mangos because they are already portioned, and function as ice cubes, but you can totally use fresh mango instead.
For an extra touch of creaminess, I always add a little bit of avocado to my smoothies. Another reason why avocados should be your number one smoothie ingredient is that avocados increase the nutrient intake of the fruits and vegetables that they are taken with by up to 200%. If that's not the best excuse to have an avocado a day, I don't know what is.

Green Spring Smoothie with Mint and Basil
Ingredients
½ cup (120ml) of freshly squeezed orange juice
½ cup (120ml) of water
1 handful of spinach
1 handful of mint leaves, less or more according to taste
1 handful of basil leaves
100g of frozen mango
1 small banana
½ cucumber
½ avocado
Instructions
To prepare: Sqeeze the oranges. Cut the avocado in half, remove the stone, and scoop out the flesh with a spoon. Wash the spinach and mint and basil leaves if necessary. Peel the banana. Cut the cucumber in half, and cut half of it into bite-sized pieces.
Place all the ingredients into a blender and blend until creamy and smooth. Add more water or orange juice if it is too creamy for you.
Serve immediately in glasses or enjoy it as a smoothie bowl topped with your favorite toppings.
Enjoy!