It's pumpkin-hummus time! Need I say more?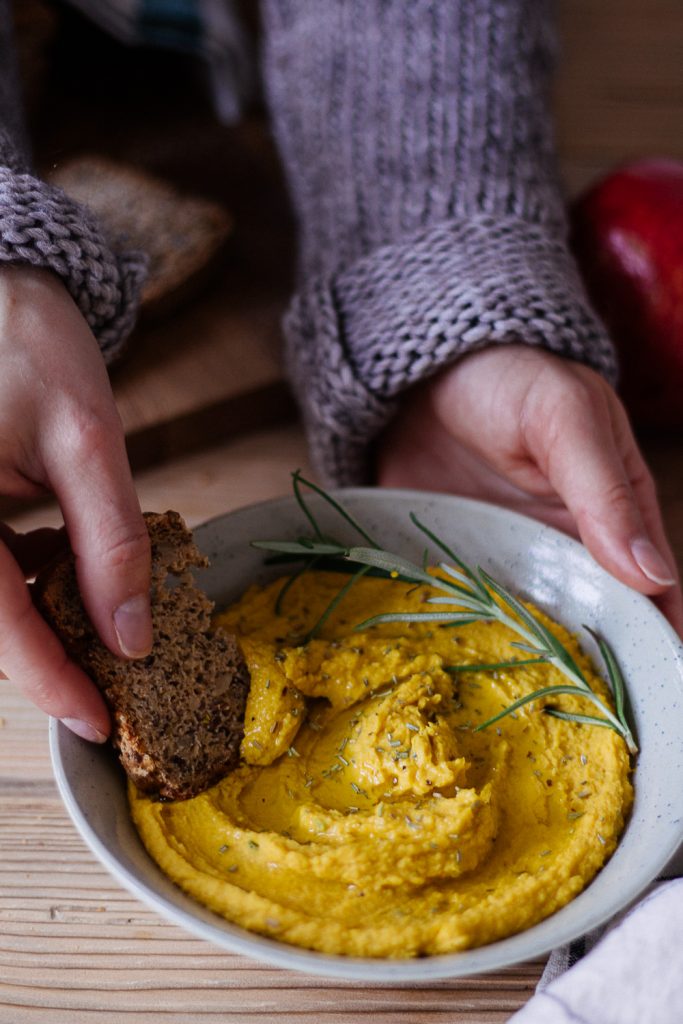 Oh Pumpkin Day! Oh Pumpkin Daaaahaaaaay!!! Hi there, that's me jamming to the pumpkin song, in case you didn't notice. I should sell that song…seriously. It would be a food amongst foodies. However, apart from me being a terrible singer, it would be somewhat ridiculous to go from blogger to singer. Or would it? I mean, we've seen everything. Perhaps bloggers are the new soap actors? So it's no longer soap star gone singing, but blogger gone singing. I bet that'll be a thing soon. Or is it already? I swear I live on a little island sometimes and don't really know what's going on in the celebrity world anymore.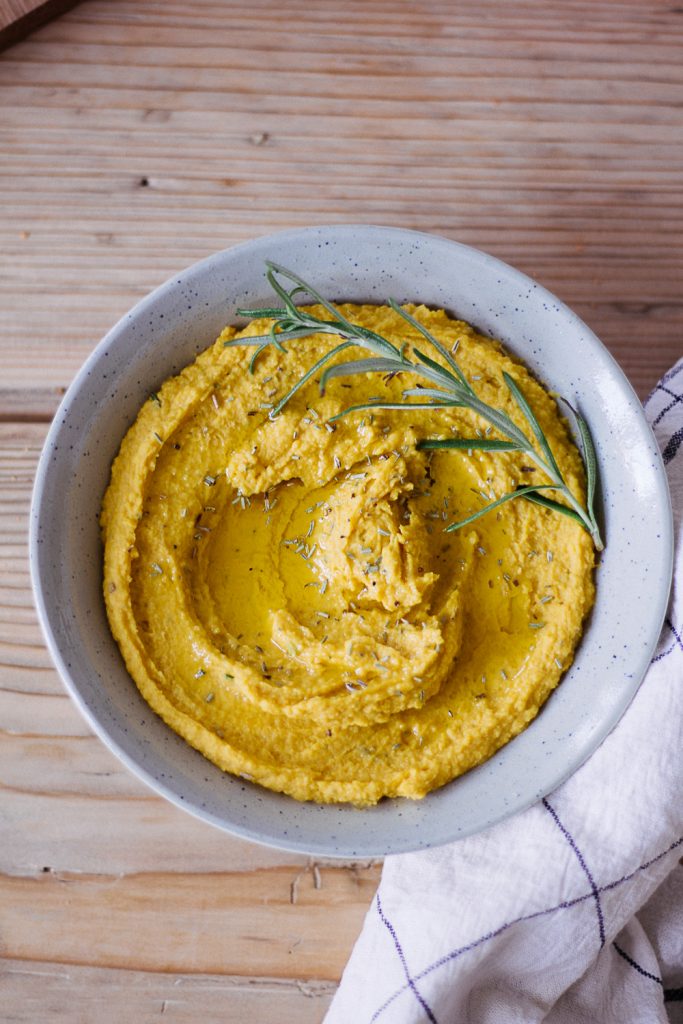 (Bad) jokes aside. We have to talk about the fact that this recipe combines two of my favorite things: pumpkin and hummus. But that's not all. This pumpkin hummus gets its remarkable taste through rosemary and roasted garlic. It gives this hummus such a special note that you're going to love.
The first person to try this pumpkin hummus was the lovely Lisa Scharff, Natural Make-Up Coach, who I had over for brunch last Friday. It's definitely one of the great things about following your passion that you get to meet like-minded people like Lisa who's doing with beauty what I do with food. It's amazing what she has achieved in such a short time, but she told me that it's not the result of luck, but hard work and dedication. If you're interested in natural beauty and make-up, do check out my blogpost about her coachings.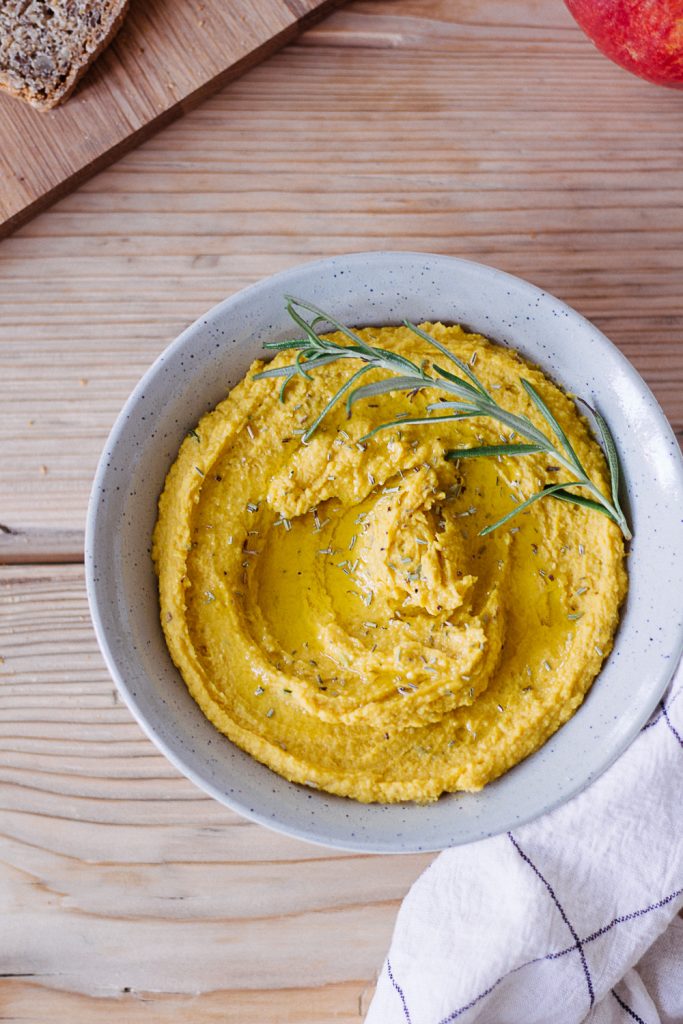 On a little sidenote, my blog has gotten a little facelift! If you've noticed that it looks a little different, that's because I've made a little design upgrade. I'm not completely done with all of the customizations just yet, but I am very excited about the new search function in the menu. Many of you have been asking for this and I 'm excited that I finally got it now!
I wish you a great weekend and I hope you'll enjoy this pumpkin hummus with your friends for brunch this weekend!

Amazing Pumpkin-Hummus
Ingredients
2 cloves of garlic
2 stalks of rosemary
3 tablespoons of extra-virgin olive oil
2 tablespoons of tahini
1 can (265g) of chickpeas
1 cup (200g) of pumpkin purré
1 teaspoon of raw honey
½ teaspoon of sea salt
2 tablespoons of water
Instructions
Drain the chickpeas. Peel the garlic and roughly chop it. Chop the rosemary. Heat one tablespoon of olive oil in a pan and fry the garlic until golden brown.
Add two tablespoons of olive oil and the tahini to a food processor or mixer and blend for about a minute. This will make the hummus creamier.
Add the fried garlic, chopped rosemary and all the other ingredients and blend until smooth.
Serve with vegetables, whole-grain bread or whatever makes you happy.
Enjoy!
Did you make this recipe? Tag your photo with #heavenlynnhealthy to share the love!
Merken
Merken
Merken
Merken
Merken
Merken
Merken