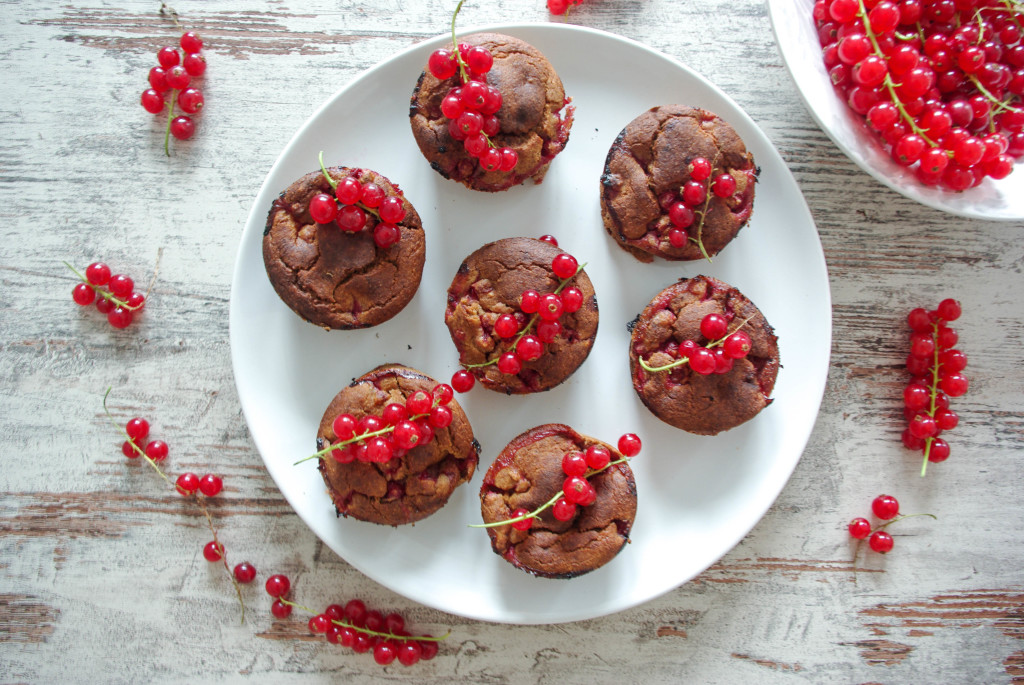 These red currant and banana muffins are truly heavenly. You won't believe that they are 100% healthy when you take your first bite. Every single ingredient melts in your mouth and they are all so good for you and have amazing health benefits. Red currants are packed with potassium, which is important for heart health and keeping a normal ranged blood pressure. They also contain lots of magnesium, which not only protects or heart and bones, but also regulated our blood sugar level and blood pressure as well. Even the sugar in these muffins is packed with goodness because it comes from maple syrup and bananas. Even though maple is high in sugars, it is packed with vitamins and minerals such as calcium, which is important for bone health,and iron, which is essential for the transportation of oxygen in our blood. The whole composition of hearty buckwheat flour, creamy bananas, ground almonds and apple purée is so tasty that I almost ate the entire batter before baking them.
The red currents give the sweet dough a nice fresh and almost sour touch that compliments the other ingredients so well that you'll definitetely want to eat more than just one. But that's ok, because they are really good for you, so you can enjoy them guilt-free. I promise. These muffins are the perfect pick-me-up snack when you're craving something sweet but healthy in the afternoon and you can also enjoy them for breakfast as they are packed with healthy ingredients that will get you through any morning. They also taste even better the next day, so whenever I make them, I'll always end up having them for breakfast the next day.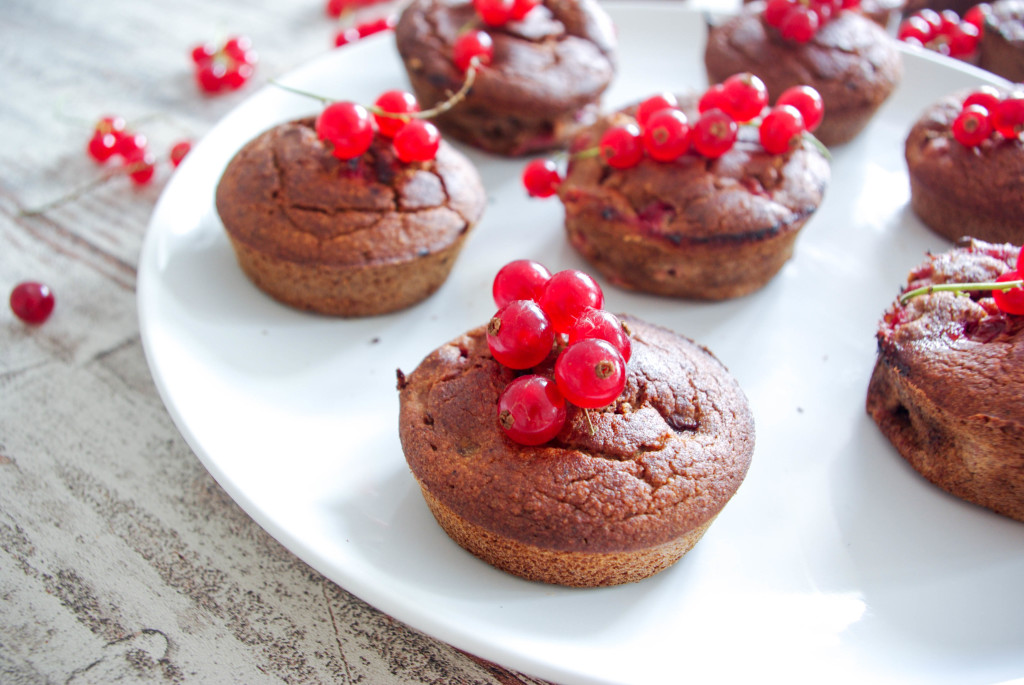 Ingredients:
Makes about 16 muffins:
– 1 cup (100g) (gluten-free) rolled oats
– 1 1/4 cup (150g) buckwheat flour
– 3/4 cup (100g) almonds
– 2 ripe bananas (250g)
– 1/4 cup (70g) apple purée
– 1/2 cup (100ml) sparkling water
– 2 tsp baking soda
– 2 tsp apple cider vinegar
– 1/4 cup (50ml) almond milk
– 3/4 cup (180ml) maple syrup
– 1 cup (150g) red currants
– a pinch of saltNotes:
– If you're allergic to nuts, then simply replace the almonds with the same amount of buckwheat flour or oats. I haven't tried it with sunflower seeds, but they might work as well.
– If you don't have a food processor, you can use ground almonds instead and replace the oats with more buckwheat flour. Then you can simply pour all the ingredients into a big bowl and stir with a spoon or spatula.
– If you don't like or have almond milk in the house, you can use any kind of plant milk instead. Oat, hazelnut, cashew milk are all fine. I'm just not a big fan of soy milk.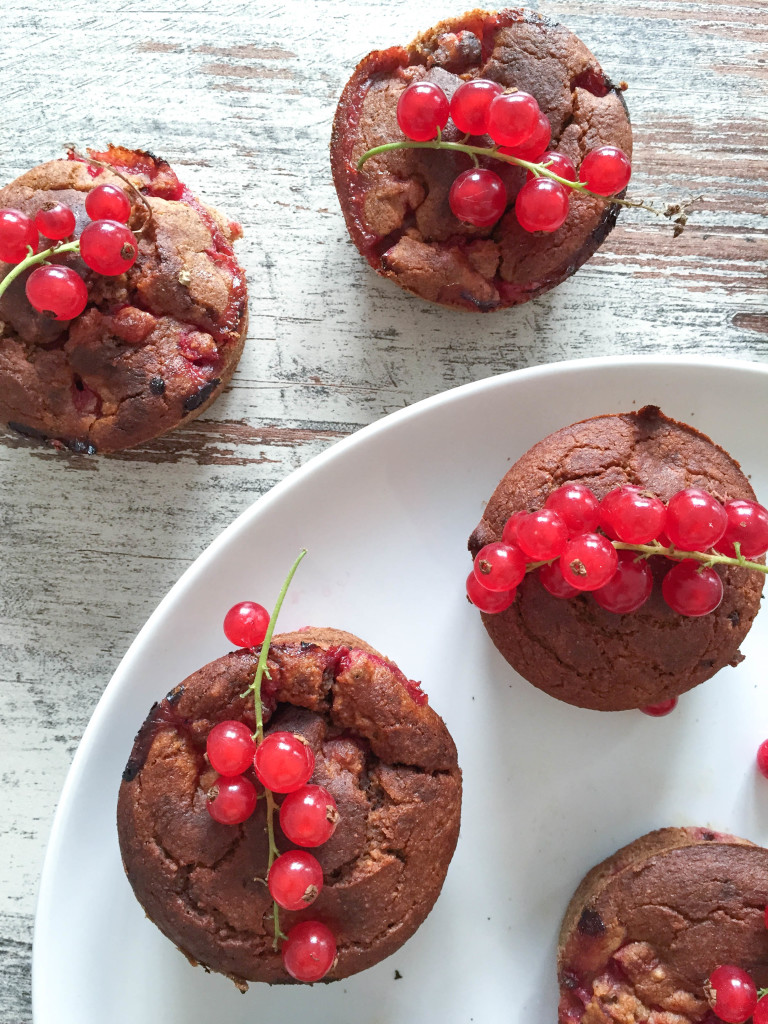 Start by pre-heating the oven to 180°C (356°F).
Place the oats and almonds into your food processor and pulse them for a couple of seconds until a nice flour forms.
Then add the bananas, buckwheat flour, apple purrée, almond milk and maple syrup and blend until smooth.
Now add the sparkling water, baking soda, salt and apple cider vinegar and blend again for a few seconds.
Pour the batter into a bowl and pour in the washed red currants (be sure to remove the stems completely). Using a spatula, carefully mix them with the dough.
Finally, using a spoon, transfer the batter into muffin trays. Be sure to grease them with coconut oil or vegetable oil if the trays are not non-sticky.
Bake the muffins for about 45-50 minutes until you can stick a knife out of the center of it clean.
Take them out of the oven and let them cool down completely before removing them from the tray.
Enjoy!