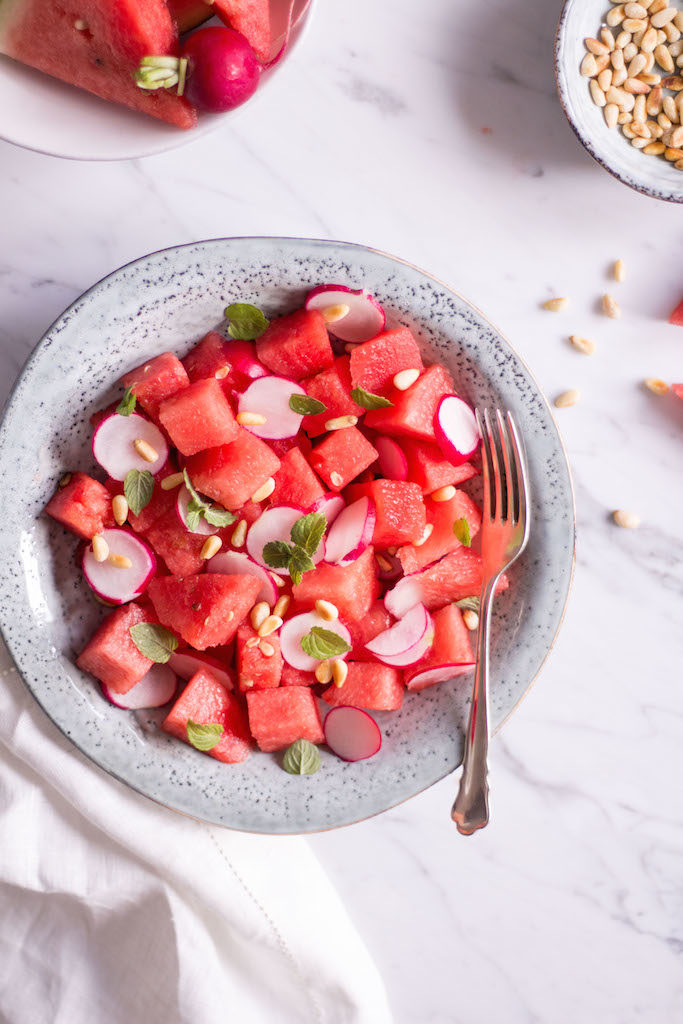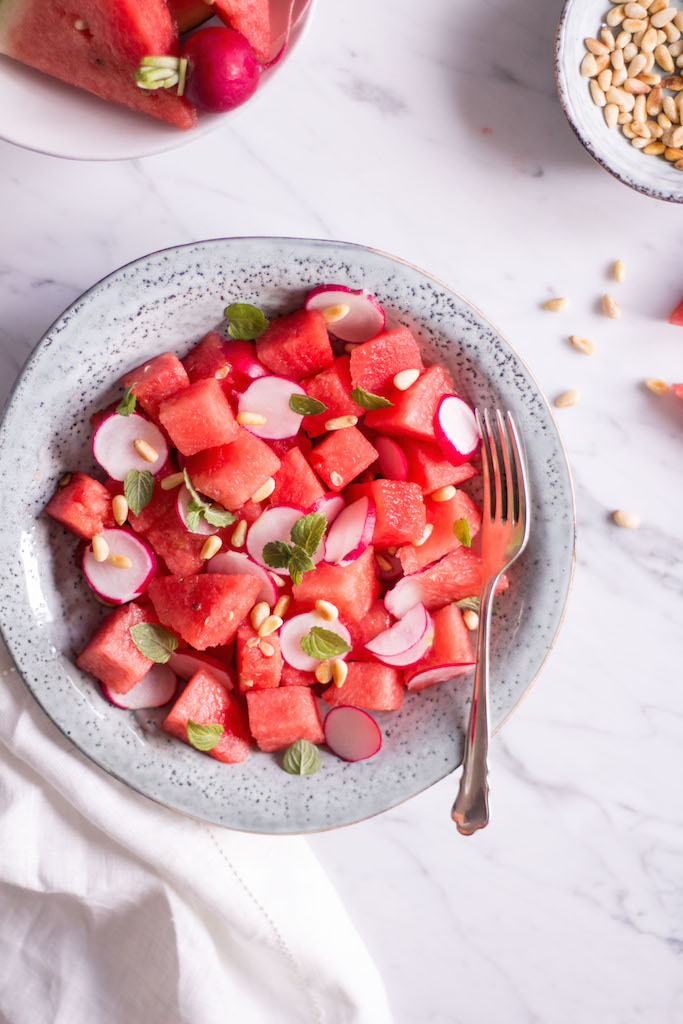 This is one of the easiest summer salads. Since I go through probably 5 watermelons a week, I guess it's safe to say that I love watermelons. I love them so much that I want to eat them all the time, even though that means getting a water belly. This salad just happened the other night when I was craving a light summer salad but didn't have any more greens in the fridge. The composition that I came up with was actually pretty amazing.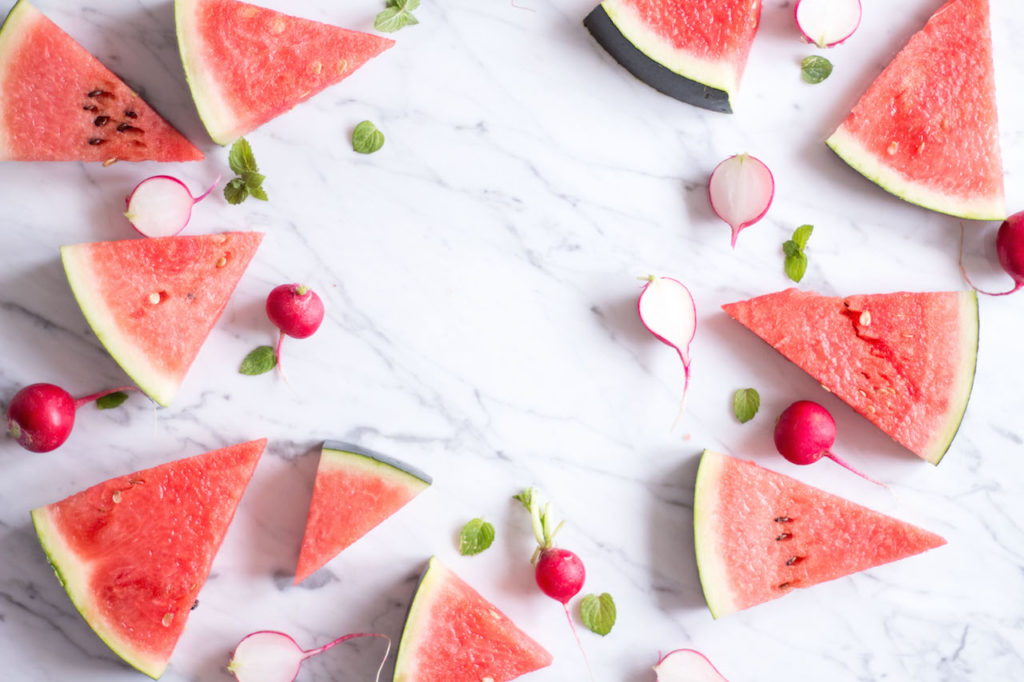 I never thought that all these ingredients would compliment each other so well. The sweet watermelon base gives this salad an incredible freshness that keeps you hydrated on hot summer days. The subtle but fresh taste of the radishes give it more of a hearty flavor that is underlined by the sweetness of the little cherry tomatoes. The roasted pine nuts then add a nutty crunch to the whole salad. Finally, what really makes this salad a mouthwatering experience is the fresh mint that is sprinkled on top. Every bite that combines the sweet watermelon, radishes, tomatoes, pine nuts and mint is simply heavenly. The whole thing is then rounded up by the simple yet delicious white balsamic and lemon dressing.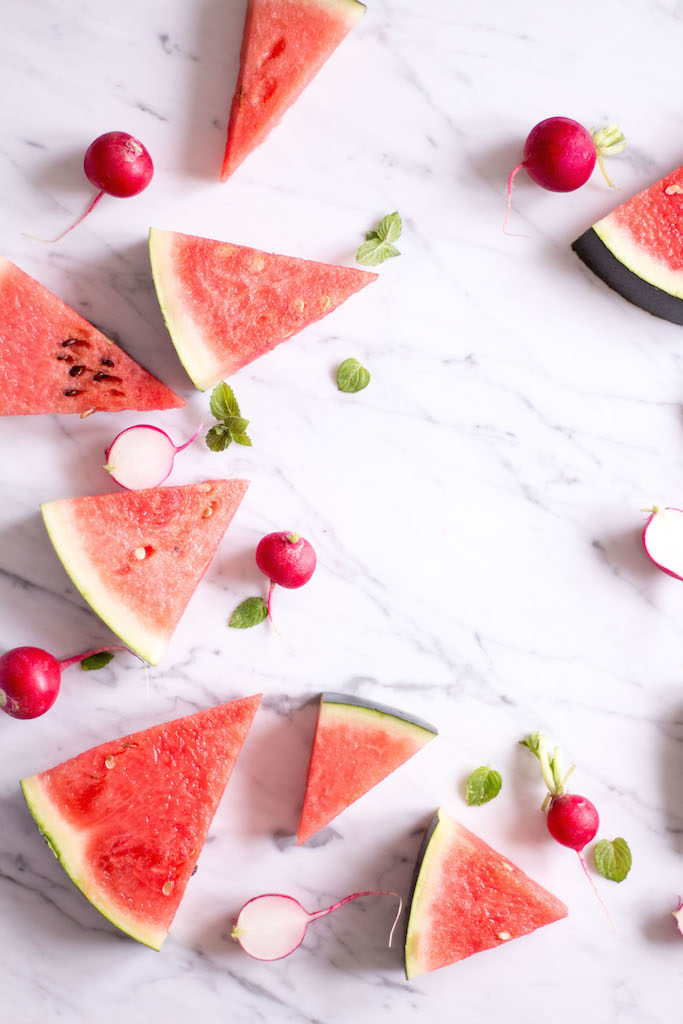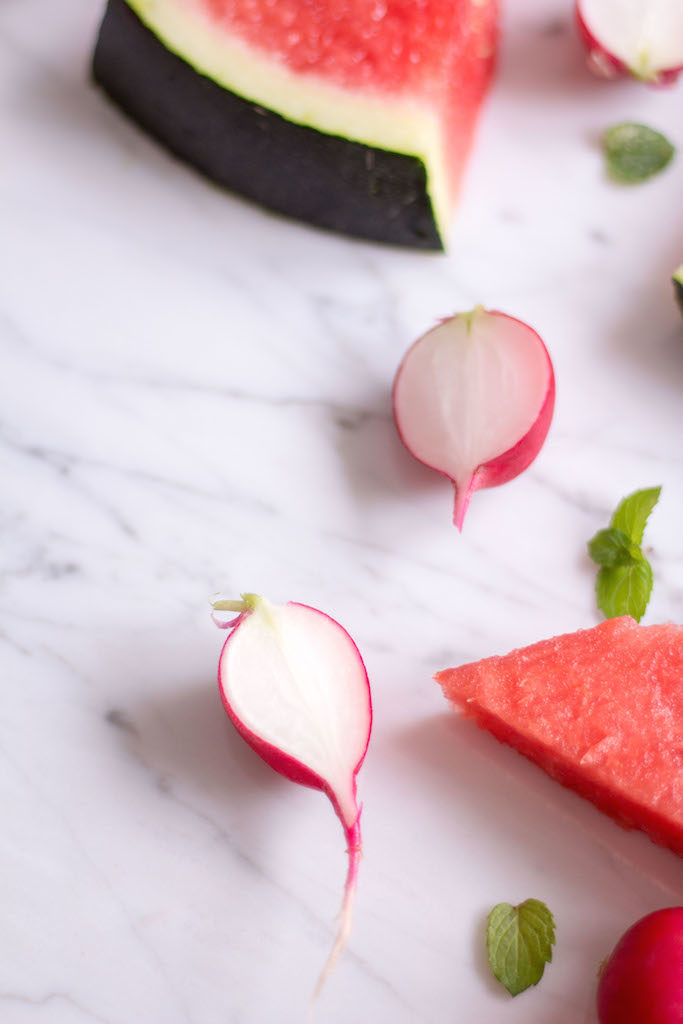 P.S.: I recently re-shot this recipe, and completely forgot the cherry tomatoes. You see, even food bloggers are not perfect when it comes to cooking. It tasted just fine, but I definitely recommend not leaving out the tomatoes, as they add the much needed savory taste in this dish.

Watermelon, Radish and Cherry Tomato Salad
Ingredients
For the salad
2 cups (200g) seedless watermelon
8-10 radishes (100g)
1 cup (150g) cherry tomatoes
a couple of fresh mint leaves
¼ cup (35g) pine nuts
For the white balsamic lemon dressing
2 tablespoons of olive oil
1 tablespoons of white balsamic vinegar (or apple cider vinegar)
1 squeeze of lemon juice
1 teaspoon of maple syrup
salt and pepper to taste
Instructions
Start by cutting the watermelon into bite sized pieces. I used about ¼ of a medium to small sized watermelon. Place the watermelon bites into a salad bowl.
Remove the radishes from the green leaves, wash them and cut them into thin slices. Add them to the bowl as well.
Now wash the cherry tomatoes and cut them in halves. Wash and dry the mint leaves and finely chop them. Add everything to the salad bowl and stir well until everything is well mixed.
Now pour the pine nuts into a skillet and heat them up on medium heat for a couple of minutes until they start to turn brown. Be sure to watch them closely as they tend to burn pretty easily. Once they are roasted and smell heavenly add them to the salad.
For the dressing, simply combine all the ingredients in a small bowl and whisk until combined. Pour it over the salad and enjoy!
Notes
Tip: Don't throw away the greens of your radishes. You can turn them into a great radish detox soup.
Enjoy!
---
DID YOU MAKE THIS RECIPE OR HAVE ANY SUGGESTIONS, QUESTIONS OR COMMENTS?
Feel free to leave a comment below, and don't forget to tag your creations on social media using #heavenlynnhealthy.
I'd love for this blog to be a dialogue.
---